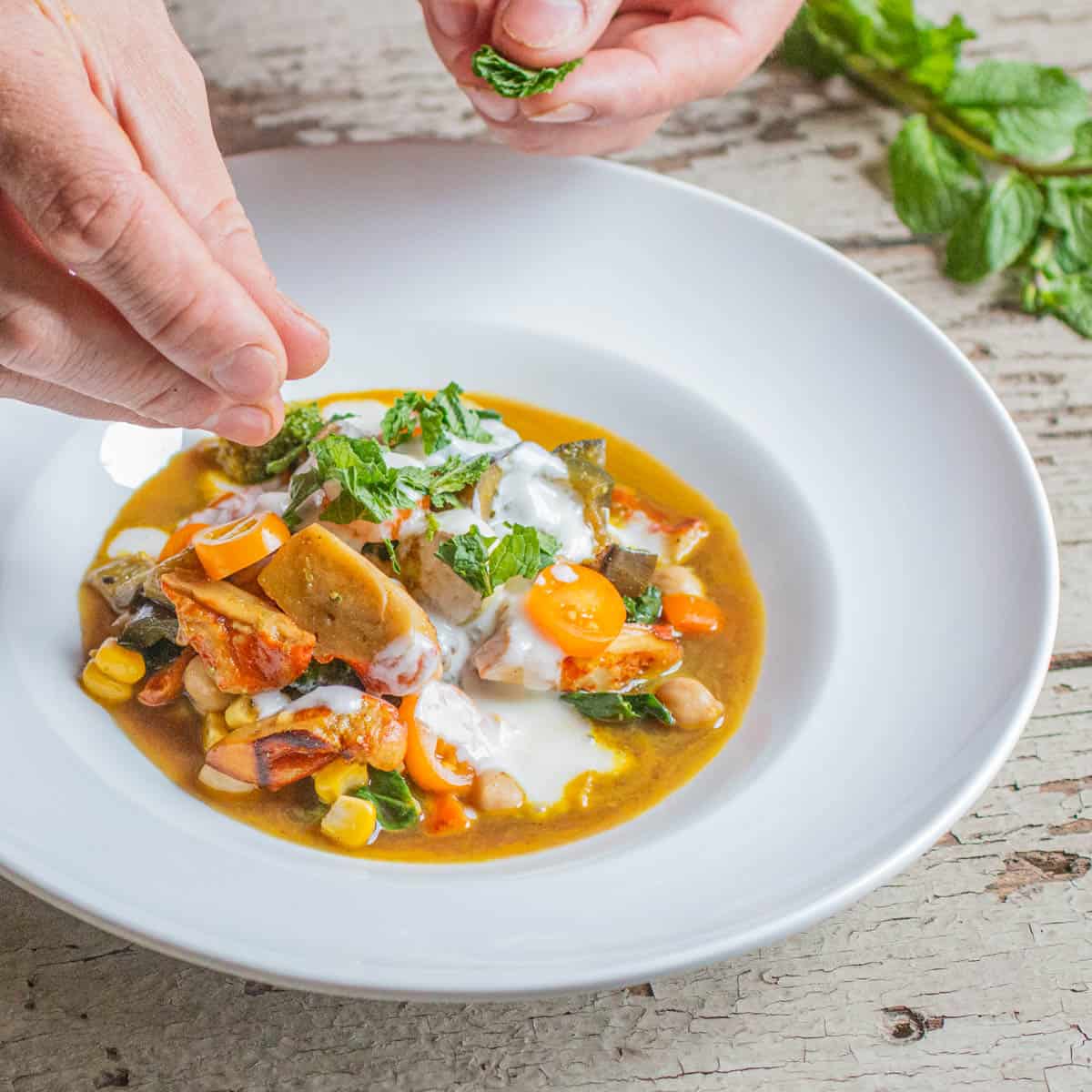 Lobster mushroooms start to fruit heavy in late summer right when gardens and vegetables are at their peak of production. I don't have a garden, but I gather from one often, and when the squash, corn, peppers, broccoli, greens, onion, potatoes and all the other good things start to go crazy; they demand to be used together.
There's no problem with throwing all the vegetables in a hot pan with some fat and salt, but it's fun to have different things in your back pocket. My culinary training was European, but I do have a few different things that are tried and true, this vegetable stew of sorts is one of them. It's also super easy to throw together for a quick dinner.
A tagine is technically a slow cooked North African dish that should be cooked in the cool-looking funnel shaped clay dishes you've probably seen at high end cooking stores.
This one isn't cooked in a tagine, but the North African spice mixture called Ras-el-Hanout that's used in it justifies the name in my opinion, and I've been to plenty of restaurants where chefs use the same creative license. Ras el Hanout, basically fancy curry is great if you have some, but no worries, basic madras curry powder will work too, or if you have a favorite spice-curry type blend, add it by all means.
You could also just call this "curried lobster mushrooms and vegetables". That being said, think of it as a kitchen sink approach to all the vegetables of summer you like, the more variety the better, but make sure to pay attention to the cooking times of each vegetable to make sure they're done at the same time-not mushy, and not under done.
For example, broccoli I blanch separately from other vegetables in boiling salted water to ensure even cooking and then add it at the end just to heat it through and prevent it from going soft. Finally, make sure to leave in the chickpeas, they just need to be in there.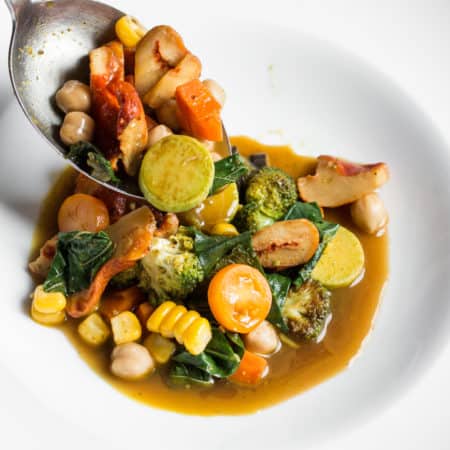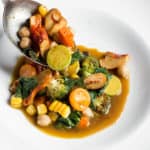 Print Recipe
Summer Vegetable Tagine, With Lobster Mushrooms
Basically really good lobster mushroom and vegetable curry
Ingredients
Roughly 1.5 lbs mixed summer vegetables like corn

tomatoes, broccoli, squash, eggplant, kale, potatoes, peppers, etc, cut into shapes that will fit onto a large soup spoon

½

cup

sweet yellow onion

diced ½ inch

½

lb

fresh lobster mushrooms

washed, cleaned and trimmed if needed, and cut into 1 inch pieces

½

cup

cooked or canned chickpeas

1.5

cups

chicken or vegetable stock

preferably homemade

1

teaspoon

fresh grated ginger

I use a microplane grater but you can just mince it too

1

teaspoon

fresh grated garlic ""

Fresh chopped mint or cilantro

to garnish

Kosher salt and fresh ground black pepper

to taste

¼

cup

thick greek yoghurt

or more to taste

¼

cup

cooking oil

ghee or lard, plus 1 tablespoon

1

Teaspoon

ras el hanout or curry powder
Instructions
In a wide pan, (I recommend a 10 inch saute pan with high sides) saute the lobster mushrooms over medium high heat until caramelized and golden, season to taste with salt, then remove from the pan and reserve.

Reduce the heat to medium and add 1 tablespoon of oil and the onions.

Cook the onion until soft then add the garlic, ginger and ras el hanout and cook for 30 seconds.

Add the chickpeas and broth and simmer for a few minutes, then add the rest of the vegetables and cook until just tender.

Season the mixture to taste with salt, then double check the seasoning, adjust as needed then add the lobster mushrooms back to the pan just to heat through.

To plate the dish, divide the vegetable mixture evenly between preheated bowls, then top each with a dollop of the yogurt and fresh chopped mint, then serve immediately.
Notes
Sometimes at the restaurant I'll switch how the chickpeas show up in the dish. Making a firm polenta out of chickpea flour, cutting it into cakes and browning them, then putting them in the base of the bowl as a starch component is a great way to get them in there too.
Related Links
Guide to Lobster Mushrooms