Almost a custard, a posset is an old English dessert you can think of like an eggless lemon pudding. Made with spruce tips and lime juice instead of lemon it tastes as refreshing as a Spring breeze. The best part is it's the easiest spruce tip recipe I know. Read on and I'll explain the details.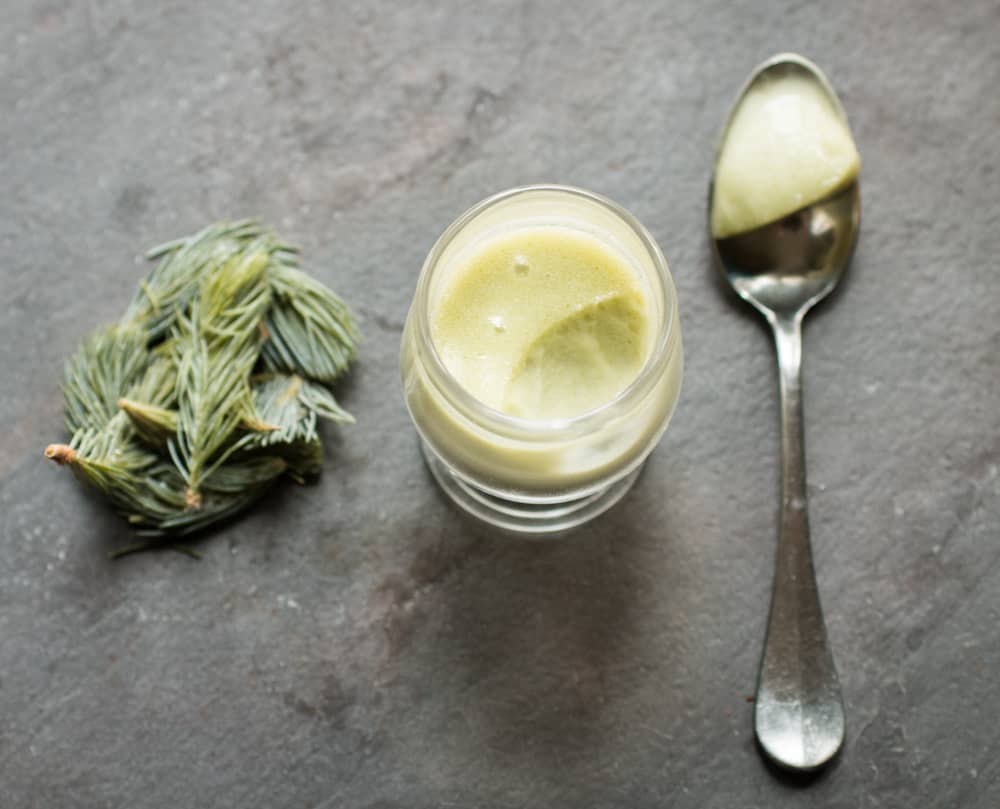 Silky-rich and custardy, but without any egg, possets are one of the best desserts I've discovered (thanks to my old pastry chef) in recent years. They were totally new to me, but apparently they're an old fashioned British dessert that used to be relatively common in America around the mid 20th century, but more so as a food for invalids and infants than as a dessert.
A spruce tip posset is a great variation on the traditional theme and flavors, and one you definitely need to try if you like spruce tips. Besides being an egg-less custardy dessert, which is interesting in itself, there's a little wizardry in them around how they actually set.
When you think of a custard, panna cotta, or creamy dessert, what do you think of? Eggs? Cream? Gelatin? I sure did before I met the posset. The setting process is where the posset differs from a lot of other custards in that they use citrus to set the custard, typically lemon. It's a bit of magic, and one of my favorite spruce tip recipes.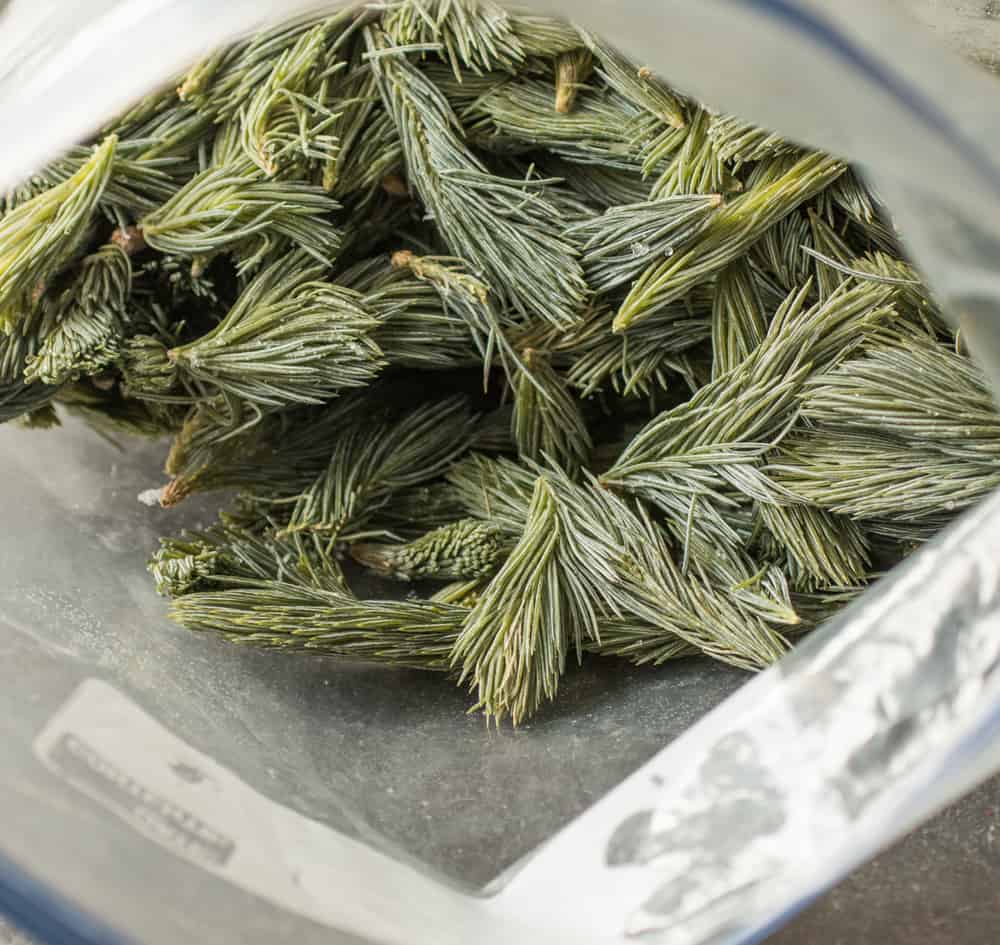 Cook some cream for a bit with sugar and put it in the fridge and nothing too exiting is going to happen. Add some lemon in the mix, and the dairy will react to the citrus just like adding rennet. A little sugar helps to stabilize the mix and, voila, a light, eggless custard forms after it's allowed to rest in the fridge.
How much citrus does it take to set?
Traditionally possets I've tried have an aggressive citrus taste, which does double duty of helping the mixture set. There problem developing these was that after switching the lemon to lime, since it pairs better with the spruce, the lime was too strong, and it tasted like key-lime posset.
This left me with the question: "how much citrus do you actually need to help the custard set?". I suspected it was less than the traditional posset recipes called for since they were also using the citrus as the main flavor, so I cut the lime juice in half so there was just enough to brighten the spruce flavor.
Posset = panna cotta's hot cousin
Side note, I used to work for a chef from Milan who told me that panna cotta, which literally translates to "cooked cream" was once a dessert made without gelatin, which, when you think about it makes sense, as that's what the name means.
Now cooking down cream will eventually produce something that sets, but it's definitely expensive, so, it follows that perhaps someone added gelatin to cream somewhere along the line to cut the cost of the dish and streamline it.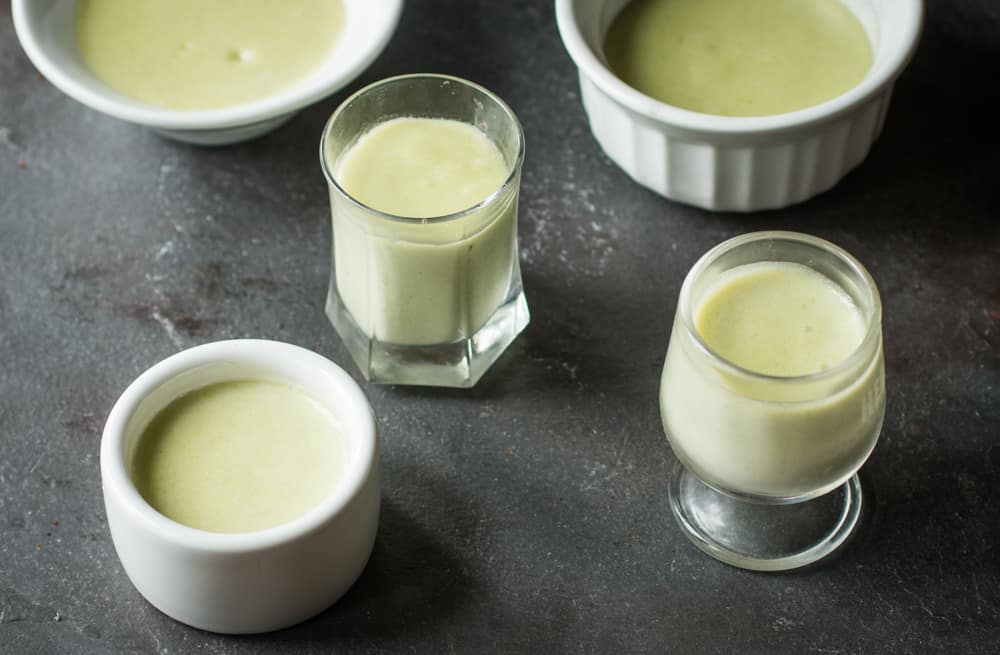 Keys to success
Just because this is easy doesn't mean it's easy. If you have any desire to make this read the following notes.
I wanted a more firm posset than any recipe you'll find to compensate for the reduction of lime, so I reduced the cream by 30%. You need to watch carefully and make sure it doesn't overflow while reducing, unless you use a very wide pan like 12inch, but I don't recomend wide of a pan since it can over-reduce quickly.
Cooling the cream completely to room temperature before pureeing is the most important. Puree cream with the spruce tips hot, and the mixture will lose aroma by the time you eat it. Puree the cream cold and it will make butter, break the emulsion and you'll be S.O.L. and starting over.
For the perfect result, the spruce tips have to be finely chopped. If they get put in the cream and blended whole, the blender has to work too hard, and it takes longer to puree, which means that the cream will heat up in the blender and it wont taste as electric.
Unlike my spruce tip ice cream, smaller amounts of this are better. I reccomend 2.5-3oz portions.
You'll want a garnish with these that compliments spruce: blueberries and other berries, pine nuts, hazelnuts, white chocolate etc. Whipped cream and candied lime zest are good ideas too.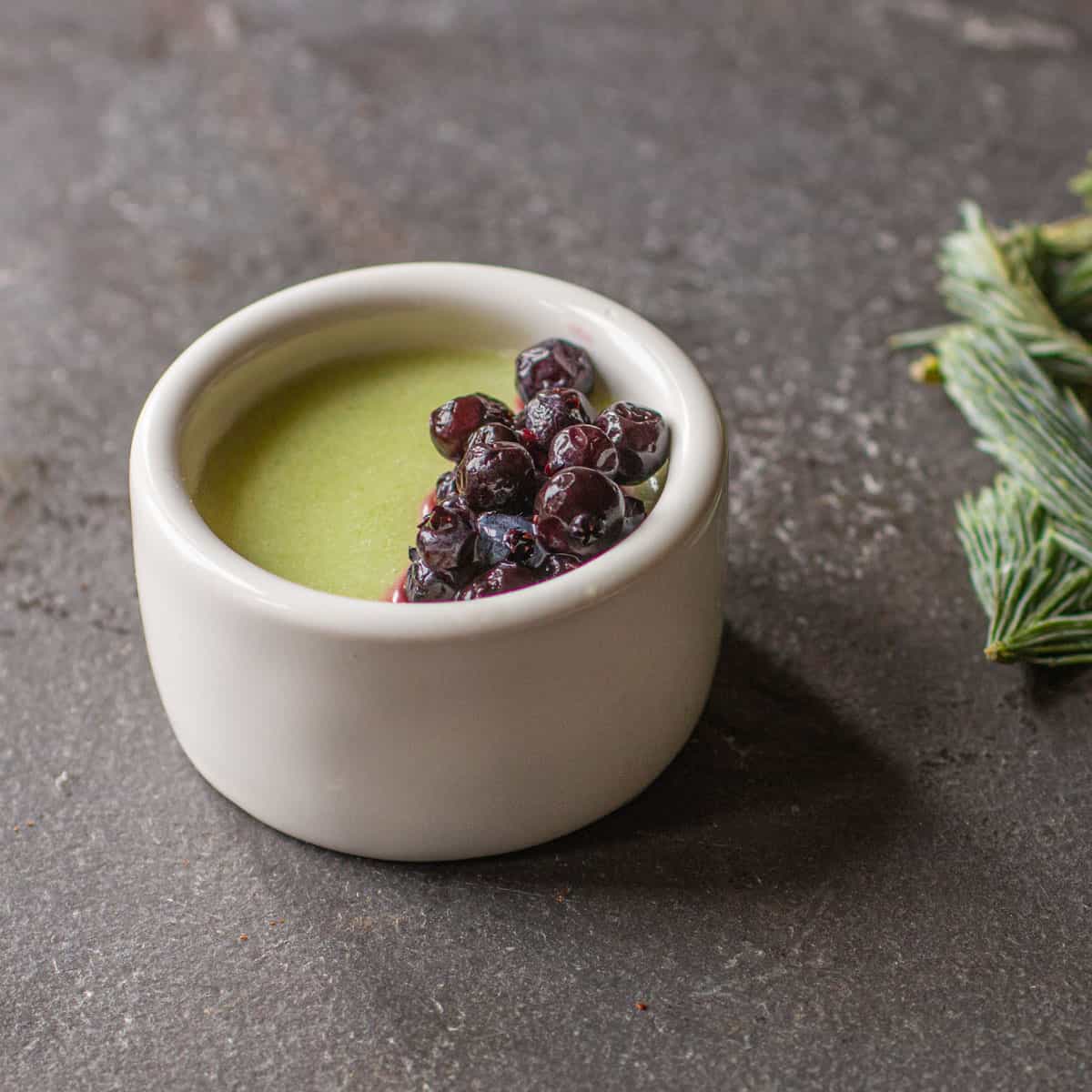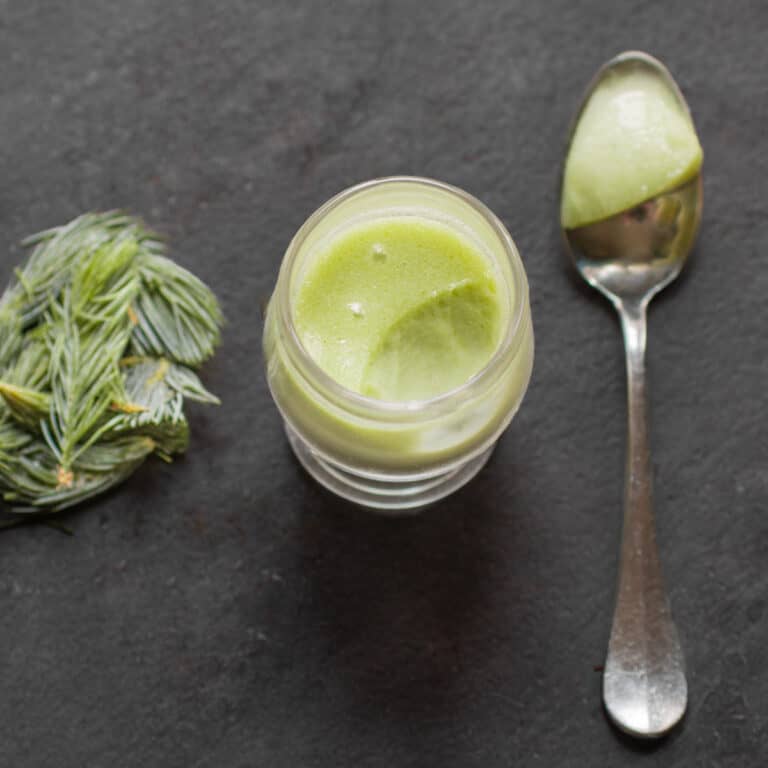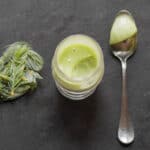 Print Recipe
Spruce Tip Posset
A small tasting menu sized custard made with spruce tips. It tastes deliciously of spruce with a touch of citrus. Makes about 8 four ounce ramekins*.
Equipment
8 4 ounce ramekins

or small custard cups
Ingredients
3

cups

(720 ml) cream

⅔

cup

(130 g) sugar

⅓

cup

(20 g) chopped fresh or frozen spruce tips, any papery husks removed

2

tablespoons

lime juice

Tiny pinch of fine salt
Garnishes
Whipped cream

for garnish (optional)

Fresh berries

for garnish (optional)
Instructions
In a high-sided pan that will resist overflowing, warm the cream and sugar and reduce on medium-low, stirring occasionally and watching carefully so it doesn't boil over, until it looks reduced by about a third and you have 3 cups (720 ml) of sweetened cream.

Cool the cream to room temperature.

Working carefully, purée the cream, the spruce tips, the lime juice, and the salt in a blender until well blended, then pass it through a fine strainer, pour into the serving vessels, and refrigerate for 8 hours or overnight, uncovered.

If you won't be serving the custard soon, cover them to prevent them from absorbing the flavors of nearby foods.

Serve with a dollop of whipped cream, and maybe some fresh berries tossed with a pinch of sugar.
Notes
Serve in small amounts (4 oz ramekins) if you want to serve larger servings, cut the spruce tips by at 30%.
Nutrition
Serving:
3
oz
|
Calories:
2948
kcal
|
Carbohydrates:
156
g
|
Protein:
20
g
|
Fat:
258
g
|
Saturated Fat:
164
g
|
Polyunsaturated Fat:
11
g
|
Monounsaturated Fat:
65
g
|
Cholesterol:
807
mg
|
Sodium:
195
mg
|
Potassium:
716
mg
|
Fiber:
0.1
g
|
Sugar:
154
g
|
Vitamin A:
10511
IU
|
Vitamin C:
13
mg
|
Calcium:
477
mg
|
Iron:
1
mg
More