Terrines and charcuterie are one of my great loves. This spring venison terrine recipe is a good example of how I use odds and ends like venison liver.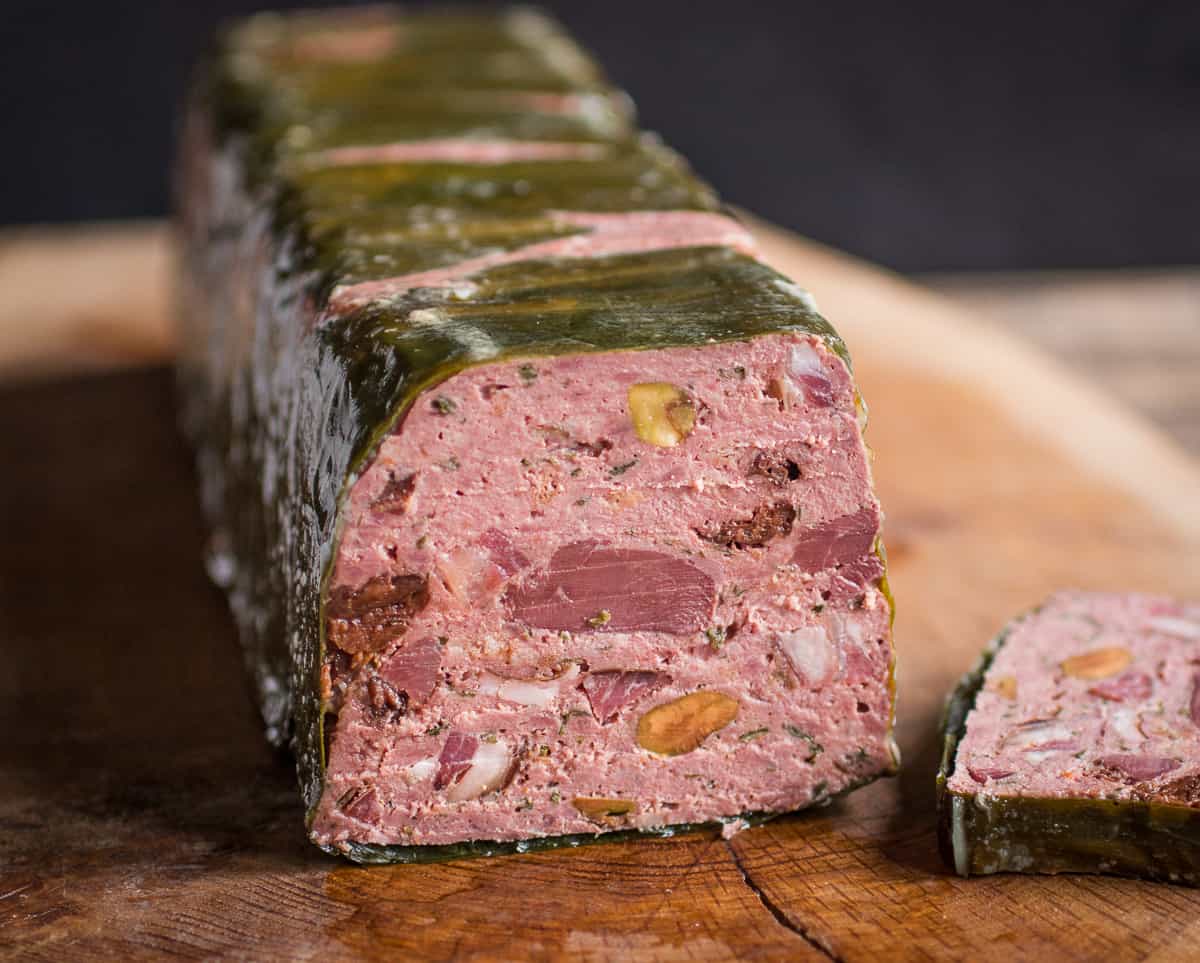 Looking at the ingredient list might be daunting. But, you can look at it like a blueprint with different pieces you can plug in and remove as you like.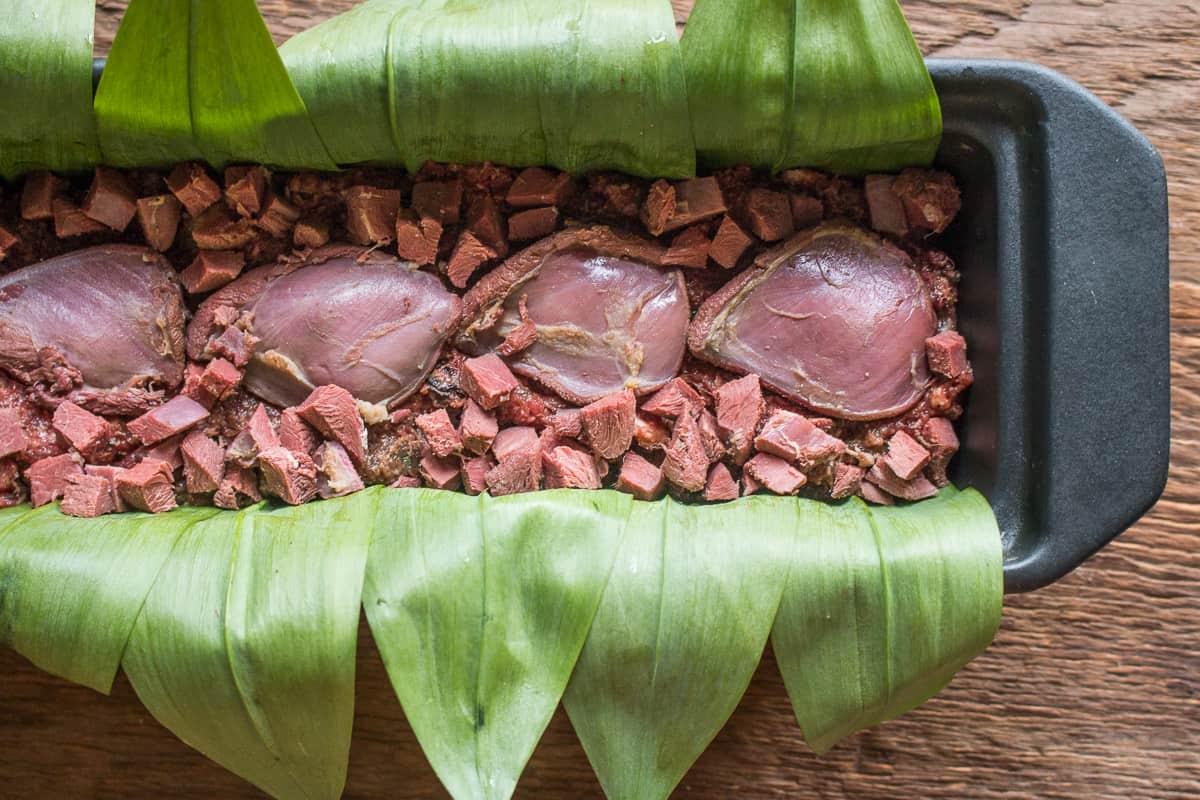 The big takeaway here though, is how the organs are utilized. Liver and kidneys add tenderness to a terrine, giving it a nice, easy slice, and soft mouthfeel--exactly what you want.
Depending on the terrine I'm making, I might use more or less than the roughly equal proportions here. One thing is the same with all of them: if they use organ meats, I will soak them.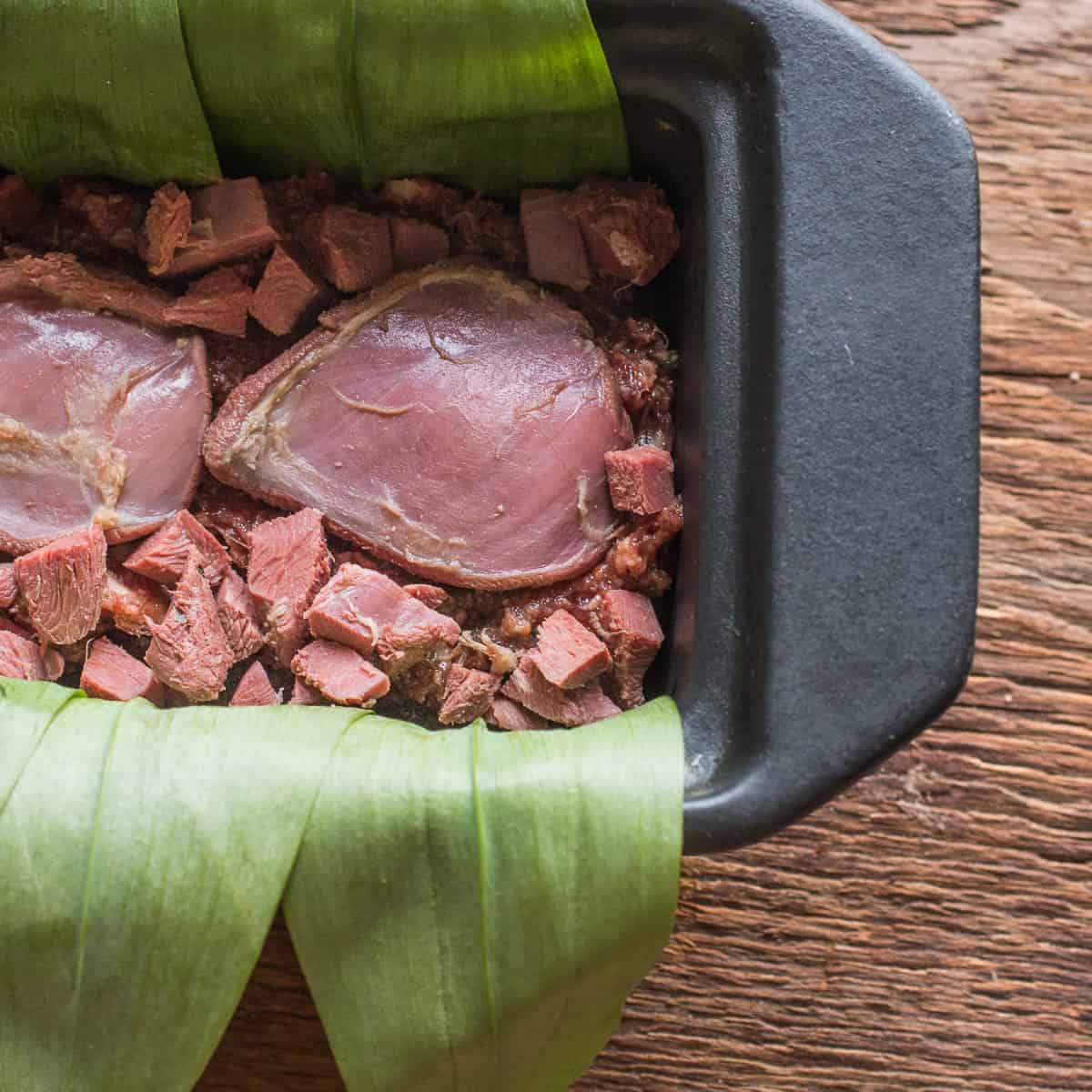 Leaching Liver
A lot of times people soak livers in milk, and they do it whole. That's ok, but venison liver especially can be so strong tasting that I take a more aggressive approA lot of times people soak livers in milk, and they do it whole.
Venison liver can be so strong tasting that I take a more aggressive approach to it. Instead of just soaking the meat in milk or water once I cut it into pieces. This increases the surface area and contact with the water, and I also change the water a few times.
Do that, and I promise you it will tame the flavor, while still giving you the tenderness you want in a good terrine.
Notes on special ingredients and substitutions
Venison liver and the offal here are in the convenient form of 1 lb. Just plug and play whatever organs you have. Kidneys and hearts are good too.
The pigeon breast inlay in the middle of the terrine is nice, but optional.
Venison bacon. I make venison bacon every year per my recipe here, but most people don't. Feel free to skip it, use regular bacon, ham, etc.
Nut and fruit garnishes. I used dried sour cherries and pistachios. Feel free to substitute whatever you want, you can even up the quantity slightly to about ⅓ cup each if you like.
If you have venison caul, it would be the perfect thing to wrap the terrine in instead of ramp leaves.
Dried ramp leaves: these are a great seasoning. If you don't have them, omit them garlic powder and onion powder are foul in terrines, IMO.
The ramp leaves are nice but you can also use bacon, or omit it.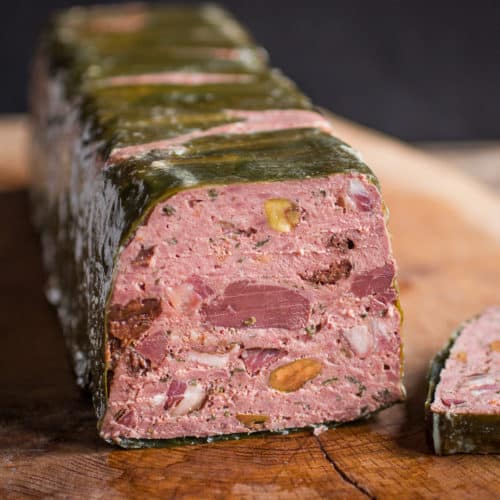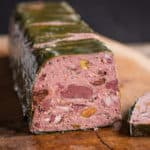 Print Recipe
Spring Venison Terrine Wrapped in Ramp Leaves
A terrine of venison and smoked pigeon wrapped in ramp leaves. Serves 10-20.
Equipment
3 lb cast iron terrine mold or similar

or a roasting tin or loaf pan-see note

A weight, like a brick
Ingredients
1

lb

ground venison

1

lb

venison offal

or chicken livers

½

cup

breadcrumbs

4

oz

venison bacon

diced small

⅓

cup

pistachios or other nuts

1

tablespoon

brandy

¼

cup

sour cherries or other dried fruit

5

grams

dried crumbled ramp leaves

9

grams

kosher salt

(1% salt of the weight of the ground meat and organs)

½

teaspoon

Fresh ground black pepper

½

teaspoon

pink salt

sodium nitrite

1

large egg

¼

cup

heavy cream

Ramp leaves

for lining the terrine

Inlay something small like pigeon breasts or rabbit loins

etc, cured in a ham brine, about 4-5 ounces

½

teaspoon

terrine spice

such as quatre epice (see note)

1

teaspoon

ground juniper berries
Instructions
Cut the offal into pieces. Cover with twice their volume of water and allow to rest overnight in the refrigerator, change the water a couple times if you can remember.

The next day, mix the cherries with the brandy. In a food processor or high speed blender, puree the offal with the egg, and milk until smooth. Mix in the breadcrumbs, salt and pepper. Combine the offal puree with the remaining ingredients except the inlay and ramp leaves and allow to rest overnight.

The next day, line a terrine mold or loaf tin with a piece of parchment. Line with the bacon or ramp leaves, leaving enough hanging over the edge to cover the terrine.

Fill the terrine with half of the meat mixture, pressing it down. Put the inlay on top. Put the rest of the meat mixture on top and press down. Bang the bottom of the terrine on a hard surface or table to remove air pockets.

Finally, fold the overhanging bacon or ramp leaves over the top. Press down again. Put the mold in a pan filled with hot water or nearly boiling water coming half way up the sides.

Cover tightly with the lid. Bake at 250 F for 80 minutes until a thermometer reads 150F in the center.

Remove the terrine from the oven, cool for 30 minutes, then press with a weight and cool to room temperature. Refrigerate the terrine overnight with the weight on it.
Serving
Remove the terrine from the mold by placing the mold in hot water. Wipe the meat clean and wrap in plastic wrap until ready to slice and serve. It's great on a charcuterie plate with mustard and pickles.
Notes
Pan sizes 
A loaf pan or roasting tin is smaller than the 3lb terrine mold I use here. If that's all you have, you can bake 1 large terrine, and a smaller one using a different baking dish. 
Onions and Garlic 
Many recipes call for this, but they make the flavor very strong. I don't recommend adding them. 
Nutrition
Serving:
2
oz
|
Calories:
149
kcal
|
Carbohydrates:
3
g
|
Protein:
14
g
|
Fat:
9
g
|
Saturated Fat:
4
g
|
Polyunsaturated Fat:
1
g
|
Monounsaturated Fat:
3
g
|
Trans Fat:
0.03
g
|
Cholesterol:
149
mg
|
Sodium:
436
mg
|
Potassium:
199
mg
|
Fiber:
0.2
g
|
Sugar:
0.3
g
|
Vitamin A:
3427
IU
|
Vitamin C:
5
mg
|
Calcium:
17
mg
|
Iron:
4
mg