Yes, It's possible to have a garlic mustard recipe that actually tastes good, and this is probably my favorite of them all.
This plant is nothing less than a scourge on the woodlands and sugarbushes in my area, so when I eat it, it's usually seasoned with plenty of spite.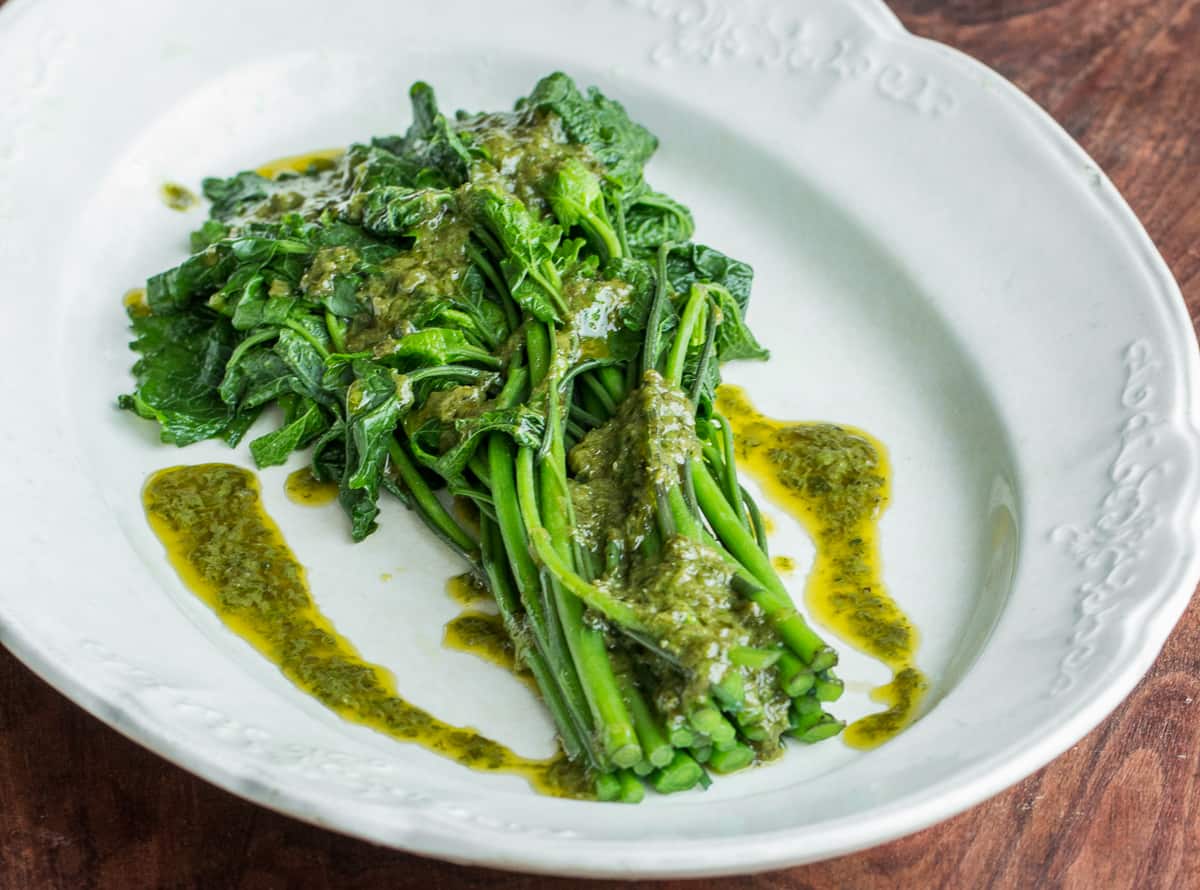 Sure, I know plenty of people that like to eat it, "eat the invasives" they say, as if plucking a few leaves here and there actually makes a difference. Garlic Mustard cares not for your Instagram photos of it made into pesto.
The basal leaves are strongly bitter, and I don't do too much with them besides make some ricotta dip once in a while for the nastalgia of recreating an old restaurant recipe I used to make. But, I have to admit that the shoots, now those are actually good.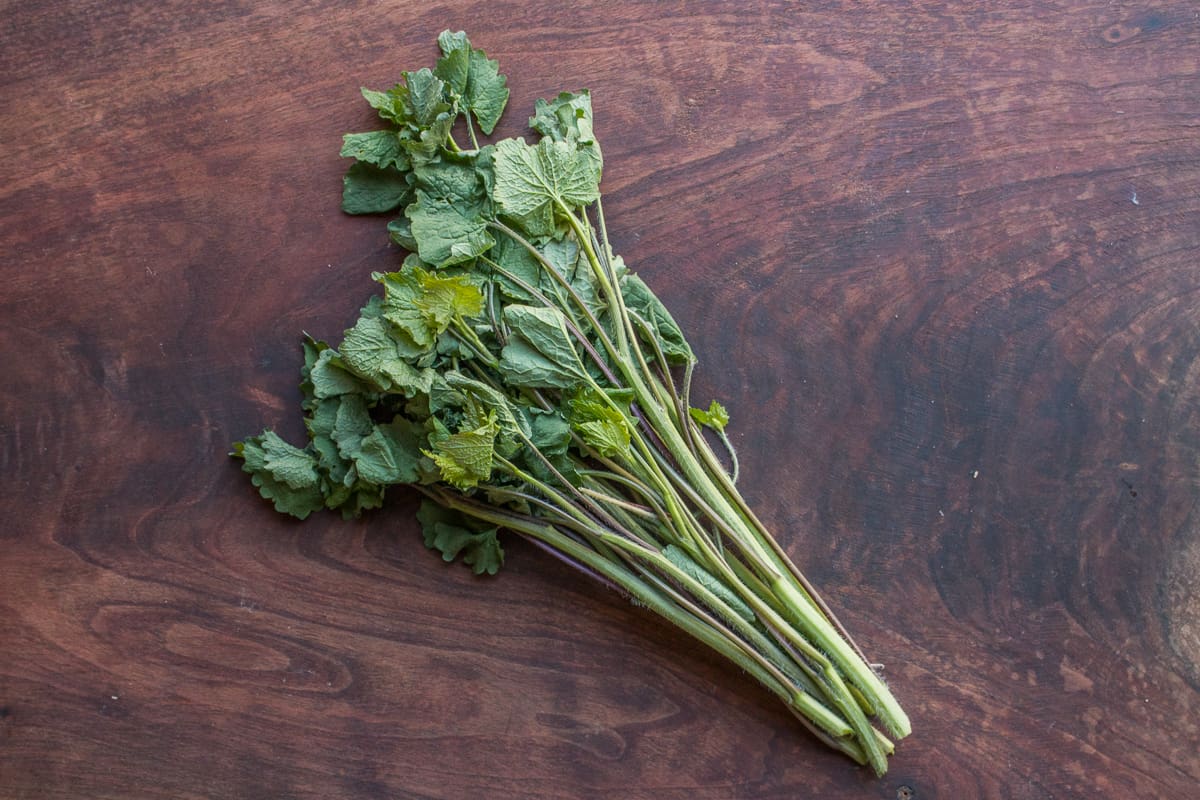 Meristematic magic
Now, I don't know exactly what's happening with garlic mustard shoots, but they don't taste nearly as strong as the early basal leaves. The shoots are tender, long and silky, a bit like thin asparagus, and the bitterness is still there, but it's tamed a bit--a similarity I see with lots of different plants with strong flavors when you eat different, young growing parts.
Cow parsnip blossoms and angelica blossoms, as well as the hearts of the plant, can be tossed directly in a pan and cooked and are delicious, where if you took the leaves of the plant and cooked them they would taste strong like some kind of medicine.
It's something to do with the magic of meristematic, young growing plant tissue. Whatever it is, I'll actually harvest garlic mustard shoots and enjoy them as a vegetable, and they are, to me, the best part of the plant by far. They're even better when you melt some ramp leaf butter over them.
Calming the flavor by blanching or soaking
Garlic mustard shoots, even though they're more mild than the leaves, will still have a strong flavor for some people. If you want to like this plant, but are struggling to get past the bitterness, take a page from the Italians:
Blanch the garlic mustard in boiling water until it's tender and tastes good to you. After blanching, remove the greens and or shoots to a bowl of cool water and allow to soak for a few hours.
If you really want to mellow the flavor, change the water a couple times or soak them overnight. This is a common practice in Italy and the Mediterranean for working with strong-tasting plants. 
If you want to switch things up, you can also toss the shoots with a spoonful of Stinging Nettle Pesto with Pumpkinseeds.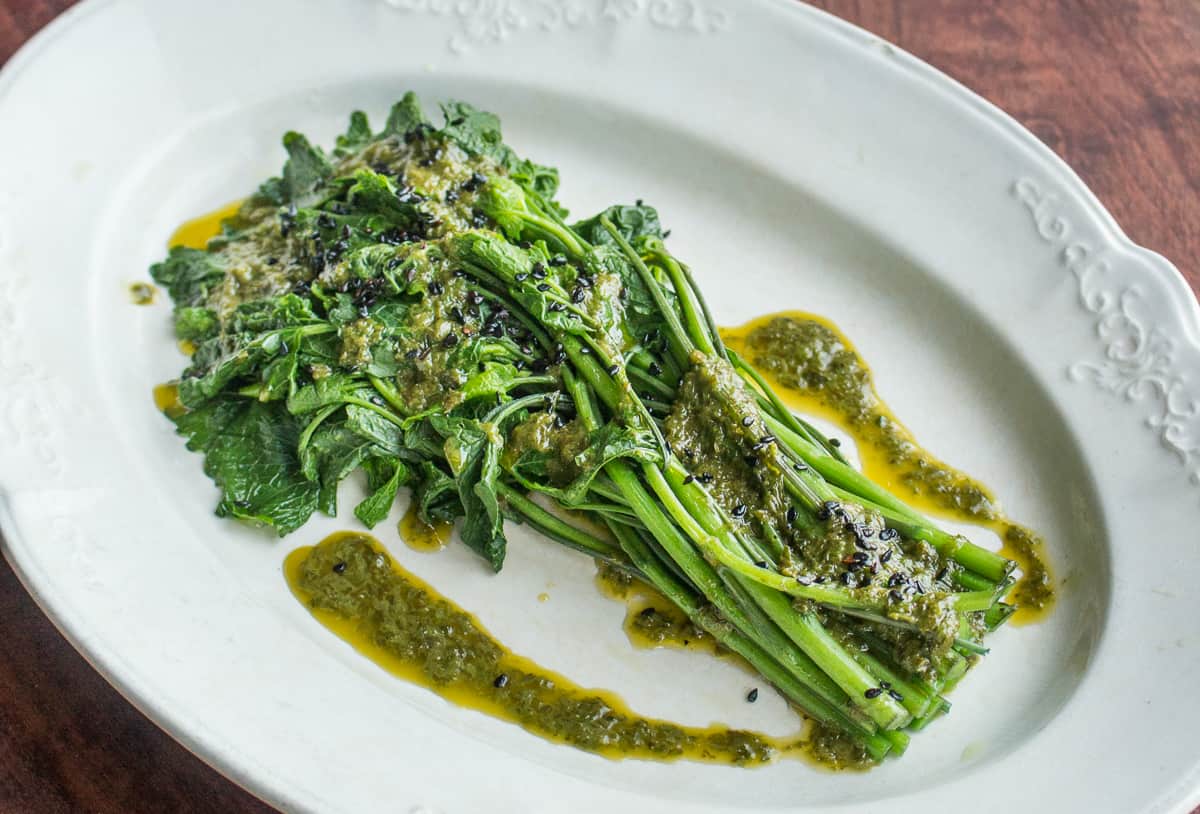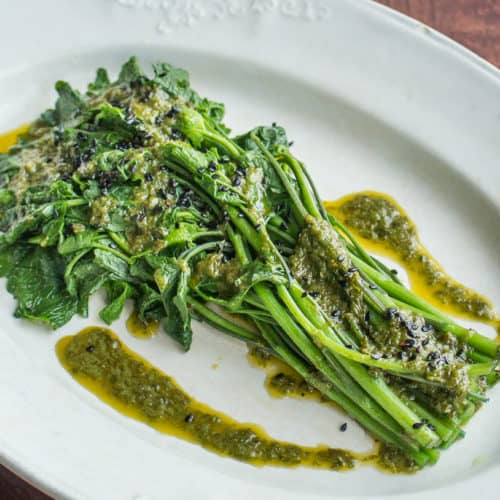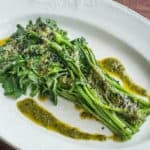 Print Recipe
Garlic mustard shoots with ramp leaf butter
Simple blanched garlic mustard shoots served drizzled with melted ramp leaf butter is a great spring side dish.
Ingredients
8

oz

garlic mustard shoots

4

tablespoons

ramp leaf butter

or more to taste

Toasted sesame seeds

a sprinkle to garnish, optional
Instructions
Cut the shoots into manageable lengths like asparagus.

Meanwhile, bring a pot of salted water to a boil (roughly 1 tablespoon per quart).

Blanch the garlic mustard shoots until just tender (try one). It shouldn't take too long, and I generally blanch most things for under a minute to make sure they keep their integrity.

Don't hammer them, they should still have some life, if your shoots end up mushy you went too far. Meanwhile, melt the ramp leaf butter--a microwave is fine. Make sure to inhale the aroma of garlic breadsticks that comes off of it.

Remove the blanched shoots and drain well, then put on a serving plate, drizzle all over with the ramp leaf butter and sesame and eat hot.
More