Spring is one of the most exciting times of year, and the regrowth of fresh greens always makes me crave them. Spring ephemerals, or plants that have short life spring lifecycles, are fascinating in how they operate. Plants like ramps, toothwort, spring beauty, trout lily, and Floerkia sprouts all live and get their energy in the very early spring when it's still cold--before the trees fully leaf out--a genius sort of evolution.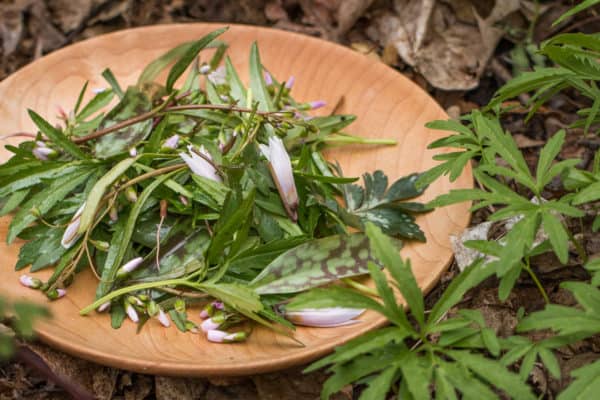 To me the ephemerals are crafty little buggers, and I imagine them saying something like: "ok trees, if you're going to hog all the sunlight for most of the year, we're just going to get our fill before your leaves fill out when it's still early--how about that?!"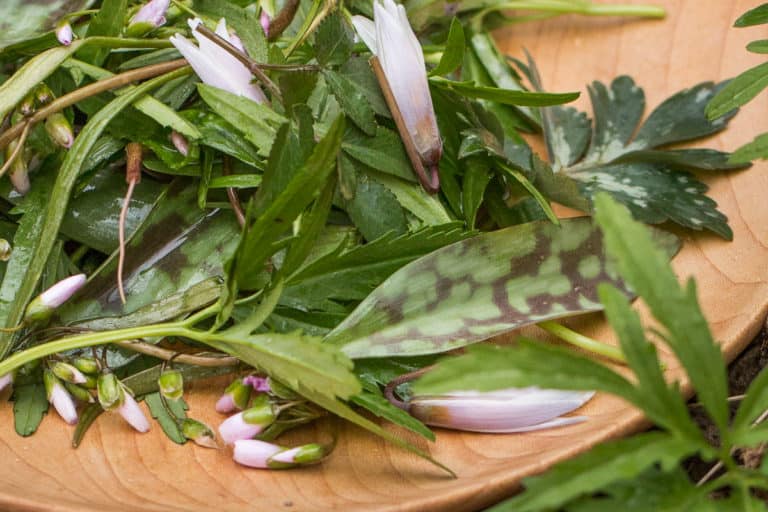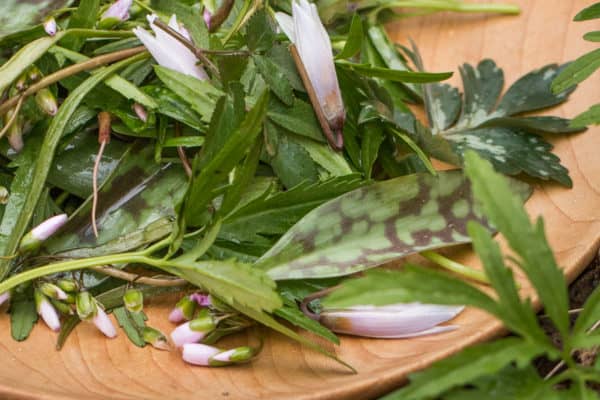 Raw Trout Lily Edibility PSA
There's a good amount of edible Spring ephemerals where I live, and they're great raw in a special spring salad, with one exception: trout lily. Trout lily, or Erythronium spp, at least the ones in my area, can cause emesis in a small part of the population, so I never serve them to people who haven't eaten them raw before. Cooked trout lily is a different story, but they also don't taste good cooked, so there's that.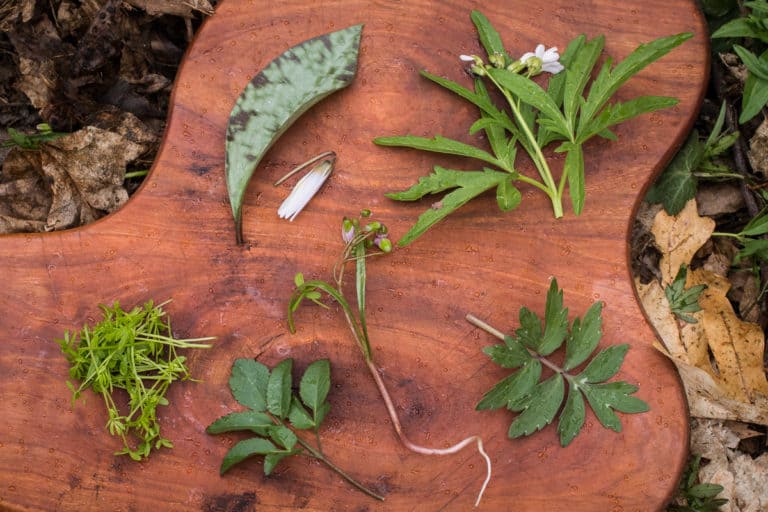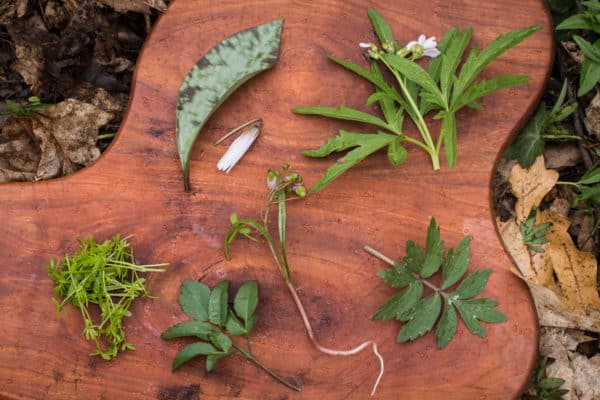 Either way, the recipe is more a teaching point about nature's cycles than a strict recipe per se, so feel free to add your own touch, for example, I added a couple leaves of virginia waterleaf, that, while it isn't an ephemeral, adds a nice touch of color with it's speckled leaves. A couple early leaves of golden alexanders add a nice celery-esque pop here and there.
Happy Spring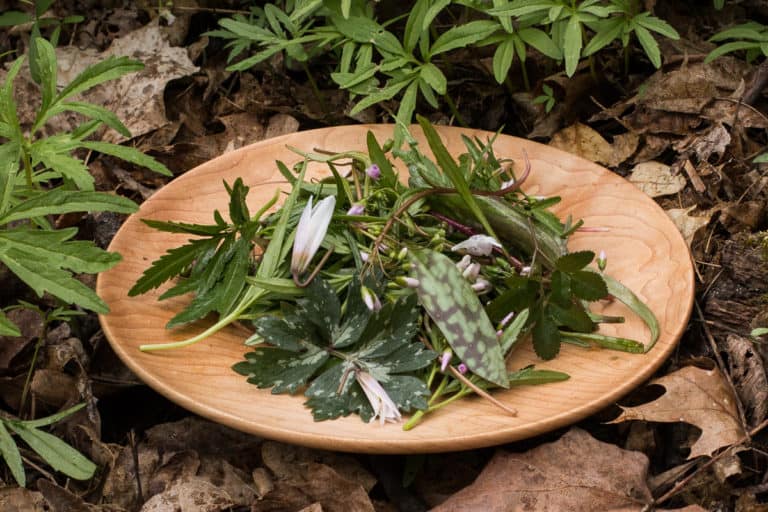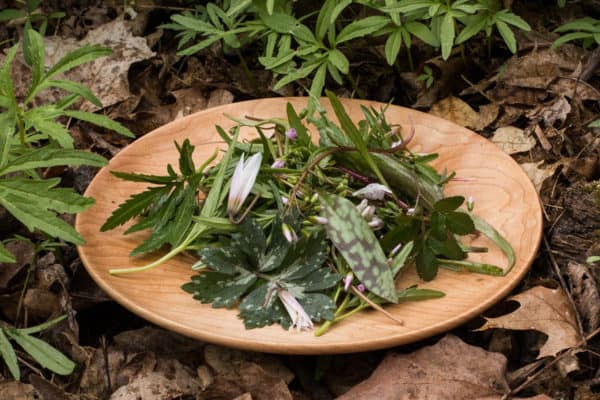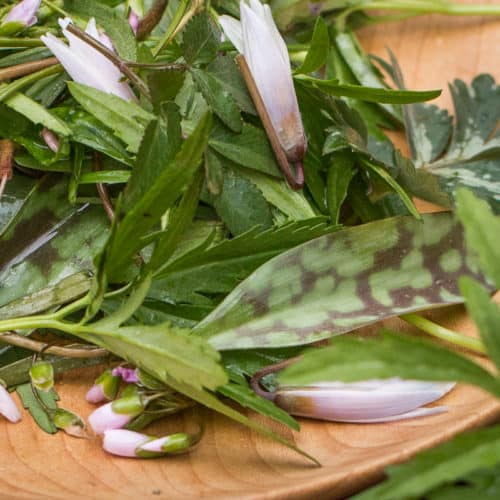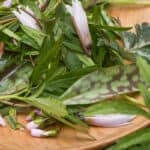 Print Recipe
Spring Ephemeral Salad
A simple salad made of edible spring ephemerals. Here toothwort, Floerkia sprouts, spring beauty and trout lily are used. Serves 4-6 as a small side dish
Ingredients
8

oz

fresh spring ephemeral greens

leaves, stems and flowers

kosher salt and fresh ground black pepper

Fresh lemon juice or a dash of vinegar--your choice

Good tasting salad oil

like extra virgin or a rich nut oil

Fresh herbs, to taste

like torn mint or basil leaves
Instructions
Wash the greens well in cold water, then dry completely in a salad spinner or by gently wrapping in towels.

Toss the greens with a touch of oil, salt, pepper and herbs, then acid to taste, and serve.
Notes
Adding herbs 
Fresh herbs will add pops of flavor that will help people skeptical of eating weeds enjoy this. Wild mint is available in many places in the Spring, so that's my first choice. 
Nutrition
Serving:
2
oz
|
Calories:
9
kcal
|
Carbohydrates:
2
g
|
Protein:
1
g
|
Fat:
0.04
g
|
Saturated Fat:
0.01
g
|
Polyunsaturated Fat:
0.02
g
|
Monounsaturated Fat:
0.003
g
|
Sodium:
15
mg
|
Potassium:
98
mg
|
Vitamin A:
644
IU
|
Vitamin C:
13
mg
|
Calcium:
7
mg
|
Iron:
0.4
mg