Disclaimer
This article is meant to shed light on an obscure, traditional food and to dissuade those that would try and eat snapping turtle eggs because they won't cook up like chicken eggs.
I also compare and contrast the laws around snapping turtle harvests, which have no limit in some areas near me, with the fact that harvesting snapping turtle eggs for food is illegal. I think asking questions is good. My words here aren't intended to suggest that anyone should break the law, which I unintendedly did, and am honest about.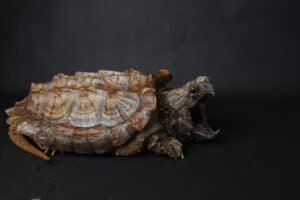 ---
Original Post
It's the first week of June. The cattail shoots are perfect, and, hidden in the marshes nearby, another annual tradition, one that's been taking place for roughly 90 million years in more or less the same fashion, is playing out.
It's a yearly ritual that most people will never see firsthand, sans the occasional spectacle that is watching a lumbering, ancient creature cross the road. It's the season for egg laying, if you're a snapping turtle.
My introductory taste of turtle came while I was developing recipes for my first restaurant, and, I have to tell you, the first spoonful of snapping turtle soup I ate was magic.
The broth was richer than any fish soup, deep and meaty, almost beefy, with just enough hint of pond to make it interesting.
The meat itself I might compare to frog, if you crossed frogs with beef and the semi-aquatic character of Canadian geese.
Chef Lenny Russo had given me his turtle soup recipe to try out for the opening menu, and I thought a version of it would be a shoe-in for the retro steak house concept we were working on together.
It wasn't as easy a sell as I'd hoped, but just thinking of the aroma of turtle bubbling on the stove with aromatic vegetables and herbs kissed with sherry as I type is making my mouth water.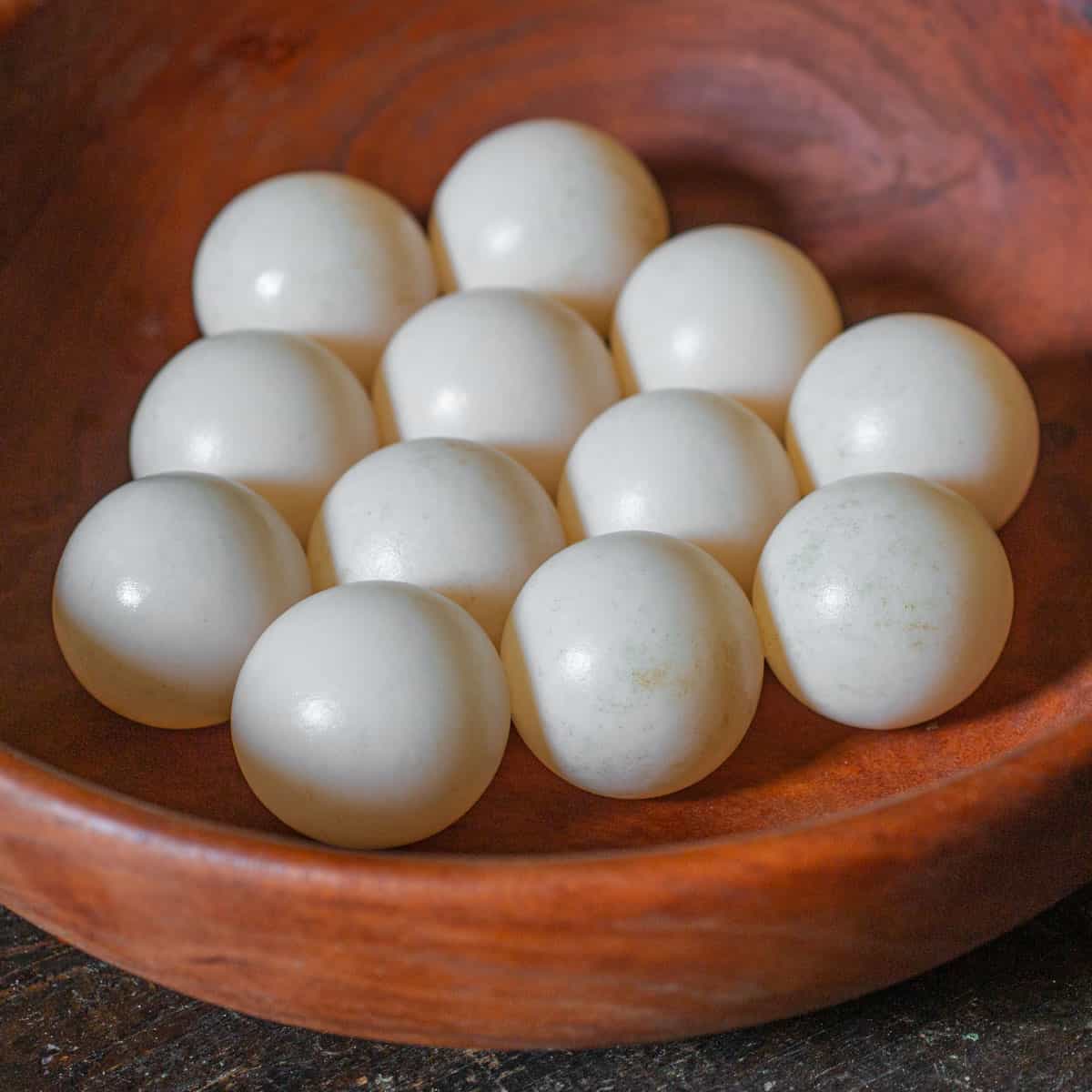 One thing you'll never see on a menu though, at least in the United States, are turtle eggs.
I mean I knew they were a thing, and after doing food research on Costa Rica before my vacation a few years ago I knew they were appreciated as a food (an understatement), but finding a nest of them seemed impossible. Heck, even if I did somehow find a nest, getting wild eggs at a stage of edibility similar to what we see in a super market is not easy.
After trudging through the cattail marshes hunting goose eggs a few years ago I felt like I'd have a better chance of getting struck by lightning than finding any oeuf au tortue at the perfect time.
As luck would have it, there's a cattail marsh in front of the farm in Wisconsin, and, one day during the first week of June, a few members of my Girlfriend's family who appreciate my funky foods mentioned they'd just seen a big mama snapper laying eggs on the driveway.
So, I grabbed a shovel and went out to find me a cache of dinosaur eggs.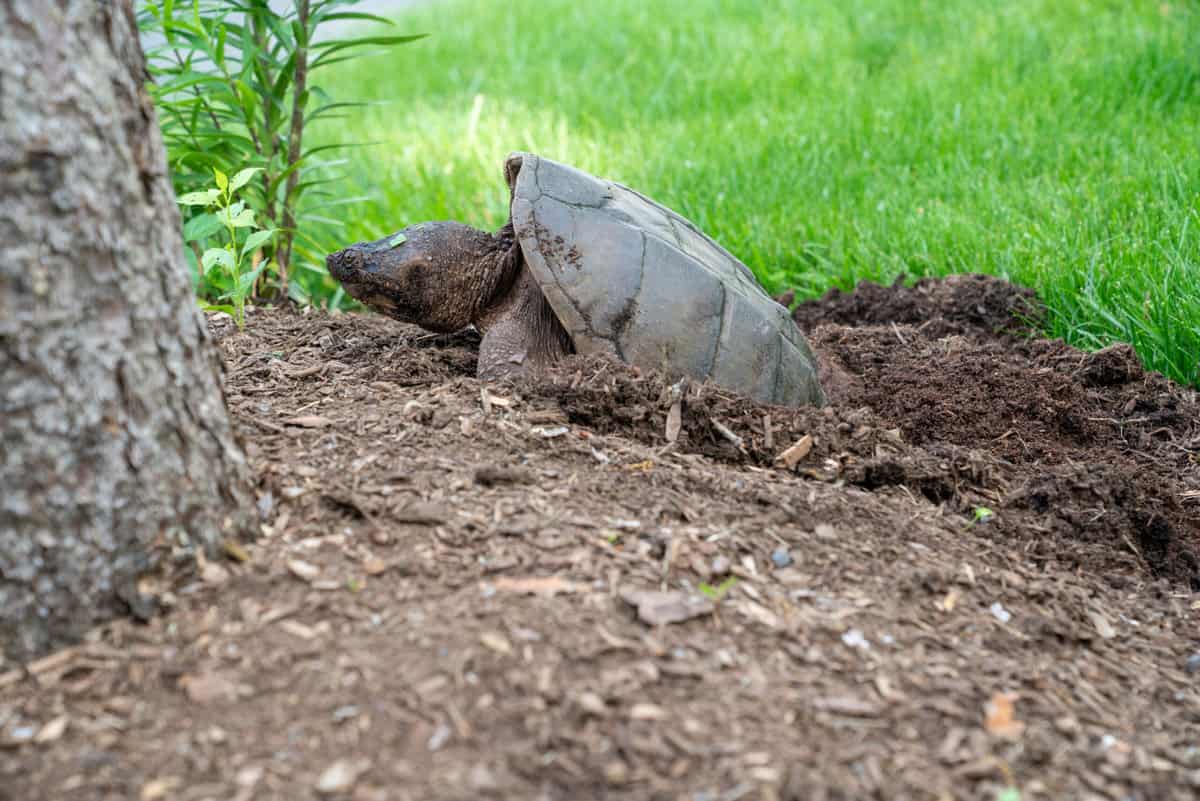 Legality
In my excitement I neglected to think about the particulars of the area, so I also need to mention that it is illegal to harvest snapping turtle eggs in Wisconsin as the season starts in July. Part of my goal here (especially with my account of eating) is to dissuade curious tasters and steer them to enjoying turtle meat instead, which has an open season in areas near me.
It is legal to possess and sell turtle eggs in MN with a hatchery license, although the conservation officers I spoke to said that possession is not intended for culinary purposes.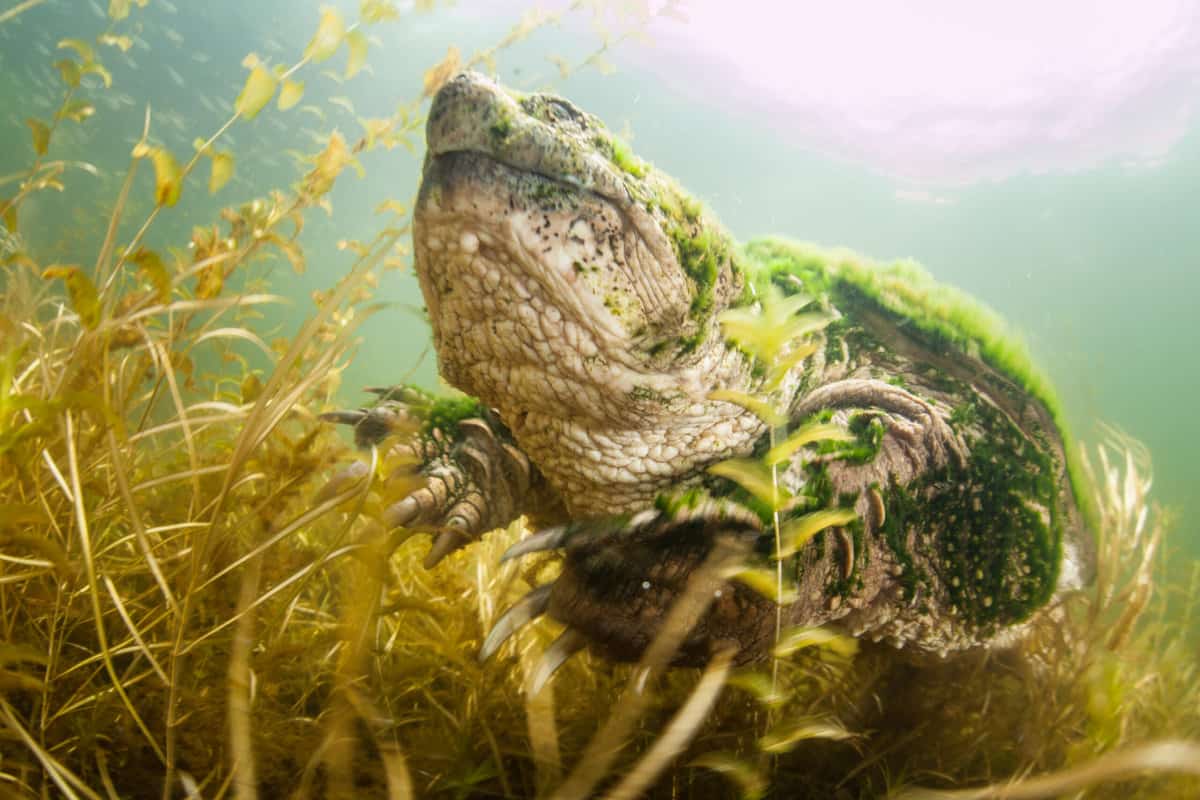 As my audience is global here, and regulations vary around the country, I'll also mention that in different parts of the world it is absolutely legal to harvest some species of turtle eggs as they're a traditional food.
It's also possible in some places to get a surprise harvest of unlaid turtle eggs depending on when they're harvested. Our relationship with turtles as food is likely one of the oldest ones there is, and it's worth remembering.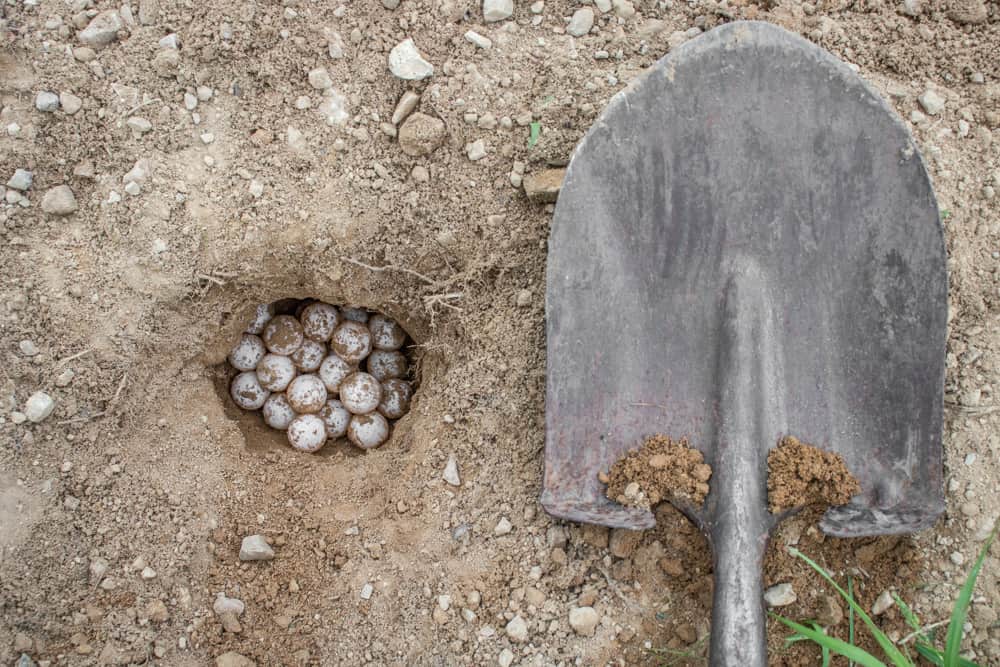 Scanning the gravel road, I saw a patch of dirt that looked a bit darker than the surrounding area.
I knelt down to inspect it, looking over my shoulder for the big mama snapper part of me believed was lying in wait, ready to rush from the cattails to bite off the first finger I poked inside the nest. I expected the gravel to be soft, being recently dug, but it was rock hard and firm, more along the lines of hardened clay than a sandbox.
I chipped away carefully at the darker gravel with the shovel, then slowly removed the dirt with my hands, excavating a good portion of the driveway.
After the fact, I learned why the soil on top of the nest is hard: mama turtle pees on the ground to get it loose, then packs it down after laying the eggs. For the record, turtle pee is odorless, as far as I can tell.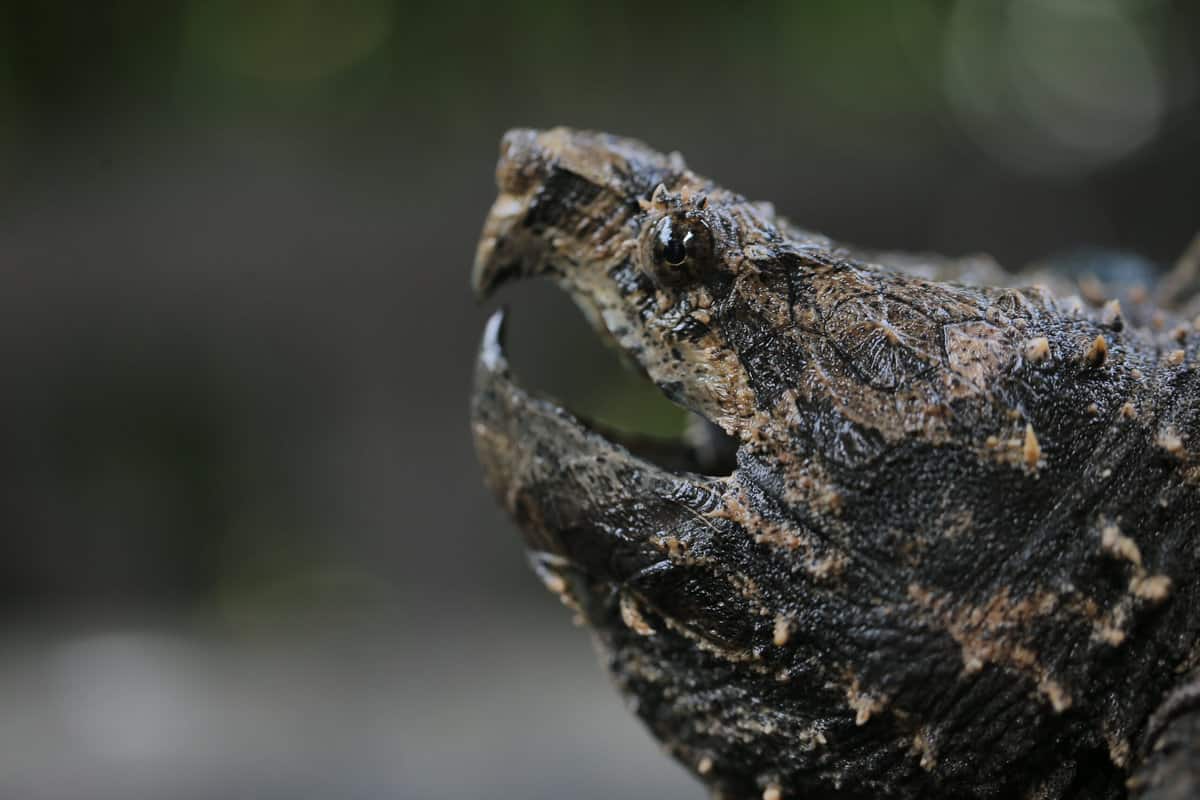 A couple inches below the soil, I found the nest: a little hollowed out cavern filled to bursting with more eggs than I'd ever seen.
I counted over 50 eggs, which is apparently a good showing as I've read they can lay as few as 20 eggs.
The snapping turtle population is regarded as stable from what I know (at least from a global perspective). I also knew (from armchair research) that the majority of nests are raided by predators, so I only took a handful to try.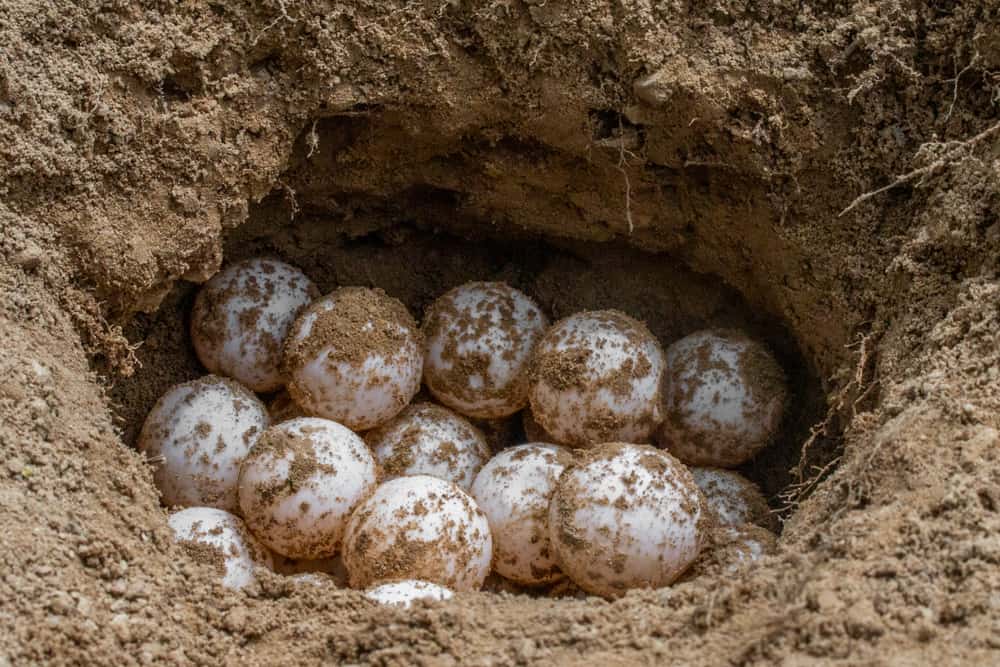 I packed the dirt back in as best I could to keep the eggs safe, said a quick prayer to Master Splinter to keep the foxes, owls and possums away, and brought the eggs back to the kitchen.
The first thing I noticed was that the eggs were soft. The skin of turtle eggs isn't hard, it's leathery and malleable, like a soft ping-pong ball.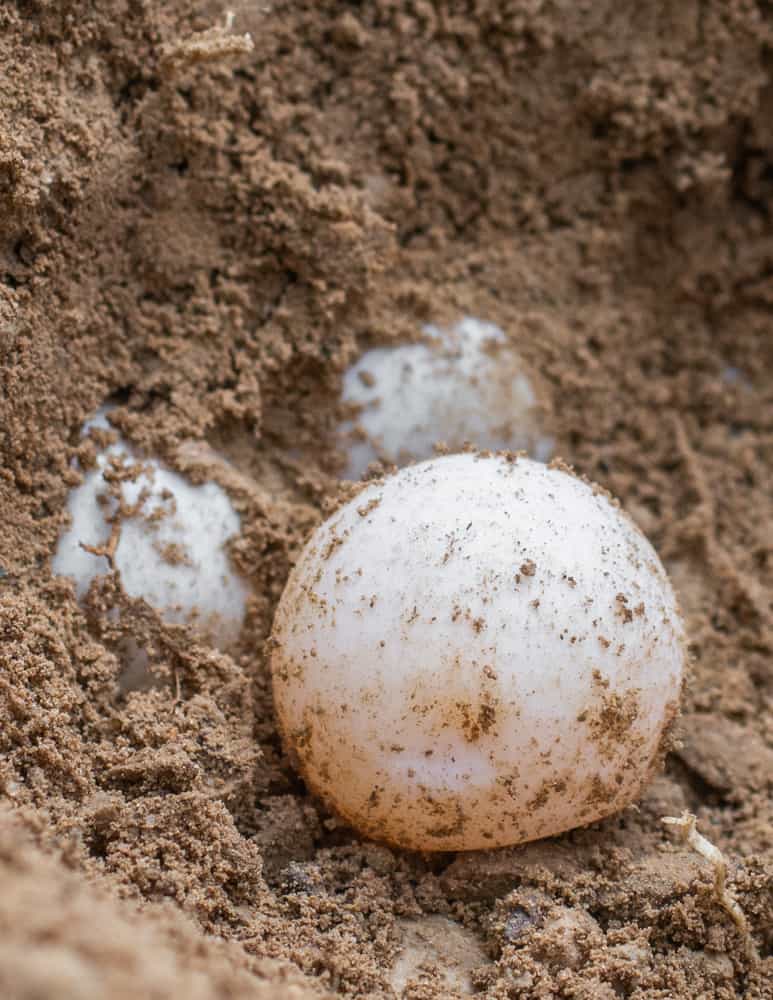 I washed and refrigerated the eggs to keep them fresh and retard any growth, then got to work researching how best to sample my Mesozoic dinosaur ovum.
Marvel of the modern age that it is, you bet there's a YouTube video showing how to cook unlaid snapping turtle eggs.
The guy in the video I watched scrambled them and, looking at the modest harvest of small eggs I had, I thought it would be a waste, so I went with the Classic Costa Rican treatment: boiled and eaten out of hand as a bar snack with the requisite pinch of salt, hot sauce and lime.
Quick tangent. Costa Ricans love their turtle eggs so much that poaching is apparently a big problem, so much so that fake eggs fitted with GPS trackers have been placed in nests to track the poachers.
There's a link to the whole story (what introduced me to the thought of eating turtle eggs in the first place) at the bottom of the post. Kinda gives a new meaning to poached eggs, Eh? 🙂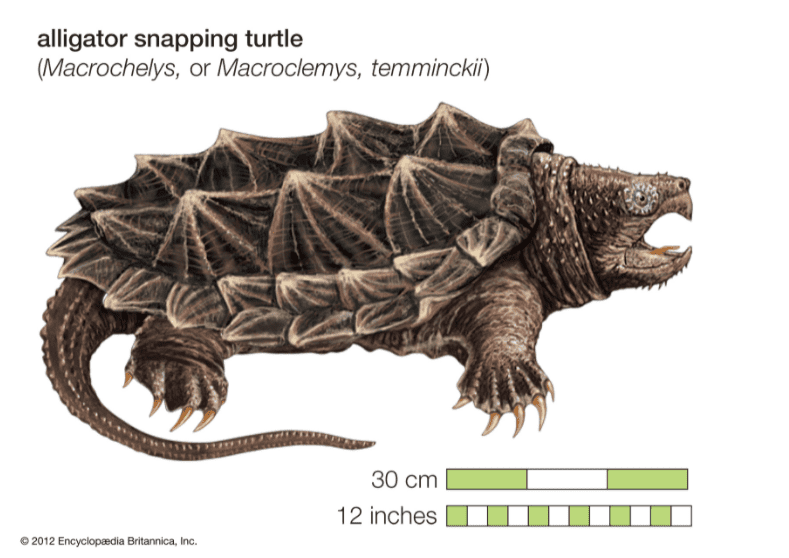 Cooking and Eating
The big question. What's it like to eat a turtle egg? Call it a delicacy. I've read that flavors can vary between species, and I'd assume diet plays a part in the taste as they're omnivorous and will search out live protein, mostly in the form of birds.
I found the reference to colonial Americans starting turtle hunting clubs (a turtle hunt is called a "frolic") after seeing their chickens dragged off into the deep-link at the bottom of the post to that.
On a related note, my friend Jamie Carlson kept a few snappers in tubs full of water to purge them and said everything from fur, twigs, and rocks came out of their system in the process (link at the bottom of the page).
My eggs though, were mild, and pleasant tasting, but there's one big thing involved with turtle (and I can only assume other reptilian eggs as well) that I didn't expect, and something that will turn most people off from eating them.
Jiggy whites
I boiled my turtle eggs, peeled back the still pliable shell, and did a double take, thinking for a moment I'd under cooked them as the whites didn't set. Yes, the whites, even cooked for a good 20 minutes as I did mine, were still, erm, jiggly.
It's not liquid per-se, but It's definitely more liquid than it is cooked white.
Having people peel back the soft turtle shell, drop in a pinch of salt, a dash of hot sauce and a squirt of lime before sucking down the contents (proceeded by a shot of local Sangrita or Cacique) could be the christening to a proper Costa Rican-themed summer party though.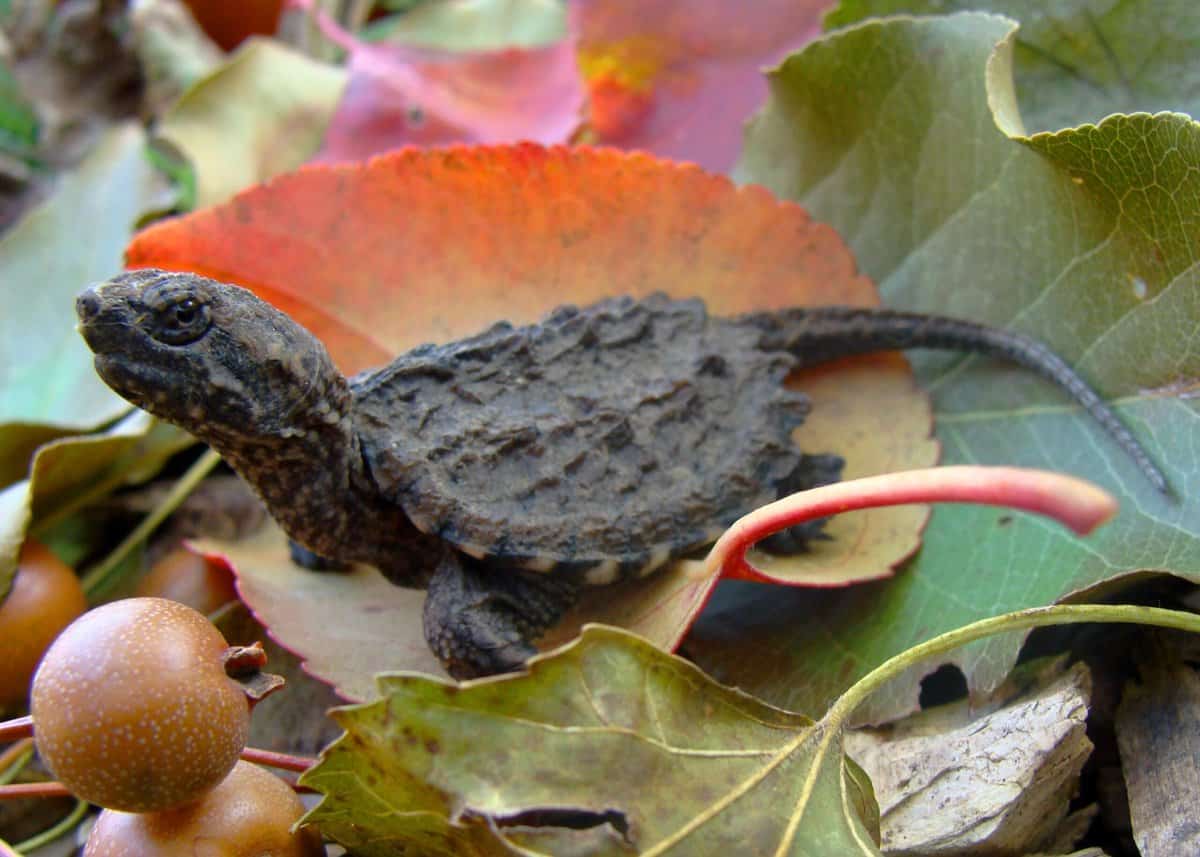 In hindsight, I liked the novelty of eating snapping turtle eggs, and the mild, texturally confronting eating was fun (when did hot sauce, lime and salt taste bad?).
But, I have to say, a week or so after I ate the turtle eggs, I started seeing the most wee snapping turtles embarking on the epic journey to cross the road near where the nest was.
Knowing their chances of success are slim, I'll probably pass if I see another nest. That being said, I'm still craving turtle soup, so, after she's done laying eggs, Mama's fair game.
Turtle Conservation
I know this post will ruffle some feathers, I expect that. But, before you send over a turf-burning email, consider a few things.
Habitat loss is a thing. It's easy, and reflexive to say a chef who ate a handful of turtle eggs has committed some kind of sin, but are curious nature lovers truly the biggest threat to turtles around the world?
Just about every day wetlands and turtle habitat are filled in for civil development and companies with money can buy and sell wetland credits to get approved on the construction, shuffling around land as their money allows, displacing multitudes of animals of which turtles are only one.
It's as if the turtles are expected to receive and understand an eviction notice so they can plan a move to newly created habitat. I use a few eggs as props here to spur a discussion, not to show off some blithe trophy.
Further Reading
Catching Turtle Poachers with Decoy Eggs in Costa Rica
Toasting with Turtle Eggs (legal egg harvests / 2020)
Snapping turtles as pets, etc (don't try this at home)
Hoboken Turtle Club (patronized by Benjamin Franklin, Thomas Jefferson, and George Washington)
Jamie Carlson and The Silence of the Turtles (Growler Magazine)