One of the greatest ramp bulb recipes of all time, ramp jam was a staple on the menu at three different restaurants I worked at or managed. Once you try it, you'll be a believer too.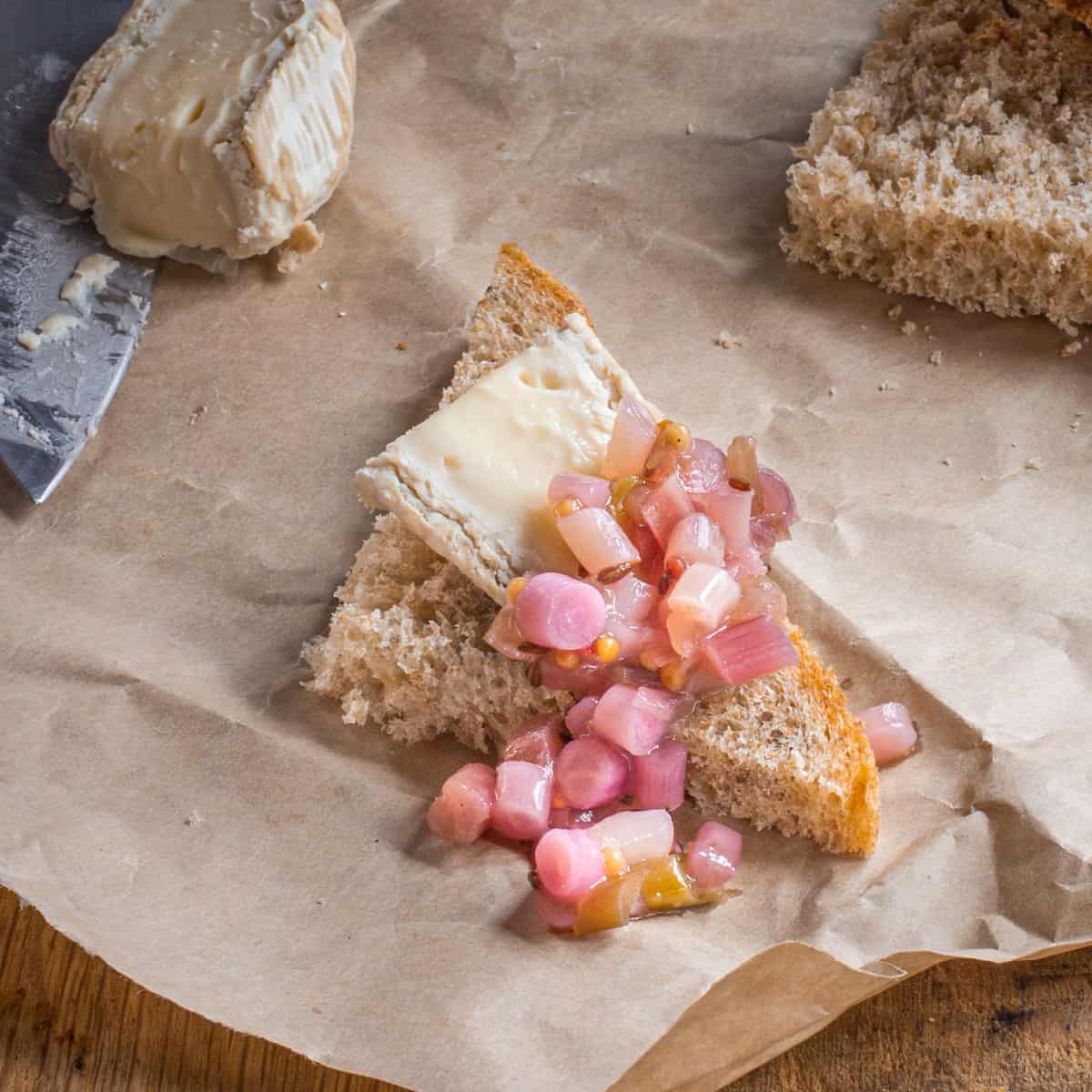 After yet another long winter, things are starting to thaw and Minnesota is coming back to life. My friends, coworkers and I have been counting down the moments until green things will start to grow again. Above everything else, nothing really announces the arrival of the growing season here like the ramp.
Last year at the tail end of ramp season I came upon a nice place where, for as far as my eyes could see, in every direction there were ramps, ramps, and more ramps. It was breathtaking. The leaves were all too far gone, but I dug plenty of gargantuan, late season bulbs for pickles, and I remembered the spot for this year. Last week we hit it up and picked the first batch of 2014.
The first flush of ramps you pick will be subtle and mild, they're almost more like a garlicky herb compared to the stronger flavor they will have after a few more weeks of growing. Cookery wise, young ramps with undeveloped bulbs aren't really the best for pickling. They can get pretty soft, and lose their texture quickly.
There is a very special recipe I like to use with the young ramps, and it ranks right up there with ramp top pesto in terms of deliciousness, maybe even more so. It's sweet, sour, gooey, incredibly savory, and has hints of aromatic notes from the whole toasted spices: it is the almighty ramp jam.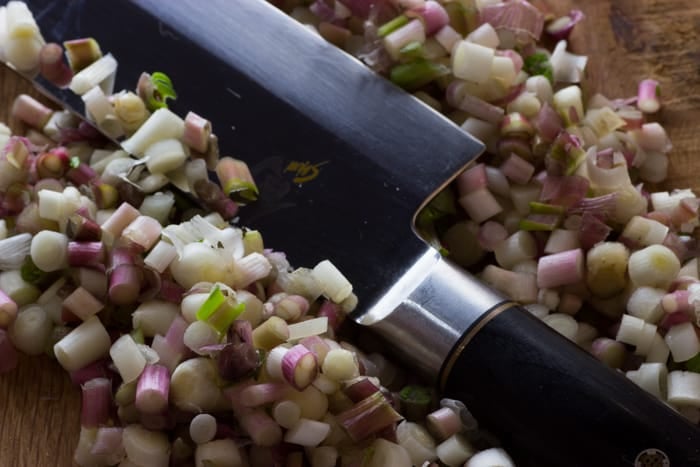 This is a just a variation of a recipe for green onion jam I adapted and tweaked from a chef who I admire very much-Lenny Russo, without him, there would be no ramp jam. Not exactly a "jam" like you would expect, it's savory and has a bit of a slight crunch to it as well. You could definitely still put it on toast (I do) but usually it's function is more of a condiment, to be used as part of the accoutrement for platter of cured meats or cheese. It is so much more than just a condiment though.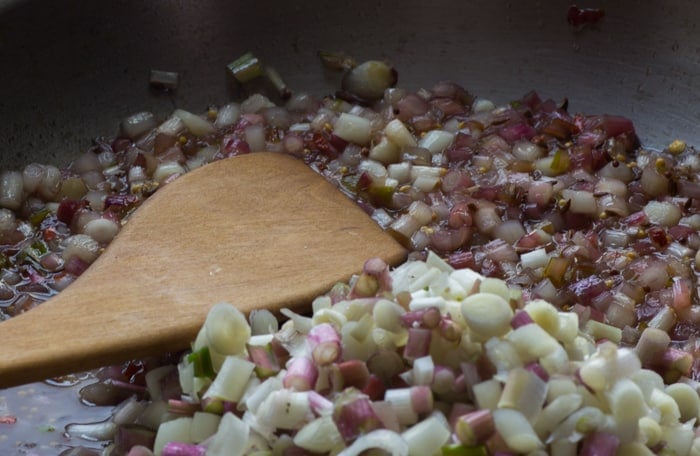 Since the recipe contains a bit of cornstarch to thicken it and give it it's "jammy" quality, it will in turn thicken other things that you add it to. Gravy, fruit sauce, heck barbecue sauce. The ramp jam's possibilities in the kitchen are only limited by your imagination.
I've used it to make vinaigrettes, flavor sour cream, or I'll just dollop it on something, anything. This week I used it to make a sauce for beef roast. I took some jam, thinned it with just a bit of reduced, strong pork glace then mounted it with a little butter, and whisked it in to thicken it lightly: it was the best thing I made all week.
In closing, if you know where some ramps grow, you should probably go there immediately and then make this recipe. Afterwords, send me a message and tell me some fun ways you've experimented with it. 🙂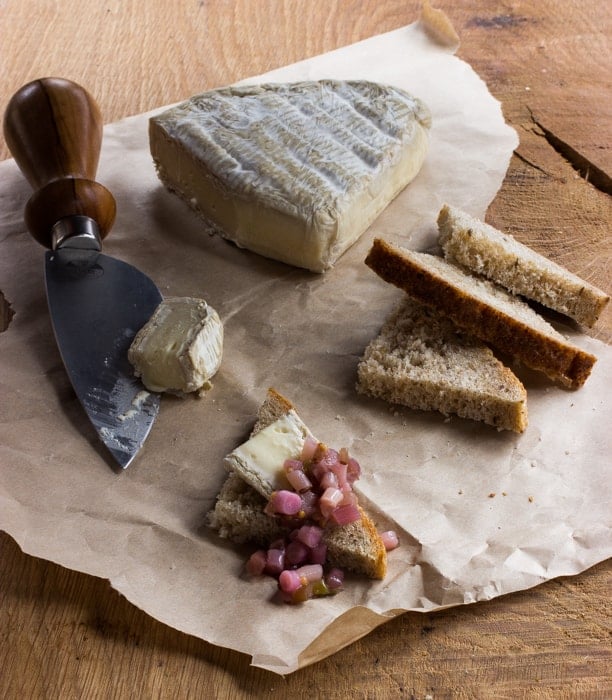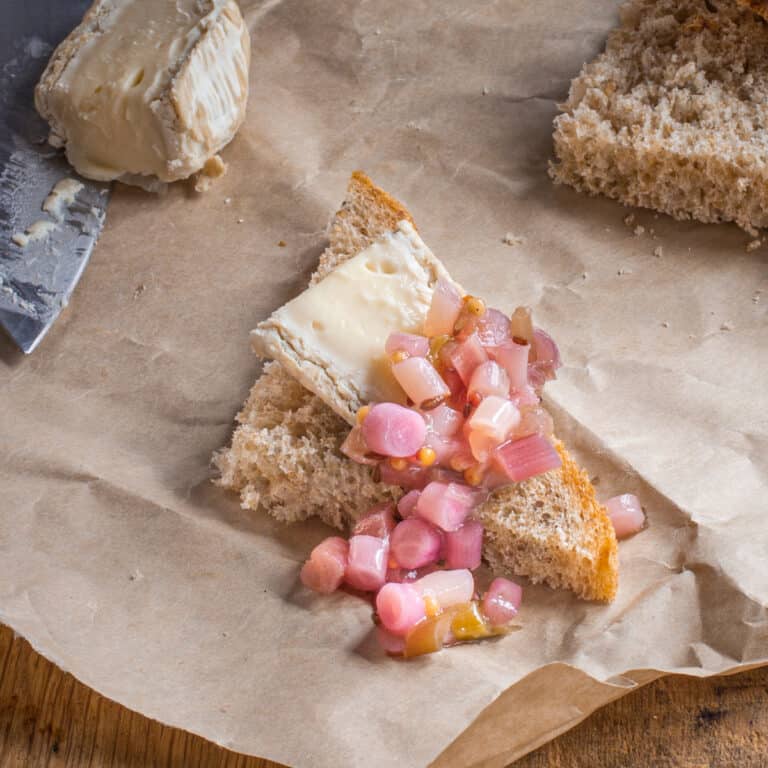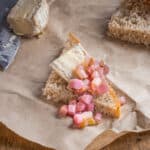 Print Recipe
Ramp Jam
Yield: 3 cups
Ingredients
2

cups

ramp bulbs and stems sliced ¼ inch

reserve the leaves for making ramp top pesto

1.5

teaspoons

cornstarch

dissolved in ¼ cup water

½

teaspoon

kosher salt

2

Tablespoons

sugar or honey

¼

cup

apple cider vinegar

1

teaspoon

mustard seed

¼

teaspoon

each whole caraway and cumin seed

toasted

1

tablespoon

flavorless oil like grapeseed or canola

Tiny pinch of crushed red pepper flakes
Instructions
Heat the oil in a saucepot on medium heat, add half of the ramps to the pan and cook for a minute or two until translucent. Add the salt, spices and sugar and cook until the sugar is dissolved.

Add the vinegar and cook for a minute more. Add the cornstarch dissolved in water and cook until the mixture thickens, just a minute or two. Finally, turn off the heat and stir in the reserved ramps, cool, cover and refrigerate. The jam will last for a couple weeks, but will lost some of the "jammy quality" after a while.

Transfer the ramp jam to a container and cool immediately. It will keep for a long time if it is tightly covered, although the jammy-ness of the cornstarch will wear off after a week or so.
Notes
Adapted from a recipe by Celebrity Chef Lenny Russo, this eats like a chutney and is the perfect compliment to cheeseplates and charcuterie, but can also be served with pork and poultry. 
Nutrition
Serving:
1
oz
|
Calories:
10
kcal
|
Carbohydrates:
2
g
|
Protein:
0.4
g
|
Fat:
0.1
g
|
Saturated Fat:
0.01
g
|
Polyunsaturated Fat:
0.04
g
|
Monounsaturated Fat:
0.1
g
|
Sodium:
120
mg
|
Potassium:
62
mg
|
Fiber:
1
g
|
Sugar:
1
g
|
Vitamin A:
199
IU
|
Vitamin C:
4
mg
|
Calcium:
16
mg
|
Iron:
0.3
mg
More