A wild purslane salad recipe (they're also known as verdolagas), tomatoes and feta. This is something I keep on hand ready to go pretty regularly during the late spring and early summer when purslane is in season.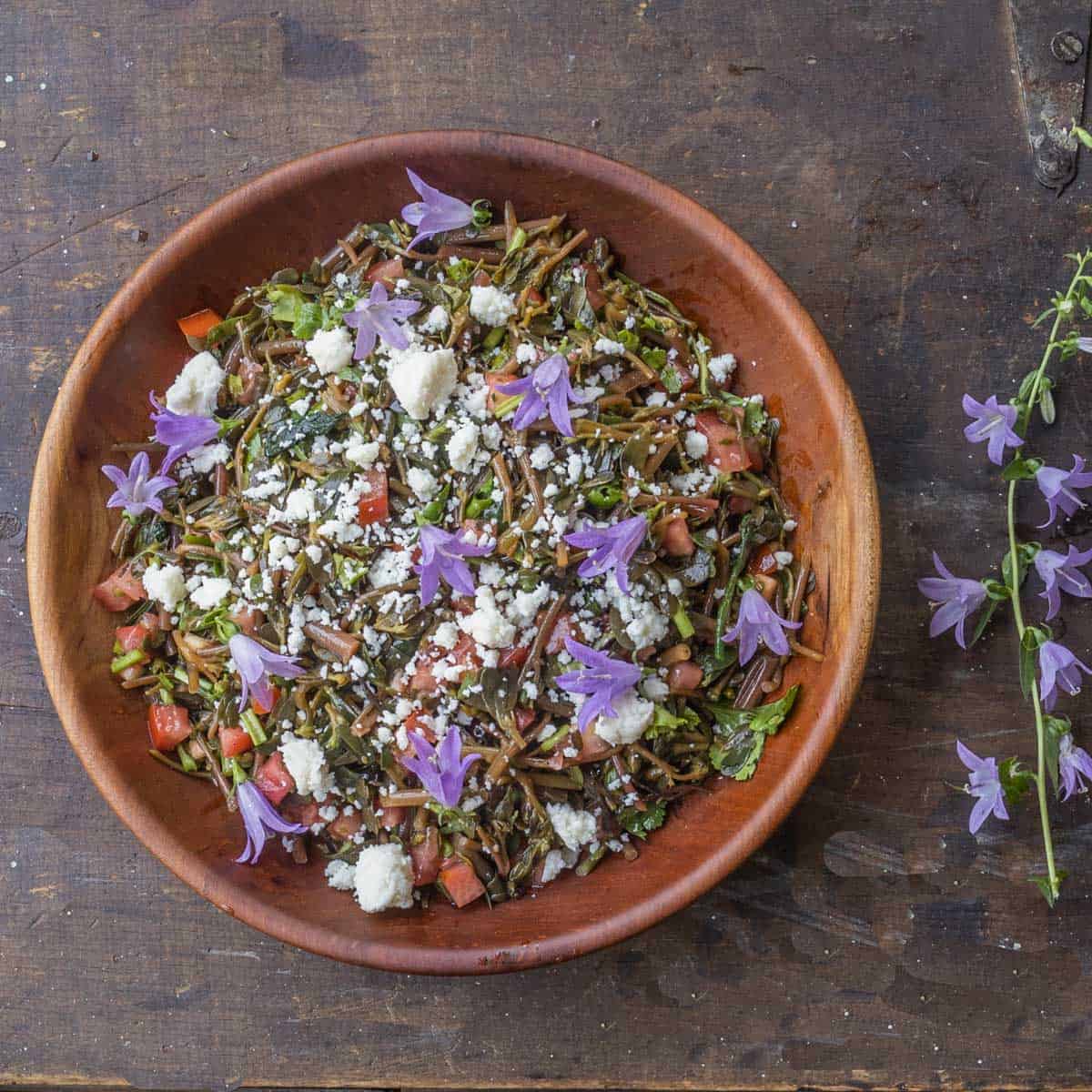 It's inspired by traditional preparations for purslane in the Mediterranean and the Caucuses, where purslane is often cooked and served cool as a salad. The plant is prized around the world for being rich in vitamins, as well as being delicious.
The difference between this and traditional cooked purslane salads small, but important.
Most of the traditional salads made with this plant call for cooking it in the pan and seasoning it without blanching. like to blanch my purslane before dressing with oil and seasonings.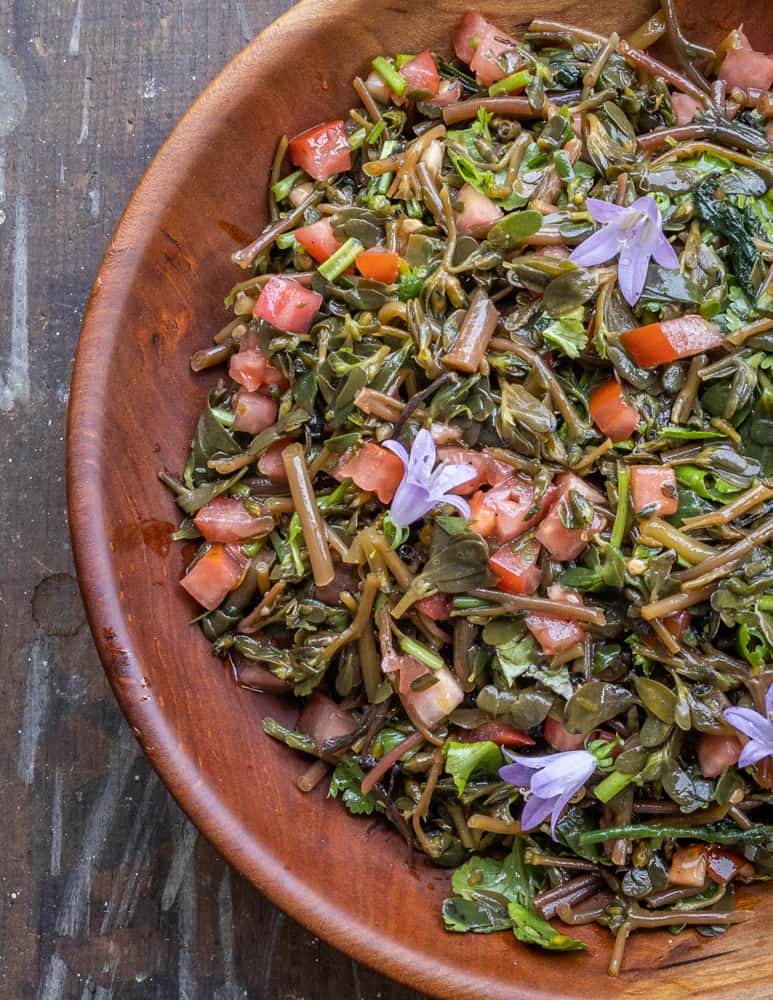 Blanching serves a couple purposes here. It ensures the purslane is tender, and, more importantly, calms it's flavor a little.
I've made salads of simply sauteed or braised purslane, and, they're ok, but I prefer it blanched. If the purslane is not blanched beforehand, the sour flavor will be more noticeable. From my experience, most people, especially people that are new to eating purslane, will prefer the blanched version.
After blanching, I roughly chop the purslane into pieces that are easy to pick up with a fork or spoon, but I make sure to still leave plenty of character.
After the purslane is cooked I mix it with some finely diced fresh tomatoes, herbs, oil and lemon. I finish it with feta cheese in a nod to the Mediterranean where purslane is widely appreciated as a food.
Clean thoroughly
Purslane grows low to the ground, so it's often very dirty or gritty. I find that most of the time when I harvest it I have to clean it very well. It's nothing to wash it twice in a sink of cold water before it's spun dry.
How to serve
All be itself with a loaf of crusty bread.
As part of a larger meal or mezze platter with olives, hummus and flatbread.
I like to serve it at room temperature or even cool in the summer.
Variations
I rarely make things like this twice. Typically I make this only with purslane, but you can add other greens too. Here's a few ideas.
Add cooked mallow greens or cooked spinach for ¼ of the greens in the recipe.
If you want, you can omit the cheese, or use another Mediterranean cheese like chunks of Halloumi.
Similar Turkish recipes (they call it pirpirim) involve adding tomato puree and lemon juice to make it extra sour.
Add chopped fresh chilis if you like spicy food in the summer, as I do.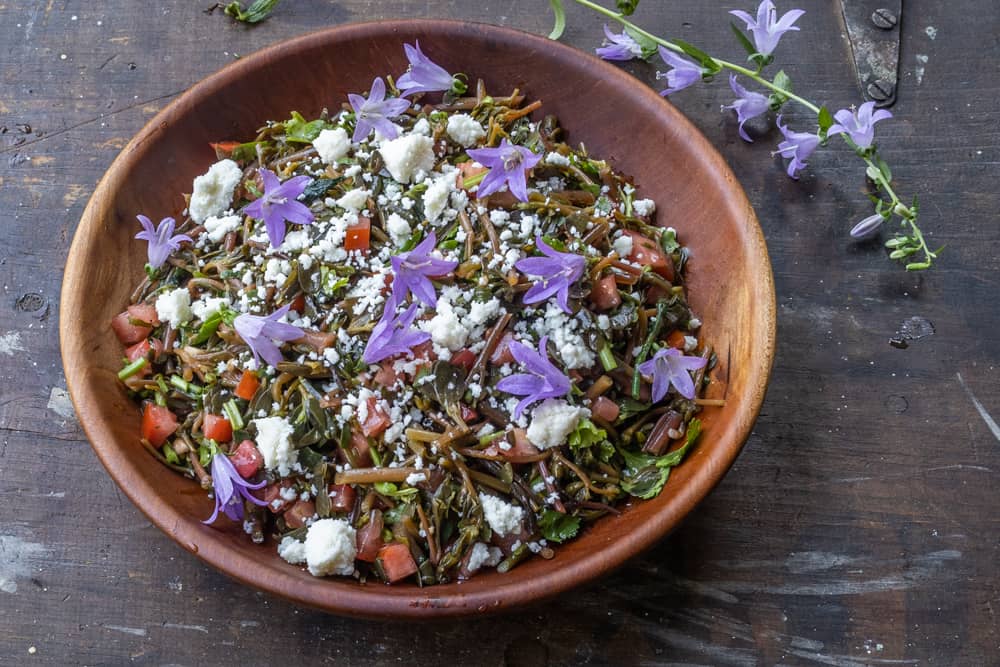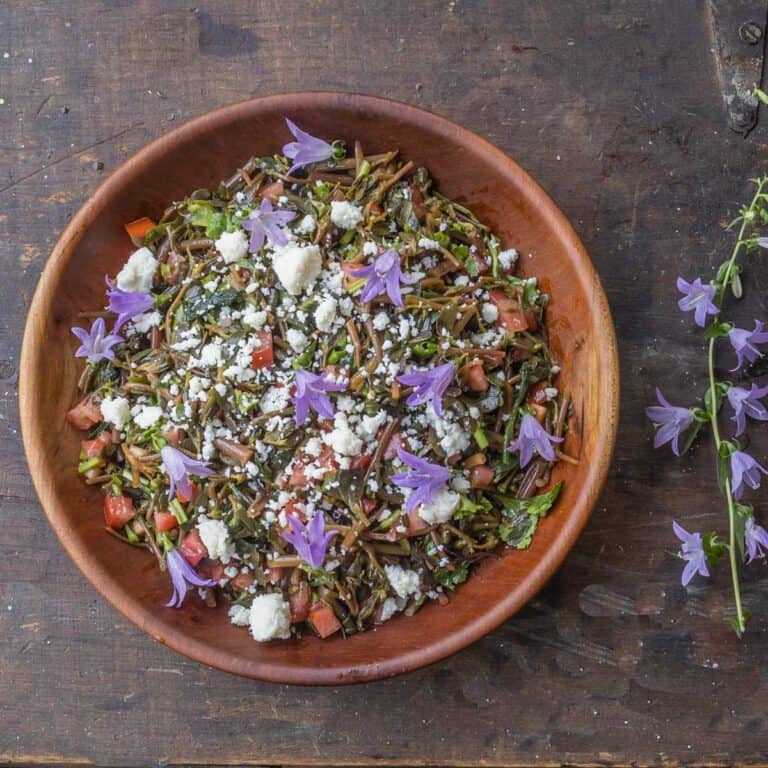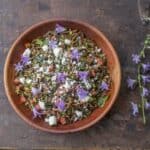 Print Recipe
Purslane Salad with Tomatoes, Herbs and Feta Cheese
A quick, simple salad of purslane good for the warmer months of the year. It's good warm or room temperature. Serves 6
Equipment
1 4 quart pot for blanching
Ingredients
10

oz

fresh purslane

1

fresh lemon

for it's juice and zest

3

Tablespoons

high quaiity salad oil, or to taste

such as extra virgin olive oil, or Smudes virgin sunflower oil

Kosher salt

to taste

Fresh tender herbs, roughly chopped

such as mint, cilantro, dill, or basil, to taste

6

oz

1 medium ripe, high quality tomato
Instructions
Harvest the purslane, leaving any very thick or dirty stems in the field. Bring a pot of salted water to a boil and blanch the purslane for 60 seconds, or until it's barely tender and tastes good to you, then remove to a tray to cool naturally.

Drain the purslane well, then put on a cutting board in a mass, and cut it with a chefs knife or similar into rough 1-inch segments.

Dice the tomato into ¼ inch cubes, or roughly chop.

Mix the purslane with the tomato and remaining ingredients to taste. Taste and adjust the seasoning for salt, pepper, lemon juice and zest, herbs and oil, adjust as needed until it tastes good to you, then serve.
Notes
This is a great thing to serve at room temperature or cool when it's hot outside.
Nutrition
Serving:
3
oz
|
Calories:
83
kcal
|
Carbohydrates:
4
g
|
Protein:
1
g
|
Fat:
7
g
|
Saturated Fat:
1
g
|
Polyunsaturated Fat:
1
g
|
Monounsaturated Fat:
5
g
|
Sodium:
36
mg
|
Potassium:
188
mg
|
Fiber:
2
g
|
Sugar:
0.3
g
|
Vitamin A:
4801
IU
|
Vitamin C:
17
mg
|
Calcium:
88
mg
|
Iron:
2
mg