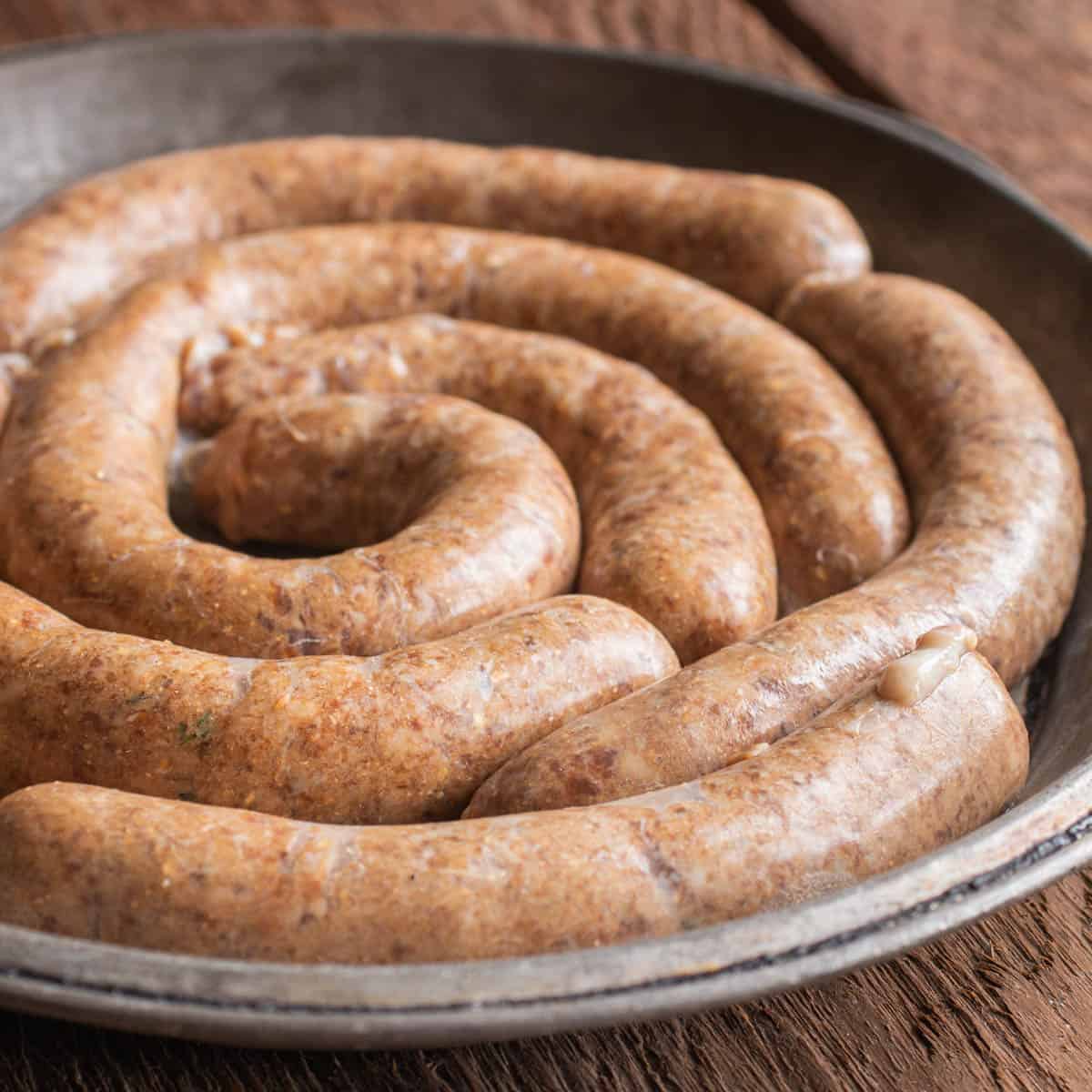 Here's a fun way to use meat, and dried mushroom powder, specifically puffballs. In charcuterie and sausage making, milk powder is often used, especially in finely ground emulsions like bologna and hot dogs to achieve a nice, bouncy texture.
Here, instead of using milk powder in the sausages, I use toasted, dried puffball powder, which acts similarly in that it absorbs moisture. Unlike the milk powder, which has an innert flavor, the toasted puffball powder adds some great mushroom-y depth to what is otherwise a pretty straight-forward brat, well, except for the lamb garum.
Chef's Note
I was playing with an obscure thing here called lamb garum to season the sausages, but it is totally optional, and you can just season to taste with salt instead, or, you could substitute mushroom ketchup, if you have any of that. If you use regular (kosher) salt, I would start with around 8 grams, or around 2 teaspoons, mix it in, cook a bit, taste and adjust, and go from there.
Know too, that the dried puffball mushroom powder here acts as a way to absorb moisture, which means this sausage, in it's bulk form, will be very stiff, and slighlty more difficult to case than you may be used to, which is natural.
Puffball powder
The dried puffball powder functions as a seasoning here, but make sure you toast the slices of mushroom before you powder them in a blender for optimum flavor, and since trying to toast already ground, untoasted puffball powder could be a dusty, stinky mess.
To prevent your entire kitchen from being covered in mushroom dust, toast slices of dried puffball, and then grind in a highspeed blender to make a powder, preferably with a towel wrapped around the top. Never heard of puffball powder? I have a post on it here.
Tweaking the puffball flavor
Sausage making is an art, and I never expect my sausages to taste when I add the first seasonings to the batch. I liked the puffball flavor of these, but, what if you want it more mushroomy? Since the sausage is stiff, it might be difficult to case if you add too much. To get around that it would help by hydrating the mushroom powder.
Here's one thing you could do: take some extra puffball powder, and moisten it with some heavy cream, just enough to hydrate it, then put the sausage mixture back in a stand mixer and process, on low speed, adding the puffball slurry until incorporated.
Afterwords, cook a small amount, taste and adjust, and go from there. Cream, milk and/or eggs are sometimes added to bratwurst, but, if you add egg, know that it can expand while cooking, and you'll want to poach them gently to coagulate the protein before grilling.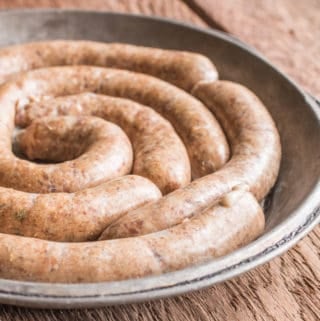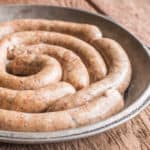 Print Recipe
Puffball Mushroom Bratwurst
Bratwurst flavored with dried puffball mushrooms and your choice of meat garum, soy, or salt
Equipment
Sausage stuffer, meat grinder
Ingredients
2

lbs

lamb or pork shoulder

½

teaspoon

ground ginger

3

grams/1 teaspoon finely minced or grated garlic

optional

25

grams

toasted puffball powder

½

nutmeg freshly grated

1

teaspoon

finely ground black pepper

6

tablespoon

lamb garum

soy, or substitute salt, starting with 2 teaspoons and adding to taste

Lamb or pork casings

as needed for packing
Instructions
Soak a length of casings in water to loosen them and remove salt. Cut the shoulder into 1 inch pieces, then grind through the fine die of a meat grinder.

Combine the meat and all ingredients except the puffball powder in the bowl of a stand mixer and mix well for 30 seconds on the lowest setting. Turn off the machine, and drape a towel over the bowl to prevent the puffball powder from going everywhere.

Add the puffball powder carefully to the bowl and mix well, the sausage should visibly tighten up as the powder absorbs moisture.

Cook a small amount of the sausage to test the seasoning, adjust as needed, and repeat until you like it. Pack the sausage into 29 mm hog casings or sheep casings, tie off at 3oz each, then allow to dry overnight uncovered in the fridge. The next day, separate the sausages, portion and freeze, or refrigerate and cook within 5 days.
More