Puffball parmesan sauce (Alfredo) is inspired by the prison-batch size amounts of alfredo sauce base I used to make in one of the first kitchens I worked in, differing in that it ends in a product I'd actually eat.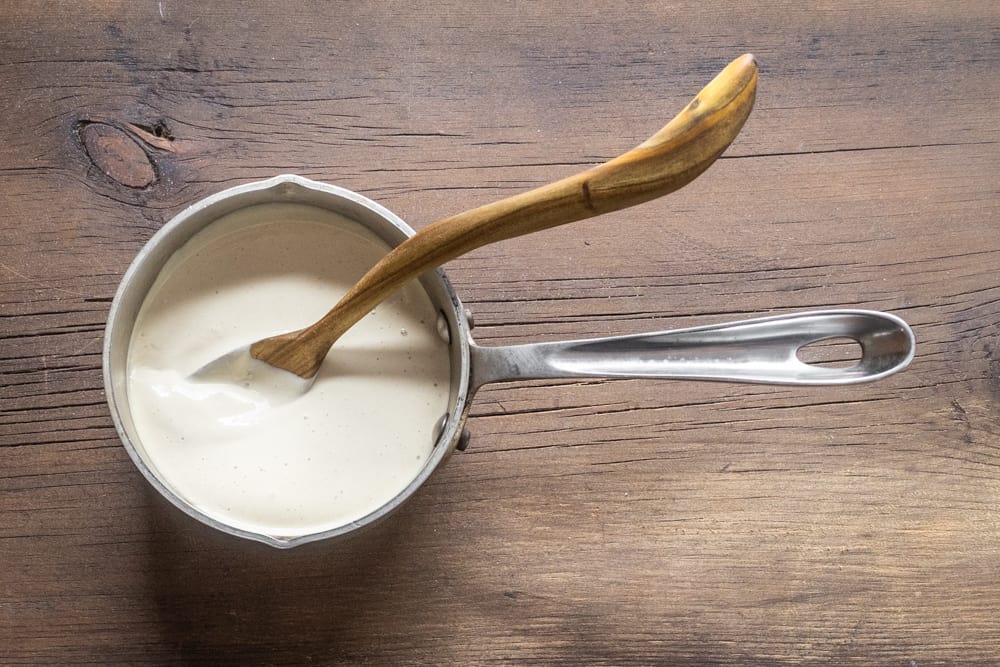 The alfredo sauce was a staple of the little steakhouse in the small town I started cooking in, and I can still remember the ingredients and preparation as clear as day. We'd start out by taking heaping spoonfuls of pre-chopped garlic in a jar and cooking it whirl. Yes, that is jarred garlic and butter-flavored oil.
After the garlic had stunk up the room and cooked for a bit, we'd add a a couple boxed Franzia chardonnay, chicken bouillon paste and reduce it down. Then came the cream: lots of heavy whip. Finally, we'd whisk in some pre-made roux, likely days old sitting at room temperature, which may or may not have also been made with butter flavored oil instead of actual butter to thicken it up.
Once the roux activated and thickened the now off-yellow sludge, we'd cool and chill the sauce, ending with a sort of ultra thick, creamy milk jelly, which would need to be diluted with more straight heavy cream when it was "picked up" on the line for service-probably with more jarred garlic. The thought of making, eating, or serving it scares me now, but I'd be lying if I said there wasn't a little nostalgia in there too. Nostalgia for the real thing or "tre-latte" as one of the chefs I worked for from Italy called the famous white pasta sauce.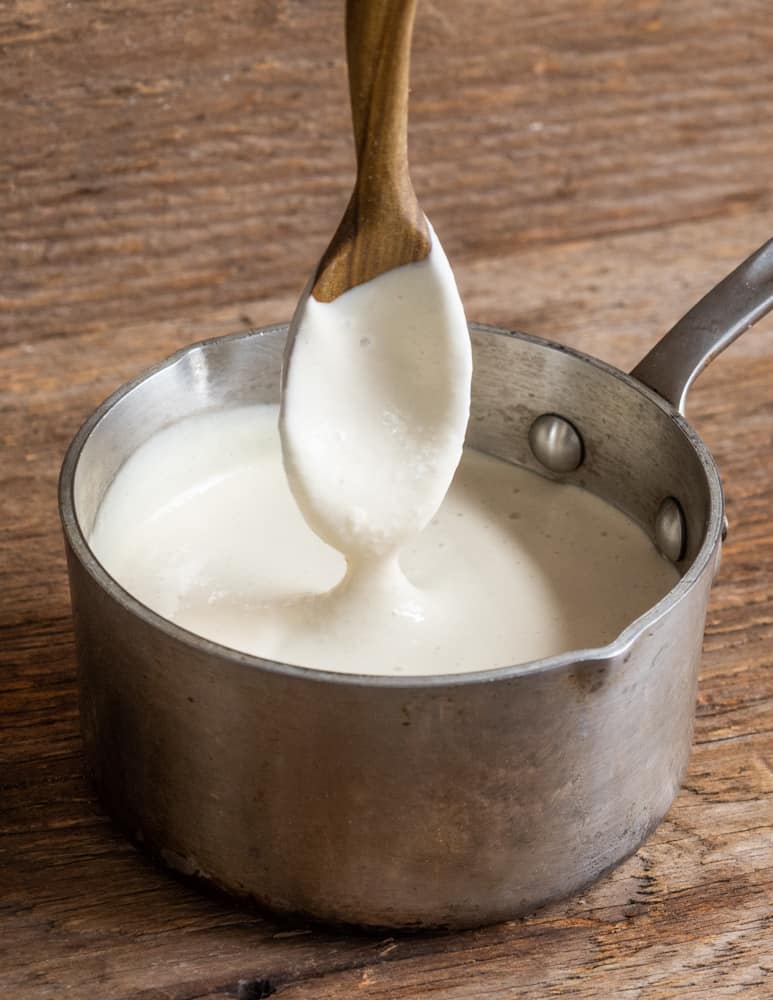 You can make a good white sauce for pasta and other things, all you need to do is start with good ingredients that resemble food.
Here's a pretty easy way you can make a similar base with dried puffball "flour" or other mushrooms like dried chanterelles, a little cream, wine, cheese and the usual suspects. It holds well and can be used in any place you'd use white sauce like bechamel, such as pasta, lasagna, anything parmesan, and as an all-purpose mother sauce, to which you might add pureed tomatoes or something else.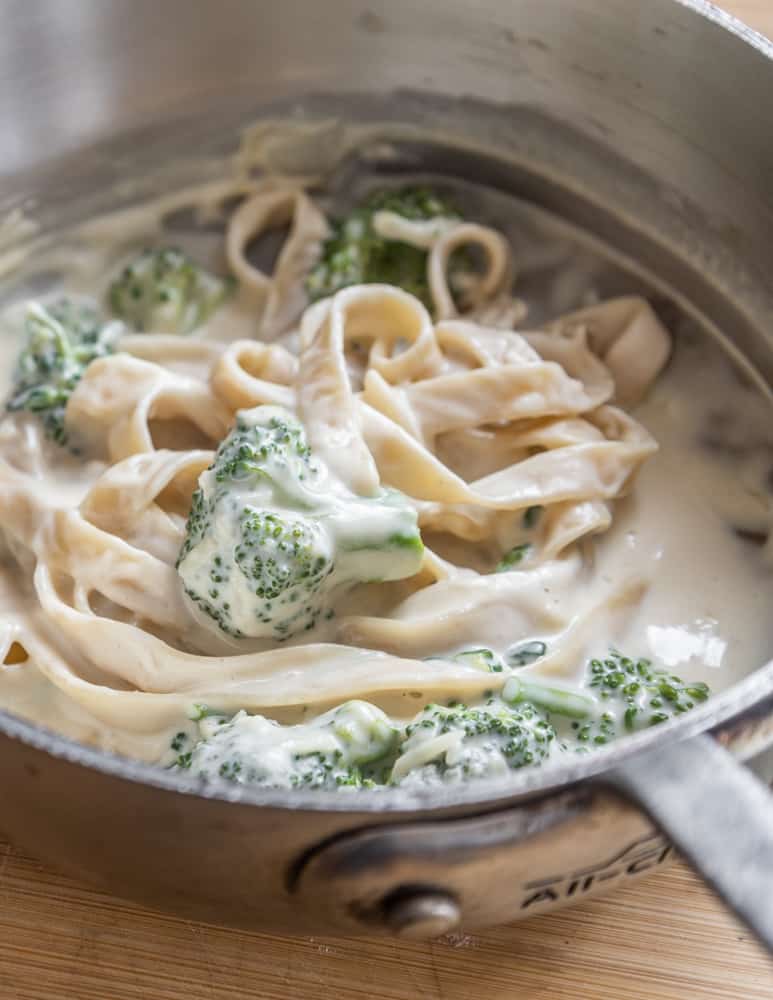 Examples of where and how I'd use it.
Poured over blanched greens, broccoli or other vegetables, topped with grated cheese and baked.
Mixed with tomato sauce for a pink sauce great with pasta, chicken and fish (think vodka sauce). Or thinned and pureed to make a nice soup.
Used to bind something like potato gratin dauphinoise
With puffball parmesan or anything made parmesan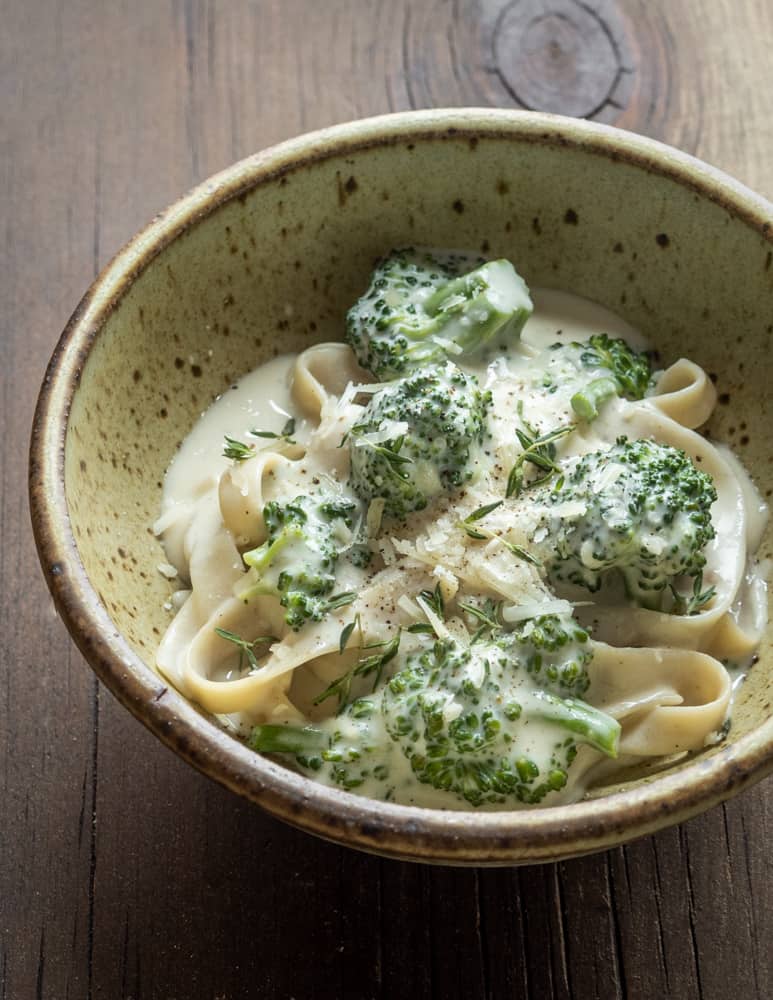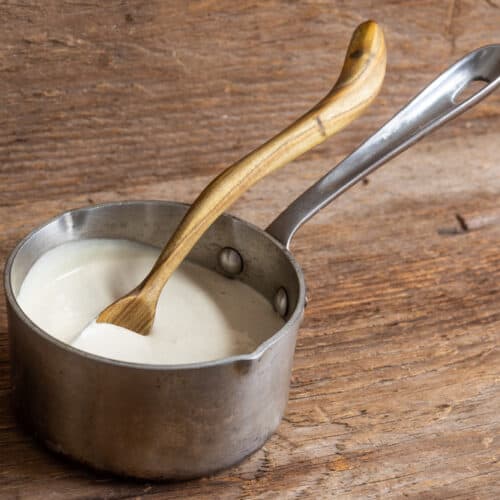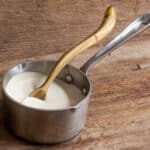 Print Recipe
Puffball Alfredo Sauce
Simple homemade white sauce with garlic, wine, chicken stock, parmesan, and puffball mushroom powder. This will serve 8, so consider cutting it in half if you want to serve smaller portions Makes 3.5 cups
Ingredients
Sauce
1.5

oz

dried puffball or other mushrooms mushrooms

crumbled, or dried puffball powder (this is roughly 2 cups of crumbled mushrooms and mushroom powder)

⅓

cup

dry white wine

plus a splash for finishing

2

cups

heavy cream or half and half

3

tablespoons

all purpose flour

1.5

+.5 cups homemade chicken stock

good and strong, separated

½

teaspoon

kosher salt

plus more to taste

3

large garlic cloves

crushed with the back of a knife and chopped roughly, plus another 2 cloves for finishing

4

+1 Tablespoons unsalted butter

separated

3

oz

grated parmesan

or to taste, plus more for finishing
Serving
Fresh lemon juice

for finishing

Cooked fettucine or tagliatelle

start with 1 lb

6

oz

lightly blanched

cooked broccoli, cut into pieces to fit on a fork
Instructions
Sauce
In a 2 quart saucepan, bring the puffball powder and ½ cup stock to a simmer until the pan is nearly dry. Add the butter and cook until the puffball mass is sizzling and hot, about 3-4 minutes.

Add the garlic and stir, cook a minute more, add the flour and stir, cook for another minute, then add the wine and stir vigorously until thick. The mixture will tighten up quickly.

Add the half and half, along with the chicken stock and salt, and bring to a simmer, whisking constantly. It will look clumpy-that's ok. When the mixture is hot and steaming, cook for a minute or two more, then transfer to a blender, adding the parmesan, or buzz with a handblender, which can be less smooth.
Pureeing
Puree the mixture, starting on low and moving up to high speed, until the sauce is velvety and smooth.

Taste and adjust the seasoning of the sauce for salt and /or parmesan and adjust as needed (a teeny tiny pinch of cayenne can be nice too) then pour into a container like a mason jar, put on a lid, cool on the counter or in a container like a larger pot filled with cold water, then refrigerate. The sauce will firm as it cools but will come back to life when reheated. It will last for 3-4 days. It can be frozen, but needs to be re-pureed after thawing to emulsify.
Serving
To finish and serve with pasta, for each 4 oz of cooked noodles, use about 3-4 oz of sauce. For ease of executing, I'm writing this to serve 4. You will have leftover sauce.

Mince the remaining 2 cloves of garlic, then cook with the remaining tablespoon of butter in a large, wide pan. When the garlic is aromatic, but not browning, add the splash of wine, then add 2 cups of puffball sauce. Add the pasta, broccoli if using, and mix, adding a splash or two of pasta water if the mixture looks tight.

Taste the seasoning for salt, adjust as needed until it tastes good to you then, off the heat, add a small handful of parmesan, a dash of fresh lemon juice to taste, and the fresh thyme if using. Divide the pasta between 4 heated bowls and serve with extra parmesan on the side.
More