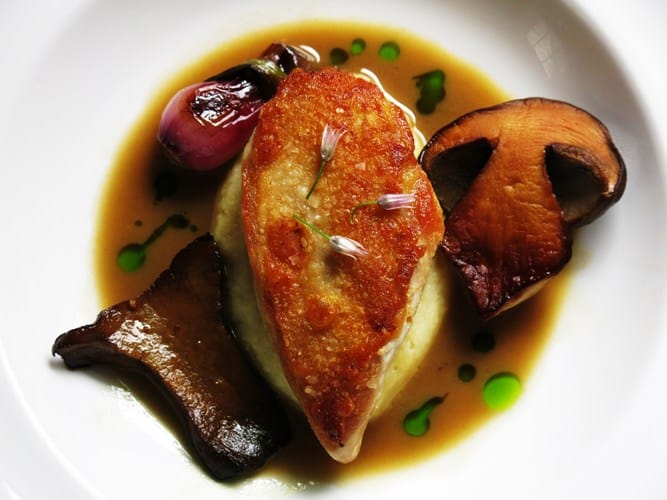 Boletes are wonderful, and  versatile in the kitchen, but they do require some know how to properly bring out their flavors, especially if you are dealing with slippery jacks. Currently in the fridge is two varieties of Minnesota boletes, leather veiled boletes, and a couple "bouchons" of boletus rex veris, or spring porcini. The term "bouchon" refers to a porcini that has not had a chance to bolt and spread it's spores yet, they are also less inclined to be attacked by bugs.
Often I talk about using mushrooms by themselves to taste their individual flavors. Combining various mushrooms into a sauce can have disasterous effects. A few years ago I made a sauce of 12 different mushrooms, I made the mistake of putting a couple dried morels in it. The morels took over every other mushroom, which isn't necessarily bad, but I wanted the dish to be a little less one-note.
Certain varieties of mushrooms are good together in dishes though. For example: the flavor of all the mushrooms in the chanterelle family is a bit similar, none are quite as fruity  as the golden chanterelle, but they are similar nonetheless, so you might serve a sauce made with yellowfoot mushrooms, black trumpets, golden and red chanterelles. In this recipe, I'm using two boletes together. The flavor of the leather veiled bolete and the porcini are a little different, but they are both boletes and share a certain nutty, meaty quality, and make a rich, sauce.
As far as the poultry here, if you have never heard of poussin, it is a baby chicken, this one was about 4 weeks old. They are like chicken, but more delicate, succulent. You might be asking yourself: "So what's the difference between a poussin and a cornish game hen?" Cornish game hens are older than poussin, and larger. A nice poussin breast should be  about the size of a business card, with the bird having a total weight under 2lbs.
The other two accompaniments to this dish are semolina and young purple spring onions.. Since our seasons are all out of whack this year due to the long winter, we still do not have many fun local food toys to play with, there are onions, radishes, snap peas, and asparagus, and that is pretty much it so far; we are making due.
Cooking with semolina flour is a great addition to any repertoire, here I cooked it in a way that resembles mashed potatoes or polenta, it's rich and creamy, and will absorb any sort of melty cheese very nicely. Semolina  can be reheated the next day, or even spread on a plate while hot to a thickness of about 1inch and then cut into little cakes or squares after it has cooled. Then you can fry it to a delicious golden brown for breakfast or whatever you like. The use of cooking flours as a starch like this is an old one, and dates back hundreds of years. In the middle ages, a porridge made of flour like this was called a "puls".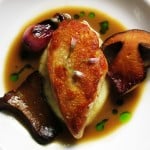 Print Recipe
Poussin With Bolete Pan Sauce
Serves 4 as a a light entree, compliment this with some sort of vegetable side to make a complete meal
Ingredients
4

skin on-young poussin breasts

you can substitute cornish hen breasts

3

tablespoon

cold butter

diced

1.5

cups

water

½

cup

semolina flour

½

cup

shredded gouda cheese

you can use a smoked gouda if you like, but it will taste...smoky, which is fine

8

small spring onions

about the size of your thumb, trimmed up to the green part of their stalk, like a scallion

1

recipe bolete pan sauce

follows
Instructions
Since the semolina is impossible to overcook, make that first. Begin by heating the water in a small soup pot, about a 1 qt size is fine, with high sides, otherwise it may shoot geysers of molten semolina lava at you, not good.Add a tiny pinch of salt, when the water starts to boil, slowly add the semolina flour, whisking constantly to prevent lumps. Continue whisking until the semolina is thick, then turn the heat off. Stir in the shredded cheese and 1 tablespoon of butter, season to taste for salt, set aside and keep warm.

Cook and braise the onions by heating some oil in a pan, add the onions and a pinch of salt, and cook until they start to brown, about 4 minutes.

When the onions have browned, add ½ cup of water or stock to the pan, then reduce the heat and cook the onions until they are very soft, about 5-10 minutes more. When the onions are soft, remove them from the pan and reserve.

Finishing and plating

In a 10 inch saute pan, heat ⅛ cup of searing oil such as grapeseed or canola until it is hot and shimmers. Season the poussin breasts with salt and pepper and put into the hot pan, skin side down.

Cook the poussin on medium high heat until the skin side is golden brown and crisp. When the poussin are seared and caramelized, remove them from the pan and place in a 300 degree oven on a cookie sheet with a rack in the oven.
Bolete Pan Sauce
Ingredients
½

cup

dry white wine

1.5

cups

chicken stock

you could also use water, but it will be harder to emulsify the sauce and thicken it at the end since water lacks the emulsification properties of the collagen released from the bones.

4

ounces

fresh boletes

such as spring porcini, slippery jacks, cleaned and sliced ½ inch.
Instructions
When you take the poussin out of the pan, the bottom of the pan will have caramelized bits in it, add a ⅛ cup of oil to the pan then add the mushrooms and cook, making sure not to lets the drippings burn. When the mushrooms are nice and golden brown, season with a pinch of salt, then add the wine and scrape the brown bits from the bottom of the pan. When the Wine is almost evaporated, add the chicken stock and then reduce by half.

By this time, the sauce should be smelling mushroomy and delicious, add the cold butter and increase the heat on the sauce, stirring with a whisk to ensure the butter emulsifies and thickens the sauce.

When the sauce looks creamy and will lightly coat the back of a spoon, season it with salt to taste, then take it off the heat, continuing to whisk occasionally.

Finishing and Plating

To plate the dish, start by placing few tablespoons of semolina in each of 4 heated dinner bowls, spoon some of the mushrooms and sauce along with a braised onion around the semolina, then put a poussin breast on each one, garnish with some of the ramp oil and chive blossoms (optional) and serve.