A few years ago, I was talking about using burdock root to make a relish I had been serving with fish, and I got an interesting conversation going with a woman from China. More or less, what I took away was that she suggested using burdock in a soup along with pork ribs, other than that, I don't remember much.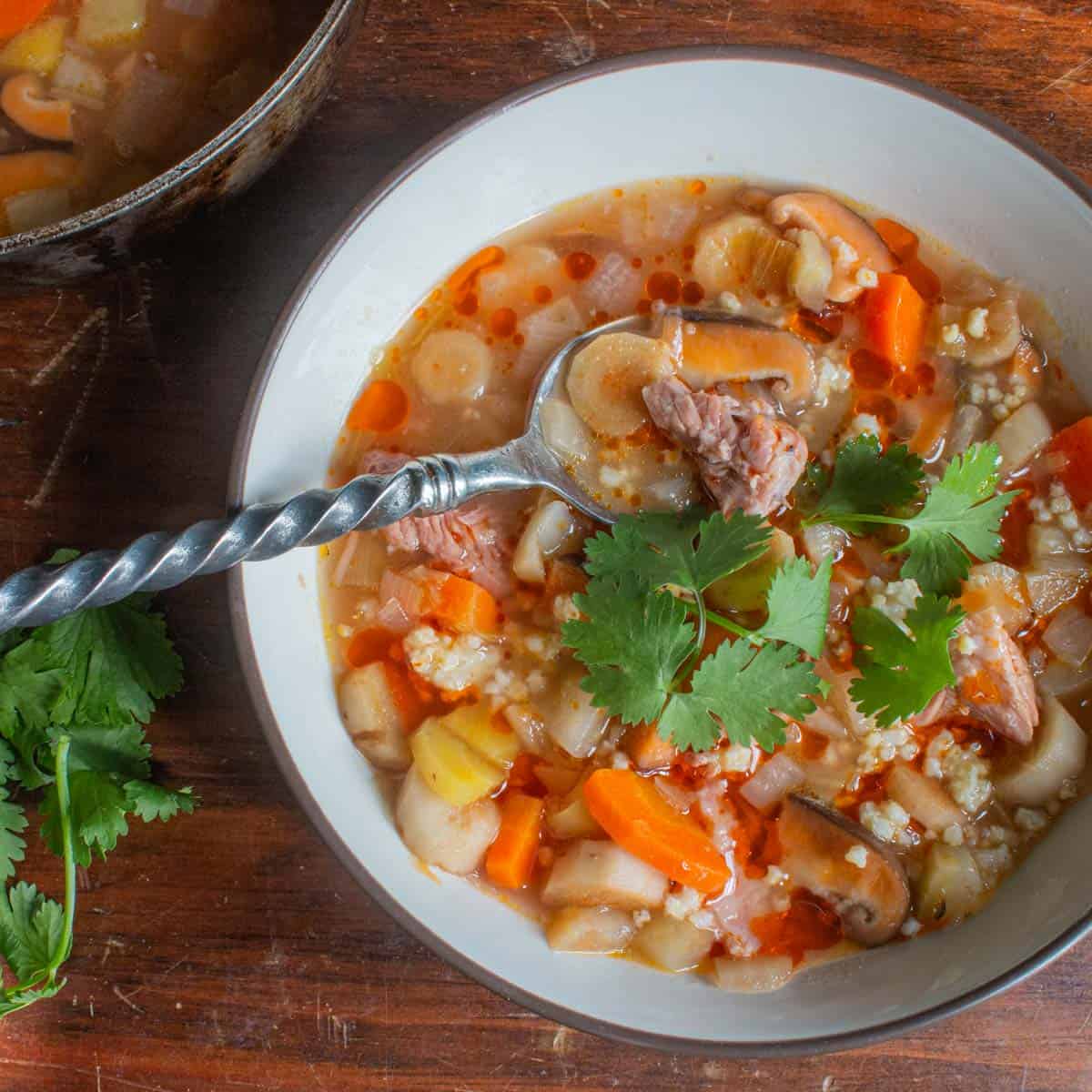 I'd been meaning to work the inspiration I got from her into a soup for the past few years, and I finally got around to it. Don't worry, you wouldn't have to dig a burdock root to make it, (especially in our hellacious weather) since I like to use gobo from the Asian markets for it's consistency, and dependable tenderness compared to it's wild cousin.
Before I started the soup, I did some research online to find templates for traditional pork rib and burdock soup recipes. I saw a few mentions of pork and burdock root here and there, but no real descriptions of a tried and true, traditional preparation, so I did my best to meld what I knew, and honor what I didn't. In the process, I wanted to do justice to a couple things: my friend from China, the idea of incorporating wild food into a modern diet, and the Midwest.
I saw some recipes with radishes and turnips in them, and I know millet has been a peasant food in China, as well as being something I can source locally. For the ribs, I chose short ribs, both for economy, but also because they contain more of the gelatin-rich connective tissue and tendons that make broth so good. The first soup I made contained the following:
Burdock and pork rib soup #1
Turnips, cabbage, leeks, celery, onion, garlic, ginger, smoked paprika, tomato puree, chicken stock, pork short ribs, bouquet garni of herbs and warm spices, millet, carrots and burdock.
The soup tasted good, the only problem was that it tasted like cabbage and turnips, not burdock and pork. I was frustrated with myself for a couple days, but sometimes it's good for me to remember it's just food, and it tasted good, it just wasn't exactly what I wanted. Unfortunately I made 5 gallons of it.
Burdock and pork rib soup #2
The next week I made the soup again, with the following adjustments
Turnips, cabbage, leeks, celery, onion, garlic, ginger, smoked paprika, tomato puree, shiitake mushrooms, fennel, chicken stock, pork short ribs, bouquet garni of herbs and warm spices, millet, carrots and burdock.
To draw out the flavor of the burdock and the pork, I added shiitake mushrooms, which really helped underscore the flavors. The biggest thing was taking the fluff out of the soup though, cabbage and turnips, smoked paprika and garlic are aggressive partners, the soup was much more delicate and nuanced without them, replacing some of the volume they took up in the soup with more mild bulb fennel worked out well. After the soup was done I tasted a spoonful: a deeply scented meat stock was what I got first, followed by the haunting, earthy essence from the burdock.
Most likely, this is nothing like what is made in China, but it is darn good.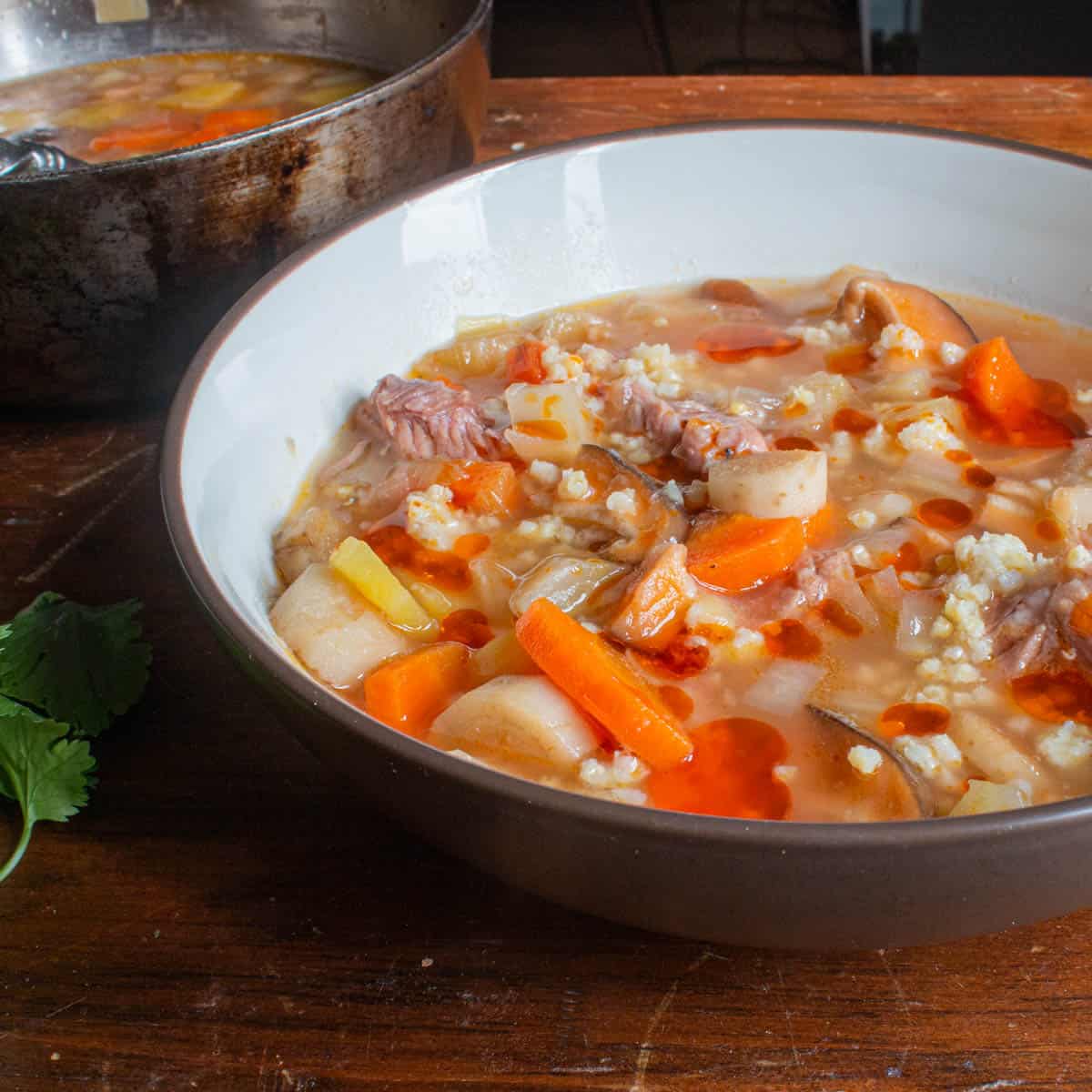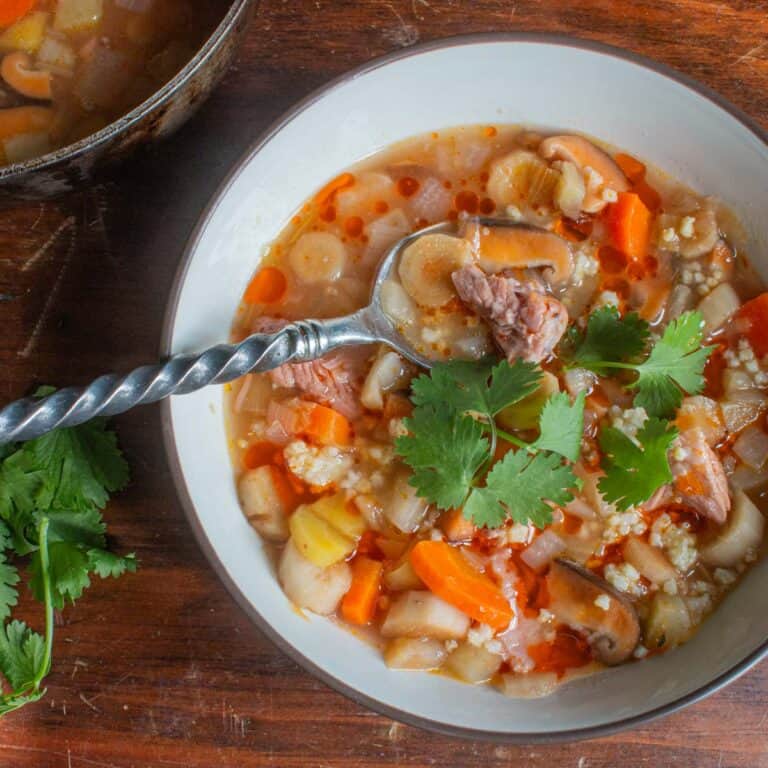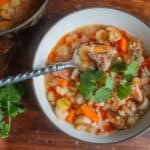 Print Recipe
Burdock Root Soup with Pork Ribs
An Asian-inspired stew with pork short ribs, burdock root, millet, and shiitake mushrooms
Ingredients
2

lbs

pork spare ribs

cut into 2-3 bone pieces

1

cup

yellow and orange carrots

quartered and cut into ¼ inch slices

1

cup

yellow sweet onion diced ½ inch

1

cup

leek diced ½ inch tender white and green parts only

1

cup

fennel

diced ½ inch

2

cup

pureed

canned whole tomatoes

8

cups

chicken stock

3

cups

burdock

peeled and sliced into ¼ inch rounds

½

lb

shiitake mushrooms

stems remove and reserved for another purpose, caps sliced ¼ inch

2

tablespoons

fresh ginger

minced

Kosher salt

to taste

¼

cup

flavorless oil

Bouquet garni:

5 allspice berries 5 cloves, 2 star anise, 2 fresh bay leaves, 1 bulb of garlic, halved
For finishing and serving the soup
Hot chili oil

or substitute toasted sesame oil and hot chilis

Fresh cilantro

Cooked millet

to taste
Instructions
Sweat the leeks, onion, and ginger, then add the remaining ingredients (except millet and garnishes) and cook for 2 hours at a gentle simmer until the meat removes from the bones.

 Season the soup to taste with salt, transfer the mixture to an ice bath, then remove the ribs andpick the meat, coarsely chop the meat, then put back in the soup. Add cooked millet to taste just before serving. Serve garnished with sesame oil, and chopped cilantro.
Notes
This is my 4 gallon recipe scaled down by 75% Think of this more as a rough guideline than an exact template. A little bit more or less of some of the ingredients isn't going to hurt anything. Make sure to add the millet at the end, before serving, to keep it's texture. If no millet is available, quinoa, wild rice, sorghum or lentils would be great instead.
Nutrition
Serving:
8
oz
|
Calories:
702
kcal
|
Carbohydrates:
32
g
|
Protein:
34
g
|
Fat:
49
g
|
Saturated Fat:
14
g
|
Polyunsaturated Fat:
12
g
|
Monounsaturated Fat:
17
g
|
Trans Fat:
0.4
g
|
Cholesterol:
131
mg
|
Sodium:
614
mg
|
Potassium:
1195
mg
|
Fiber:
4
g
|
Sugar:
11
g
|
Vitamin A:
3841
IU
|
Vitamin C:
9
mg
|
Calcium:
86
mg
|
Iron:
3
mg