"Ever eat a pine tree?". That infamous quote from Euell Gibbons during a Grape Nuts commercial (there's a lot of them on You Tube now and some are hilarious) has some truth to it.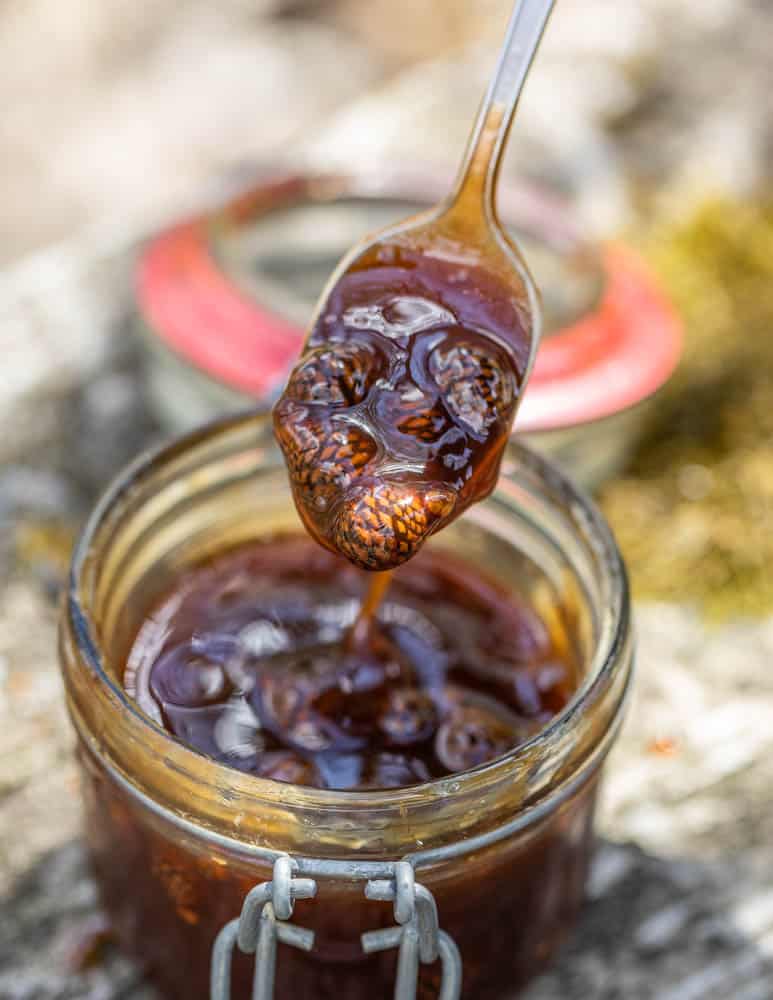 Sure, you can make tea (mostly I see it done with the soft needles of Easter White Pine) from needles, bark bread from the inner cambium (a novelty) or even a powder from dried needles (mostly for adventurous chefs) but pine cones, specifically young, meristematic/tender ones can be eaten, and are traditionally used in the Caucuses and Russia in a preserve known as Varenye, sometimes called pine cone jam, or pine cone honey.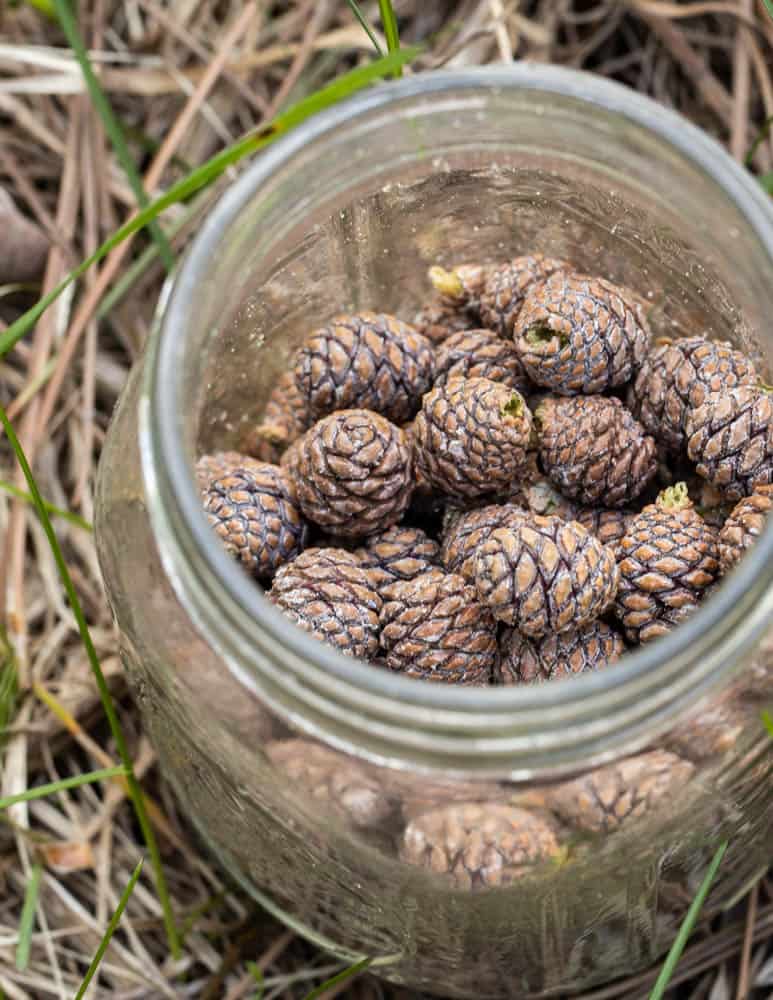 translating basically to something cooked in syrup, varenye is similar to Japanese kinpira in that it refers to a cooking technique rather than a dish made with a specific ingredient.
If you google varenye, what you'll probably see are different ingredients (mostly fruit and berries) simmered in sugar syrup to preserve them. Cooking fruit in sugar is nothing too new or interesting to me, and I think most Americans who read this blog and make their own preserves will agree.
Pine cone jam is a completely different thing though, and it's fascinating. For the most basic preserve, all you do is cook pine cones with sugar and water in equal proportions, reducing them down to a thick syrup.
One thing I find really interesting about the cone is that when cooked with sugar they almost seem to add a sort of thickening quality to the syrup similar to weak pectin, which helps set to a thick, jammy substance with a brilliant sheen.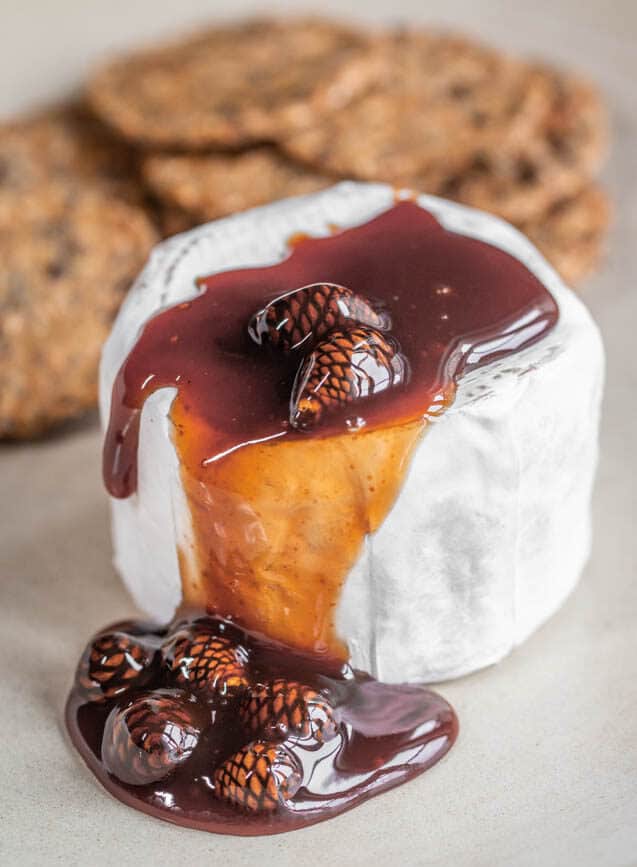 I made the traditional sugar-only varenye every which way, and it's ok, but it will taste very resinous and strong. The powerful resinous flavor is probably part of the reason you don't see pine cone jam spread on buttered toast in the cultures where it's traditionally made, rather, the preserve is taken medicinally, or so I've read.
I'm sure anything with such a strong taste probably has some sort of medicinal qualities, but I don't cover medicinal anything here for a number of reasons, so your on your own for divining those kinds of things.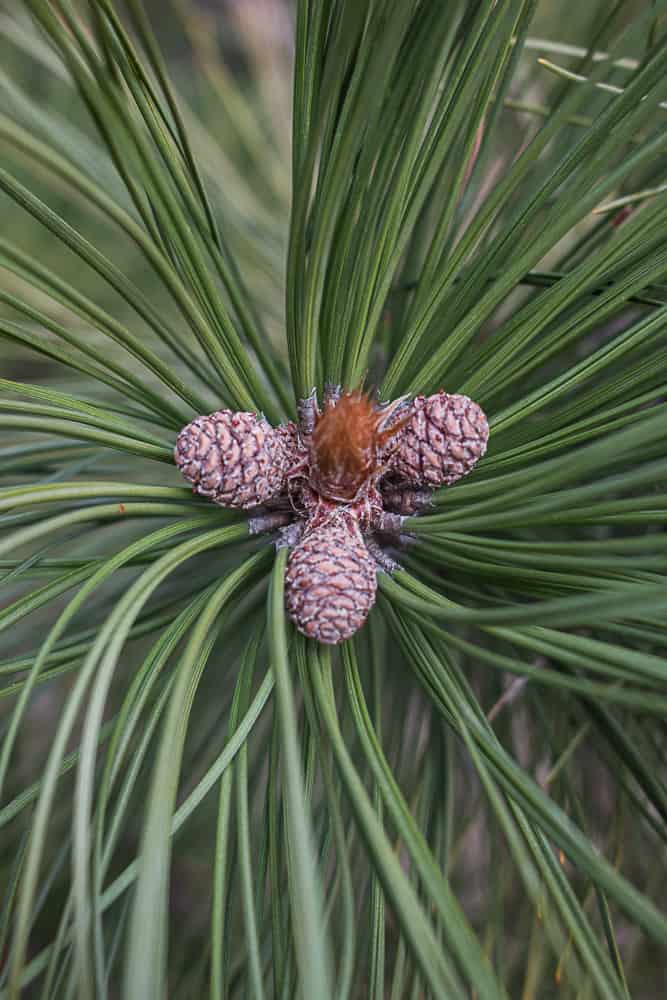 Over time I worked on a few ideas for curbing the strong taste of the pine cones, and came up with a hybrid method for making the preserve I think you'll really find worth trying. Instead of just cooking in sugar syrup, I blanch the pine cones, then simmer them in pure, unfiltered apple cider.
As the cider reduces, the cones imbue it with flavor, and the natural sugars concentrate into a fantastic preserve in their own right, the traditional, addictively delicious, 100% forest product known as apple molasses.
If you find the pine cone preserves a bit too strong for you, try making apple cider molasses all by itself-just a half gallon will make enough to garnish a few meals, and it's really wonderful stuff.
It'd be remiss of me to not mention that I owe a debt to my friend, former chef and mentor Chef Lenny Russo for introducing me to the syrupy apple essence, he's kind of a genius.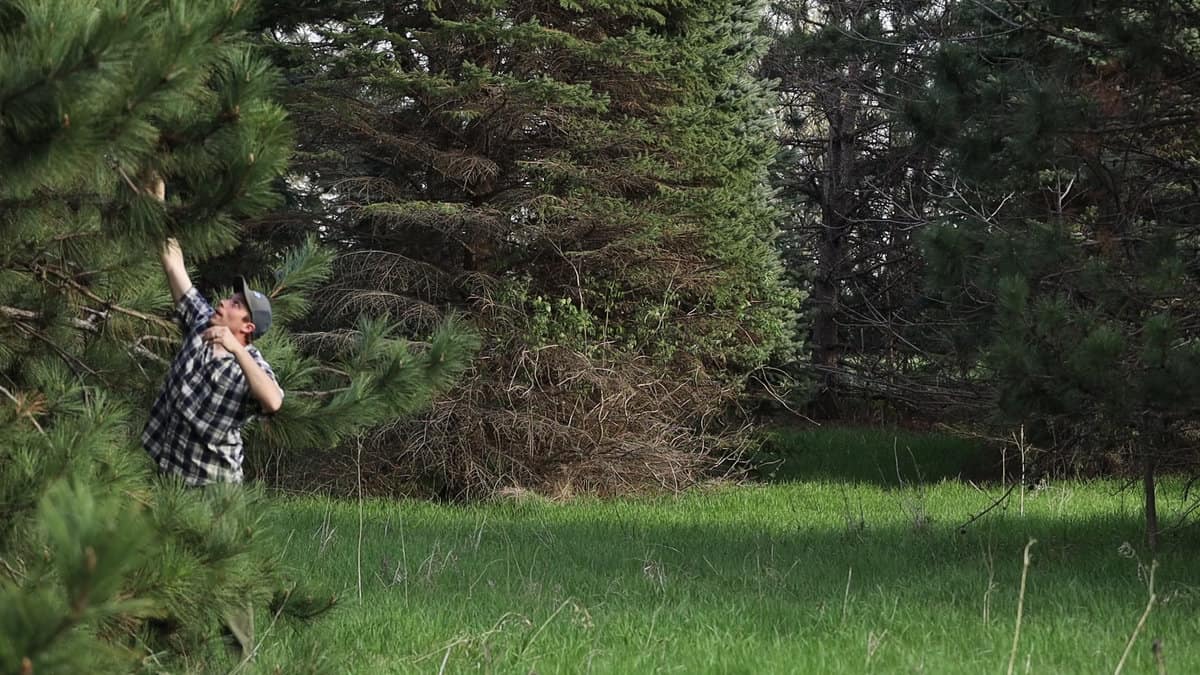 When to harvest the cones
This is super important. You're looking for a very specific stage of growth here: about the size of a grown adults pinky nail.
Any larger and the cones will be a bit too strong for my taste and they should be cut in half, which also means they'll be slightly desiccated by the preservation and not as picturesque as you see here.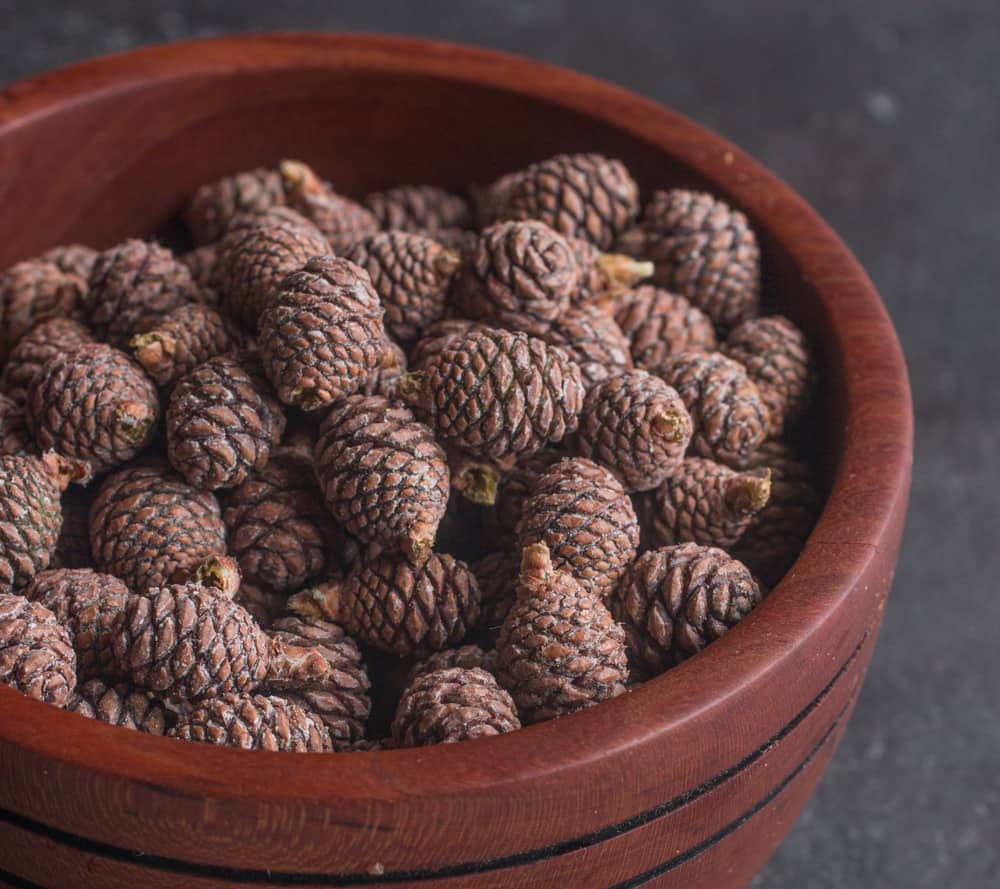 To compound matters, at the stage of small growth you want, pine cones (at least the Pinus resinosum cones I prefer for this) seem to not be as bountiful as they will be a few weeks into the growing season.
It's also important to make sure that you have living cones here, as old and aborted cones from the previous season can fool newbs, and a year-old, dry, crusty pine cone will taste exactly like what it sounds like. You want small young pine cones so young enough that they give between your fingers when pressed.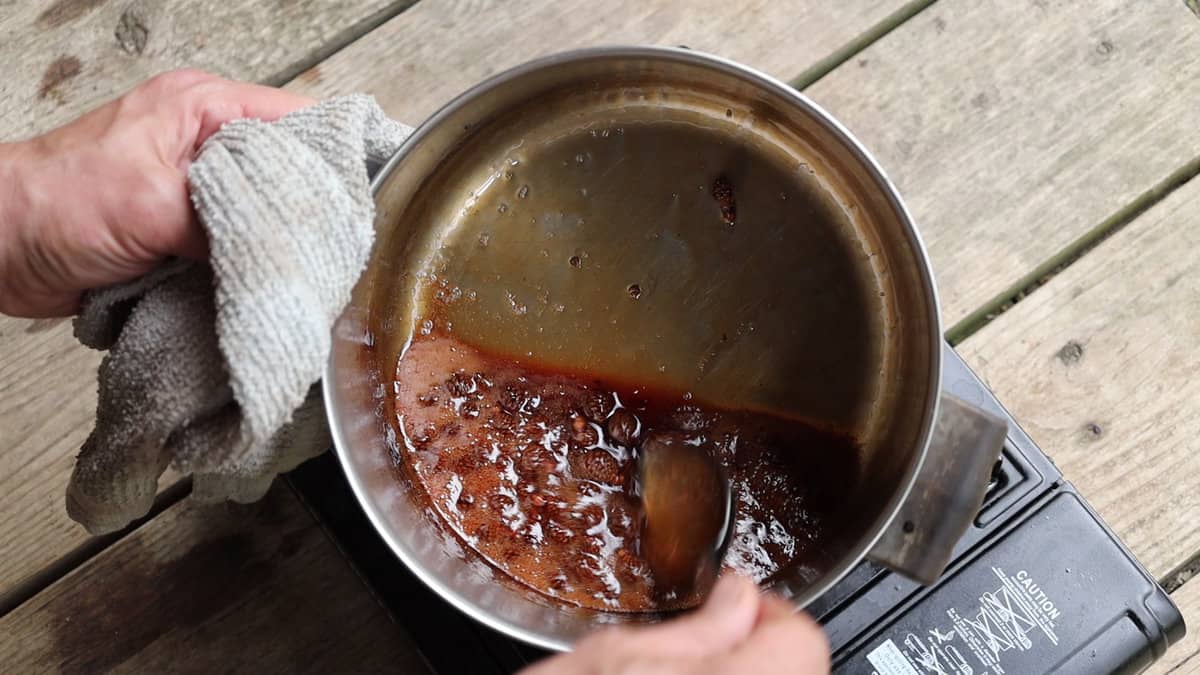 I live up north, and this post is going to find a lot of you with your pine trees at a stage too far to make the jam here, but don't worry. If you only have green, or slightly larger pine cones, those are actually even more versatile than the young, tiny cones I cook with here.
One of the products you can make with green pine cones is one of the finest things that will ever pass your lips (tradtional Italian mugolio or pine cone syrup). If you don't have pine cones, check for some spruce trees and use the young tips to make spruce tip syrup.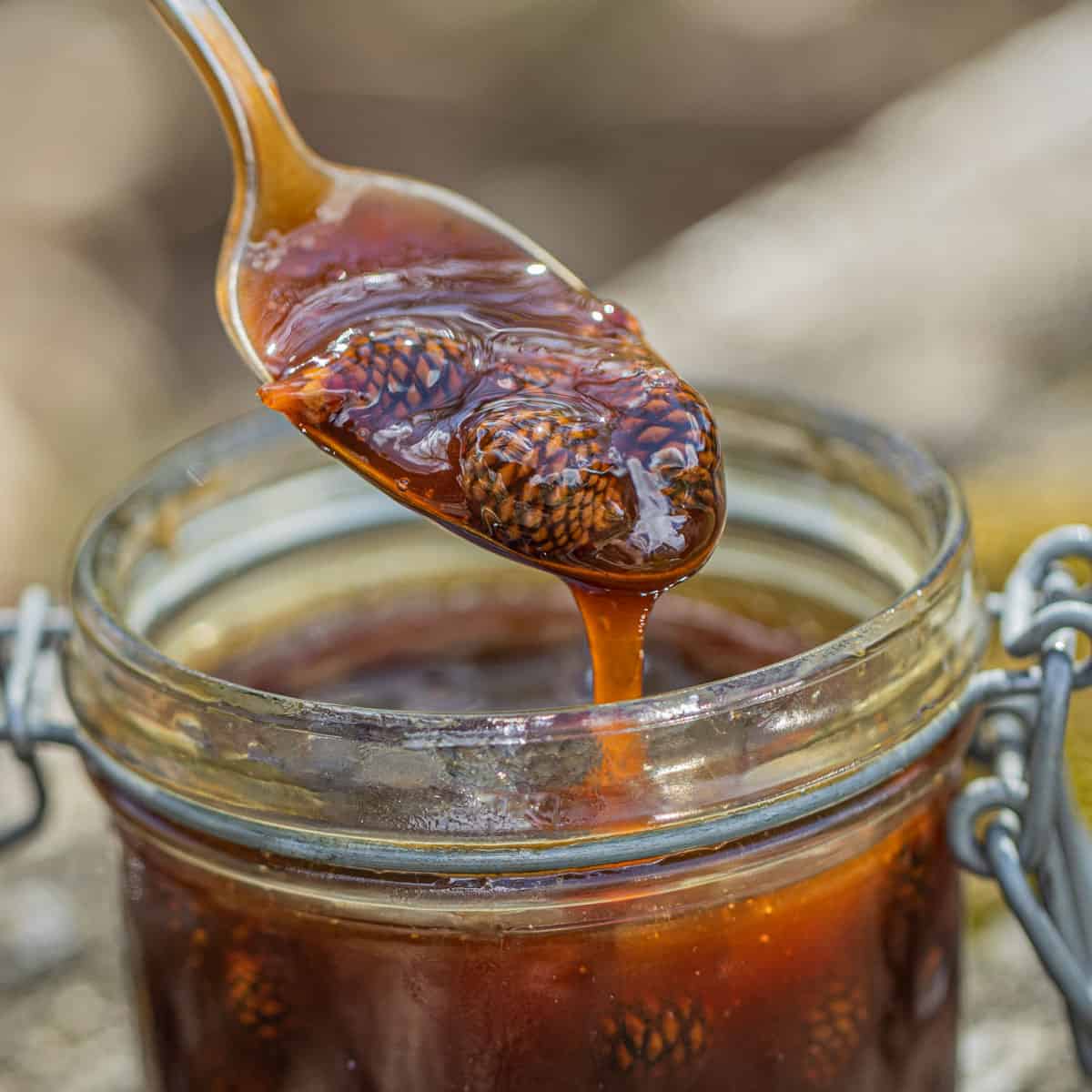 This is a potent, strong-tasting preserve. Eaten by itself it can be too much for most. My advice, after working with it for a few years is to pair it with creamy, fatty things that help cut the richness. Goat cheese in a spreadable form is great, but some brie or creme fraiche can work too.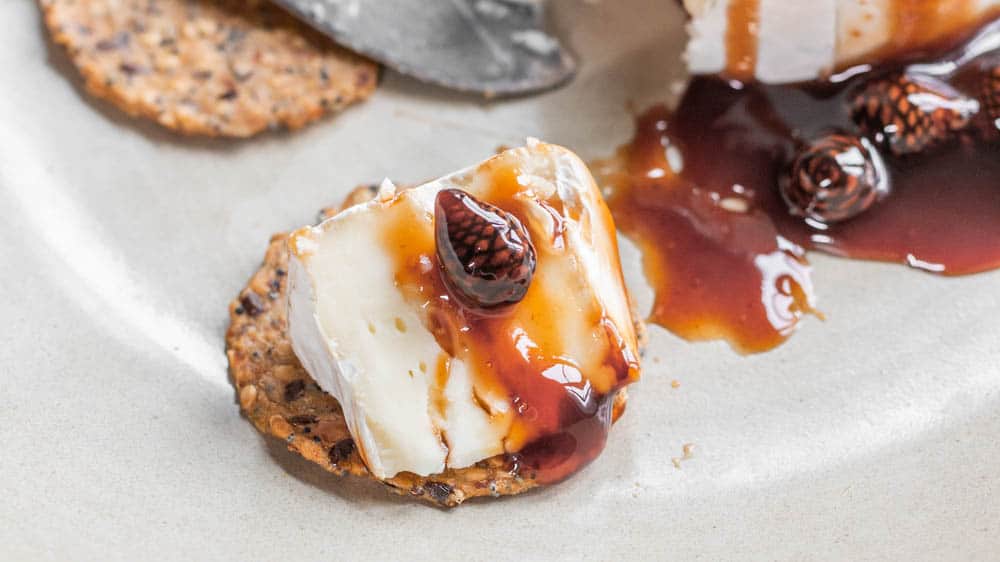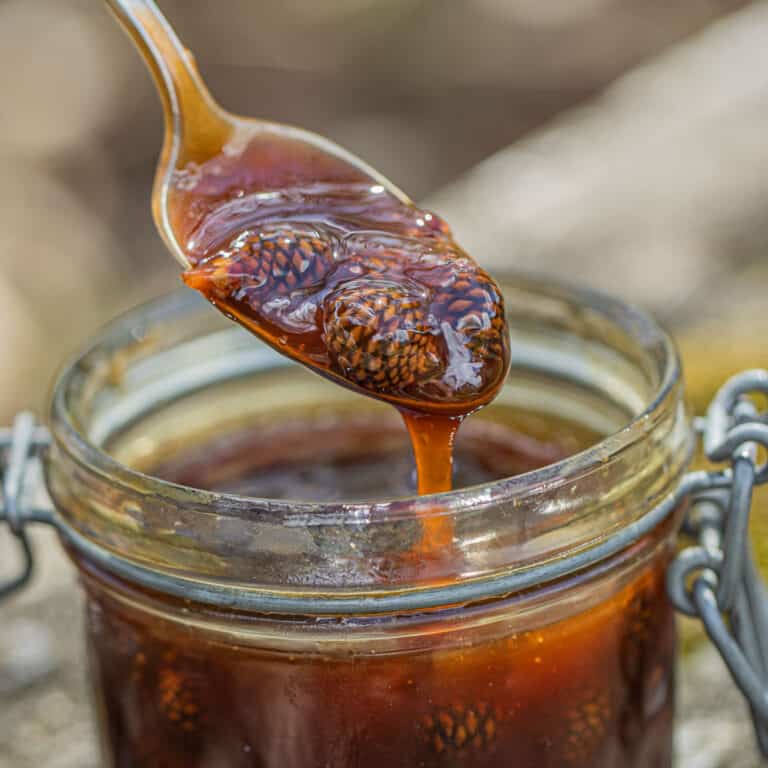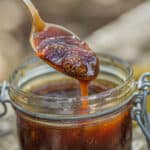 Print Recipe
Pine Cone-Cider Jam
A preserve of young pine cones in apple cider molasses inspired by the traditional Pine Cone Varenye of the Caucuses. Use as a strong condiment for cheese and creamy, fatty things. If you want extra syrup, make this with ¾ gal cider instead of ½.
Ingredients
½

gallon

unfiltered apple juice or apple cider

The darkest, most unprocessed you can find, preferably will give the darkest syrup. If you want a higher proportion of syrup to pine cones, use ¾ gal instead of half.

¼

inch

piece of cinnamon

2

cloves

¼

cup

very young pine cones

a handful
Instructions
Rinse the pine cones to remove any debris.

Bring a few cups of water to a boil and blanch the pine cones for 1-2 minutes, remove and reserve.

In a 1 gallon pot with high sides about 8-10 inches in diameter, combine the cider, bouquet of warm spices, pinch of salt, and pine cones, bring to a boil, turn down the heat, and set a timer for 1 hour while you do something else.

After an hour, check on the reduction and gauge how much time it will take to reduce down to about 1.5 cups or so, at which point you should baby it, watching it carefully to make sure the consistency is to your liking.

Continue reducing at a brisk simmer until the bubbles start to increase in size and threaten to creep up the sides of the pan. Referring to the video will be helpful here.

When the bubbles are large and the mixture is reduced to the consistency of warm honey, transfer the cones and their syrup to a jar, allow to cool uncovered for 30 minutes, then put a jar with a tight-fitting lid like a mason jar and refrigerate.

Once chilled, inspect the thickness of your jam. If it seems too thick/100 percent pine cones, transfer to a bowl, warm it over a pot of simmering water and thin it with a splash 1T of cider, mix well, then put back in the jar and refrigerate again, which will refresh the consistency.

Kept in the fridge with the lid screwed on tight it will last for a couple months.