A rustic pie made from tender pigeons, cooked until the meat is forked tender and made into a thick, rich filling. If you're looking for a pigeon recipe that uses a number of birds, this is for you.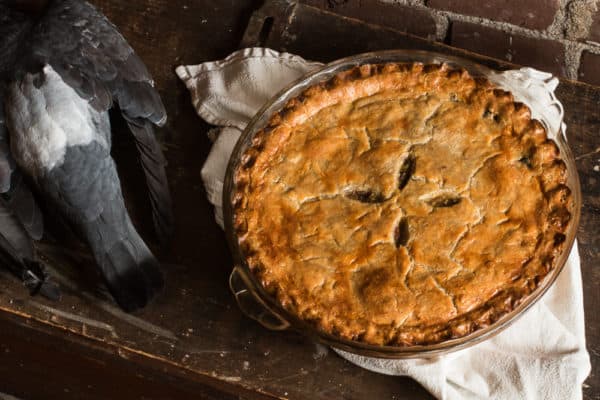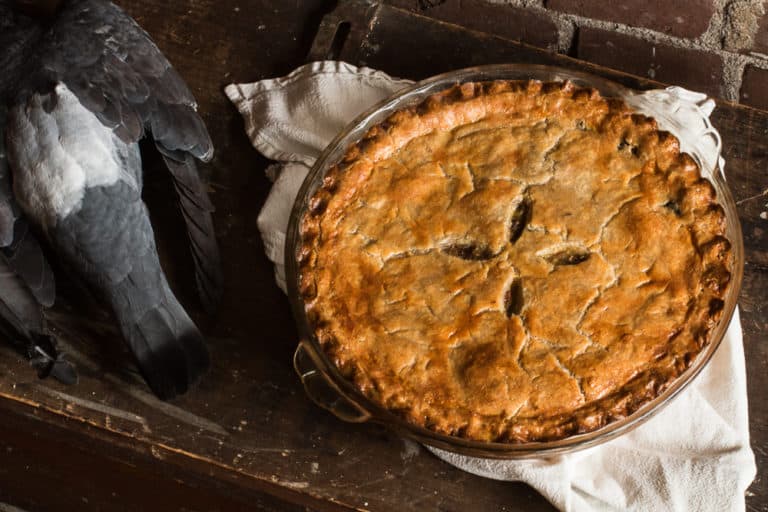 I talked to a hunter last year and told him I was excited to harvest pigeons. He laughed, looked at me like I was idiot, and told me he shoots them and throws them in the woods as they're not worth eating. I kept my mouth shut.
Now, I've never really been a hunter, spending so many years in the kitchen, but I learned about eating pigeon by reading about great chefs cooking squab, so I've never really considered it garbage, or a worthless harvest--just the opposite. I also think there's something to be said for eating what you kill.
This year, I've been hunting pigeons occasionally, and it's a blast, or maybe I should say a plink. I can't remember where it started, but I'd been talking about hunting squirrels out of my Grandma's bathroom window as they ransack her birdfeeder, and varmint control must have come up around the dinner table sometime in the presence of two men I know that tend an old, beautiful barn, a barn that has a legitimate pigeon problem.
So, with Grandpa's old Winchester .177 varmint rifle in hand, and my aim sharpened to laser-precision from sniping squirrels prone on the back of a toilet, I went to russle up some squaby's. Technically speaking, squab are young pigeon, but it's kind of a moot point.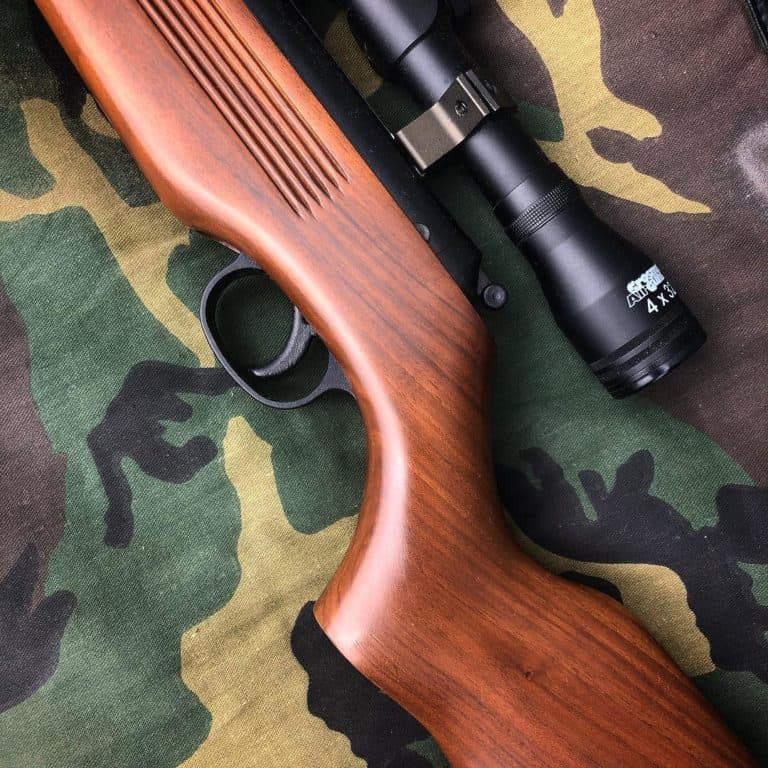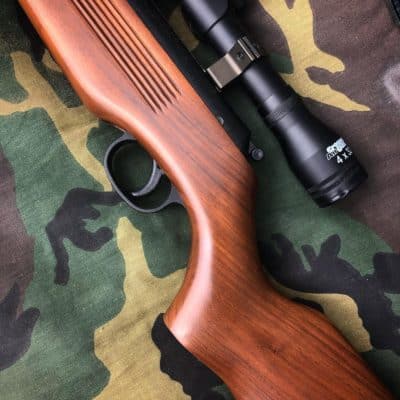 Now, pigeon might sound a little pedestrian, but, before I tell you how to make a midevil pie out of them, know that I used to run one squab breast alongside a 2 ounce piece of pork belly for 30$+ a plate. (currently they're 23$ each via Dartagnan). Flying rat or haute cuisine, it's all in how you frame things.
The squab I was after make their home in the barn, and I knew that the best time would be at dusk when they come home to roost, but that left me with the problem of trying to shoot pigeons in a pitch-dark barn.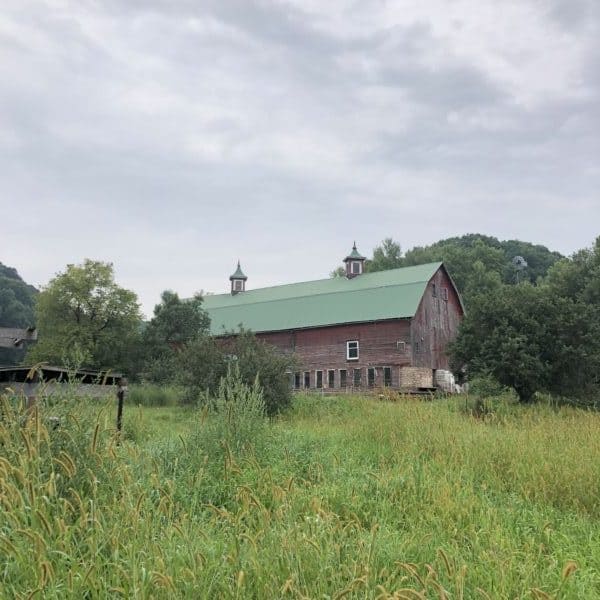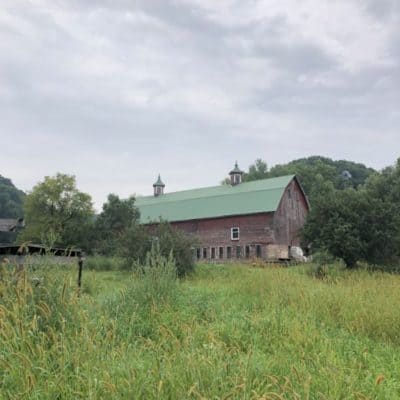 My girlfriend's stepfather mentioned a friend used to shine a light on pigeons to see them, so I found an old Maglite and taped it to the barrel, which worked like a Macgyver pigeon-hunting charm. En garde, pigeon. Pew! Pew! Pew! I took thirty in a week, but it looks like I didn't take any at all a month later. Pigeons, like rabbits, are prolific, and apparently one breeding pair can make 15 pigeons a year.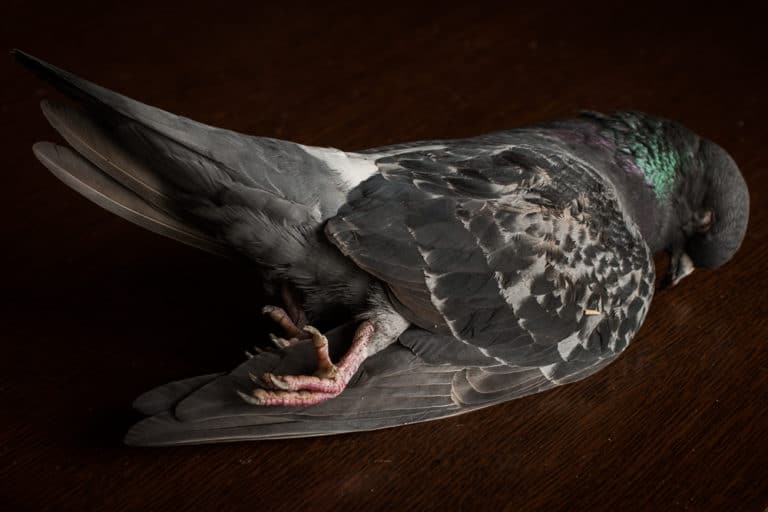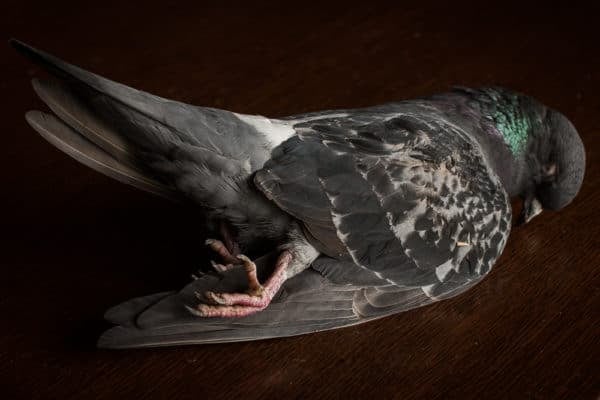 Shining Pigeons: Pest Control, or Hunting Fuax Pas?
Let me tell you, I posted on social media what I was doing and some of the comments were hilarious. Everything from support for hunting unwanted, small game, to gently chastising me over "shining" game to harvest it with the light, and insinuating my hunt was slighlty unethical as it's illegal to shine lights on game like like deer, turkey, etc.
Well, if anyone has a better way to see pigeons in a dark barn other than using a light, please comment. But, besides using Buffalo Bill style night-vision a la Silence of the Lambs (good, clean fun it's own right) I don't really see great options.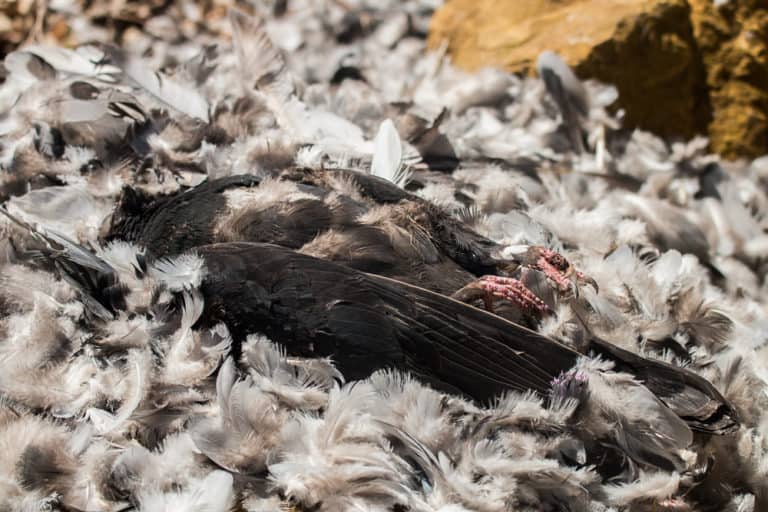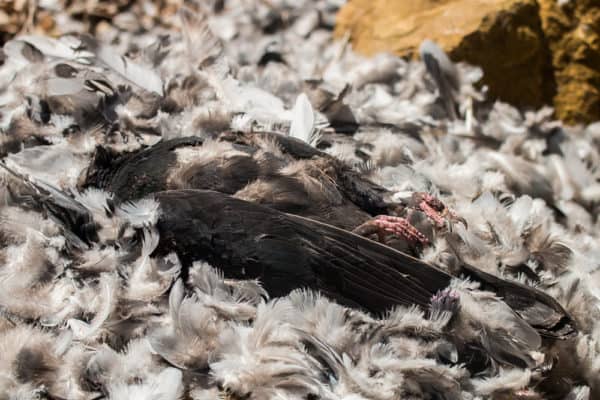 The other thing I noticed was an obvious ethical double standard for my duct-taped, maglite optics. For example, if someone excercises their right for "pest control" and shoots a bunch of pigeons using a light to see them in a dark area, then tosses the carcasses in the woods for the cayotes, which most people would do, let's be honest here, that's apparently fine. But, the moment I want to use the same method to gather pigeons for meat it's wrong? Give me a break.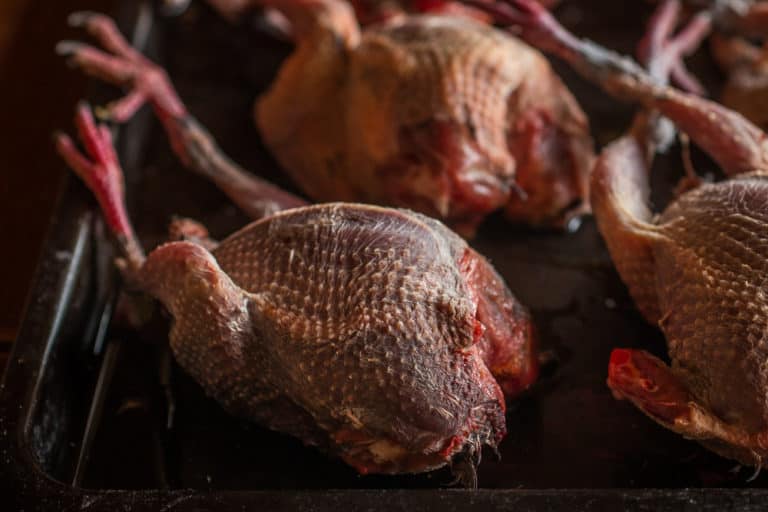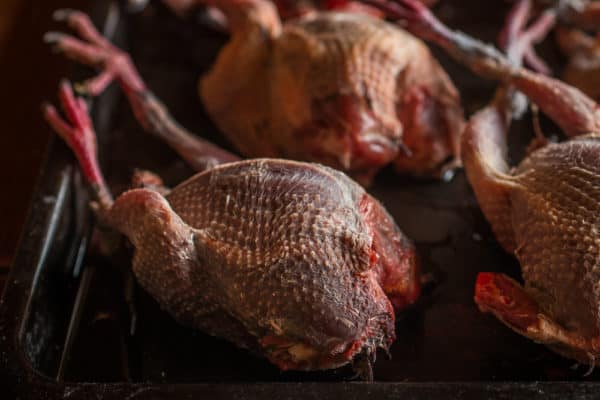 Ok, enough ranting. With my first harvest of pigeons I wanted to make something special out of them, but not just seared squab breast with a side of wee thigh to chew on, I wanted to pluck and use the whole bird. The answer came to me while reading the Little House on the Prairie Cookbook, (an excellent pioneer recipe resource) when I noticed a similar recipe for blackbird pie, which, if you were wondering, were actually starlings.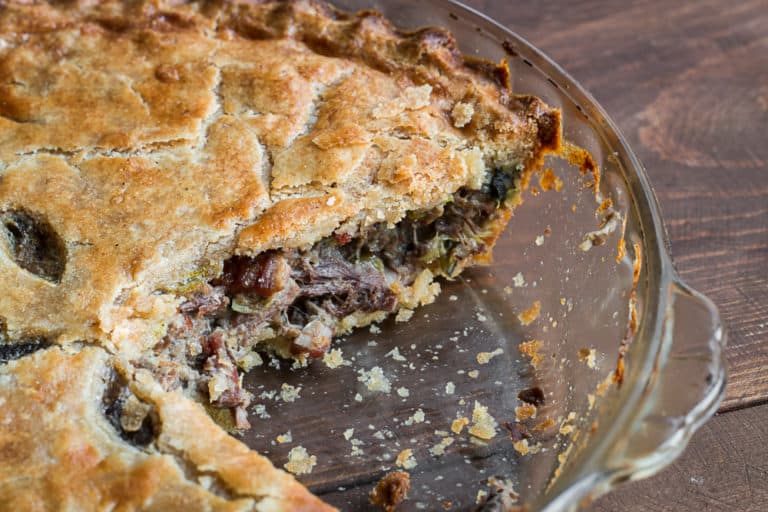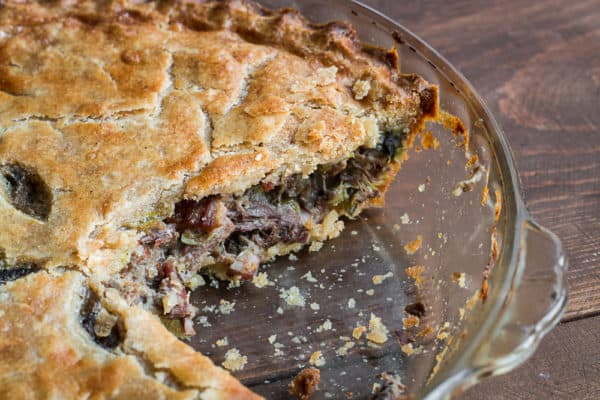 Plucking pigeons is optional
The pie is actually pretty simple: take some plucked birds, simmer them until tender, pick the meat, make a thick gravy from the cooking broth, and bake it in a pastry crust. The use of the whole bird, stock, offal and all, to me, reeks of history, and resourcefulness. And, although it's a little work to pluck pigeons, it goes rather quick if you skip the wings, which I was doing by clipping them off with a shears, that being said, plucking the birds is optional, and you can just discard the skin and feathers if you want.
The end result? Fantastic. That being said, It's hard to make braised poultry scented with porcini baked in a crust taste bad, and the squaby pie tastes a bit like duck, more or less. It could be a great centerpiece at your next Rennaissance Festival gathering, with a horn full of the village ale, followed by a dessert of medlars.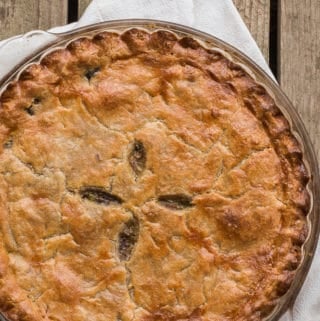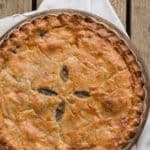 Print Recipe
Pigeon Pie
A rustic pie made with pigeons, leeks, bacon, and dried mushrooms
Ingredients
For the filling
5

whole pigeons

plucked or not, offal reserved

Water

to cover the pigeons, about 2 qts

Aromatics for cooking the pigeon

like carrot, onion, celery and a dried bay leaf (optional)

½

cup

dry white wine

optional

1.5

teaspoons

fresh chopped thyme

plus a few extra sprigs for cooking the squab

¼

cup

cognac

20

grams

dried bolete mushrooms

like porcini

1

medium leek

washed and trimmed, cut into small dice to yield 4 oz

2

ounces

slab bacon

preferably homemade, cut into small dice

¼

cup

bacon drippings or lard
For the crust
2

cups

flour

preferably a blend of all purpose white and whole wheat

½

cup

sour cream

5

tablespoons

chilled lard or butter

chopped

½

teaspoon

kosher salt
Instructions
Put the pigeons, their offal, aromatics, a few sprigs of thyme and white wine into a stock pot, add water barely to cover, then cover the pot, bring to a simmer and cook on low for 2.5 hours or until the legs move easily from the pigeons. Meanwhile, toast the porcini in an oven until lightly browned and toasted, about 10 minutes at 350, then cool and reserve.

Remove the pigeons from the pot, and add the porcini to the stock. Cool the pigeons until you can handle them, then remove the skin and pick the meat, leaving the breasts whole. Reserve all the meat and offal. Meanwhile, begin reducing the braising liquid with the mushrooms until 2 cups remain. Remove the mushrooms then strain the stock and reserve both separately.

Render the bacon over medium-high heat until the fat starts to render, then add the leeks and cook until soft, stirring occasionally, about 10 minutes. Deglaze the pan with the cognac, cook for a few minutes more to remove the alcohol, and reserve.
Pigeon Gravy
Melt the drippings or lard in a pan, then add the flour when hot and cook until thick, whisking constantly. Gradually add the pigeon liquid until you get a very thick gravy, season to taste with salt and pepper. The sauce should look more like a binding agent for the filling as opposed to a sauce.
Baking
Coarsely chop the pigeon breast meat and offal, add the mushrooms, leg meat, fresh thyme, cooked leeks and bacon. Finally, toss with the sauce, double check the seasoning, adjust as needed, then pack into the pie crust, top with the lid, crimp the edges well, brush the whole thing with egg beaten well without water, bake at 400 for 15 minutes then 350 for 15 minutes, remove from the oven, cool for 10 minutes and serve.
Notes
To pluck or not? 
If you don't want to pluck your pigeons it's fine-they're small and time consuming. You can simmer them without browning and you'll still get a good flavor. 
Crust
Feel free to substitute your favorite pie crust for the crust in the recipe. It's also fine to only do a top crust since this is a wet pie the bottom crust will not be crisp. 
Nutrition
Calories:
332
kcal
|
Carbohydrates:
25
g
|
Protein:
5
g
|
Fat:
21
g
|
Saturated Fat:
10
g
|
Polyunsaturated Fat:
2
g
|
Monounsaturated Fat:
7
g
|
Trans Fat:
0.3
g
|
Cholesterol:
40
mg
|
Sodium:
266
mg
|
Potassium:
80
mg
|
Fiber:
1
g
|
Sugar:
1
g
|
Vitamin A:
312
IU
|
Vitamin C:
0.2
mg
|
Calcium:
23
mg
|
Iron:
2
mg