One of the most frustrating, and fascinating parts about hunting mushrooms, to me, is knowing exactly what species I'm eating. Without a microscope, this can be tough with some mushrooms, but I've found if I do my homework, and take into consideration as much evidence and circumstance as possible, I can get pretty darn close.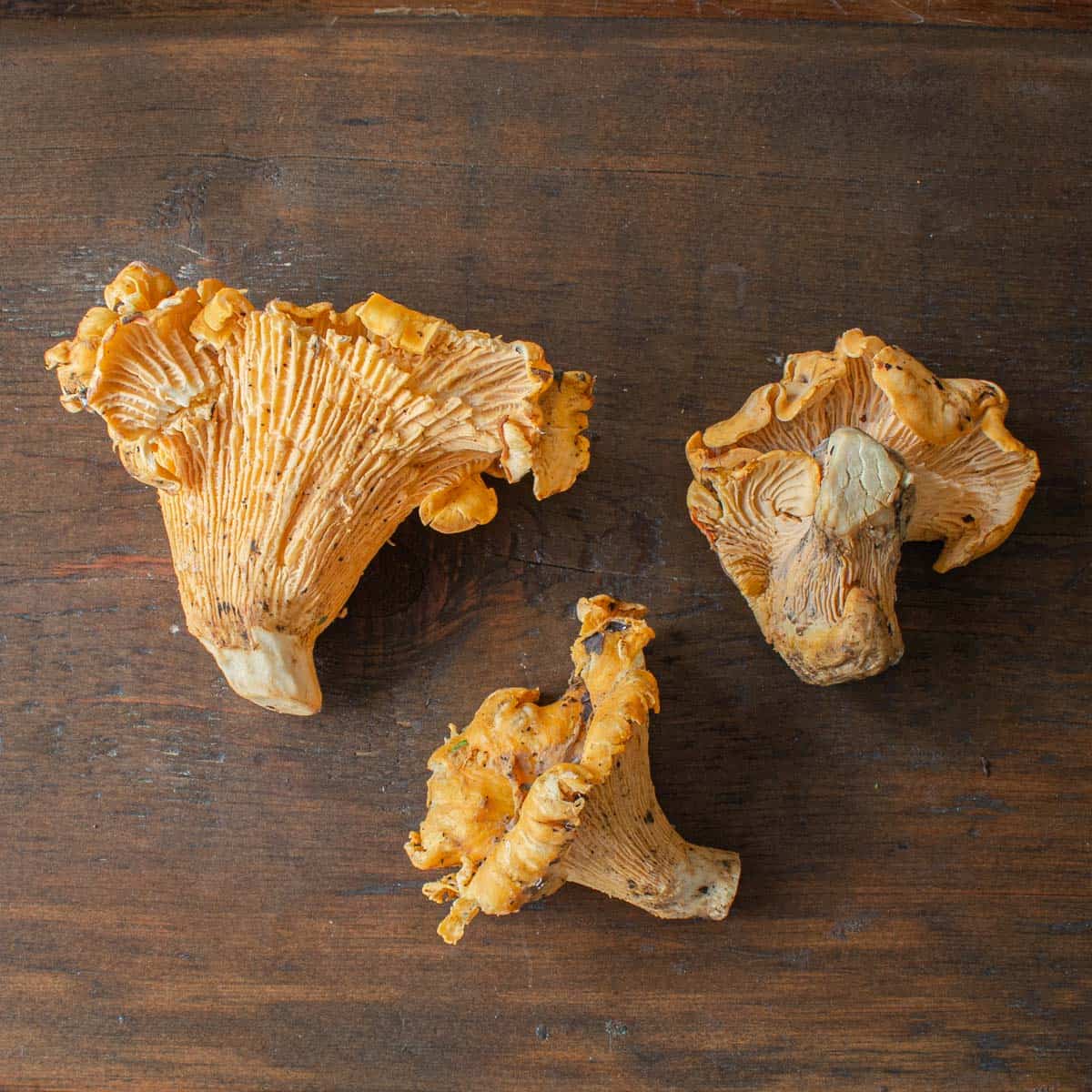 Take chanterelles for example. You might be thinking, does it really matter what exact species of chanterelle I have, if they're all chanterelles? Not really, but understanding differences in mushroom species makes you a more intuitive hunter, and deepens your understanding, which, in turn, will yield more mushrooms.
That's the technical reasoning as a see it, the other reason is that different species tasteslightly different, and can definitely have different cooking properties, especially with mushrooms since size can often have a correlation with water content.
Differences in flavor, size, texture, and aroma are fascinating
Cantharellus formosus, for example, rarely, if ever has any bugs, grows in huge numbers, and is usually a large size, as an added benefit, using them in a restaurant can extend your chanterellle season, useful since the Midwestern ones are more expensive and often bug riddled by the end of year. Our Midwestern chanterelle species (I'm harvesting Cantharellus phasmatus typically) generally can have bugs in them as the season goes on, or even in the beginning, but they make up for it with a superior, concentrated fruit aroma, taste and texture to the typically more water-heavy, flaccid C. formosus.
Nothing personal, but after moving through 30 lbs of C. formosus a week for years, and years, with my west coast connections, I'm a little over-stimulated/sick of them. Maybe one day I'll pick them myself and learn to like them again.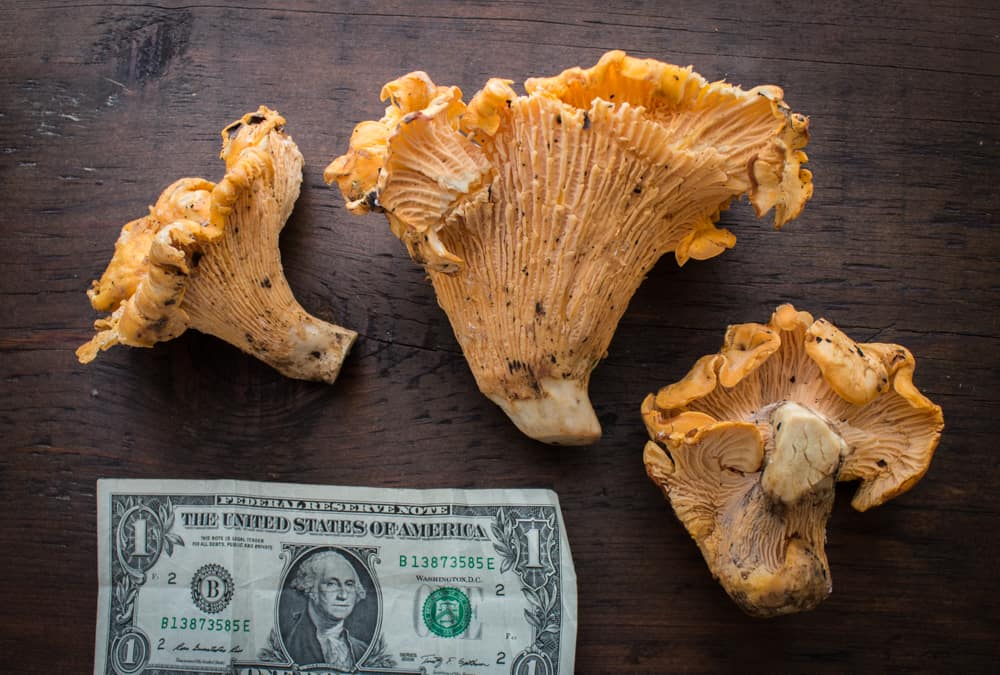 Recently, on a quick food tourism vacation to San Francisco, my friend James Broderick of the Ancestral Health Podcast invited me to do some mushroom hunting with him and some friends during my stay. He told me we might find some Cantharellus californicus, or California chanterelles, and, of course, since I'd never had them before, I was really excited to try them.
For a long time, these were known under the blanket term of Cantharellus cibarius, the typical chanterelle name from Europe, but in a 2008 paper by Arora they were finally finally separated out and named as Cantharellus californicus.
Where we were hunting in the Bay Area, it was April, so there wasn't many mushrooms to speak of as the season was dying down, but low and behold, around a few tannoak we snagged a few that were still in great condition, albeit filthy with mud.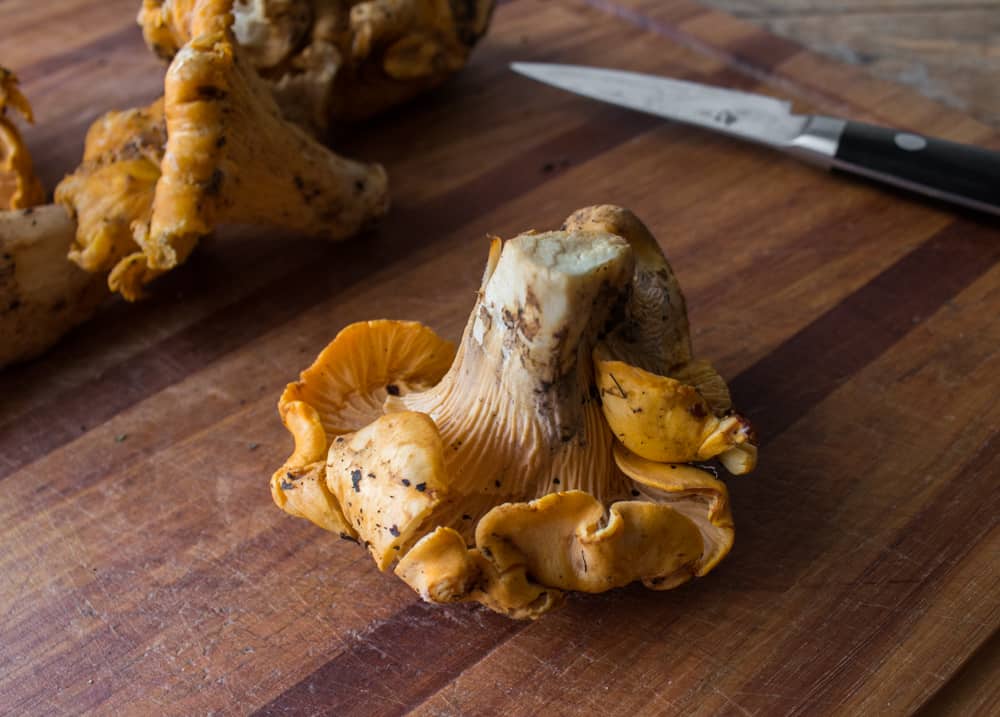 I took some of the nicer ones, packed them in a plastic box with some damp paper towels, and snuck them in my luggage for the plane ride back home to Minnesota. When I got back, I formally cleaned them (a chore) and cooked a few up to see how they tasted.
I was prepared to be unimpressed, since Cantharellus formosus, the other large, generally water-heavy chanterelle I've eaten from the Pacific North West has a flavor you can only describe as "meh" compared to something like the C. phasmatus I pick. But these were really good, AND really big.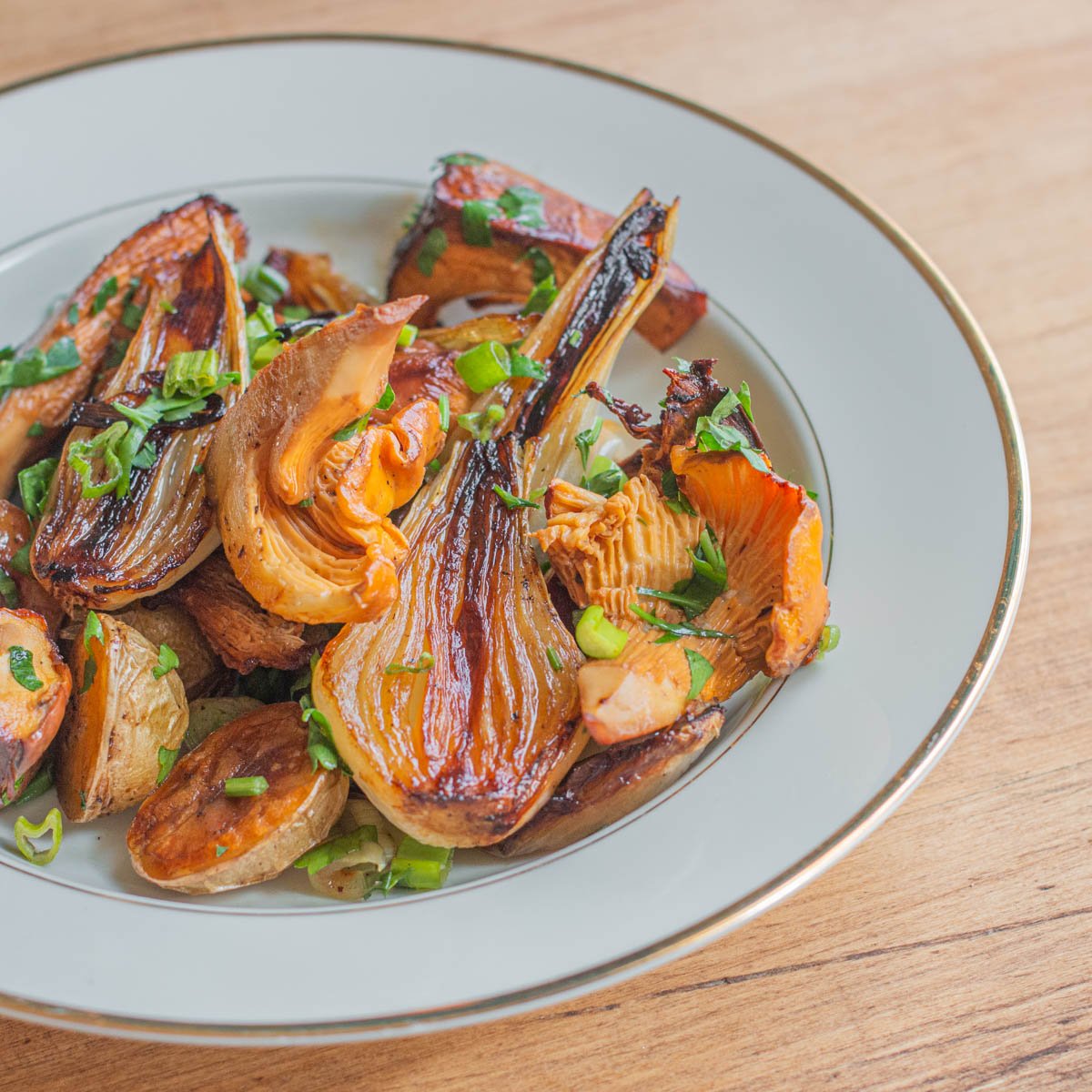 How do they taste?
I was surprised. The flavor of the Cali chants was great, they kept much more of the good fruity note than I expected for sure, and had a decent texture after a dry saute in a pan to cook off some of the water.
The size is fun too, since one mushroom can literally become a meal in themselves. But, even though the flavor was better than C. formosus, in my mind it is not as focused and bright as C. phasmatus, although I'm obviously a little biased here. At the end of the day we're getting into minutia here: they're all chanterelles, and they're all good to eat.
Since they're so big and hefty, I did a simple pan roast with some potatoes and onions, making sure to cut everything into roughly equal shapes for even cooking and eating as these are big, chunky mushrooms. It was great, maybe it can give you some inspiration for when you find yours.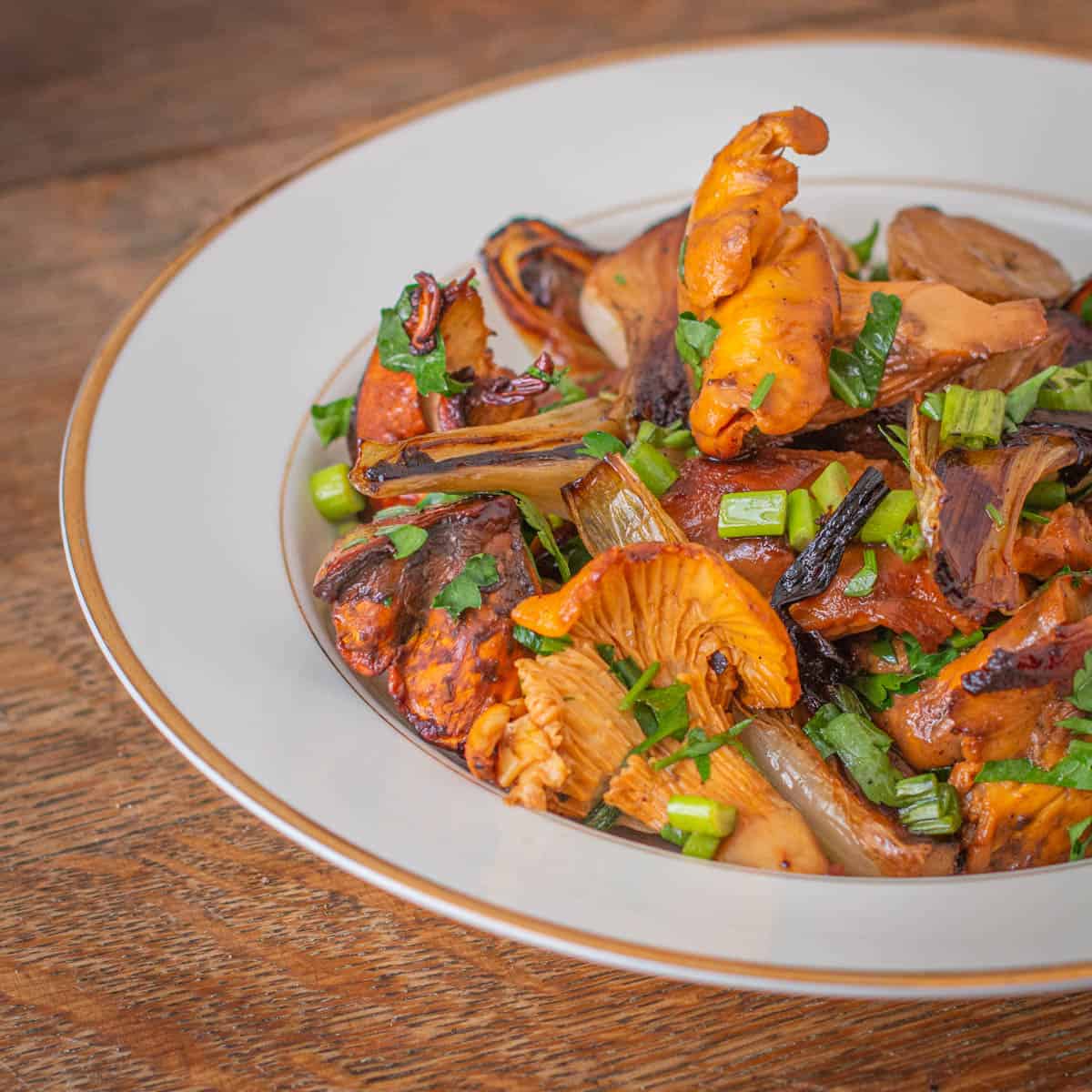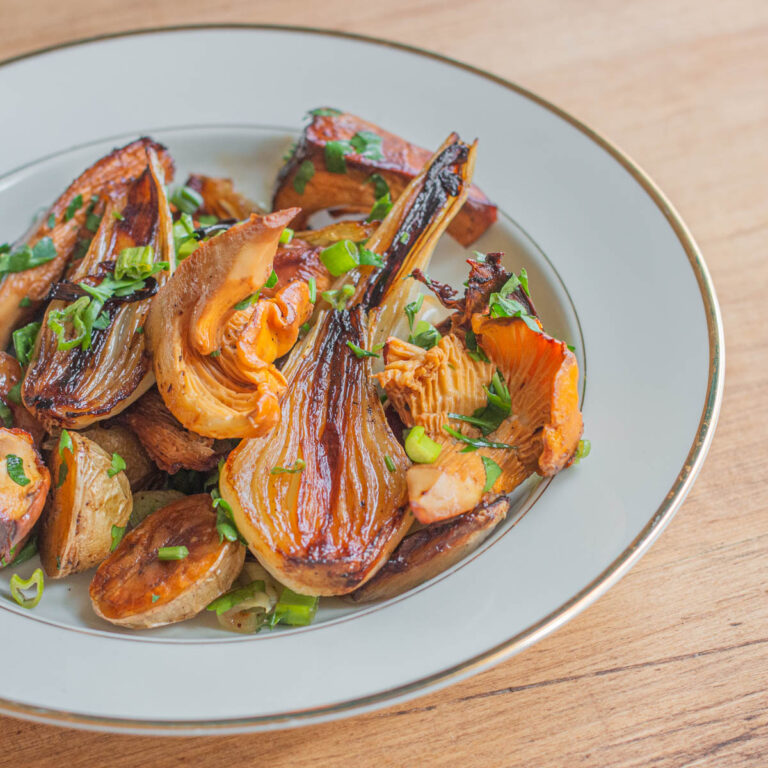 Print Recipe
Saute of California Chanterelles with Butterball Potatoes and Spring Onions
A quick side dish of pan roasted potatoes, young onions, and jumbo California chanterelles

Equipment
1 10 inch saute pan or cast iron skillet
Ingredients
8

spring bulb onions or large scallions

halved, tops thinly sliced

½

lb

small

young butterball potatoes, halved fingerling potatoes could be substituted

12

ounces

chanterelles

cut into inch pieces about the same size as the onions and potatoes

Kosher salt and fresh ground black pepper

to taste

2

tablespoons

flavorless oil or lard

for sauteing

2

tablespoons

unsalted butter

for finishing, optional

2

tablespoons

fresh sliced Italian parsley

1

teaspoon

finely minced garlic
Instructions
Preheat the oven to 350. Have a large heavy skillet about 10-12 inches, for the potatoes and onions, and another large skillet for the mushrooms, since the mushrooms will contain a lot of water that needs to cook out.

Heat the chanterelles in a dry pan or with a touch of oil if it's not cast iron or non-stick, and cook slowly to brown gently and cook off their moisture.

Meanwhile, heat the other skillet with the oil and put the potatoes, cut side down into the pan. Cook the potatoes without moving them for 4-5 minutes, then put the onions, cut side down into the pan with them, If the pan looks dry, add a touch more oil. season the mixture to taste with salt and pepper, then put in the oven to cook through until the potatoes are just tender.

Remove the pan with the potatoes and onions from the oven, and if needed, put some extra color on them by cooking on the burner for a few more minutes. When the onions are nice and caramelized, carefully remove the top layer of onion skin, which can be stringy.

Add the hot mushrooms to the pan along with the garlic, reserved onion tops, parsley and the butter. Stir the mixture to combine, double check the seasoning for salt and pepper and serve immediately.
Notes
You can use other large mushrooms for this dish. Hen of the Woods or Maitake Mushrooms would be good, as would Saffron Milk Caps. 
Nutrition
Serving:
4
oz
|
Calories:
193
kcal
|
Carbohydrates:
32
g
|
Protein:
4
g
|
Fat:
6
g
|
Saturated Fat:
4
g
|
Polyunsaturated Fat:
0.3
g
|
Monounsaturated Fat:
2
g
|
Trans Fat:
0.2
g
|
Cholesterol:
15
mg
|
Sodium:
19
mg
|
Potassium:
836
mg
|
Fiber:
8
g
|
Sugar:
13
g
|
Vitamin A:
180
IU
|
Vitamin C:
20
mg
|
Calcium:
78
mg
|
Iron:
4
mg