Today, a fantastic stinging nettle recipe from a famous French chef.
I love a good frittata, but there's something to be said about the good, the ok, and the bad. Overcooked, egg pies (as I would call for them on the line) are dry and crumbly. Undercooked they weep undercooked egg and are unappetizing. With too many ingredients, they'll fall apart, and with too few ingredients, they're uninteresting.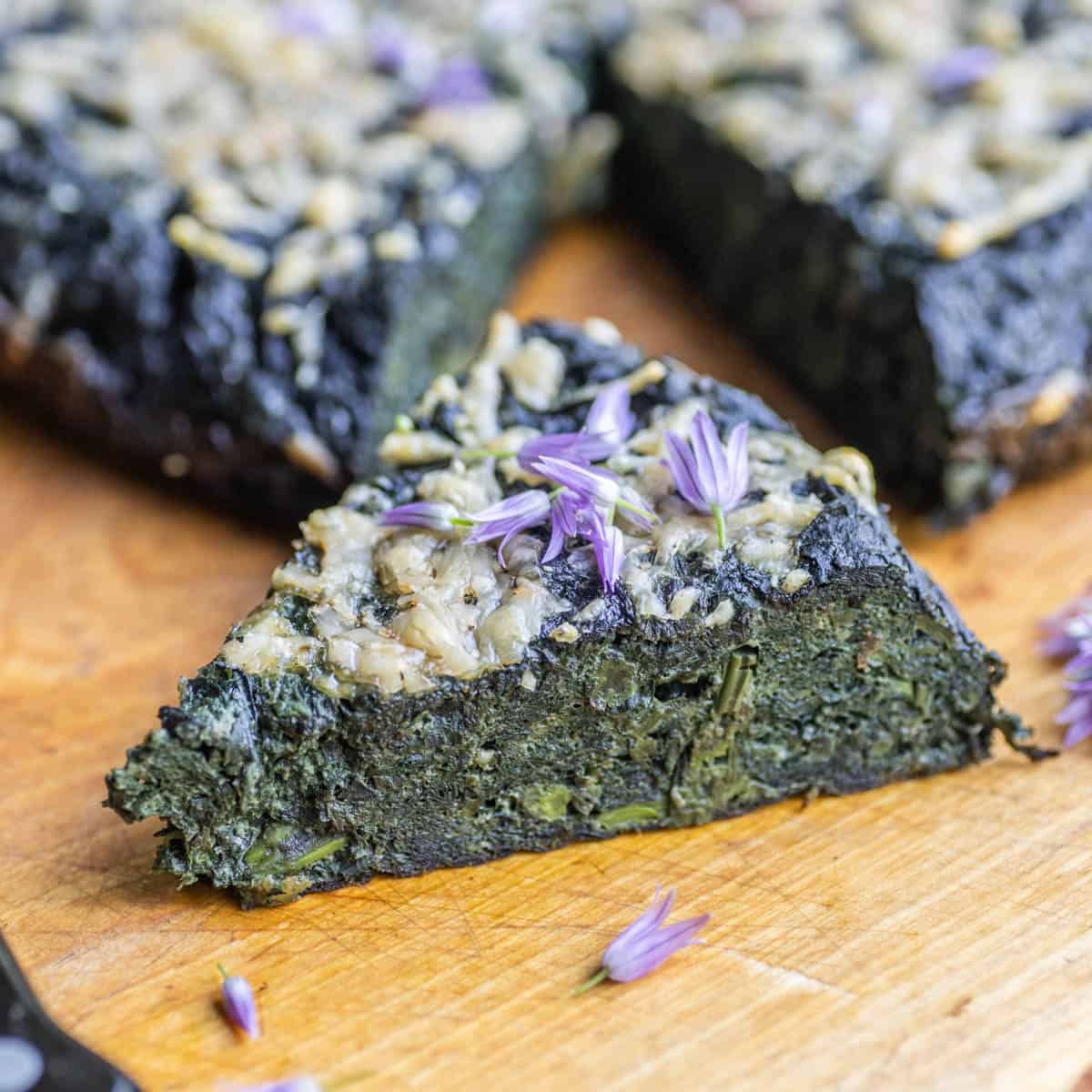 With frittatas incorporating leafy greens, most often, at least from my experience, they fall into the category of too few ingredients: mostly egg, maybe a little cheese (probably too much cheese), and a skimpy handful of spinach or kale. This nettle frittata is not that frittata, and one look at the black green beauty that is this egg pie should tell you that.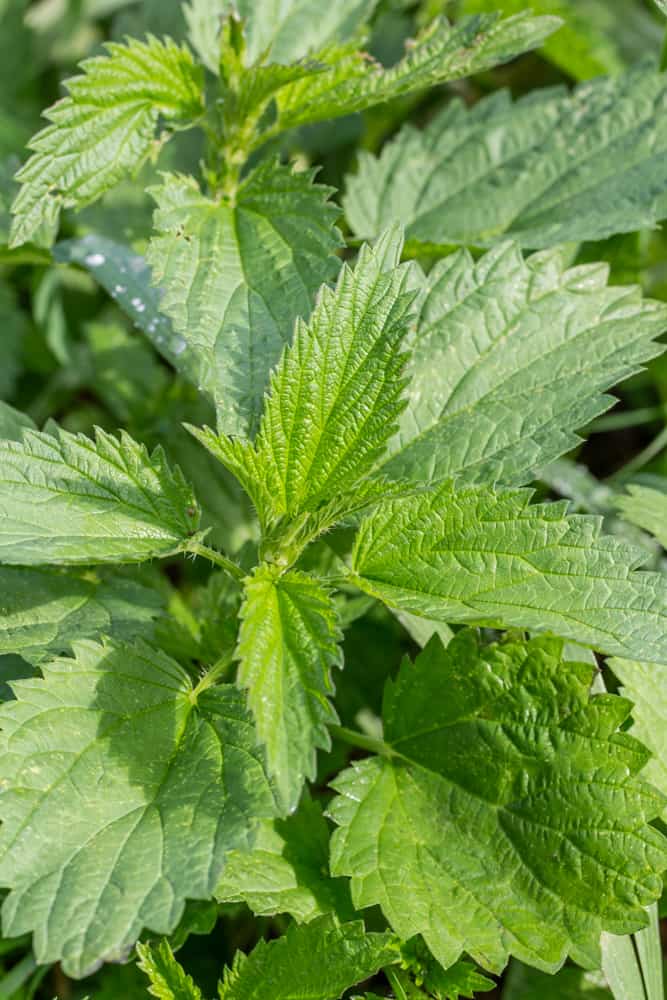 I love the Time Life series of books called "The Good Cook". It's a series that flies under the radar, but every single book was written by Richard Olney-a master of his craft alongside Jacques Pepin, James Beard, and Julia Child. In his book on eggs and cheese for the series, he demonstrates a spinach frittata colored such a deep green you might wonder if it even contains egg.
The first time I saw it, I made a note to revisit it after I finished the book, because that is exactly the sort of leafy green egg pie I want to eat. I want a nettle frit that is more nettle than egg, and once you taste this one, I'm pretty sure you will too.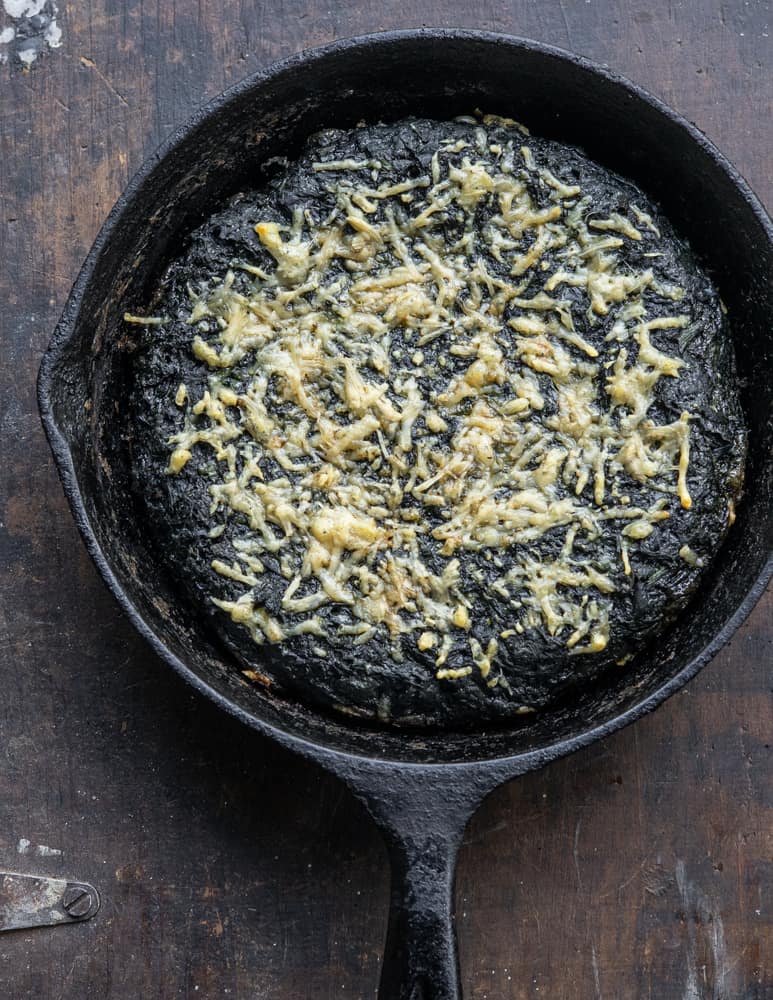 It's so simple: take some nettles, steam them to keep their deep earthy flavor (or rich, woodsy perfume in the case of wood nettles) chop them up, add a splash of dairy and egg, season it like you care, and cook it-that's all this is.
Richard Olney Style Demo
I had to do a little tribute to Richard Olney's meticulous image tutorials that are a calling card of all the books in the series, so here's six pictures illustrating the steps of making a nettle frittata.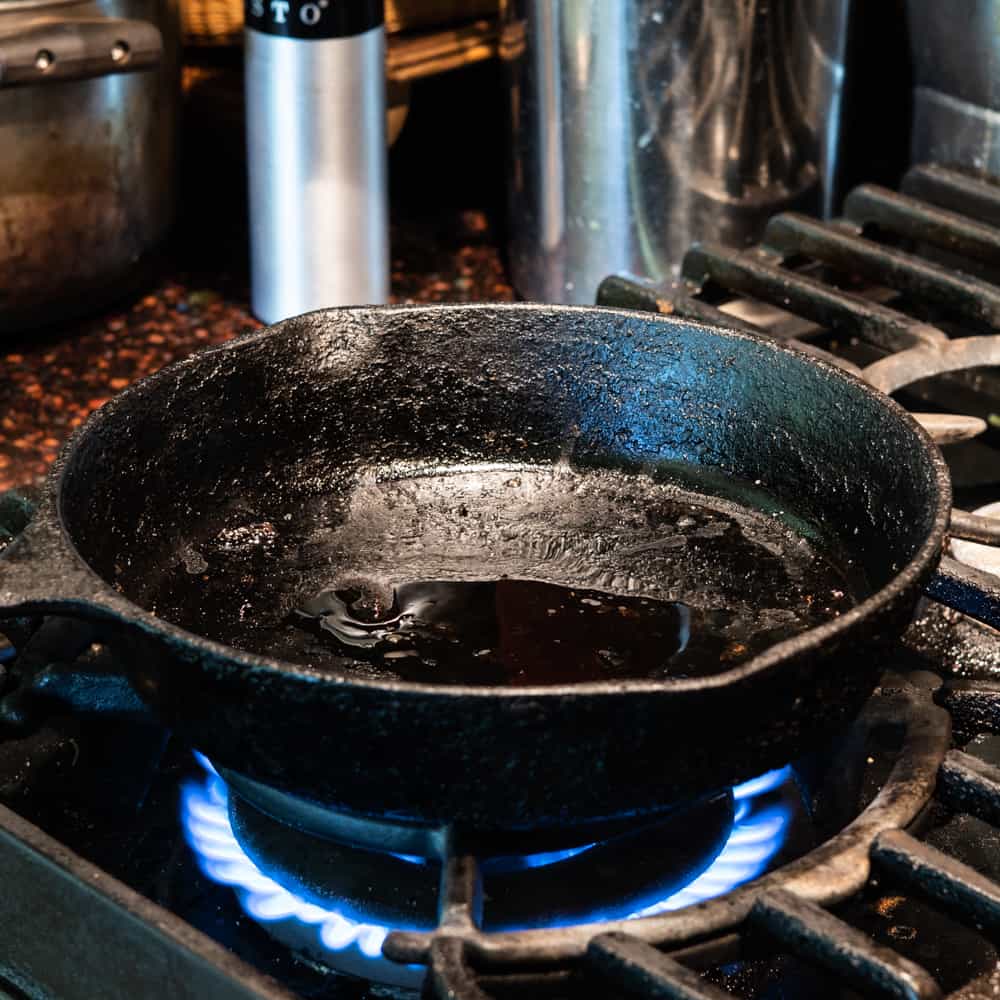 You need far less egg to set something than I think most people think for a frittata, but the shape of the ingredients is also important, since, if there's too many chunks, the finished product might be difficult and resist cutting clean after setting.
Finely chopped greens would love nothing more than to soak up some egg though, and it works like a charm. It would be happy alongside a few strips of bacon, but I find myself cutting slices off it throughout the day for a snack, maybe with a dollop of lemony aioli or a little spicy mayo.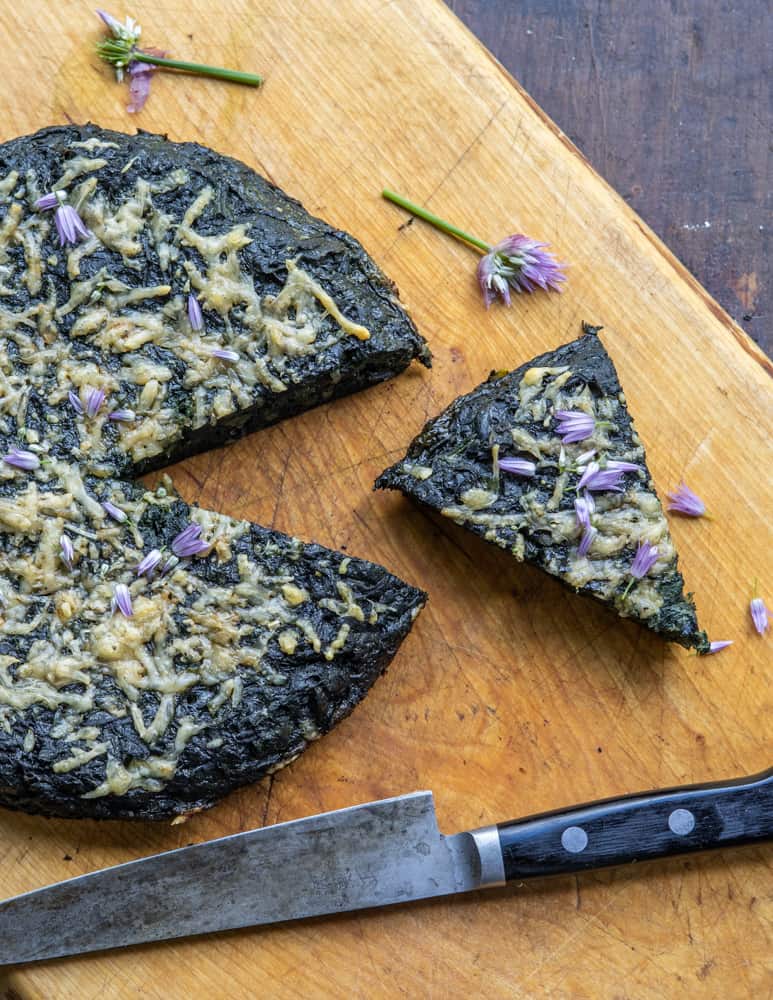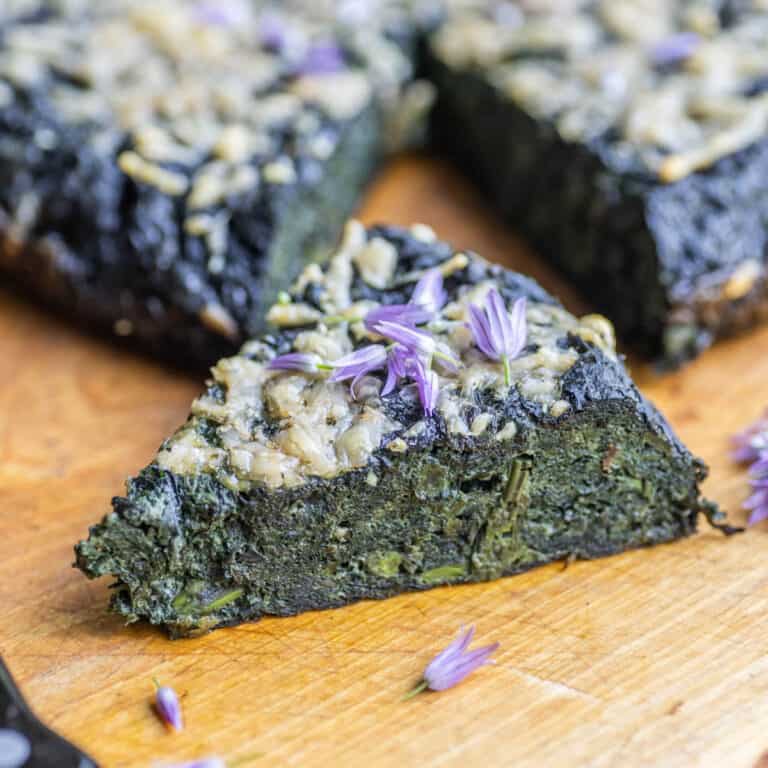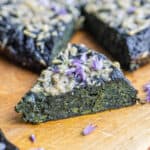 Print Recipe
Nettle Frittata Richard Olney
A deep green nettle frittata that's much more greens than it is egg. It's delicious for breakfast, lunch or brunch.
Equipment
1 8 inch cast iron pan or similar
Ingredients
1

lb

tender nettle tops or young nettles

4

large eggs

¼

cup

cream

warmed

3

tablespoons

unsalted butter

melted

1

tablespoon

cooking oil or bacon grease

lard, etc

¼

Kosher salt plus more to taste

Fresh ground black pepper

to taste

Suggestion of grated nutmeg

3

tablespoons

grated parmesan cheese
Instructions
Steam the nettles for at least 5 minutes or until thoroughly wilted, work in batches if you steaming pot is small. Alternately blanch the nettles in boiling water for a few seconds, resulting in a slightly less "nettle-y" tasting, but still excellent frittata.

Finely chop the nettles and mix while still warm with the butter, cream, salt, pepper and nutmeg. Work in the eggs. The mixture will look stiff-don't worry.

Taste a tiny pinch of the mixture again (if you're wary of tasting uncooked eggs just skip it) adjust the seasoning until it tastes good to you.

Meanwhile, heat an 8 inch cast iron skillet with the oil until nearly smoking. Preheat the oven to broil.

Mix the nettle mixture quickly, then transfer to the hot pan, packing it down. Using a large spoon, press the edges away from the pan (see picture). Cover the frittata, turn the heat to medium, and cook for 5 minutes.

After five minutes, remove the lid, sprinkle on the parmesan, and place under the broiler for 5-10 minutes, or until the cheese is melted and the frittata is lightly puffed in the center.

Allow the frittata to cool for ten minutes to allow the flavor of the nettles to develop, then gently cut wedges from it, and serve. It's great with a little tomato sauce on the side.
Nutrition
Serving:
3
oz
|
Calories:
178
kcal
|
Carbohydrates:
7
g
|
Protein:
7
g
|
Fat:
14
g
|
Saturated Fat:
8
g
|
Polyunsaturated Fat:
1
g
|
Monounsaturated Fat:
4
g
|
Trans Fat:
0.2
g
|
Cholesterol:
139
mg
|
Sodium:
108
mg
|
Potassium:
314
mg
|
Fiber:
5
g
|
Sugar:
1
g
|
Vitamin A:
2022
IU
|
Vitamin C:
0.1
mg
|
Calcium:
411
mg
|
Iron:
2
mg
More