Huazontles (What-Zohnt-Lays). The word just sounds interesting. The name is dense, filled with far more than you'd expect from a word used to describe what's basically a rustic plant dumpling stuffed with cheese.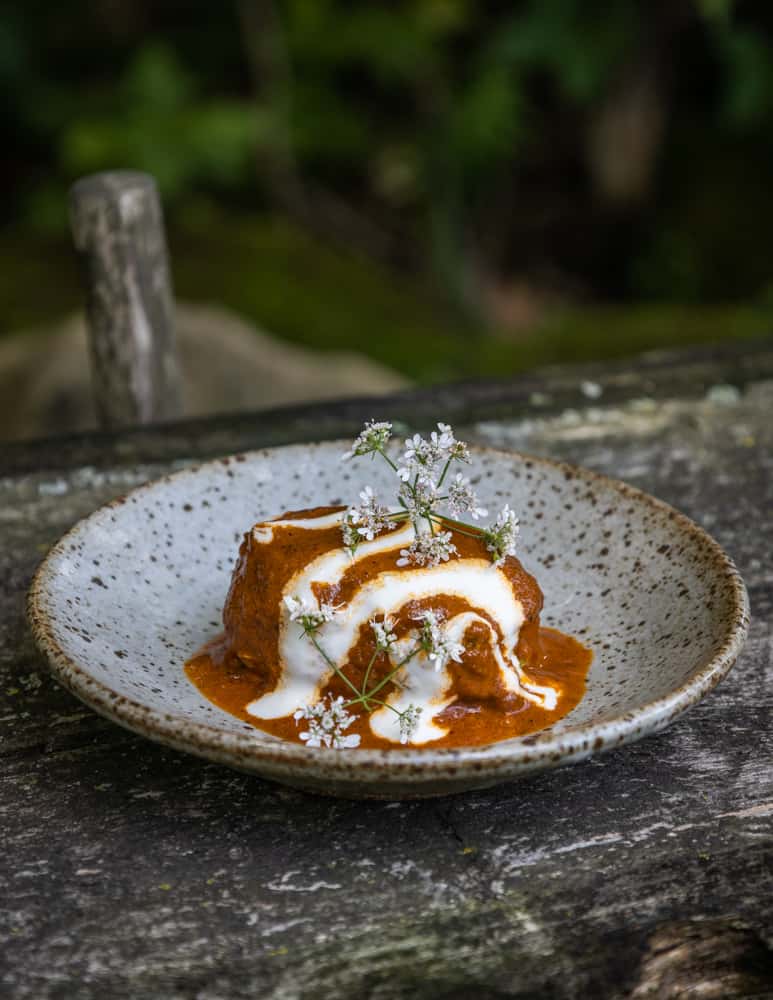 The name huazontle itself is an ancient one, derived from the Indigenous South American Nahuatl language, meaning it pre-dates Spanish colonization, by how long isn't clear, but a few thousand years is definitely within the realm of possibility.
Huazontles (like a few other things around the world I've been collecting for a new speech) is a perfect example of what I've been calling a "polynoun"-a word used to describe multiple things in cultural culinary lexicon. In this case, the name can refer to a specific plant (Chenopodium nuttalliae) a specific part of the plant used for food (unripe flowers in this case) as well as numerous traditional dishes made from different parts of the plant.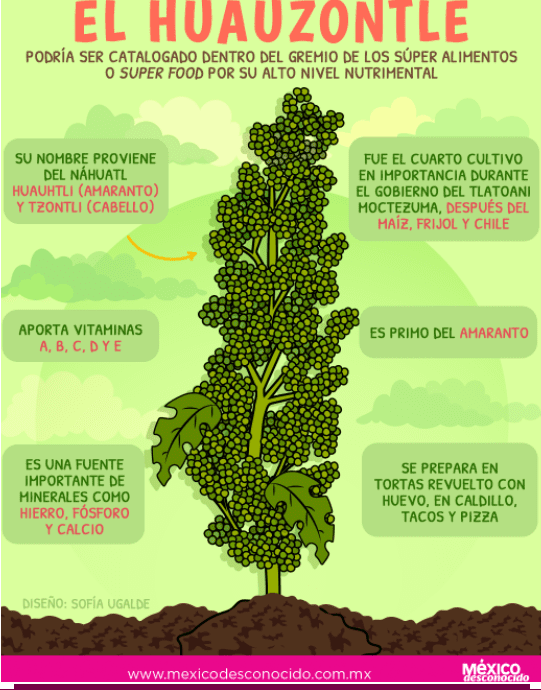 To begin to appreciate huazontles in all their glory, to really appreciate them, it's probably helpful to consider the Aztecs and indigenous peoples of Mexico for a minute, whose cultivation of different chenopods (amaranth, lambs quarters etc) as food plants is well known.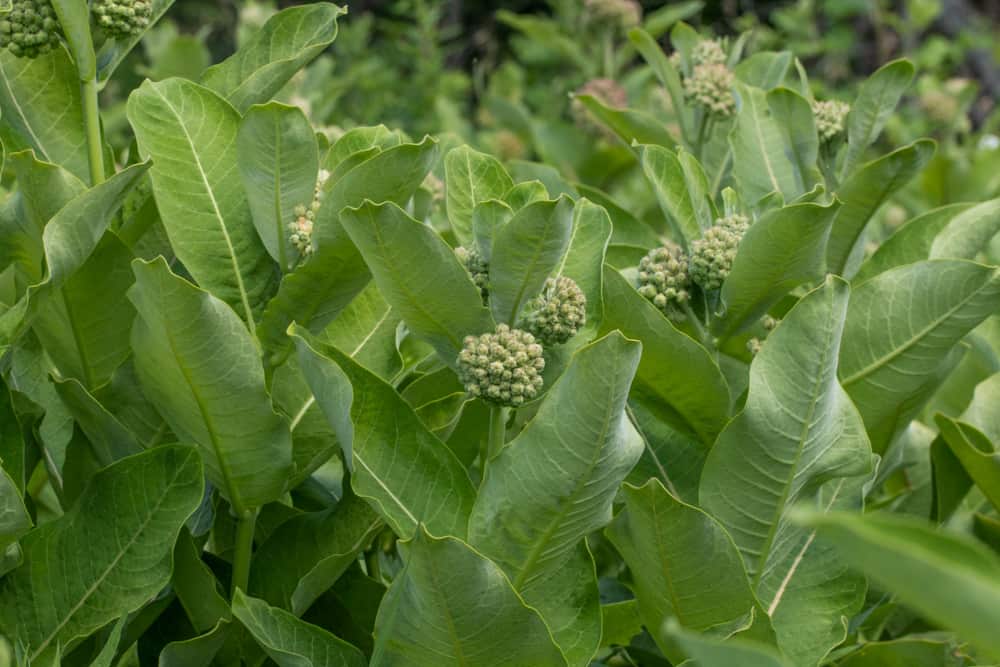 Just like other cultures around the world, ancient growers may have noticed the occasional variations of plants they liked and gathered seeds of good performers or anomalies to get more of what they wanted, like one plant that grew larger than its bothers and sisters, for example.
This could be the case with Chenopodium nuttalliae, a large variety of lamb's quarters known colloquially across Mexico as huazontles (huauhzontle, huanzontle, guausoncle and Aztec spinach are synomyms). Chenopodium quinoa seems to be a close relative, and there's been speculation that the two could have come from a single, ancestral South American plant.
C. nuttalliae (and presumably other lambs quarters that grow to a large size) may have offered larger edible leafy greens than smaller plants, but their size also yields a additional harvest: the unripe round seed heads, which look a little like broccoli on a stick.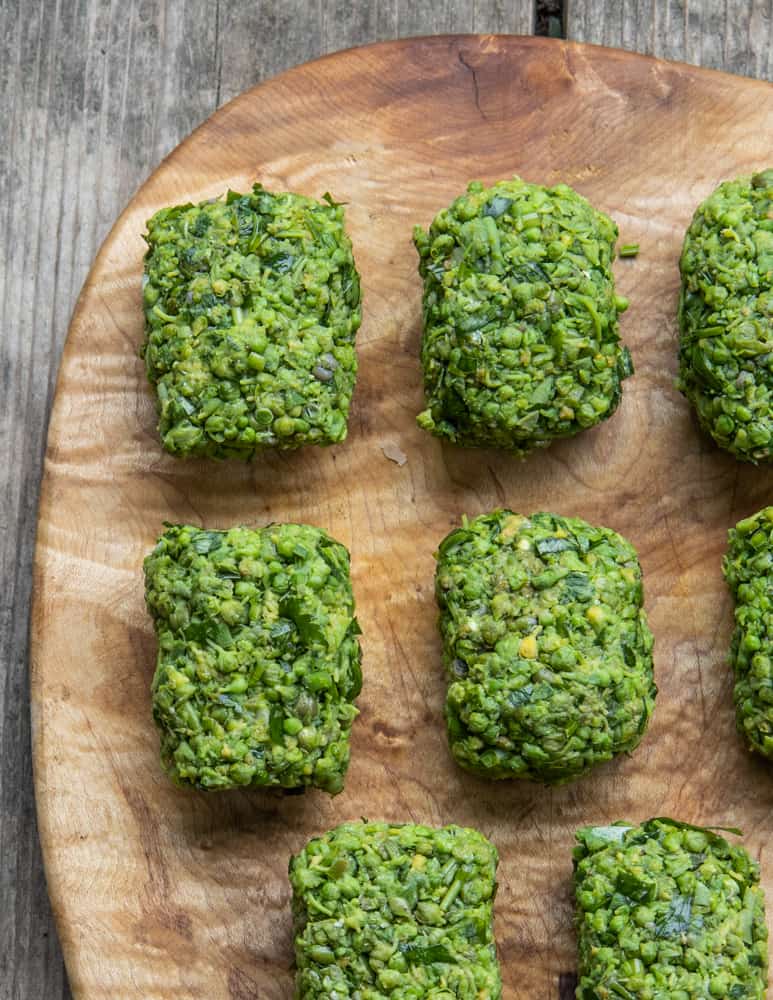 The unripe greens flowers are present on other, more common lambs quarters too, but their smaller size, at least in my opinion, makes harvesting them slightly less efficient for people interested in eating them. With a good patch of your local, common lamb's quarters, it's possible to gather the green flowers in some volume, but I haven't done it myself.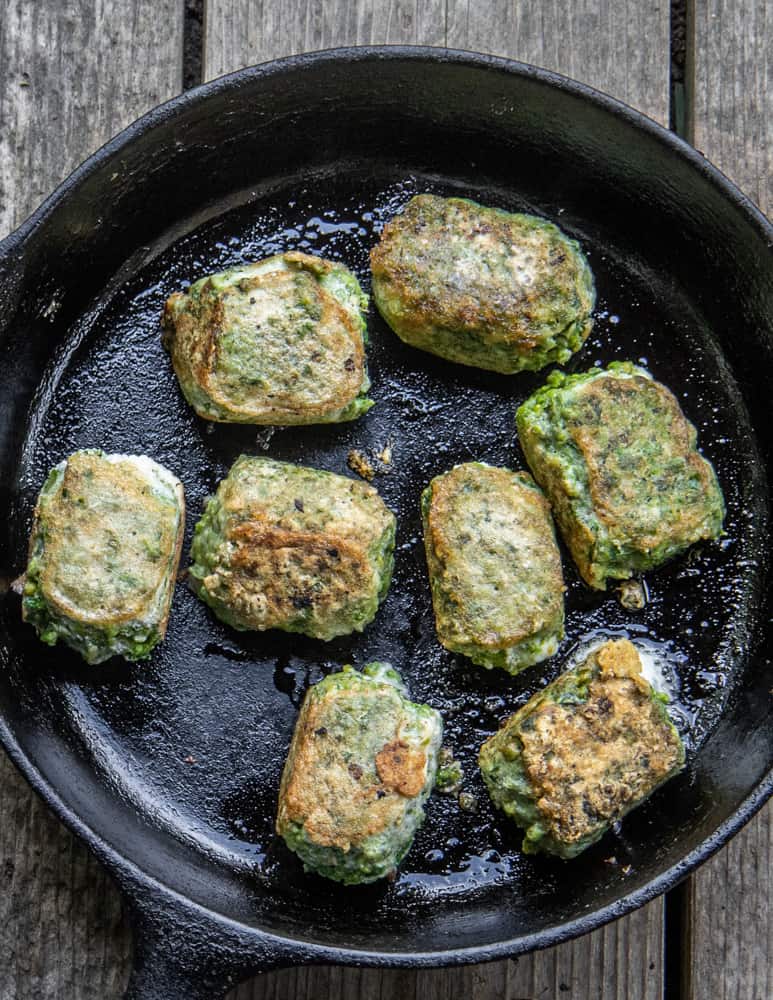 A casual google (or even better, a search on You Tube for dumpling-making Abuelitas) will quickly bring up a bunch of videos and articles from Mexico (link to my favorite Abuelita from De mi Rancho a tu Cocina at the bottom of the page). One thing's for sure: Huazontles are a very traditional food.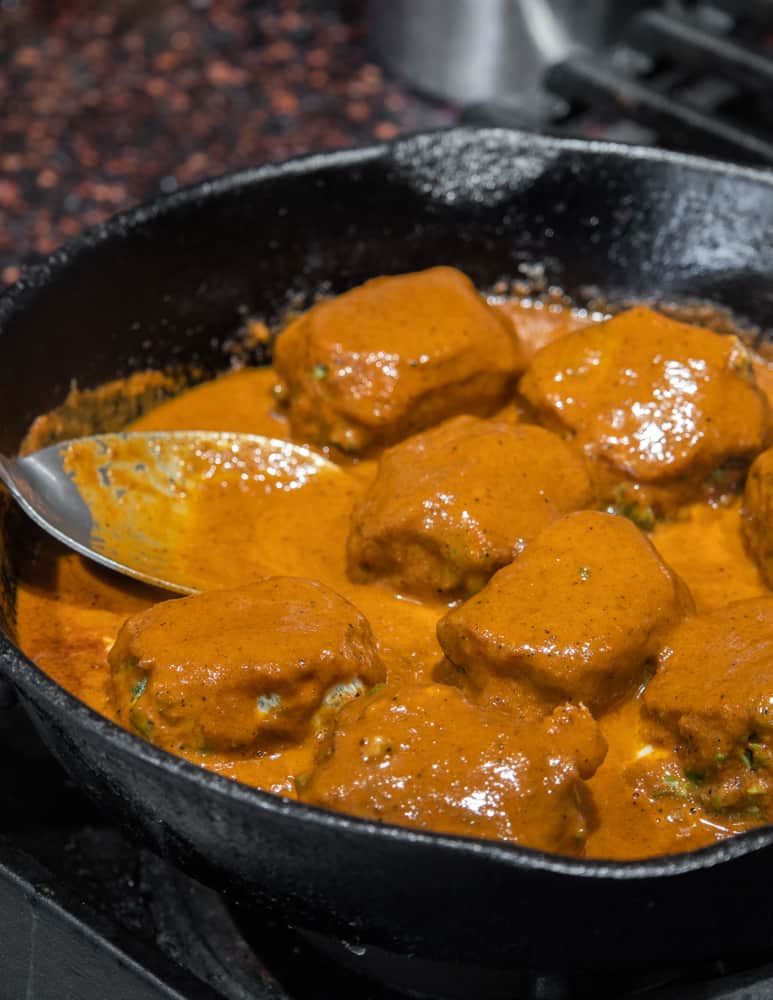 About now, you're probably understanding where the milkweed buds come into play here. I don't have C. nuttalliae near me (Hank Shaw grows it, of course) but milkweed buds are legion, and their shape and size is about as close a substitute to huazontle flowers as I can think of, if a bit larger. The fact that they're delicious and mild tasting doesn't hurt at all.
The dumplings are pretty simple to make. Steam or blanch some milkweed flower buds, chop them, mix with an egg yolk or two to help them form, mush them up into a little rustic shape, with a nugget of cheese inside.
After forming, the huazontles are rolled in flour, dipped in whipped egg white (a la chile rillenos) browned, and simmered in a delicious, silky, slightly spicy sauce made from dried chilies. While some recipes don't include the chili sauce, I definitely recommend it. Getting to channel your inner Abuelita is just a bonus.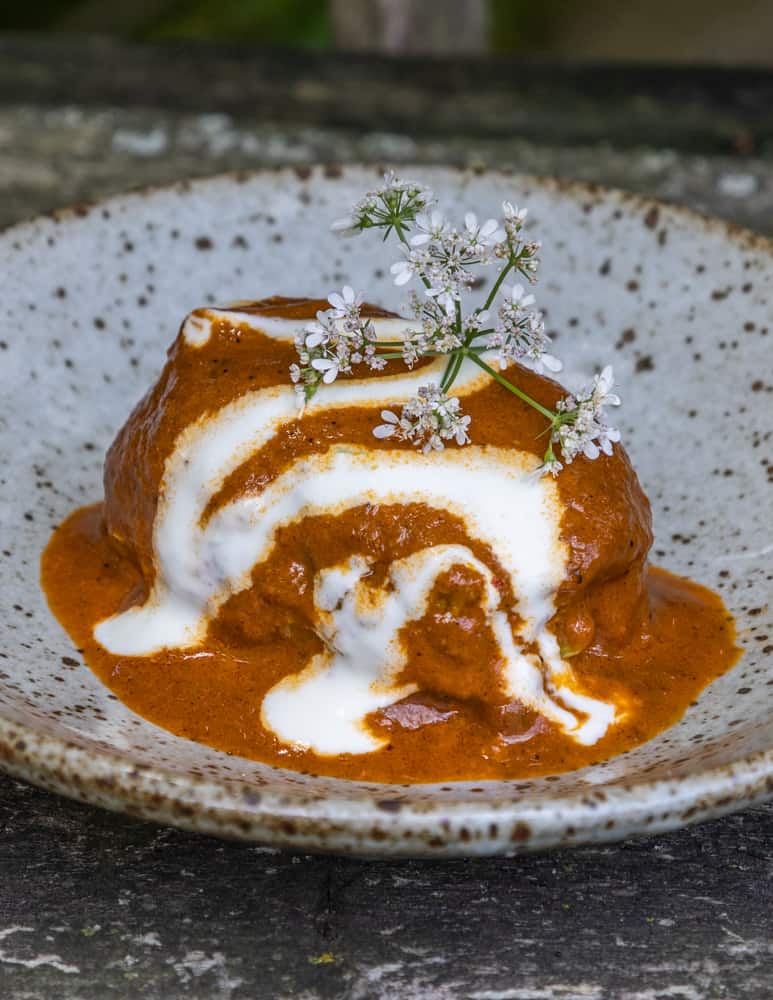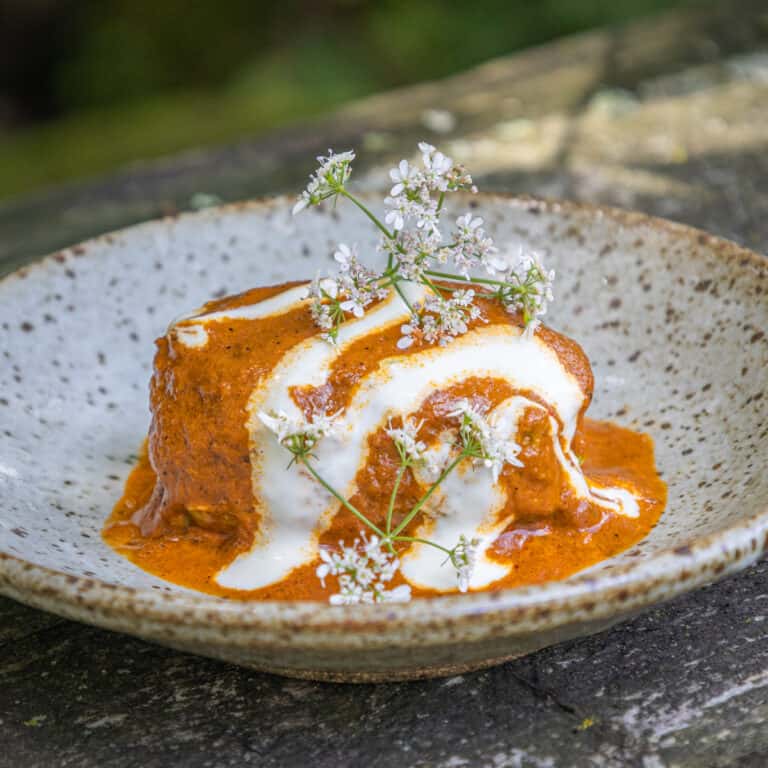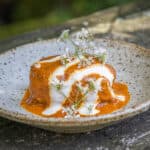 Print Recipe
Milkweed Bud Huazontles
Mexican-style dumplings made from milkweed buds, stuffed with cheese and simmered in a rich dried chili sauce inspired by the traditional dish made from green lamb's quarter seeds. Makes approximately 7 huazontles. Feel free to make them smaller or larger if you like. They're a great project for the whole family to participate in.
Equipment
1 Medium mixing bowl

1 10 inch skillet
Ingredients
Huazontles
10

oz

milkweed buds

any large leaves removed

Small rectangles of queso Oaxaca or queso fresco

roughly 5-7 g each

Pinch

of kosher salt

2

large eggs

separated

A good handful of fresh cilantro

optional

All purpose flour

about ½ a cup for dredging, plus an extra spoonful or two if needed (see step forming the huazontles)
Pasilla Chili sauce *see note
1

medium yellow onion

5 oz

4

large cloves of garlic

skin-on

4-5

dried pasilla or guajillo chilis

roughly 25 grams or a scant ounce

2

cups

chicken stock or water

plus another ¼ cup or so for finishing

½

teaspoon

ground cumin

or more to taste

½

teaspoon

kosher salt

plus more to taste
For serving
Sour cream seasoned with a pinch of salt, lime juice and thinned with a splash of heavy cream or water in a pinch

You can also use Mexican Crema, available at most places that sell similar ingredients, or creme friache.

Lime wedges

optional

Cilantro flowers or chopped cilantro

optional
Instructions
Chili sauce
Toast the chilis in a dry skillet for a few minutes until aromatic and lightly colored, then remove and cool, which will make them crisp. Break the stem end off of each chili, discard as many seeds as you can, then crumble into a small 1-2 quart sauce pot or similar.

Cut the onion in half horizontally. In a dry cast iron skillet, heat the onions, cut side down, along with the garlic cloves for 20 minutes on medium heat then turn the heat off and allow to cool in the pan.

The onions should be blackened on the cut sides and should be tender after cooling. Remove the skins from the garlic and onions, chop roughly, and add to a small pot along with the stock or water and the crumbled, toasted chilis, cumin and salt. If you use seasoned stock, omit the salt.

Cover the pot and bring it to a simmer and cook for a few minutes, then transfer to a blender and carefully puree, starting on low speed and moving up to high (making sure to use a lid that has a vent) drizzling the oil in at the end to make a smooth puree. Double check the seasoning of the sauce for salt, adjust as needed and reserve.
Milkweed buds
Steam the milkweed buds for 3-4 minutes, then lay out on a tray and cool. It is important you remove as much water as possible, squeeze them in your hands to do that. When the buds are squeezed dry, chop the buds and tender stems until they have an even texture, then transfer to a mixing bowl.

Add the yolks to the chopped milkweed, then season with a pinch of salt and pepper and the cilantro.

Beat the egg whites until they hold soft (not firm) peaks and reserve.
Forming the huazontles
Attempt to ball up some of the chopped milkweed buds to make sure they will hold together. If you find it difficult or the mixture threatens to fall apart and not hold its shape, add a spoonful of flour to help stay together.

Take a golf ball size (35 g) portion of chopped milkweed buds and form it into a ball in your hand. Take a small (5 g) rectangle of cheese, press it into the center, then close your hand to form the milkweed mixture around the cheese, enclosing it in the center. Form the milkweed mass into a rustic, tubular huazontle dumpling as pictured.

Roll the dumplings in flour, dip in the beaten egg white and fry in a thin layer of oil in a 10 inch non-stick pan, turning occasionally to brown every side. Push the dumplings to one side of the pan, then press a towel into the pan to soak up oil

Add 1 cup of the chili sauce and bring to a gentle simmer, spooning the sauce over the dumplings as they cook. If the pan gets dry, add the additional chicken stock or water to keep the sauce smooth.

Serve with a spoonful of sour cream, garnish with the cilantro flowers and serve with lime wedges on the side if using.
Notes
Chili Sauce
The chili sauce will make a little more than you need as it's difficult to make a smaller batch than I share here. It's good on all kinds of things.
Timid palettes 
Pasillas are typically less spicy than guajillos, so don't be scared of them if you can't do spicy food. You can always cut the sauce by pureeing a roasted bell pepper into it instead of half the dried chilis, too. 
Nutrition
Serving:
4
oz
|
Calories:
59
kcal
|
Carbohydrates:
6
g
|
Protein:
4
g
|
Fat:
2
g
|
Saturated Fat:
1
g
|
Polyunsaturated Fat:
1
g
|
Monounsaturated Fat:
1
g
|
Trans Fat:
0.01
g
|
Cholesterol:
82
mg
|
Sodium:
327
mg
|
Potassium:
196
mg
|
Fiber:
2
g
|
Sugar:
2
g
|
Vitamin A:
611
IU
|
Vitamin C:
10
mg
|
Calcium:
46
mg
|
Iron:
1
mg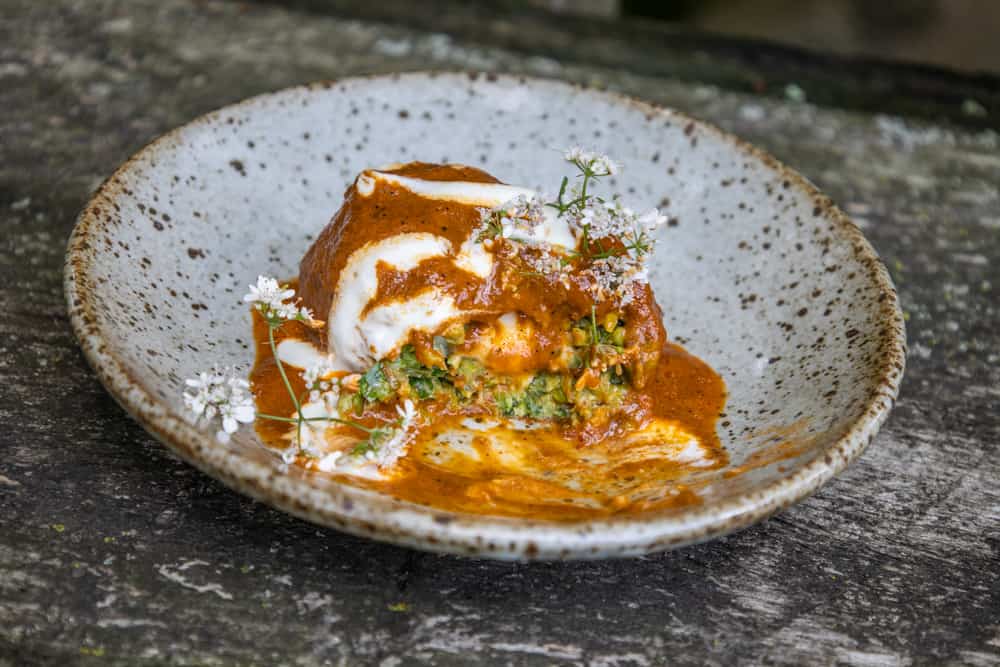 Further Reading / Watching
Huazontles: A Pre-Hispanic Superfood