The snow is quickly melting, and I've been working hard to use up my stores of 2018 preserves. I have a lot of mushrooms and game (mostly venison), but, it was a great year for acorns too-I discovered a new white oak that gave the best acorns I've had yet.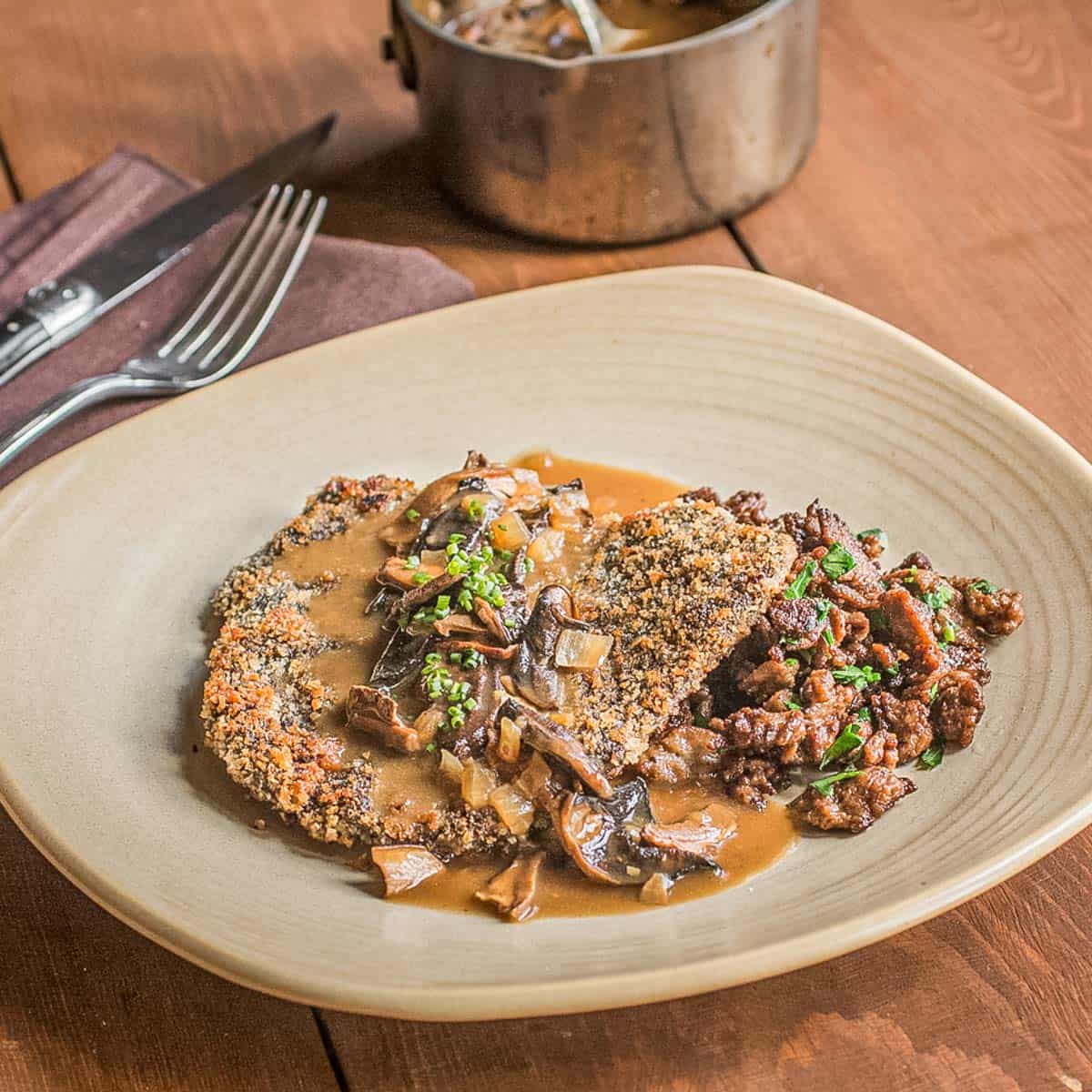 Thinking of how I could use the acorns, deer meat and mushrooms, and fresh off of a dinner with my grandparents at the Bavarian Hunter restaurant in Stillwater MN, I came up with a killer, all-forest themed jaegershnitzel (hunter's cutlet), that classic German cutlet with simple, homey wild mushroom gravy. It was way better than I expected on the first shot, so I'm sharing it with you now instead of the 2019/2020 winter. The gravy alone is a good wild mushroom recipe to help use up your dried stash.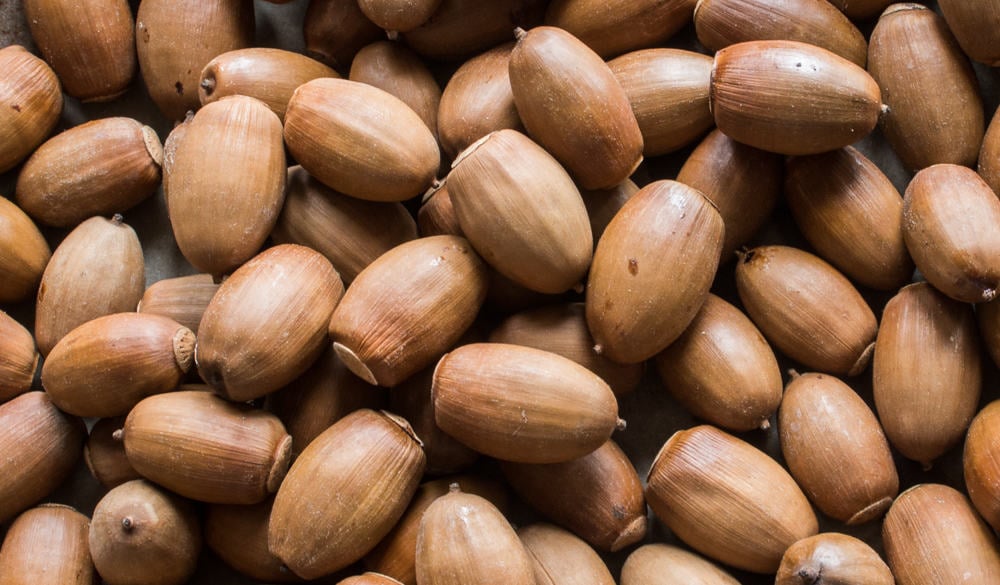 It's pretty much venison jaegerschnitzel like you'd expect, at any German-themed restaurant, but with a couple really great twists that deepen the flavor. Besides using venison instead of pork, the biggest golden nugget is in the breading. In a basic three stage breading mix of flour, egg and crumbs, flour isn't used for the glutinous sticking properties that help trap carbon dioxide when bread rises, it's more of a sticky coating that gets softened by the egg, helping the crumbs to adhere.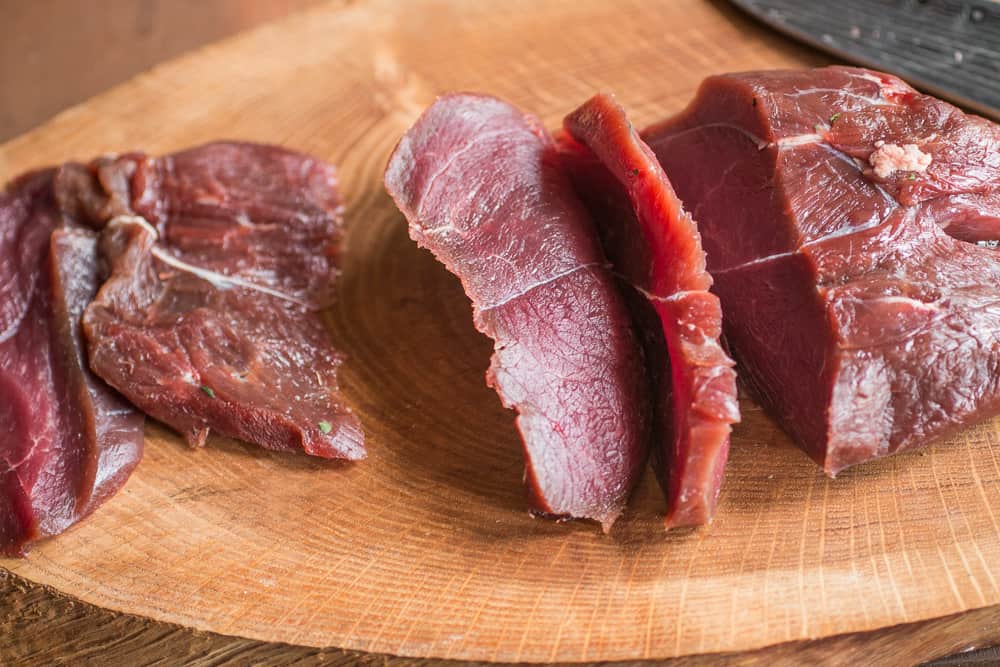 Using Leccinum powder for a deep flavor
So, any sort of fine powdered substance could take the place of flour in any of your three stage breading recipes. With the woodsy-hunter-mushroom theme, it didn't take long for me to reach for a jar of jet-black aspen boletes / Leccinums / scaber stalk (I suspect aurantiacum species or similar as they grow with oaks and aspen, see picture above) and powder some for the breading. Also, toasting the mushrooms before grinding really deepens the flavor since the dried mushroom coating gets insulated by the egg-crumb mix and you don't have to worry about it burning.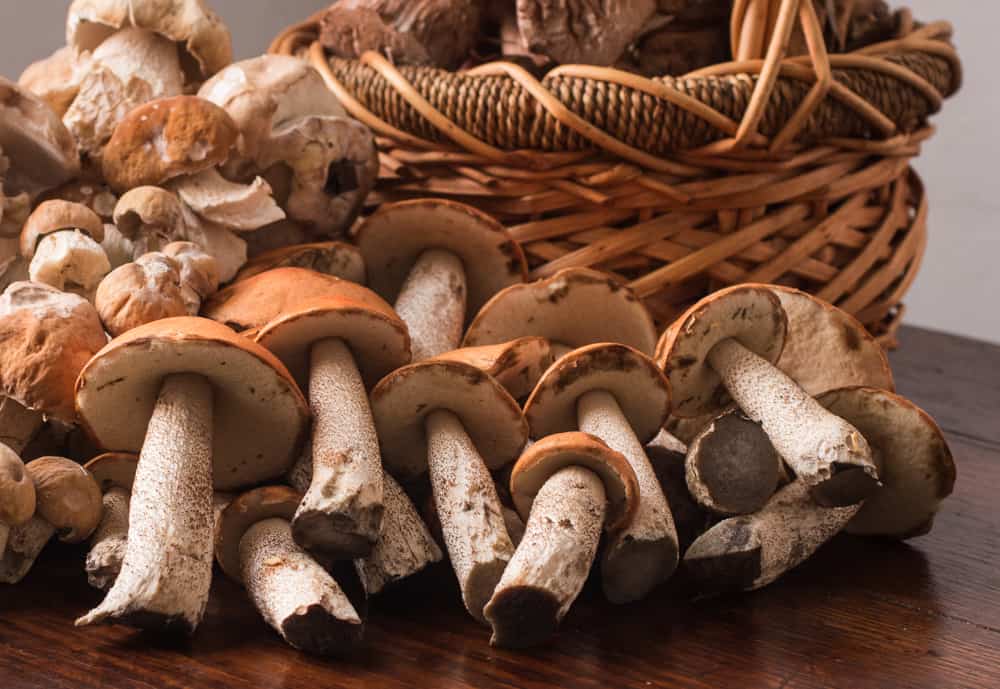 Acorn flour spaetzle
Lastly, it was going to need some cabbage, spaetzle, or both. I went with spaetzle, and, after I made a batch of regular spaetzle, I knew I could probably do a little better. I'd just cold-leached a gallon bag of acorns, so I played around with an acorn spaetzle, an easy shoe-in since egg in any gluten-free or reduced batter won't be hard to bend to your will since the coagulative properties make up for any lack of binding in the batter.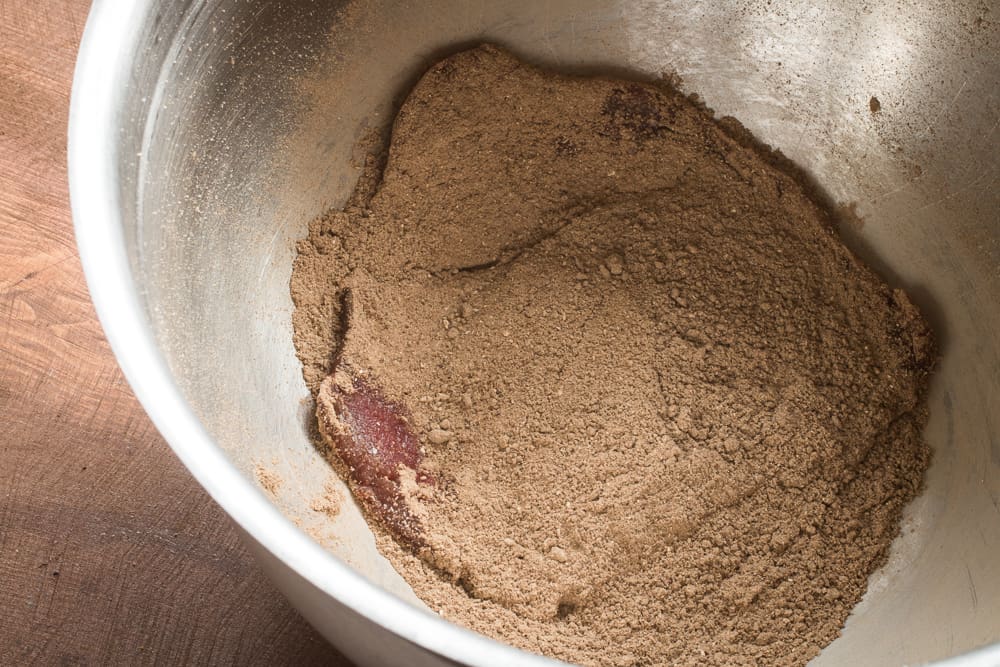 I got a little ambitious trying to make 2 batches of spaetzle with no regular flour at all, substituting Korean acorn starch and extra egg yolks, but I ended up cracking and doing a 50/50 ap flour blend. You could definitely make the spaetzle with 100% acorn flour, ground as fine as possible, but you'll want to have most of the water come from egg white, and add a couple extra yolks, to the mix, too.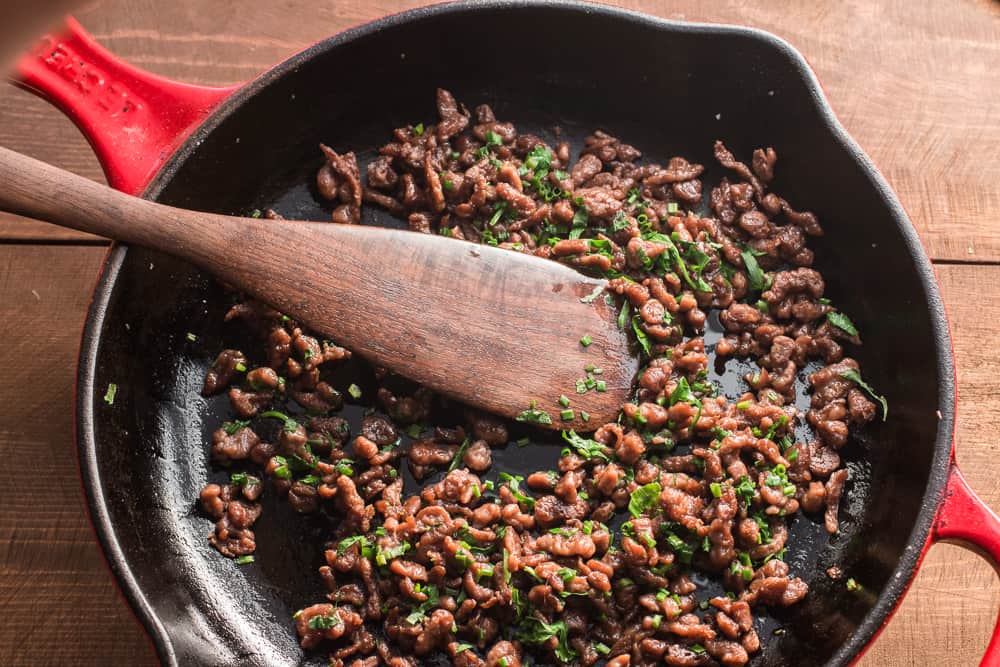 In the end, it could probably use a little wilted savoy cabbage for some green on the plate, since it's a little brown-on-brown, but damn if it doesn't taste like a walk in the woods.
The Leccinum, or whatever mushroom you'd want to use (I'd suggest a bolete) really comes through in the breading, and the simple dried mushroom gravy would be good on just about anything, especially if you make it with homemade stock or simmer a ham bone or a piece of bacon in it. The recipe makes 5 entree servings if you make 3 oz cutlets.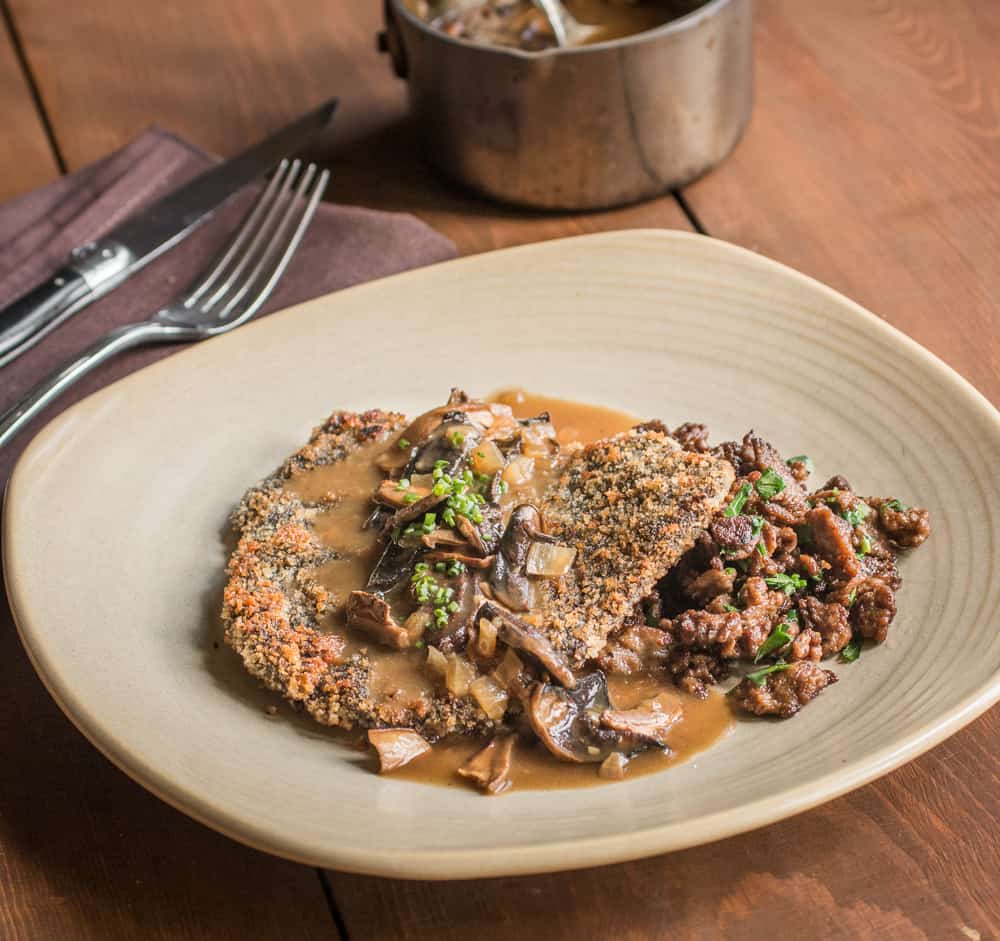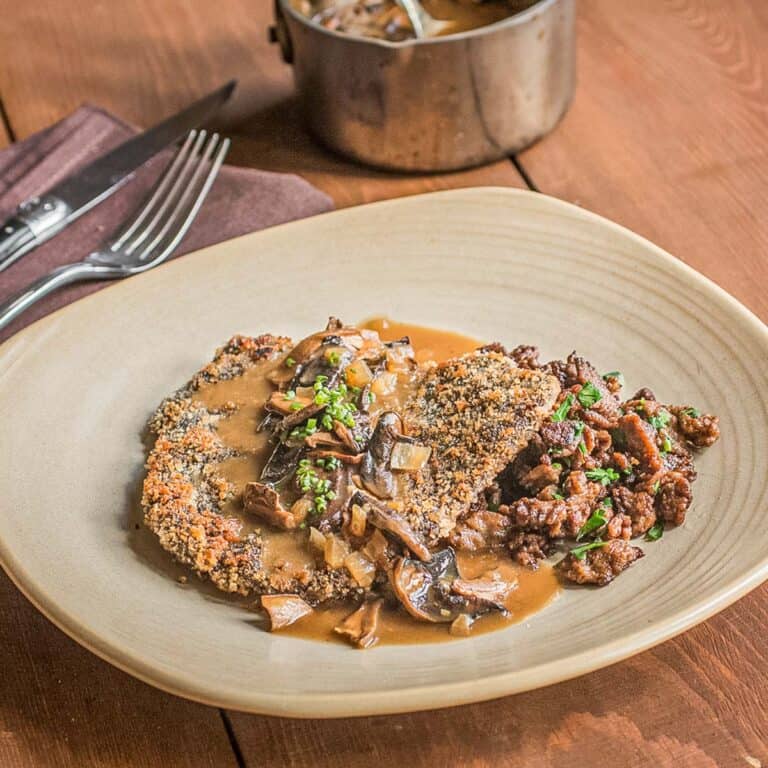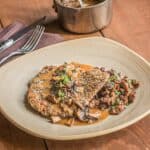 Print Recipe
Venison Schnitzel with Mushrooms and Spaetzle
Vension cutlets crusted with Leccinum mushrooms, served with wild mushroom gravy and acorn spaetzle
Equipment
1 spaetzle maker

1 mixing bowl

1 large skillet
Ingredients
1

lb

venison

trimmed of silver skin, preferably a leg roast

Kosher salt and fresh ground black pepper

3

beaten eggs

for the breading

4

cups

panko breadcrumbs

lightly ground in a food processor

Dried bolete mushrooms a few handfuls

(roughly 4 cups or 40 grams) for the breading

20

grams

dried bolete mushrooms

roughly 2 cups of slices preferably nice looking slices, for the sauce

Pinch

of fresh chopped thyme

optional

2.5

cups

meat stock or water

¼

cup

dry white wine

Fresh squeezed lemon juice

to taste

2

tablespoons

all purpose flour

½

cup

yellow onion

small dice

1

large clove of garlic

3

tablespoons

lard or cooking oil

plus more as needed for browning the cutlets

Fresh sliced chives

to garnish, optional

Acorn spaetzle

recipe here, wilted cabbage, or both
Instructions
Season the venison roast and let it sit overnight, uncovered in the fridge to firm up and make for easy slicing (optional). Rehydrate the mushrooms in cool water for 15 minutes, then swish to remove grit, remove the mushrooms and reserve separately from the liquid. If your mushrooms are very large, rough-chop them.

For the sauce, cook the onion in the lard or oil on medium-high heat, stirring occasionally, until lightly browned and aromatic, about 10 minutes, the onion should be well colored. Add the garlic and thyme, if using and cook for 2 minutes more. Add the flour and stir until absorbed by the oil.

Turn down the heat to medium-low to prevent burning the roux. Deglaze with the wine, allow it to absorb, stirring constantly, then add the stock gradually, waiting until the roux absorbs each addition to prevent lumps.

When all the stock has been added, add the mushrooms, season the sauce to taste with salt and pepper, then reserve. From here the sauce can be made in advance. Just before serving the sauce, add the lemon juice to taste.

For the shnitzel, cut thin slices of venison roast on the bias to get the widest slices possible, cutting down, but not all the way through the first cut to make butterflied cutlets of roughly 3 oz each. Pound the pieces to spread them out with a meat mallet, then reserve.

To finish and serve, dredge the cutlets in the toasted leccinum powder, then in the egg, and finally the crumbs. Fry each of the cutlets, working in small batches, until golden brown on each side, keeping finished cutlets in a warm oven, uncovered, until needed. Arrange each cutlet on a pre-heated plate, along with a serving of acorn spaetzle, passing the sauce alongside to prevent the cutlets from getting soggy.
Notes
You can substitute your favorite dried mushrooms for the Leccinums. Porcini make a good substitute. 
Nutrition
Serving:
4
oz
|
Calories:
511
kcal
|
Carbohydrates:
49
g
|
Protein:
36
g
|
Fat:
17
g
|
Saturated Fat:
3
g
|
Polyunsaturated Fat:
5
g
|
Monounsaturated Fat:
8
g
|
Trans Fat:
0.04
g
|
Cholesterol:
96
mg
|
Sodium:
1057
mg
|
Potassium:
606
mg
|
Fiber:
3
g
|
Sugar:
5
g
|
Vitamin A:
0.5
IU
|
Vitamin C:
2
mg
|
Calcium:
132
mg
|
Iron:
7
mg