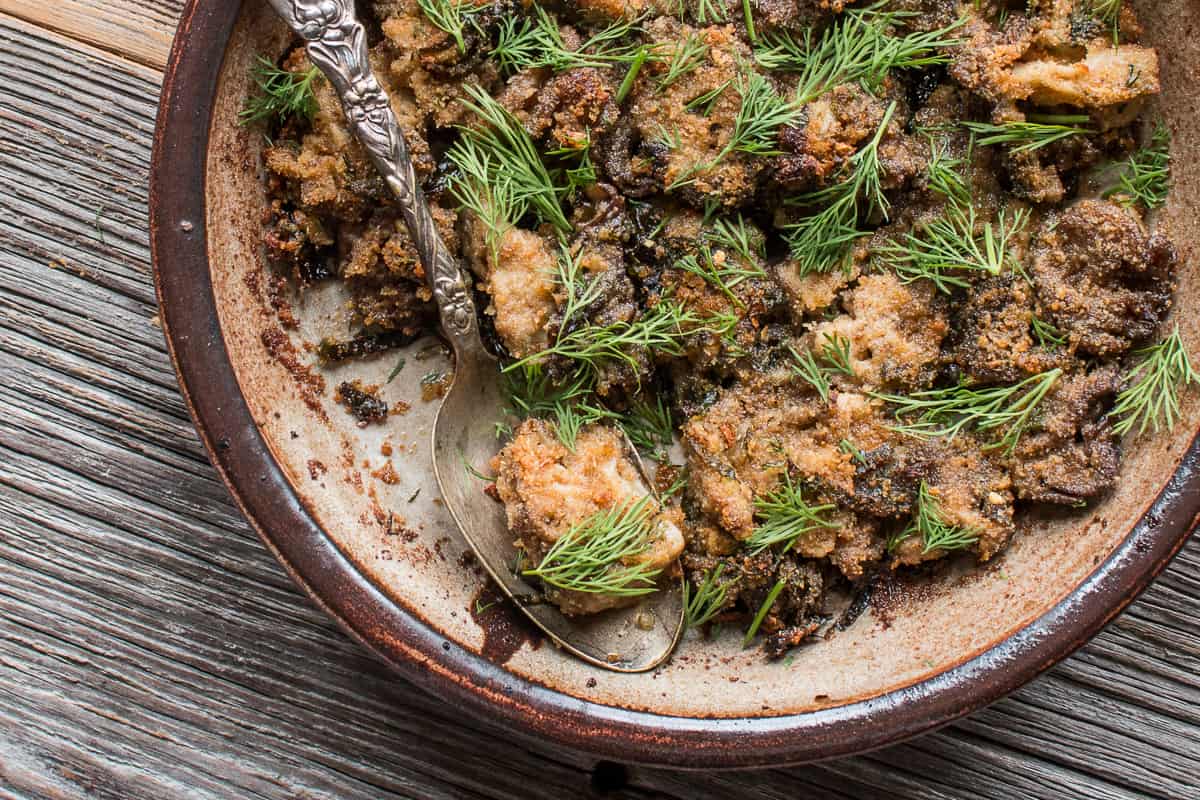 Disclaimer
I am in no way telling you to go out and eat Gyromitra, but, like it or not, they are a traditional food eaten to this day in some places. As people continue to eat them around the world, with poisonings still occurring regularly from improper cooking.
I've tried to present relevant details on these mushrooms and, most importantly, a tried and true method for cooking them that can help those who choose to eat Gyromitra each year, regardless of new and old conflicting information on their edibility, not get themselves or others sick.
If you want to know more on the general topic of eating these mushrooms, see my post on them here. This post is a solid recipe for enjoying Gyromitra, so I'm not going to go in depth on the ins and outs, except that I still blanch mine, for now, which is part of what inspired the recipe.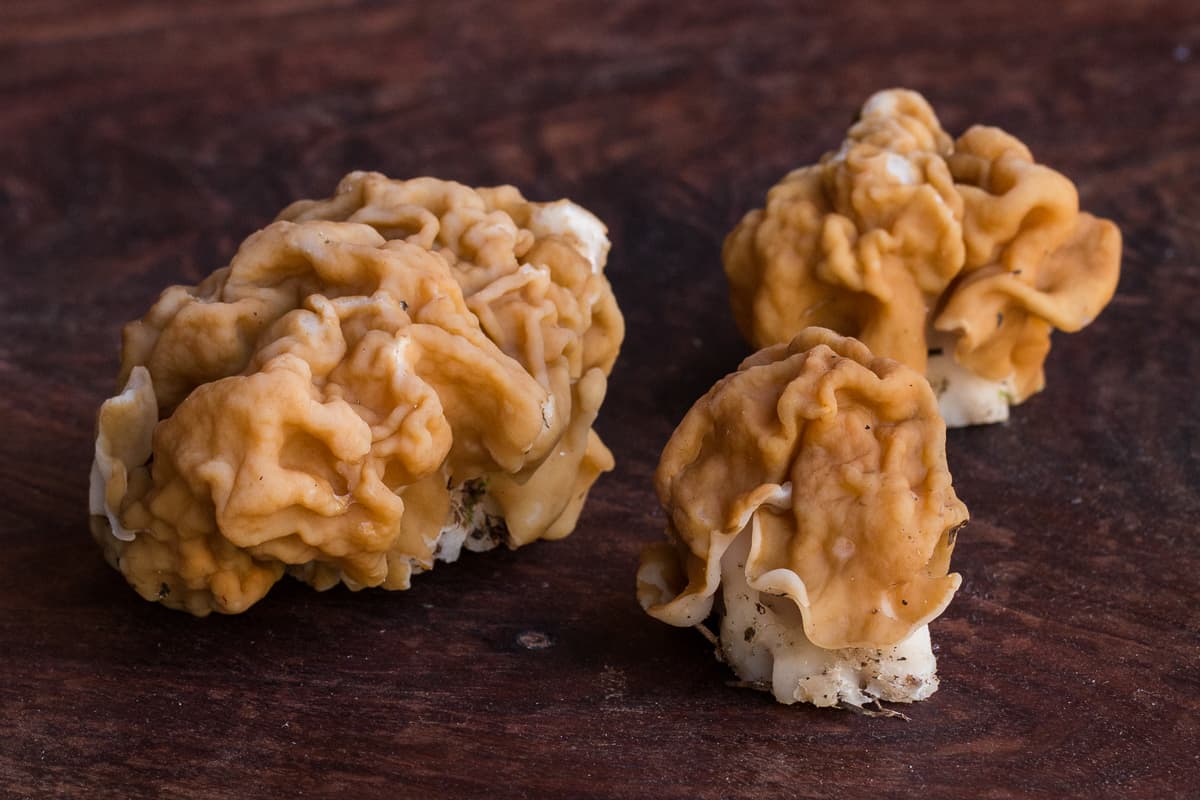 Some Gyromitra need to be boiled in water or dried to denature the gyromitrin they contain, the most well-known being Gyromitra esculenta. It's important to point out though, that even though G. esculenta is held to be one of the most "dangerous" of the group, it's latin epithet still contains the word esculenta.
Translated to English, esculenta means only one thing: edible. Anyway, the Gyromitra korfii I've been eating are closely related to Gyromitra montana, and both are two that are known to be ok to cook without boiling, to be clear though, the "cooking" here must be a thorough, long cooking--there is not hot and fast cooking with any kind of Gyromitra.
Blanched Gyromitra hold water=no good for sauteeing
The boiling is the lynch pin here though. A boiled mushroom is generally a pretty sad thing, but Gyromitra seem to hold a pretty good flavor, even their vacation in a boiling pot of water. The problem is with their form. One of the most delicious parts about these mushrooms is that they have morel-tasting folds and wrinkles that soak up butter and juice, Gyromitra korfii specifically has a big, chunky stem too, and it is some good eating.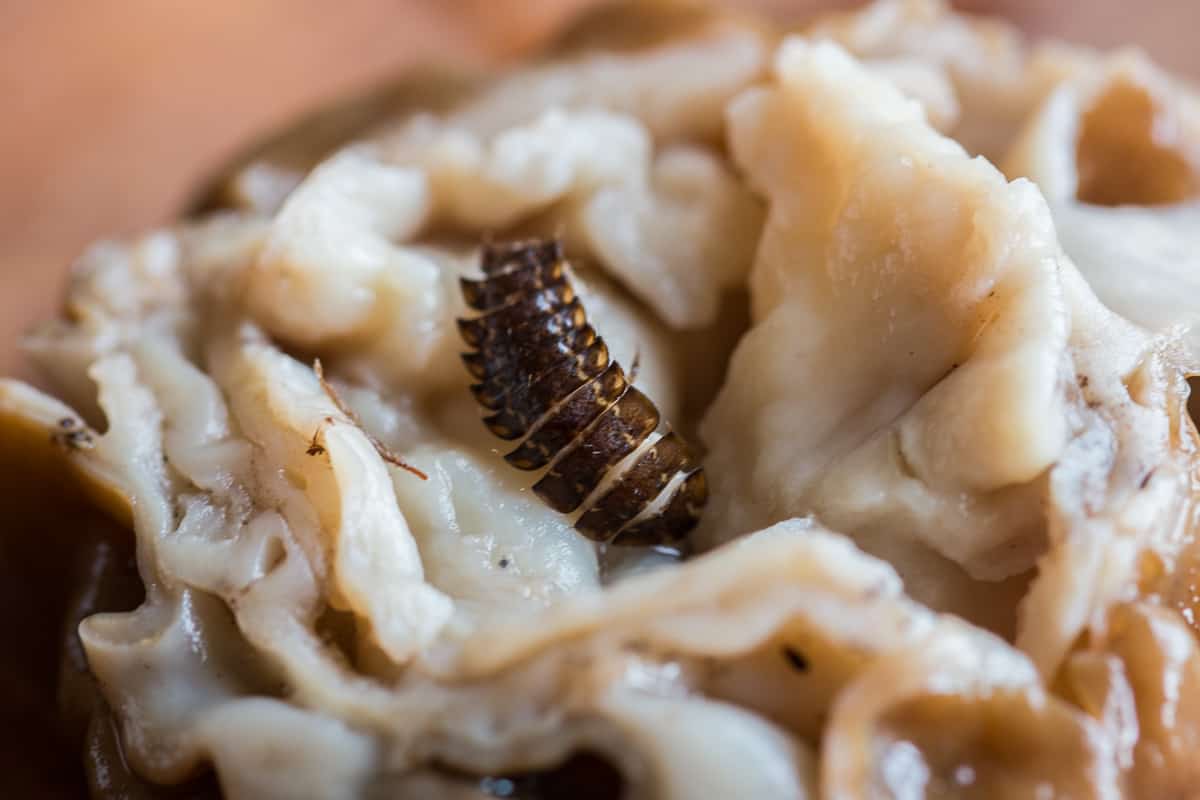 Those folds soak up water too though, and even after pressing between towels, small amounts of water can remain, which translates to violent popping, crackling, or, if you get really unlucky, complete aiborne flight after a few moments in a pan of hot sizzling butter. Basically, it's just really hard to saute blanched Gyromitra, so I set about on a different route, and it's a good one. We still need high heat, but a pan is too violent, we need to even, all-around heat of a pretty hot oven--enter the gratinée. No splattering, no need to bread them to death, just a hot trip to the oven dusted with breadcrumbs, garlicky butter and herbs.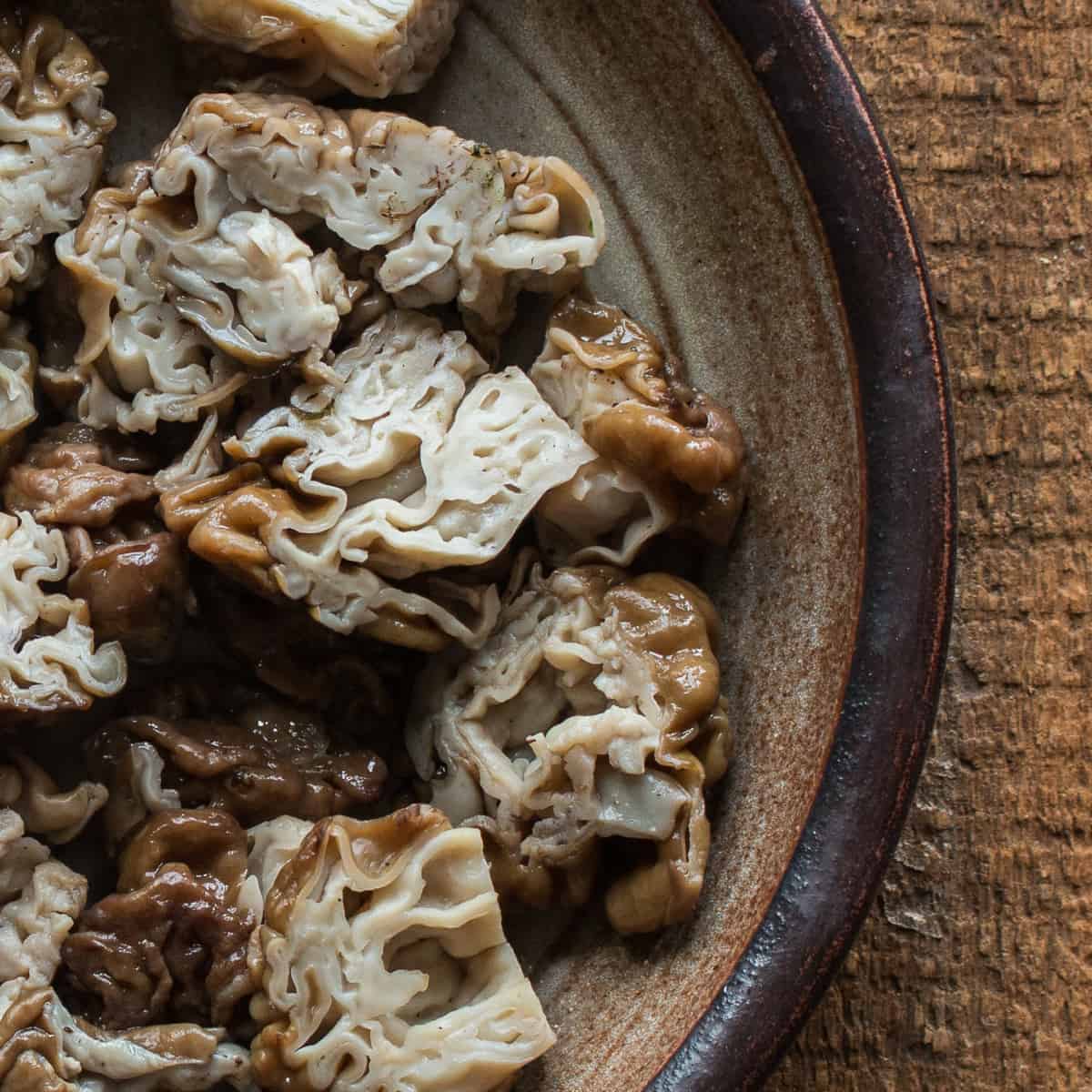 Here's the skinny: I took inspiration from one of the places where Gyromitra are harvested--Eastern Europe. You take some blanched Gyromitra, cut them in half or into manageable pieces to clean (they're often filled with critters) drain them well, then lay the cut, fold sides up in a baking dish, drizzle garlicky butter and herbs all over them, dust with breadcrumbs, and bake until golden. It's rich, decadent stuff, so I give it a lift with the georgian flavor combo of hot chili, garlic, and dill, but you could use whatever herbs you have available. If you're Gyromitra-curious, give it a whirl and thank me later.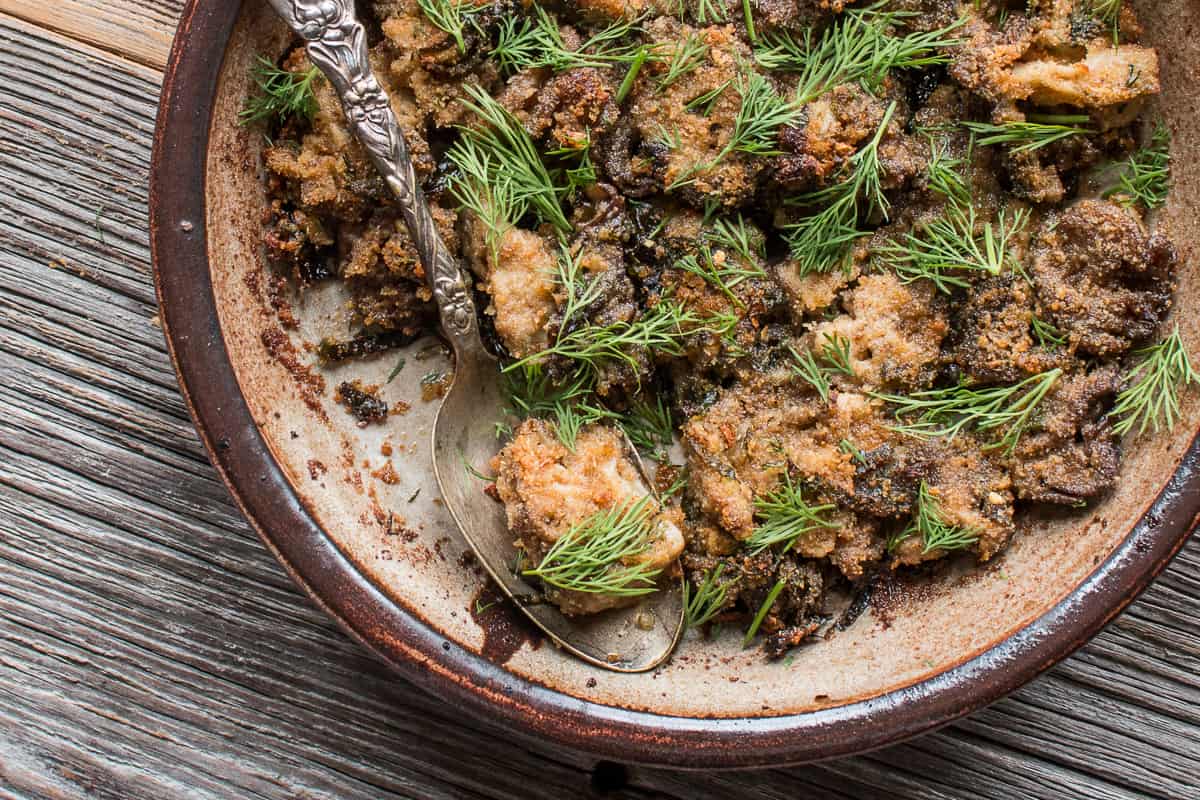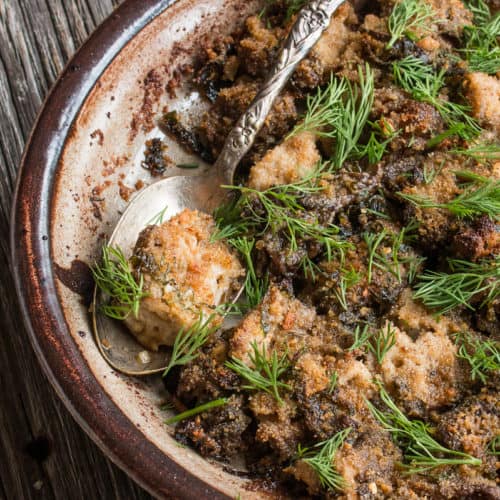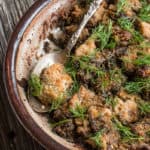 Print Recipe
Gyromitra korfii Gratinee
Baked Gyromitra korfii mushrooms with dill, hot chilis and breadcrumbs. Serves 4-6 as an appetizer.
Ingredients
1

lb

Gyromitra korfii or other Gyromitra

I like mine the size of a childs fist

4

tablespoons

unsalted butter

¼

teaspoon

crushed red pepper flakes

or more to taste

1

generous tablespoon minced garlic

2

tablespoons

chopped fresh dill

or another similar herb, like mint (optional)

Fresh lemon wedges

for serving, optional
Instructions
Trim the Gyromitra stems meticulously—I just keep cutting up the stem until I don't see dirt. Bring a pot of water to a boil and cook the Gyromitra for 10 minutes, then remove and cool.

Discard the water. Cut the mushrooms in half and inspect fastidiously for debris and insects, making sure to inspect inside the folds, cutting or slicing into them if needed.

Rinse the Gyromitra to get rid of any loose debris, then press between paper towels to weep water. Put the mushrooms in a shallow baking dish, cut side up.

Meanwhile, heat the butter and garlic until warm and sizzling. Spoon half of the butter over the mushrooms, sprinkle with salt, then sprinkle with half the herbs and all of the chili.

Sprinkle the breadcrumbs over the top, drizzle with the remaining butter and bake at 425 for 20-25 minutes or until golden. Scatter over the remaining herbs, and cool a bit before digging in.