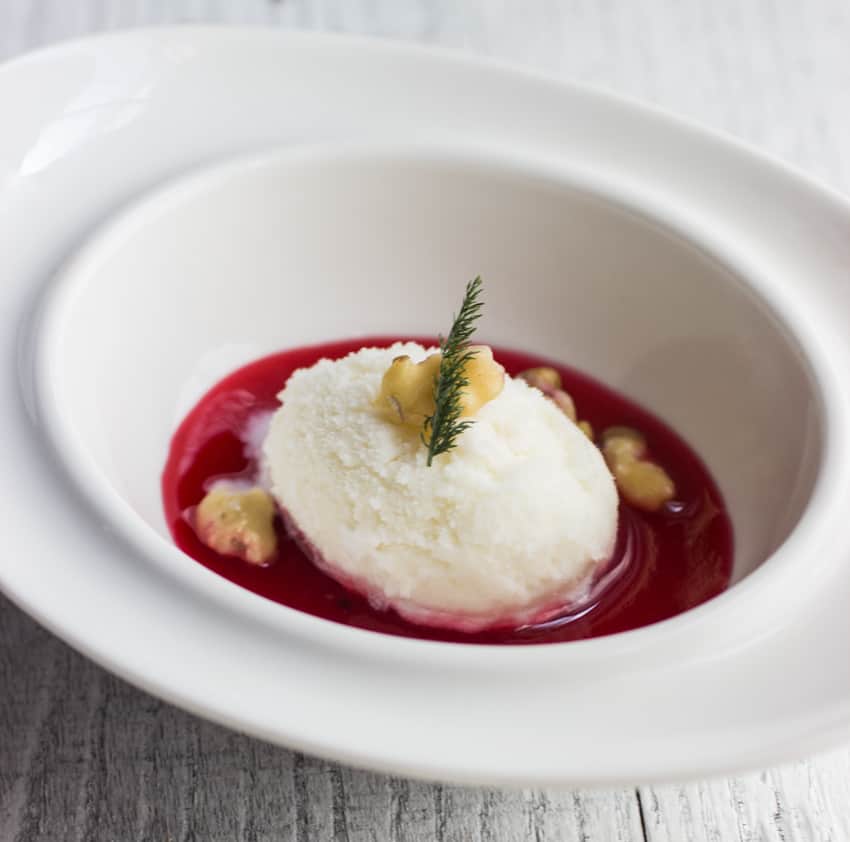 I know a special woman that has trouble digesting cow dairy and gluten. I have a couple sweet tricks up my sleeve, but tossing out two of my favorite standby's has made things a bit tricky-a good creative exercise.
With the increasing skepticism of bovine dairy and gluten, you probably know someone with a dairy or gluten intolerance that likes sweets, and that has limited options when dining out. You can imagine how frustrating it can be for them going out to a restaurant and wanting to end dinner with a little something, only to find that most of the options contain gluten, cow dairy, or both. This dessert fits the bill for all of that.
First off, goat milk. It can be tricky to find, but it's a great thing, and it's not terribly "goaty" or barnyard flavored either.
If you're in the Midwest, try looking for goat milk it at the Heartland Market in St. Paul, they sell it regularly, as do a number of coops. You can also go direct to the source of my favorite goat milk: Poplar Farm, and inquire who they're selling to currently.
It goes without saying you could easily make a frozen custard with goat milk too, but with enough sugar in the mix you can make a decent sorbet, which will give you a lighter finished product than if eggs were added. Either sorbet or custard would work here though, so I'll provide recipes for both.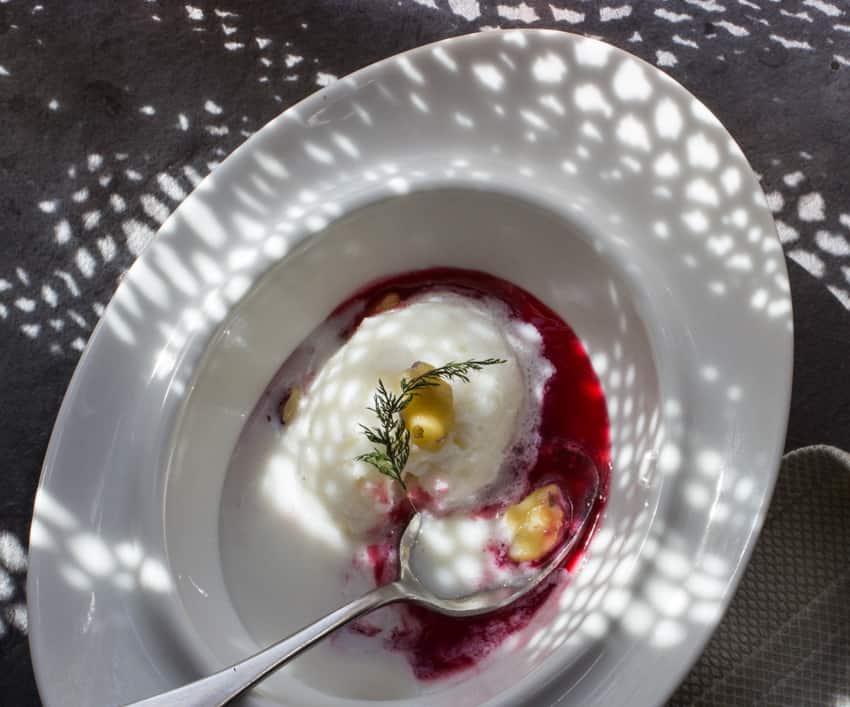 The garnishes here are a lot of fun too. Red currants have more of a fruity quality than the larger black currants, and can bring some zip as well as color to a dish. I kept it super simple: a basic syrup made from cooking the currants with sugar. You could use black or white currants here too, but know that black currants have much more flesh in them, which gives a higher yield. They have a slightly different flavor than red or white currants too-it's more astringent, dark, and jammy.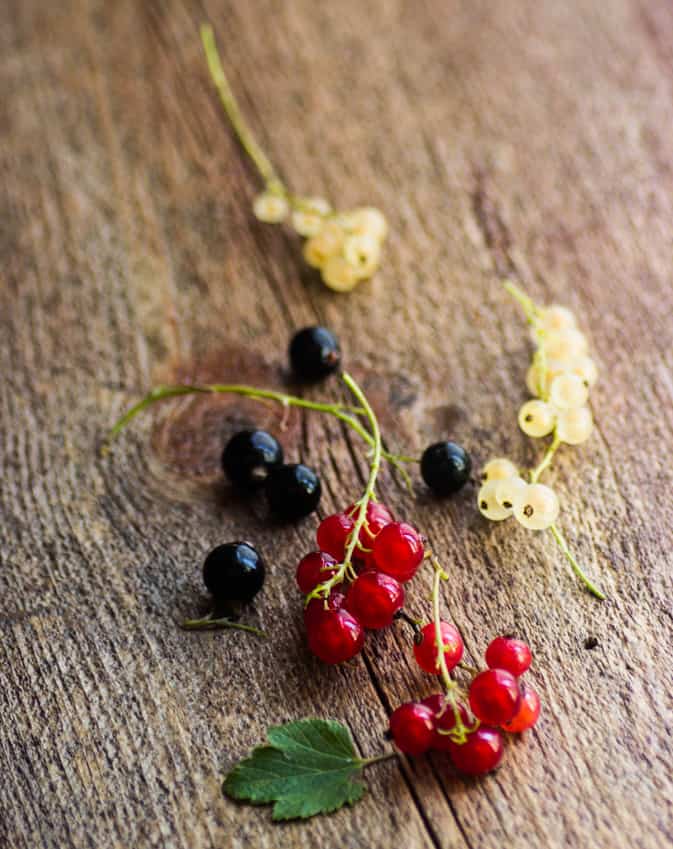 The black walnuts add some texture here, and their aroma adds depth to an already interesting blend of things. All they need is some toasting, which rounds out their  flavor a bit and also makes it easier to remove the papery skin. If you're like me and you don't exactly have time to shuck black walnuts, you might check out Hammon Black Walnuts- a cool American company. Hammons has a number of black walnut products, with their black walnut oil being one of my favorites, it's much more delicate than you'd expect since it's made from a blend of regular and black walnut oils.
The yarrow is probably my favorite addition to the dish, it's a great example of how I think it can be used: simply and with restraint. Adding only a small sprig or two gives a little aromatic explosion here and there, and the bitterness is welcome combined with the sorbet and syrup, which are pretty sweet.
I'm including a number of recipes here since there are a lot of different ways you could play with the ingredients.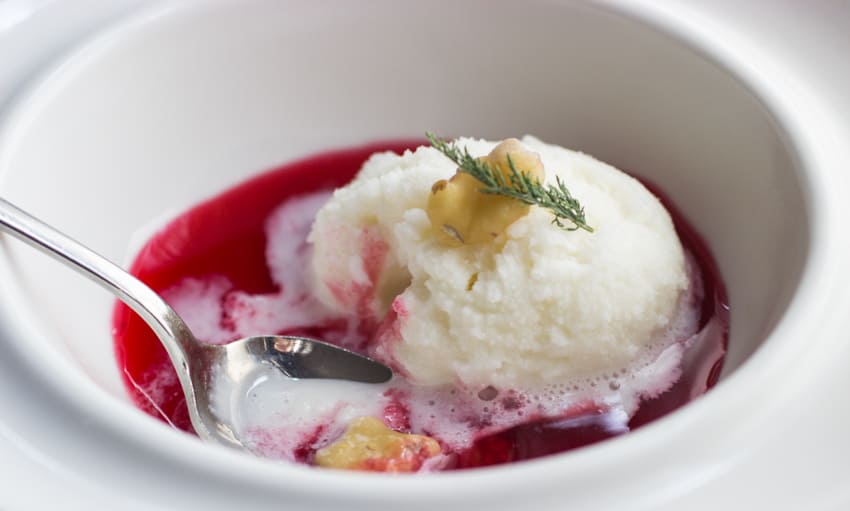 Goat Milk Sorbet With Red Currant Syrup, Yarrow, And Black Walnuts
Yield: 5 cups
Ingredients
1

qt

goat milk

1

cup

honey

Sprigs of yarrow

to garnish

Black walnuts

toasted and rubbed of their skins

¼

teaspoon

kosher salt

1

recipe currant syrup

follows
Instructions
Bring the goat milk, salt and honey to a simmer in a sauce pot just long enough to melt the honey. Transfer the mixture to an ice cream machine and process until the sorbet has thickened and increased in volume, about 45 minutes per batch depending on your machine. Transfer the sorbet to a container and freeze until needed. To serve the sorbet, place some custard dishes in the freezer to chill. Remove the custard dishes when it's time to serve and drizzle two tablespoons of syrup in each. Top the syrup with a few scoops of sorbet, garish with the black walnuts and yarrow, and serve immediately.
Notes
I'm including syrup recipes for both red and black currants. You wouldn't think that there would be much difference, but black currants are usually bigger than red or white currants from my experience, and the extra flesh means they yield about twice as much finished syrup.
Red Currant Syrup
Yield: ½ cup
Ingredients
1

pint

red currants

½

teaspoon

fresh grated lemon zest

4

tablespoon

sugar
Instructions
Bring the currants, lemon zest and sugar to a boil. Crush the currants with a wooden spoon and pass through a strainer, pressing on them to release as much juice as possible. Return the sweetened juice to a pan and reduce on medium heat skimming occasionally to remove scum that rises to the top until a ½ cup of liquid remains. Transfer the syrup to an air tight container and refrigerate or freeze until needed.