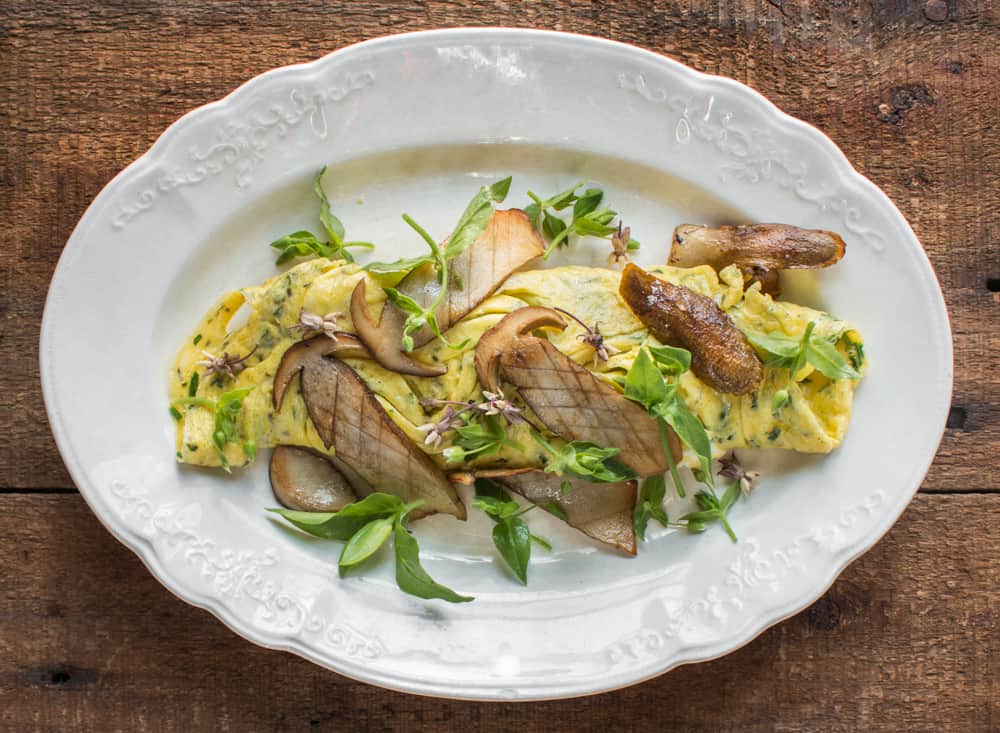 I have a lot of friends who hunt mushrooms, but my friend Olena is a special one. She's from Eastern Europe, and as you might expect has the penchant for hunting mushrooms that so many people from the region do, but with a few differences from some of the others I've ran into in the woods picking. Olena is really good at hunting, and she seriously knows her mushrooms. As well, she knows how to care for them, better than any person who would provide mushrooms to a restaurant I've met.
Storing wild mushrooms with leaves to preserve freshness
When she would bring mushrooms to the restaurant, every time, they were some of the most pristine and perfect I'd ever seen someone sell. The kicker, and a trick she taught me was layering the mushrooms with ferns in the containers, which serves to help keep them fresh, and hold moisture, but also can provide a layer of insulative material to help prevent bruising.
After I saw how she packed up her mushrooms, I stopped carrying paper towels in my harvesting bag, and now, instead of reaching for a towel to wrap up a delicate bolete, hero mushroom or something destined for a close up shot later, I wrap them in a burdock leaf, or whatever large green foliage I can find. You might try it sometime, but don't use leaves from the ground, as they're dried already, and dirty.
The last time Olena brought me some mushrooms, they were chanterelles, but the time before that she brought a new to me species of bolete. She described the boletes as porcini, and although I don't think they are technically Porcini in the sense of being in the Boletus edulis group (I wrote a previous post on them here) they might as well be porcini for all intensive culinary purposes. The chanterelles she brought for the restaurant were great, but she brought a give just for me: the first button of the same red-stemmed bolete species she'd brought me the previous year, along with a bouquet of fresh herbs from her garden and a note.
I was so struck at her generosity. In our day and age so much of our human to human interaction is electronic, from letters and communication for everything from holidays to birthdays to condolensces. not far off too, is our gift-giving, just push the "buy" button and have something shipped, or send them a gift card. Our detachment from handmade crafts and one-on-one human interface is as understandable giving the circumstances of our time as it is unfortunate. It made me happy to see that people still do things the old fashioned way, and it made me want to do more of it myself.
As she handed me the bouquet of herbs and a little sandwhich bag with the bolete button, she told me: "Just enough for you to have an omelet". So, the next day after restaurant service, have an omelet I did.
There's a lot to be said about a perfectly made omelet. Here's a few pointers:
Techniques for a perfect omelet 
The omelet should absolutely not have the slightest hint of brown, it should be perfectly blonde.
Using the residual heat of the pan, and covering the omelet for a time before serving will help gently cook it through and steam as opposed to brown.
I like to salt the beaten egg beforehand and allow it to rest to prevent weeping. You'll see a gentle color change to let you know the transformation has occured.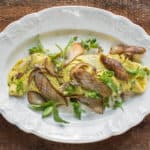 Print Recipe
Duck Egg-Ricotta Omelet with Boletes, Herbs, and Chickweed
Serves one starved and ravenous chef or 2 civilians if you cut it in half, depending on the size of the duck eggs 
Ingredients
2

large duck eggs

1

tablespoon

finely chopped tarragon

parsley, and chives, in equal parts

1

tablespoon

heavy cream

2

tablespoons

highest quality fresh ricotta cheese

I like calabro

1

tablespoon

grated parmesan

1

ounce

fresh bolete mushrooms

or another mushroom of your choice

2

tablespoons

unsalted butter or lard

Edible flowers

I had some milkweed to garnish, optional

Kosher salt and fresh ground black pepper

Small handful of tender chickweed tips
Instructions
Beat the eggs with the cream or milk well, then whisk in the herbs and a pinch of salt. Allow the eggs to rest for 15 minutes if you have the time, since the salt will denature the eggs and help prevent you from having weeping, soft omelet. Mix the parmesan and ricotta In an 8 inch non-stick pan or cast iron skillet gently melt the butter on medium-low.

Add the eggs and stir, pushing the eggs from the outer side of the pan inward with a spatula here and there as the cook the prevent a crust from forming on the outer edges. When the omelet is just about done, spread the cheese in an even line of the omelet, then fold each side over to close it up. Roll the omelet over so the seam is thouching the pan, then cover and allow to rest/cook with the residual heat while you sear the porcini and finish the dish.

Meanwhile, slice the mushrooms ¼ inch thick, then brown lightly in the butter and season to taste with salt and pepper. Gently transfer the omelet to a pre-heated plate, then garnish with the flowers and chickweed you've dressed with a dash of lemon juice, scatter the boletes over the top, season with a few cracks of the pepper mill and serve immediately
Notes
Notice that the eggs are beaten seasoned beforehand here with salt. With eggs, it not only helps to season them, but it will help them cook uniformly as well, and helps prevent weeping of liquid post-cooking. Adding the herbs and allowing them to sit in the beaten egg also helps to pronounce their flavor.
This is also a great example of how I use chickweed: scattered on top of things like a micro green.