A simple deer jerky seasoned with dried wild leek leaves is a great way to use up extra ground venison if you have some you need to work through in the freezer.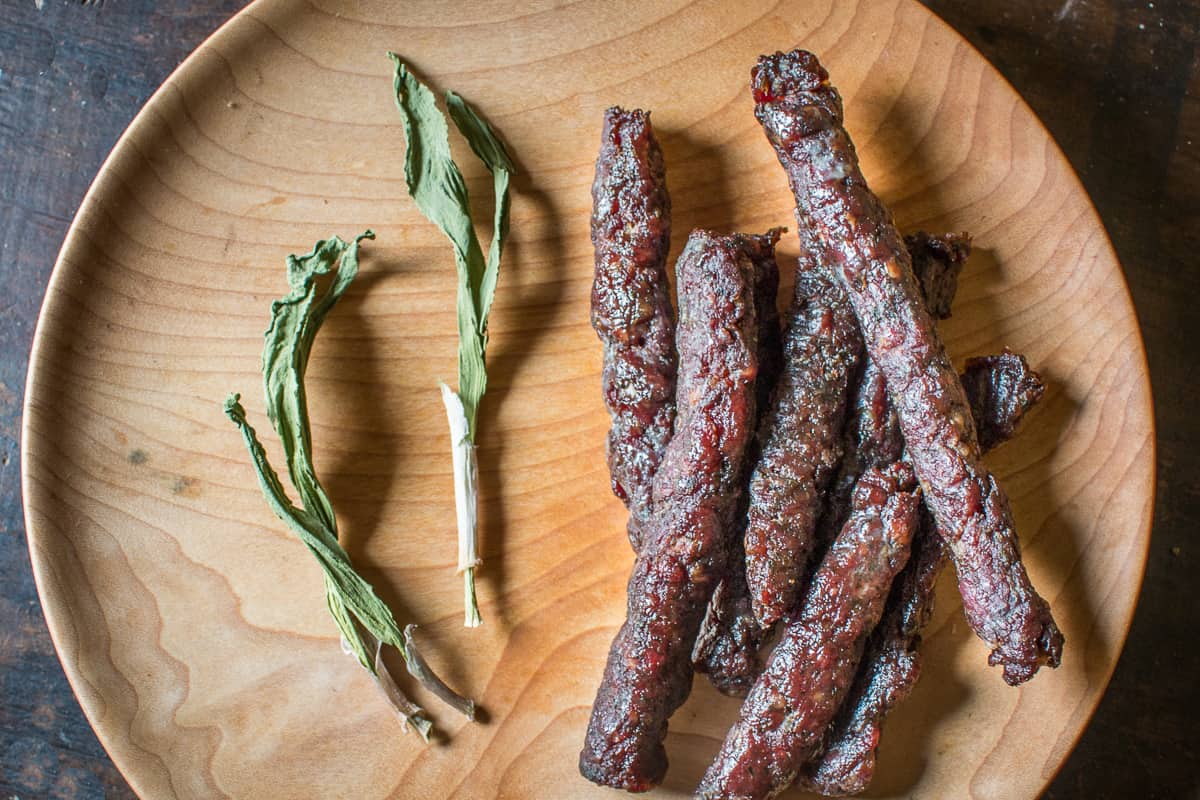 I make sure to dehydrate plenty of ramp leaves when I can during the spring so I can use them in whatever I want during the year--if you have access to them, there just isn't a reason not to. They're mild, less aggressive than something like garlic powder, but still have enough kick to flavor your dishes, especially soups, broths and rubs with a good woodsy cast.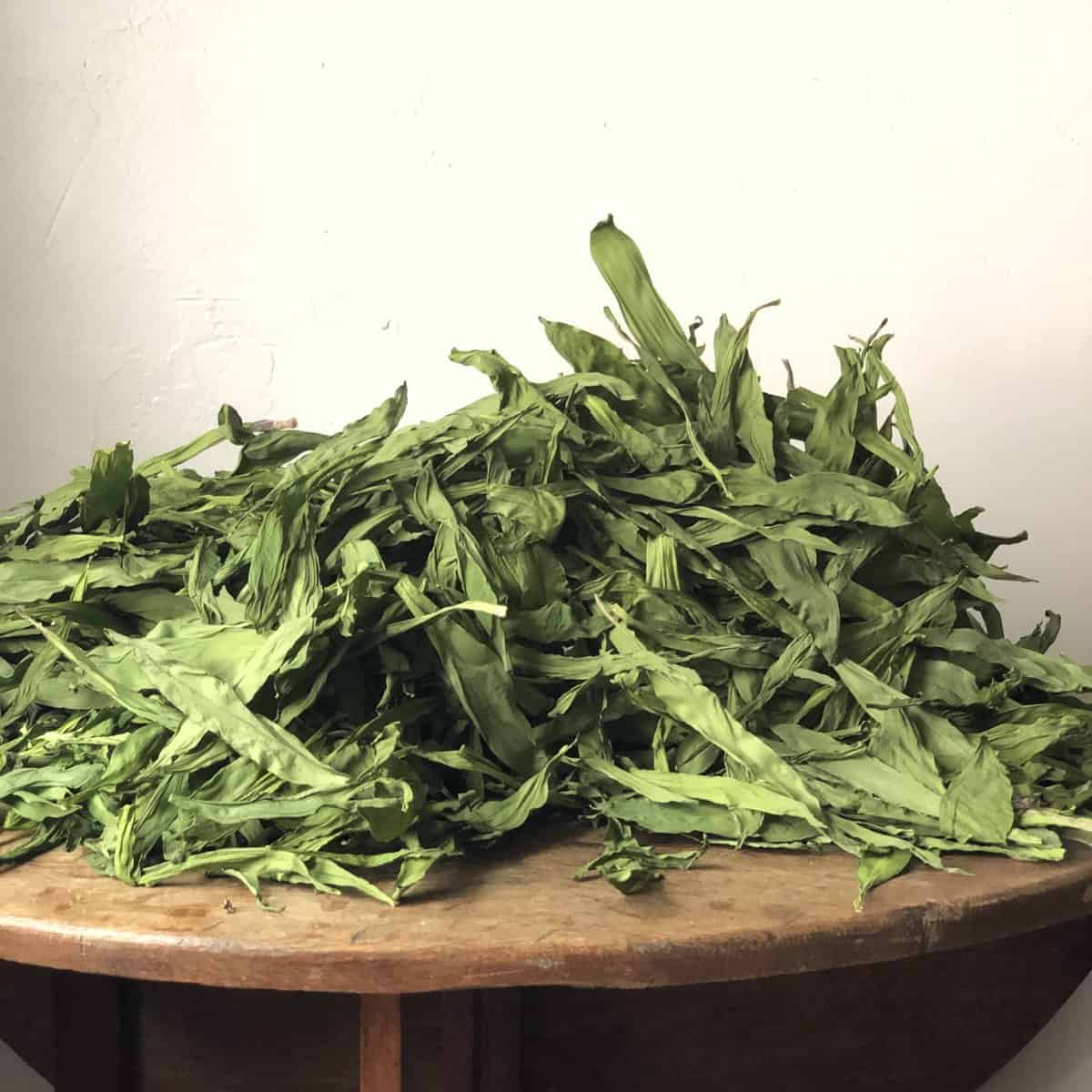 This year after I helped butcher a few deer with my friend (I'm a terrible hunter) I had plenty of lean ground venison laying around so I decided to work on a few batches of ground venison jerky flavored with dried ramp leaves. Now, you could sure make a jerky with sliced meat and dried ramp leaves, but, unless you really powder it good, and that can be tricky, they might sluff off of the finished product.
Using ground meat lets you really drive different flavors home, since you're mixing the seasonings directly into the meat itself. The only drawback being that tube-extruded jerky looks like turds. It tastes great though, so don't let anyone get you down. That being said, eventually I'll have to make a version of this with sliced meat, but this one is good enough to tide any of you jerky makers over until I get around to it. But, ground meat does mean that you're going to need a jerky gun.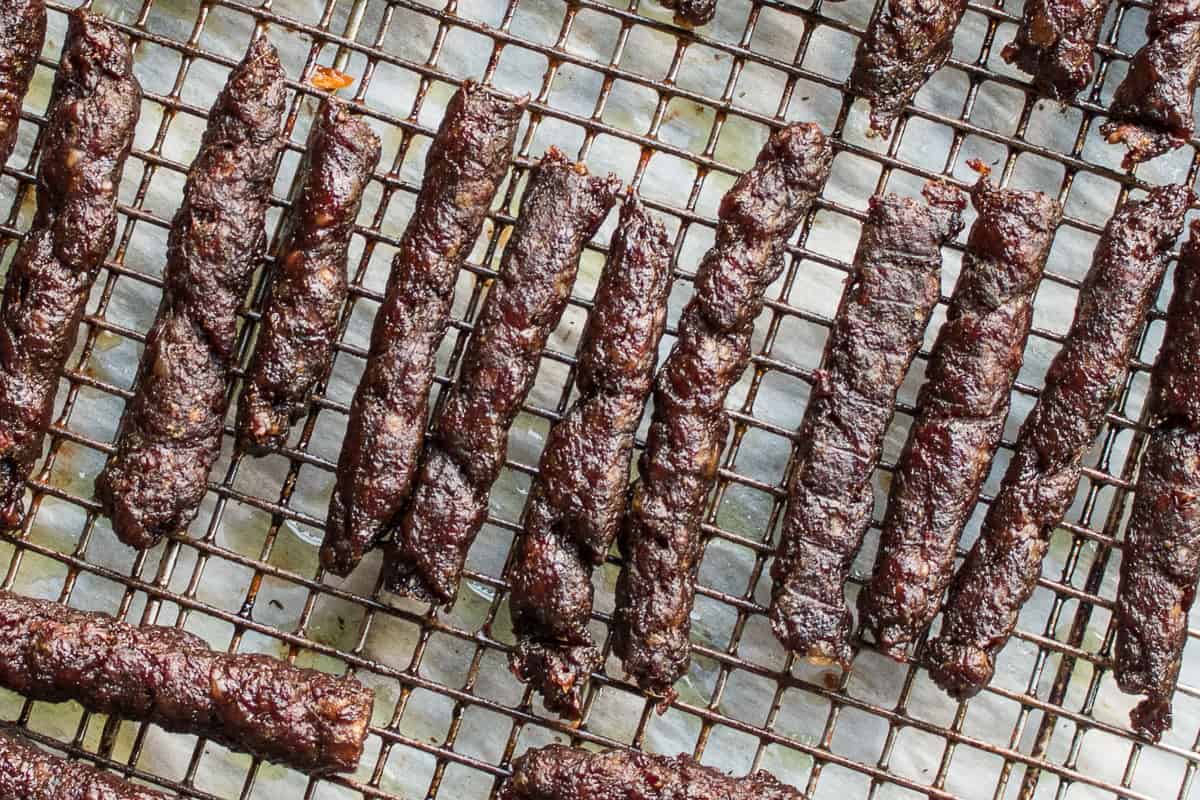 Tips for success
Don't use fatty meat. Unless you want to pack it into casings, don't use fatty meat, or, if you want to make a fatty jerky, grind some pork fat in. Venison fat, with it's high melting point, is not something you want to eat cool or room temperature.
Don't overdry it. Especially if you don't have a dehydrator and you want to use an oven. You want jerky, not brittle meat twigs.
If you have a smoker, smoke them.
They look like a bit like turds. If people in your house make fun of that, keep the damn jerky for yourself.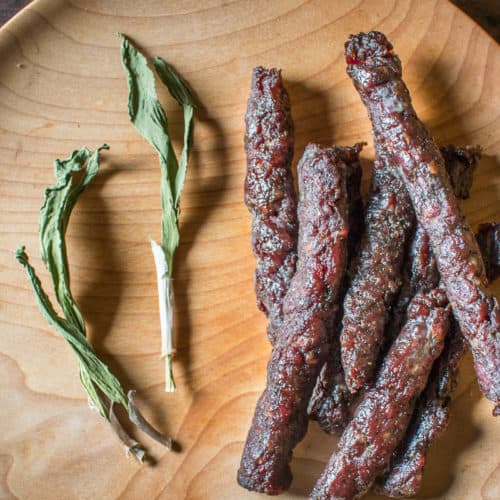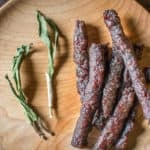 Print Recipe
Dried Ramp Venison Jerky
Venison or Beef Jerky flavored with Dried Ramp Leaves.
Equipment
Jerky Gun, Dehydrator or Oven
Ingredients
3

lbs

lean ground venison or beef

25

grams

(1.5 Tablespoons) kosher salt

2

grams

(roughly ⅓ teaspoon) sodium nitrite or pink curing salt

This is optional, if you don't have pink salt, it's ok--there's enough salty stuff in here to preserve the jerky.

6

grams

(2 teaspoons) fresh ground black pepper

3

grams

(1 teaspoon) fresh toasted, ground cumin

12

grams

(4 tablespoons) powdered dried ramp leaves

40

grams

(3 tablespoons) ramp sriracha or other hot chili sauce

25

grams

(2 tablespoons) maple syrup

25

grams

(2 tablespoons) worchesterchire

fish sauce, mushroom ketchup, or another umami-condiment (optional)
Instructions
Combine all ingredients and mix well, then refrigerate overnight (optional). Cook a small piece of the jerky mix to test the seasoning, adjust as needed, then pack into a jerky gun and press out into 3-4 inch pieces onto baking racks on top of baking sheets lined with parchment to catch any fat that comes out during the drying process.

Dehydrate the jerky at 150-170 F for 3 hours, either in a dehydrator, an oven on a warming setting, or a warm oven with the door ajar.

After 3 hours, eat a piece to test if it's dried thoroughly. The meat should look cooked and darkened, but not be dry and crunchy. Meat dried in an oven will dry faster than a dehydrator, so keep an eye on it--you don't want crispy meat twigs.

After the meat is dried thoroughly, store, preferably vacuum sealed, in a refrigerator or freezer.

The jerky will keep for a few weeks in the fridge, or a few months frozen.
Notes
Adjusting the recipe
You can season this with different spices or even premade blends you like depending on what you have. I rarely make it the same way twice, but I do keep the amount of ramp leaves the same. 
Nutrition
Serving:
2
oz
|
Calories:
283
kcal
|
Carbohydrates:
3
g
|
Protein:
52
g
|
Fat:
5
g
|
Saturated Fat:
2
g
|
Polyunsaturated Fat:
1
g
|
Monounsaturated Fat:
2
g
|
Cholesterol:
193
mg
|
Sodium:
1731
mg
|
Potassium:
731
mg
|
Sugar:
2
g
|
Calcium:
17
mg
|
Iron:
8
mg