This dried wild mushroom chili crisp recipe has been on near constant rotation in my lineup of favorite condiments for a couple years now, and, also happens to be the only recipe including mushrooms in The Forager Chef's Book of Flora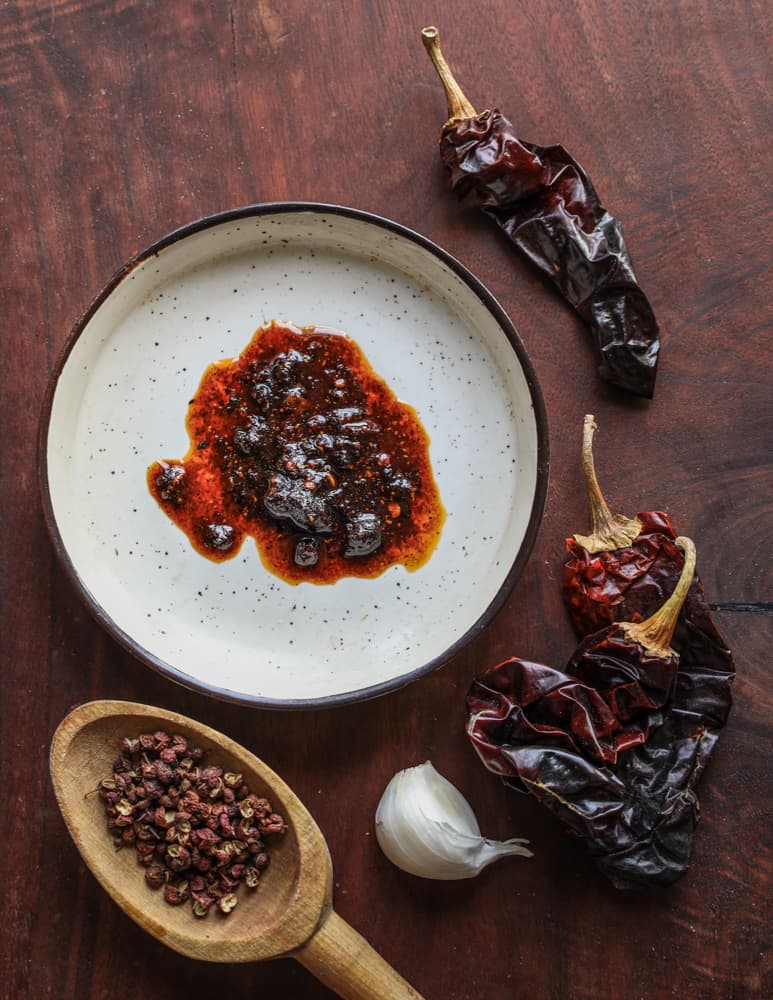 Wild Szechuan peppercorns are one of the key ingredients here (along with dried wild mushrooms). The fruit will have mostly winnowed themselves now in early September, by dropping their gritty seeds, so it's the perfect time to share it.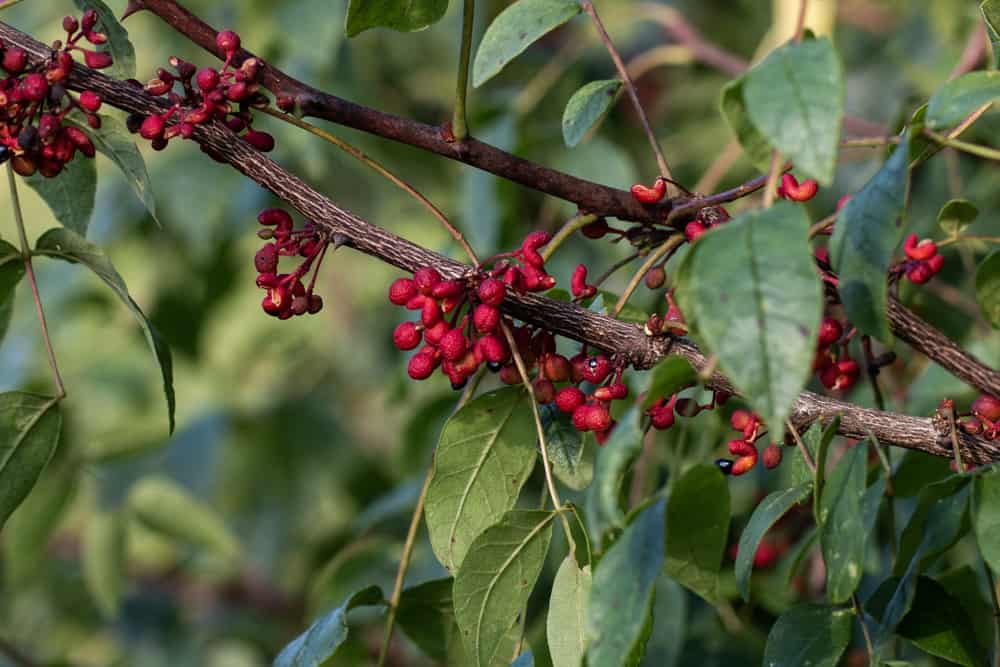 Two years ago I started seeing some of my chef friends freak out about little jars of chili sauce. I thought I knew what they were talking about, you know, those little jars of dried crushed red pepper flakes in oil you'll see on the tables at Chinese restaurants, that seem to have been the tables since the restaurant opened.
Those little jars on the table never really did much for me, I mean, all they were was dried chilis in a pale, orange oil, they were spicy, sure, but not much more as some are literally just dried chilis, oil, and nothing more.
Later I learned those jars of chilis in oil are a cousin to what I'm sharing here, made with a different method of simply pouring boiling hot oil over dried chilies.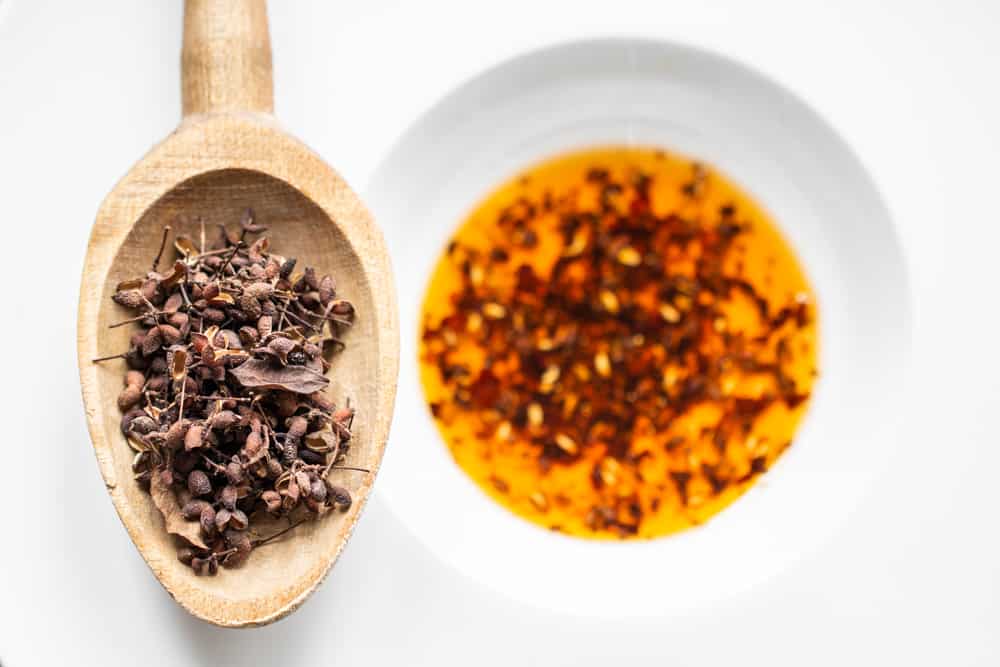 Not wanting to miss out, I ordered a jar of the brand my friends seemed to be putting on everything, and, yeah, they were right. The first one I ordered was the well marketed Fly by Jing, as well as some from Celebrity chef David Chang.
Oh man were they good. It was a completely different animal than the pale, dried chilies in oil I remembered spooning mindlessly on plates of noodles in college.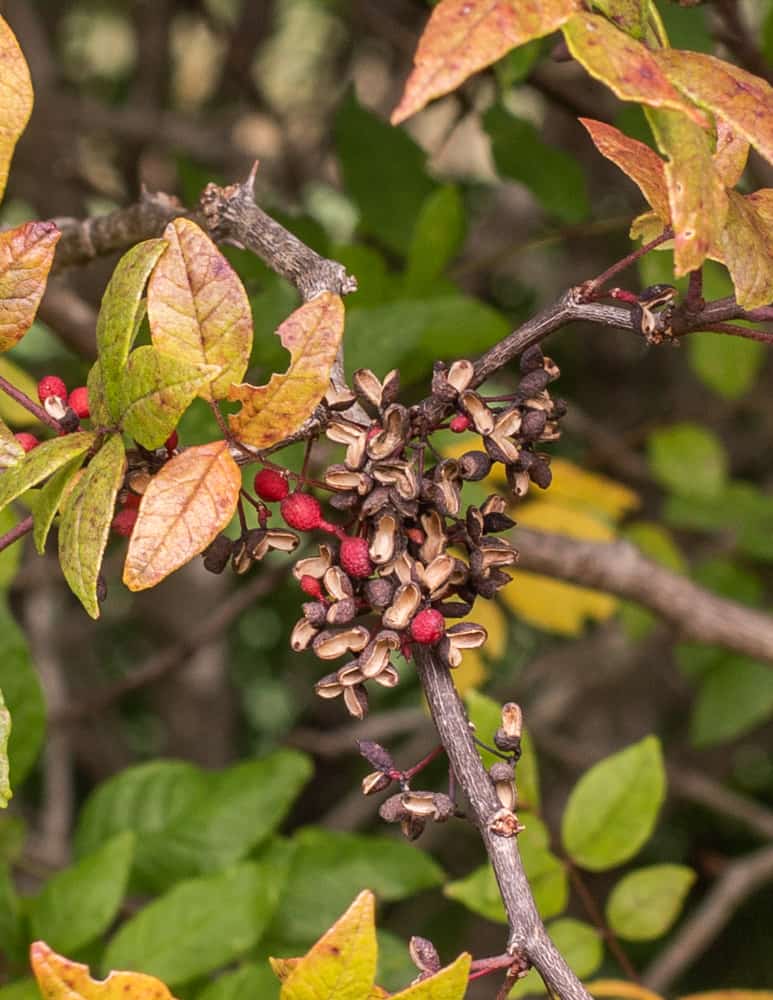 These were an oily, umami-packed, spicy, but not too spicy sauce filled with all kinds of things. When I tasted the aroma and gentle zing of Szechuan peppercorns in it, and then looked at the ingredients, (as well as the price tag of 18$+shipping for ¾ cup/6oz) I knew I had to make a version with my local Szechuan peppercorns / Xanthoxylum americanum.
If you have commercial Szechuan peppercorns, you'll want to decrease the amount as they're much stronger than the wild ones that grow in the U.S.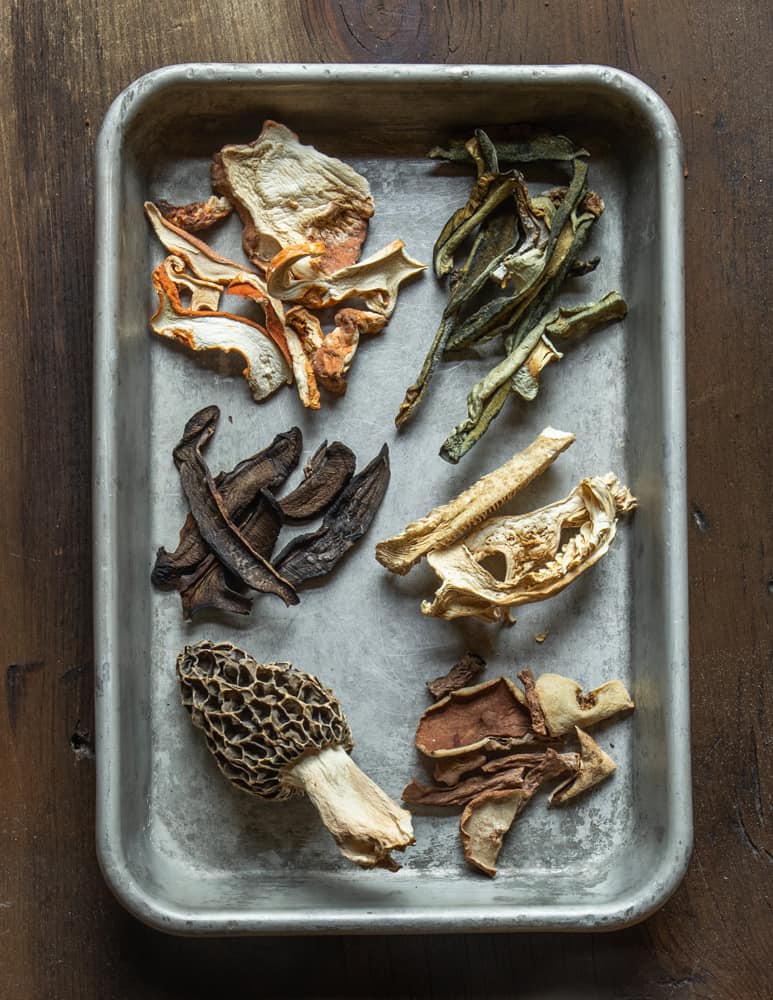 Fermented Black Beans / Douchi
I bought a few different jars from different suppliers, pouring spoonfuls on plates to inspect the contents, like any normal culinary forensic analyst would do. You can see a lot in a spoonful of hot chili oil.
One thing I noticed, that I couldn't quite put my finger on, were the tiny little fermented black beans in my favorite brand of sauce. I knew I needed to use some of the beans, so I went to my local Asian market Dragon Star to find some. The only fermented black beans they had (and any other store I went to) were in jars, and quite wet, and they didn't taste the quite same.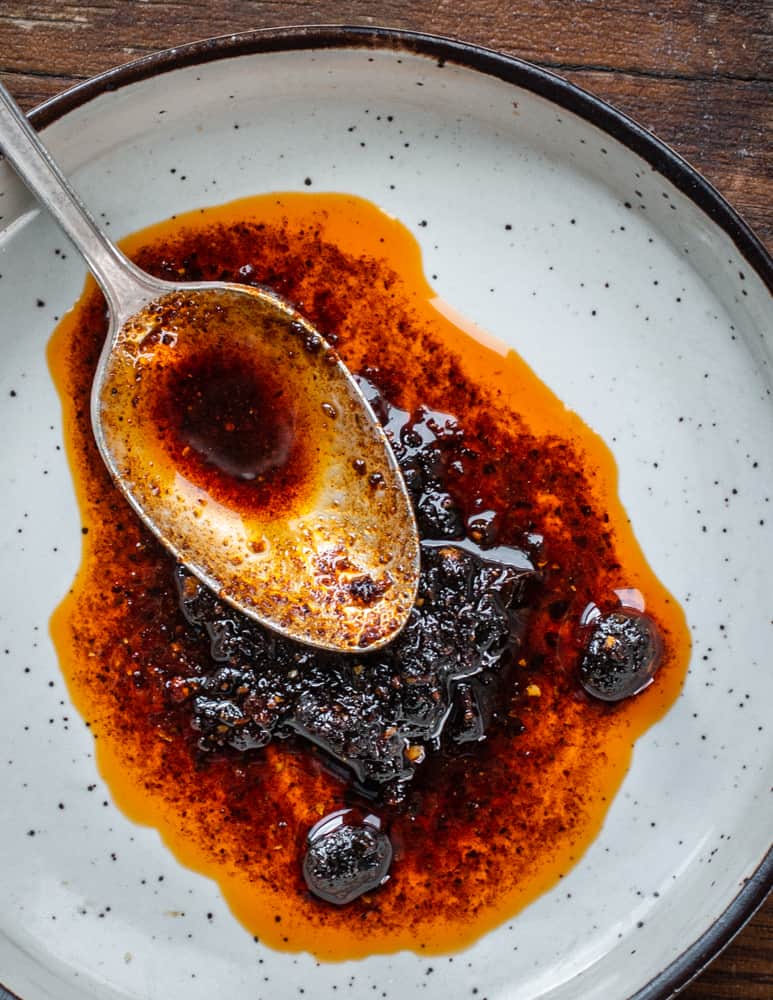 Next, I tried to make my own, first fermenting black soybeans in brine, then mixing them with koji rice to accelerate the lacto-fermentation. Neither tasted the same.
My fermented beans got nice and sour, but they lacked the smoky quality and a certain "je ne sais quoi". I suspect this has to do with a misunderstanding on my part.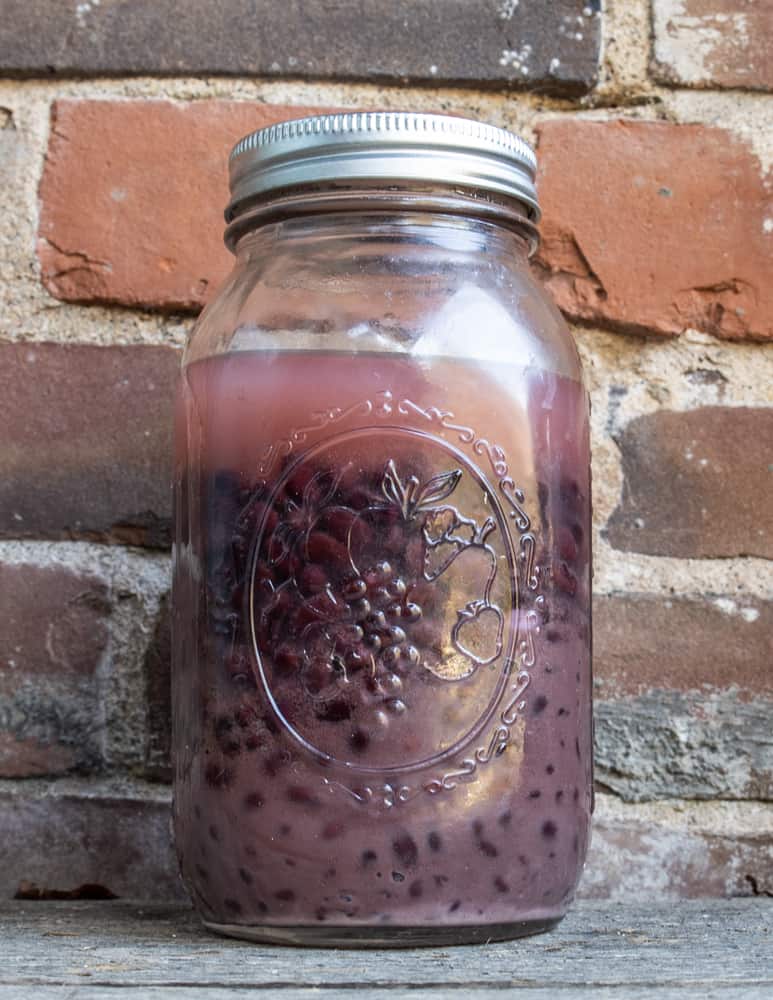 Fermented, dried black beans should be salted after fermenting in their cooking liquid, the lack of salt placing them firmly in the school of alkaline fermentation, instead of lactic acid fermentation, which will produce a sour flavor.
Having experience cooking with African soumbala / DawaDawa (an ingredient for another time) helped me out there.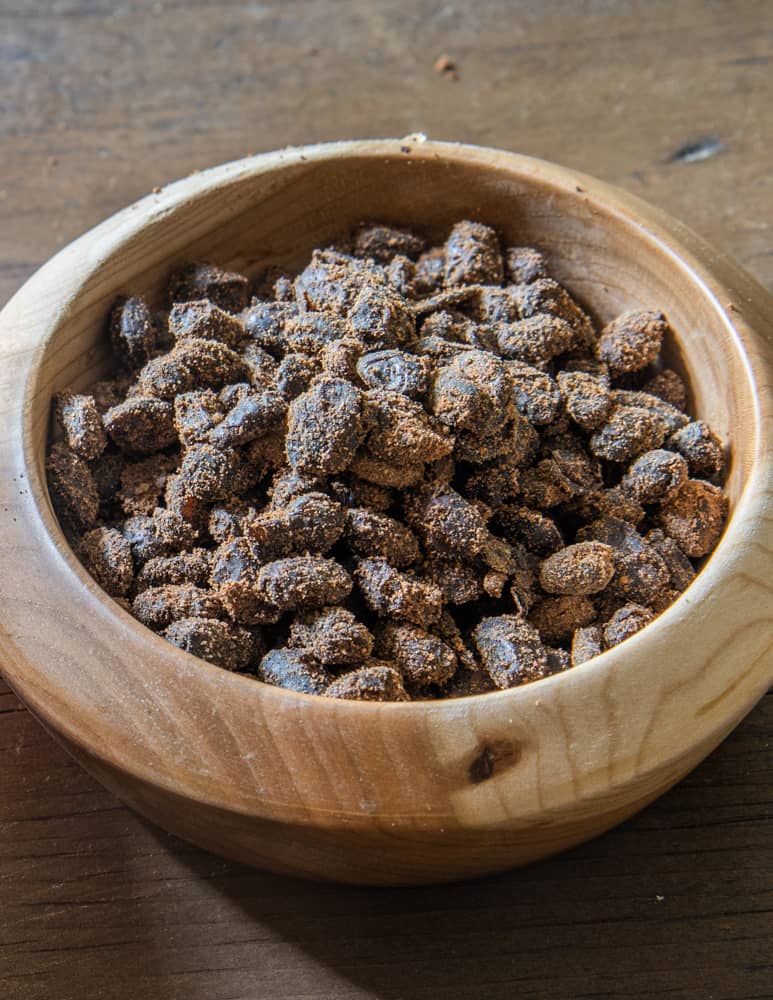 It took awhile, but, after divining the contents of a few more spoons of sauce and some armchair research, I found the right beans. For this sauce, you want dry fermented black beans, also known as douchi. Pearl River Bridge Brand is the best I've had so far.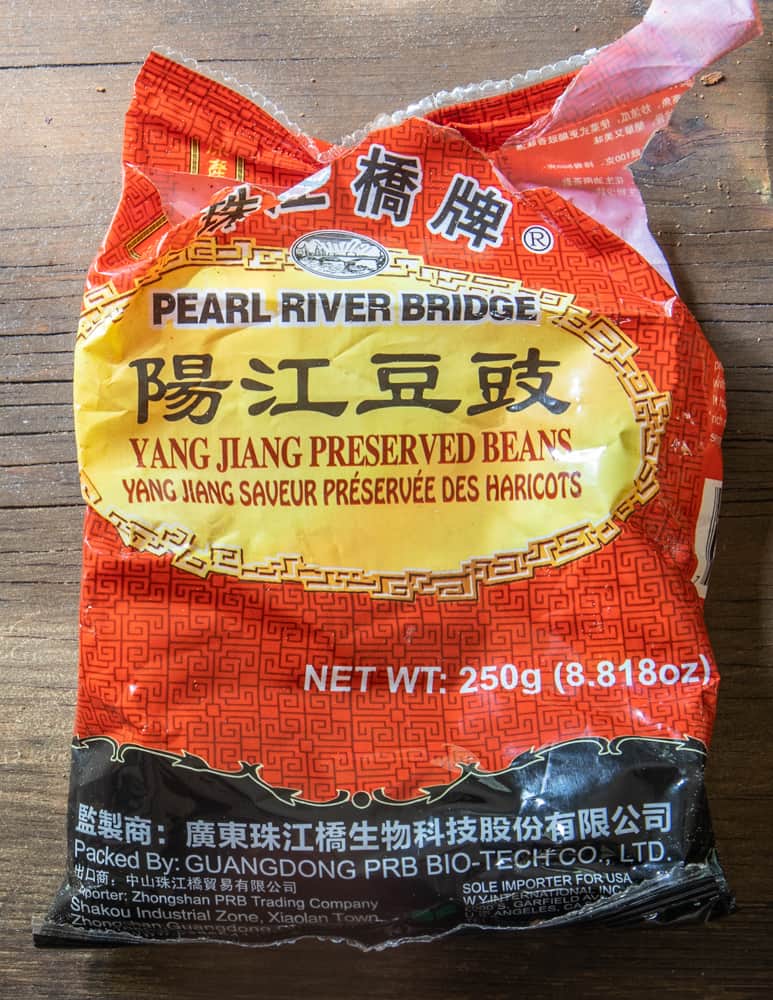 It took over a month, hundreds of dollars in product, and lots of chili-phagy, but I came up with a version I liked.
I learned a lot during the process, not the least of which is that I'm also addicted to the toe-curling aroma that fills the entire house as a small pot of ingredients gently bubbles away on the stove.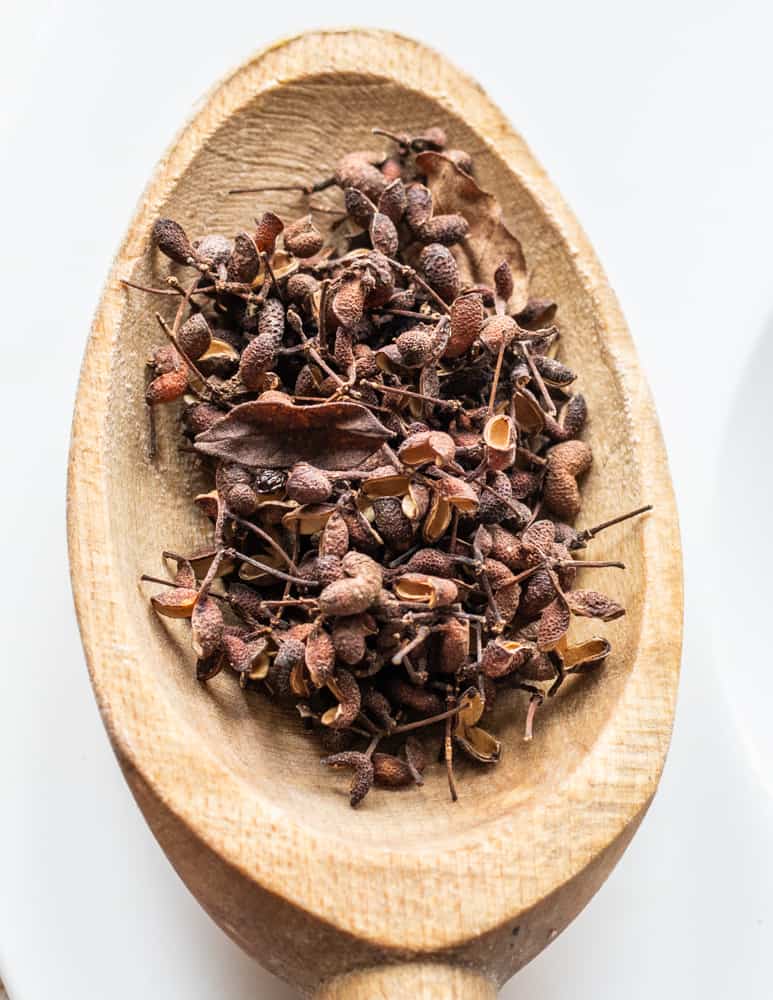 This is the sort of thing you should make at least once in your life, just to taste the aroma alone. The best part, is that you can customize it however you like, and all the ingredients can be ordered if you don't have them near you.
Where I use it
Eggs
Anywhere you'd use hot sauce
Pizza in all it's forms
Cooked or steamed greens
Fish, especially with a dash of lime or lemon at the table
Cold or hot noodles
Rice
Straight off the spoon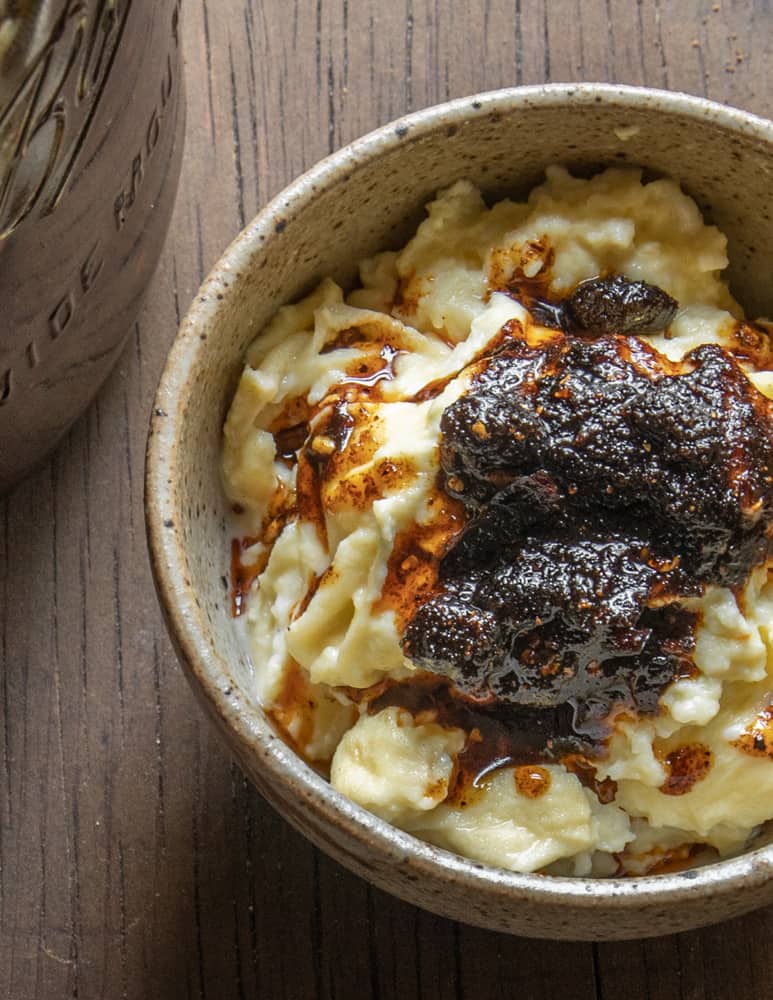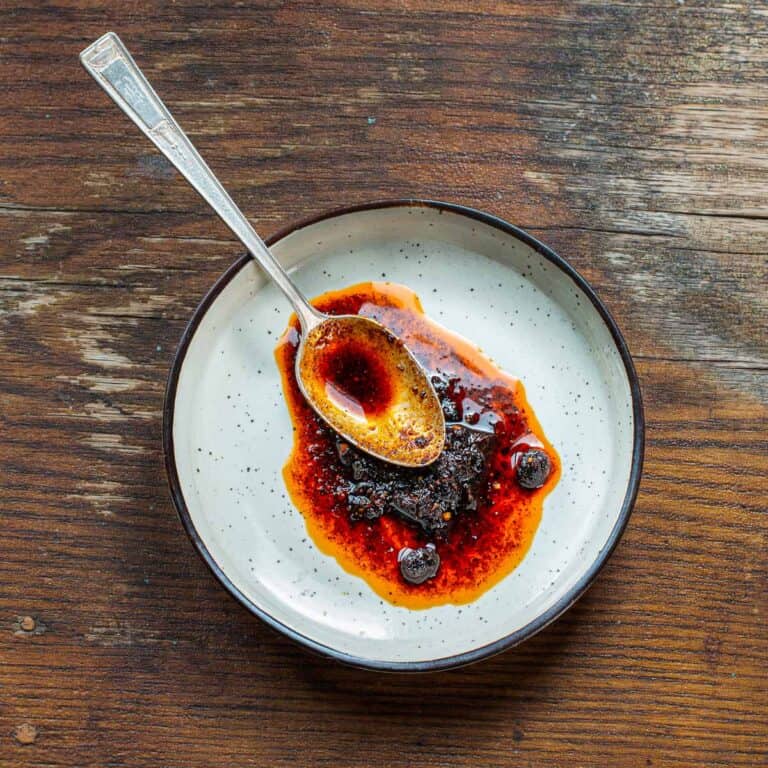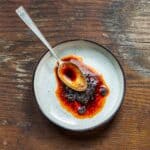 Print Recipe
Dried Mushroom Szechuan Chili Crisp
A spicy, umami-packed sauce made from dried mushrooms, chilies, wild Sichuan peppercorns, garlic, ginger, shallots, fermented black beans and oil.
Equipment
1 2 quart sauce pot

1 Blender
Ingredients
5

whole

15 g dried guajillo chilies, or a blend of dried chilis you like.

2

teaspoons

crushed red pepper flakes

recently purchased—make sure they're hot!

1

cup

240 ml flavorless cooking oil such as grapeseed, soybean, et cetera

1

tablespoon

dried prickly ash / Szechuan peppercorns

If you use commercial Szechuan peppercorns, reduce this to 1 teaspoon as they're stronger than X. americanum.

3

tablespoons

(~10 g) ground mushroom powder-the bigger variety the better.

Do not use dried woody polypores like chicken of the woods or dryad saddles

2

large cloves garlic, (8 g) ends trimmed

½-

inch

piece (3 g) fresh ginger, coarsely chopped

1

small shallot (18 g) coarsely chopped

2

teaspoons

soy sauce

2½

tablespoons

fermented black beans

Douchi
Instructions
Toast the guajillos in a 300°F (150°C) oven for 10 minutes, then cool. Break the stem off each chili and shake out the seeds. Discard the stems and seeds.

Crush the chilies in a mortar and pestle so that they're coarsely crushed (you don't want a powder here) then mix with the crushed red pepper and reserve. Combine all ingredients except the dried chilies and black beans in a blender and puree until smooth, about 30 seconds.

Pour the mixture into a small 2- to 3- cup (490–720 ml) capacity saucepan, add the guajillo or other chilis and crushed red pepper flakes, bring to a simmer, and cook on low heat until the liquid has evaporated, about 30-45 minutes.

Watch the mixture carefully, as you don't want to burn it.

When in doubt, undercook it a bit as; you can always gently simmer it for a bit longer.

When the mixture is starting to separate, stir in the beans, cook for a few minutes more, then set aside the pan to cool off the heat, and marvel at how great the kitchen smells.

The sauce will last for a month in the fridge—longer if you make sure the solids are always covered by a layer of oil in the jar. Stir it before using.
Notes
Feel free to adapt the recipe by substituting different ingredients you have on hand. For example, use whatever powdered mushrooms you have, and substitute in different chilis for the guajillos, if you want. 
Nutrition
Serving:
2
tablespoon
|
Calories:
126
kcal
|
Carbohydrates:
2
g
|
Protein:
2
g
|
Fat:
12
g
|
Saturated Fat:
1
g
|
Polyunsaturated Fat:
3
g
|
Monounsaturated Fat:
7
g
|
Trans Fat:
0.05
g
|
Cholesterol:
41
mg
|
Sodium:
49
mg
|
Potassium:
50
mg
|
Fiber:
0.4
g
|
Sugar:
0.2
g
|
Vitamin A:
59
IU
|
Vitamin C:
0.1
mg
|
Calcium:
7
mg
|
Iron:
0.3
mg
Resources
Pearl River Bridge Fermented Black Beans