I've been on a cold soup kick lately at the restaurant. During the Summer, I crave cold and room temperature food.
Of course I've had tomato gazpacho, but It wasn't until I tasted Daniel Patterson's now famous chilled pea soup with buttermilk and nasturtiums that I started to understand the possibilities and thought process of cold soup I might experiment with as a chef. In some ways serving chilled soup is easier to execute than a hot one in a restaurant (or home) setting, and in other ways more complicated.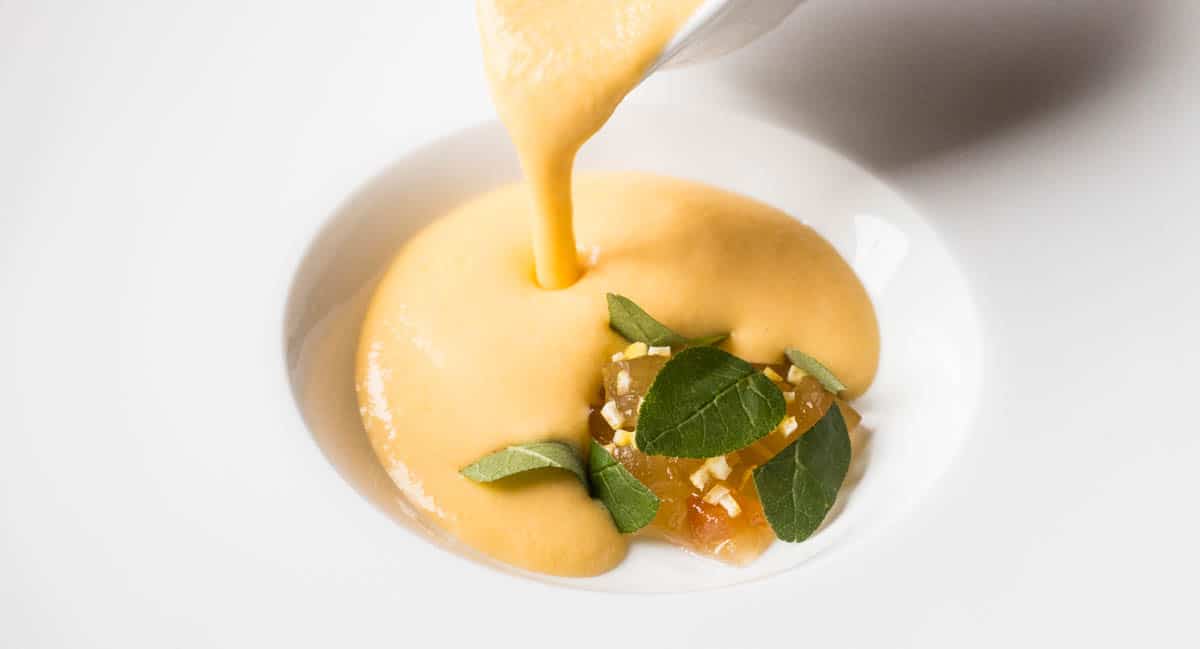 As far as our soup here, like most things it was a multi stage process. I had been running a cold carrot soup with wild carrot flowers for a little bit that was getting great reactions, but after serving it for two weeks straight I needed a change.
As usual, I tend to consult my home library for inspiration here and there, and I had just been flipping through Jeremy Fox's new book On Vegetables, which a lot of people in the industry are liking right now. Jeremy had a great sounding melon curry I thought I could riff on after one of my sales reps mentioned melons were right around the corner.
Like any instinctual cook, I almost never make recipes exactly according to directions, I just pair flavors together and make things my own. The general theme of the recipe is really the only thing I every really follow, but I really need to give a shout out to Chef Fox on the melon soup. Without the beginning flavor combinations in his recipe I would have never thought to add the garnishes that really blew me (and guests/waitstaff) away.
For some reason, I had garnished soups before Zanthoxyllum/Kinome but had used whole leaves and I didn't like the result. The problem is that you need to make sure you chew the leaves to release their perfume to really get the full effect, and with the liquid character of soup, if you just slurp down a leaf you won't taste it at all.
Eventually I had forgotten about the soup and I stuck to putting my Kinome leaves on a fish tartare, since the guests instinctually know to chew tartare, which releases the flavor of the leaves.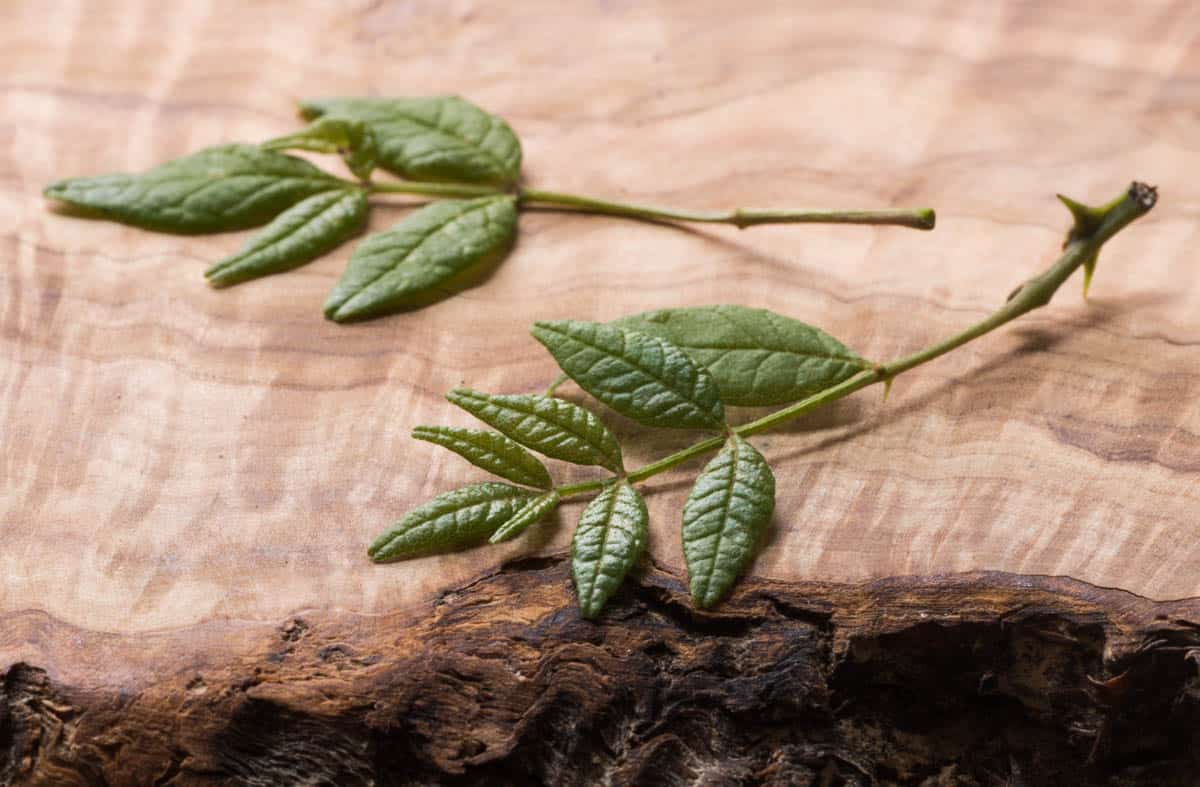 I was on the fence about whether kinome leaves or mint would be better on the soup, so first I tried a little of everything with the Kinome leaves, and gave some to a line cook I trust for his opinion.
We ate a bite of the soup with all the garnishes. It was one of the most complex things I'd ever eaten. Salty, sweet, sour, spicy, ice cold, aromatic, it hit all the notes, each time you touch a leaf with your tooth it explodes with the Zanthoxylum's kaffir lime aroma. My cook and I just look at each other bug-eyed, Kinome it would be.
On the different species of prickly ash
Yes. Yes you should be excited, because the flavor hits you like a freight train here. That being said, as I mentioned in my original post on Xanthoxylum, whenever I cook with the kinome leaves, you should know Im using a particular species I've found on the farm in Menomanie where I spend my weekends with my girlfriend. It's flavor is very different than typical Zanthoxylum americanum, whose leaves are not as tasty or lime flavored.
I suspect whatever this species is, it could be more closely related to traditionally used Zanthoxylum plants like Z. simulans, since they're known for being used as an herb in the Far East.
Tips on serving chilled soup
When I put chilled soup on the menu, it doesn't mean it sits in the cooler and we ladle it into a bowl, it means that the soup is kept on ice, and ladled directly into bowls that sit in the freezer. For the right effect, it needs to be shockingly cold, which also means it needs to be aggressively seasoned for it to taste correctly. Salt, spice from the jalapeno, and plenty of fresh lime juice are essential.
To ensure that chilled soups are icy cold during service, I keep the soup in a metal bain marie in an ice bath. Keeping something in plastic will actually make it warmer than holding it in metal since metal transfers temperatures so quickly, plastic on the other hand is an (un)natural insulator.
Lastly, if you'd like to taste this soup, I'll be serving it at an collaboration dinner with Chef Wyatt Evans of Heirloom Restaurant in Saint Paul July 10th 2017. 65$ six course prixe-fixe, with optional wine pairings by Heirloom. See more about the dinner or find tickets here.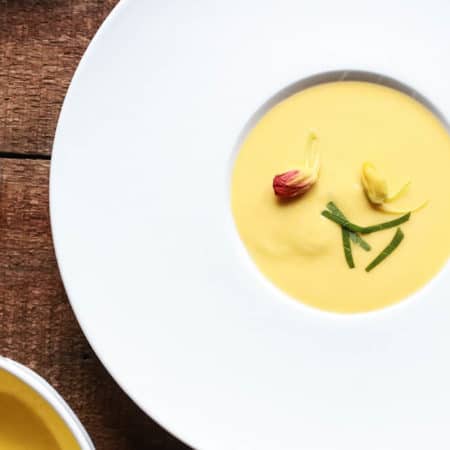 Print Recipe
Chilled Melon Curry with Kinome Leaves
This is meant to be a light, small portion of a larger, multi-course dinner. The soup should be powerfully flavored and rich, so you wouldn't want to sit down and eat a giant bowl, just a cup or two is fine.
Ingredients
1

large crenshaw or muskmelon

highest quality available and as ripe as possible, about 3 lbs, rind removed, flesh diced into 1 inch pieces, seeds and pulp reserved

1

tablespoon

minced ginger

½

cup

yellow sweet onion

roughly chopped

1

jalapeno

seeds removed, roughly chopped

3

cups

coconut milk

highest quality and highest fat content available

1

cup

fennel roughly chopped

¼

cup

flavorless oil

like grapeseed

Kosher salt

to taste

Fresh squeezed lime juice

to taste
Bouquet garni (wrap these ingredients with cheesecloth and tie to hold together)
2

mint sprigs with stems

2

basil sprigs with stems

4-5

cilantro sprigs with stems

zest of ¼ of and orange

peeled with a vegetable peeler
For garnishing and finishing
Pickled melon rind see my recipe here for an example

diced ¼ inch

Meyer lemon rind peeled with a vegetable peeler

diced about ⅛-1/16 inch

Fresh kinome leaves

coarsely torn, 5-6 leaves per bowl

Squeeze of fresh lime juice
Instructions
Put the seeds and pulp in a strainer and press down with a spoon to extract the juice, then reserve. Discard the seeds.

in a 4 qt stock pot or similar high-sided vessel, Sweat the onion, ginger, fennel and jalapeno in the oil for 5 minutes on medium-low heat stirring occasionally, do not allow the vegetables to take on any color.

Add the melon to the pot, along with the bouquet garni, making sure the bouquet is buried in the bottom of the pot to ensure proper infusion of the herbs. Add the reserved melon juice. Take a piece of parchment or a lid and cover the pot (I like parchment since it allows a balance of evaporation and liquid retention.

Cook the mixture until the melon is very soft, around 30 minutes, stirring occasionally.

When the melon is soft, remove the bouquet, then add the coconut milk to the mixture and, working in batches, puree in a highspeed blender until very smooth, then pass through a chinois strainer, chill in an ice bath, season the mixture with a little salt and fresh lime juice to taste then transfer to a labeled, dated container and reserve until needed.

Serving

To serve the soup, take a couple soup bowls and place them in the freezer for 20 minutes to chill. Place a tablespoon of the pickled melon rind in each bowl, then sprinkle with ⅛ teaspoon of the finely diced meyer lemon, followed by a few torn kinome leaves and a squeeze of fresh lime juice. Ladle about 1.5 cups of the soup into each bowl and serve immediately.
Notes
Chef Jeremy Fox garnishes his with coconut cream, which you can scrape off the top of coconut milk if you let it sit in a container in the fridge after opening overnight. I just used a few chiffed leaves and some nasturtiums.