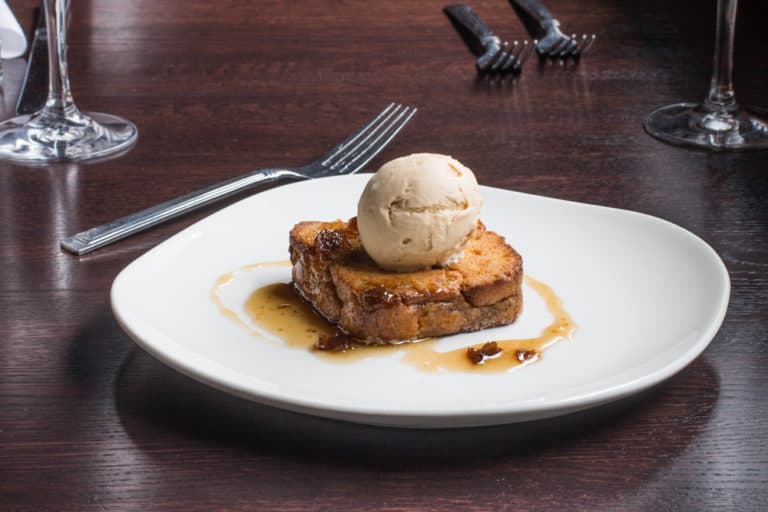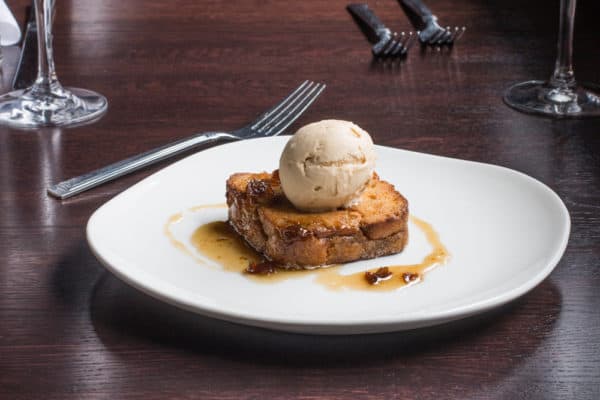 Back when I was running the Salt Cellar, I was dead-set on getting some kind of candy cap dessert on the menu. First I had ice cream, but that wasn't really interesting enough, and, since I was running a steakhouse concept, I wanted something with a good dose of Americana in it. I thought a candy cap mushroom bread pudding recipe would be just the ticket. The final version here is good but there were a few hiccups along the way.
If you know anything about candy caps, you know that the flavor is really strong, so strong that they can make your hands stink after working with them, and, if you cook with them, your kitchen, house, or entire floor of an apartment building will end up stinking like maple syrup, for days--no joke. There's worse lingering flavors to be had than maple syrup though, don't you think? Obviously, the delicious smell wasn't the problem. The issue, was that the first version of the bread pudding I made didn't have near as much candy cap "oomph" as I'd hoped. Luckily for my food cost at the restaurant, I was serving it with a wicked strong candy cap caramel sauce (see recipe below) but, if you've ever developed recipes and had them not turn out how you want, you know that it can drive you crazy a bit.
The problem was how I was treating the candy caps. Culinary logic would dictate that, to use candy caps in a bread pudding, you'd infuse the custard with candy caps, probably by soaking and re-hydrating them in water, then cooking that with cream and sugar, and using that to soak the bread. Nope. For some reason, soaking the candy caps and using the reconstituting liquid and mushrooms pureed into dairy wasn't good enough, and I didn't get any kind of decent flavor until I started just grinding them raw into powder and adding the mushroom powder directly to the dairy for the custard mix.
That being said, candy caps are expensive, and the bread pudding recipe is perfectly fine as-is without candy caps, too (refer to the 1 qt of heavy cream, pure egg yolks, and maple syrup it calls for). So, if you have a limited amount of candy caps on hand, you could remove them from the bread pudding recipe entirely and top the bread pudding with the accompanying candy cap caramel sauce to stretch your harvest/purchase. Don't get me wrong-the bread pudding is great with candy caps in the sauce, and in the pudding too, I'm just saying there's more than one way to get from point A to point B. The choice is yours.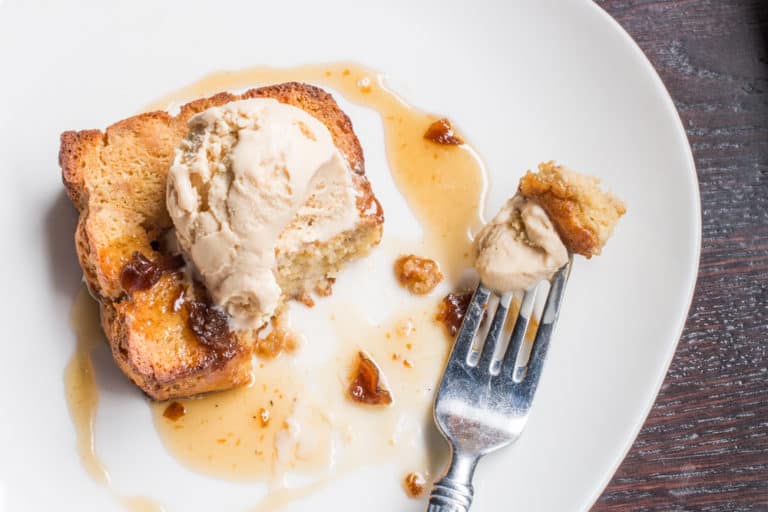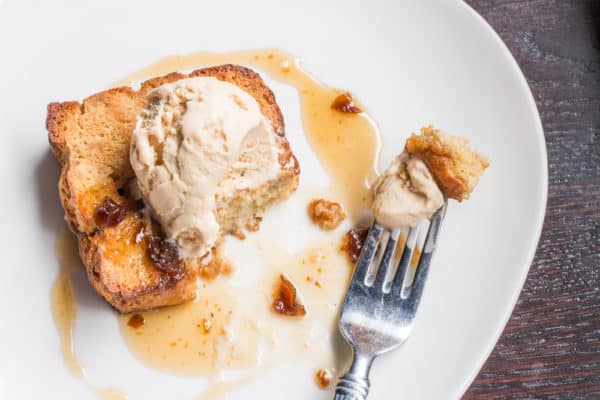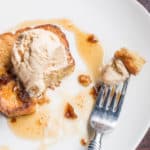 Print Recipe
Candy Cap Bread Pudding
A rich bread pudding flavored with dried candy cap mushrooms
Equipment
10 cup loaf pan, terrine mold, or baking dish
Ingredients
One 1.5 lb loaf of brioche

crust removed and diced into ½ inch squares to yield roughly 8 cups

1

qt

Heavy Cream

half and half or even milk can be substituted

10

large egg yolks

¾

cup

maple syrup

or ¾ cup brown sugar

14 grams / ½ ounce dried candy cap mushrooms

about 4 tablespoons powdered mushrooms

¼

teaspoon

kosher salt

1

recipe candy cap caramel sauce

follows

1

teaspoon

vanilla extract

1

teaspoon

ground cinnamon
Instructions
Leave the bread out overnight uncovered to make it stale and firm. Mix the half and half, maple or sugar, vanilla, cinnamon, candy cap powder and salt and puree until smooth in a blender.

Whisk in the egg yolks to the cream-mushroom mixture and pass through a strainer to ensure it's smooth. Mix the bread cubes with the custard mixture thoroughly in a bowl, then allow to stand overnight, if possible, gently stirring the mixture every 4-5 hours or so to ensure even distribution of the custard.

To cook the pudding, generously grease a bread loaf pan or terrine mold and add the bread mixture. Place the pan in a water bath, and cook, covered, for 1.25 hours at 250 degrees, or until hot throughout and slightly risen.

Remove the pudding from the water bath, allow to cool almost to room temperature, then wrap with astic wrap and place a weight on top of the pudding (optional).

The easiest way to press it, is to take another pan the same size as the one the pudding was cooked in and place it on top, placing a brick or something similar in weight on top of that, wrapped in foil. Allow the pudding to sit overnight, then remove the weights the next day.

To serve the pudding, slice into 1.5-2inch pieces, heat the slices in the oven at 325 or so until hot throughout, then top with a scoop of vanilla ice cream and the candy cap caramel sauce and serve.
Notes
If money is an issue, you don't have to use candy caps in the bread pudding. It's perfectly fine to anoint it with warm candy cap caramel sauce afterwords. 
I'm using a restaurant terrine mold here since I like nice slices, but you can use whatever dish works that you have on hand. 
½ cup dried golden raisins can be warmed in a little brandy and mixed in before baking.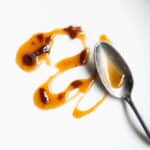 Print Recipe
Candy Cap-Whiskey Caramel
Yield: 1 cup
Ingredients
1

cup

sugar

½

cup

water

¼

cup

heavy cream

Pinch

of salt

¼

ounce

dried candy cap mushrooms

¼

cup

bourbon or whiskey
Instructions
Soak the mushrooms in the water for 30 minutes to reconstitute. Agitate the mushrooms to remove any debris, then remove the mushrooms, strain the liquid through a chinois or fine cheesecloth and recombine the two.

Combine the mushrooms and their liquid, the salt and sugar in a small sauce pot and bring the mixture to a simmer. Cook the mixture until the color changes to light amber, then remove from the heat, add the brandy and ignite, then allow the flames to die off.

Remove the pan from the heat, then add the cream and whisk to incorporate.

If the sauce seems to thin, reduce a bit more, whisking occasionally until thickened to your liking. If it's too thick, add a tablespoon of water at a time to loosen it. The sauce will keep for months in the fridge, but if it's around for that long there's something wrong with you.