If you love tres leches cake, and you like to cook with mushrooms, prepare yourself: candy cap tres leches is one of the best candy cap mushroom recipes of all time.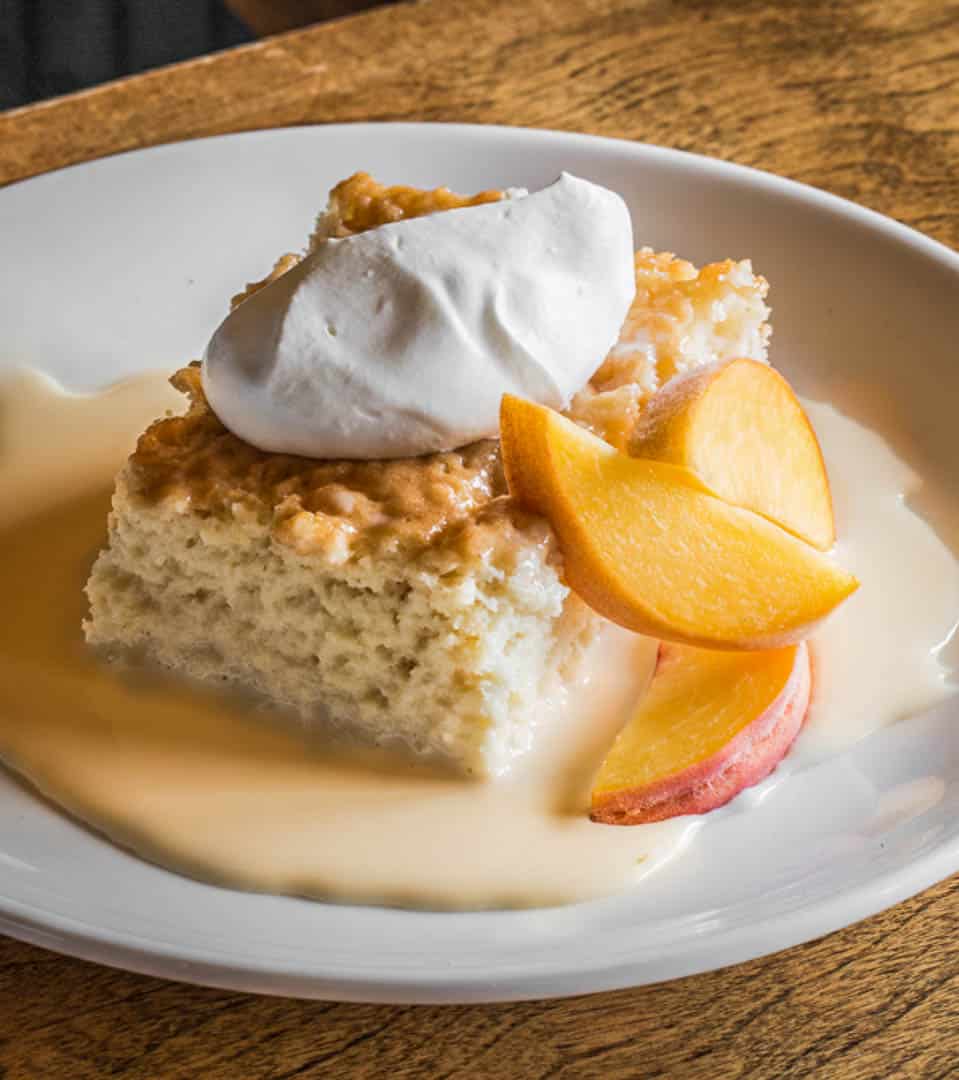 After Lucia's closed, I didn't feel like running another restaurant quite yet, so I negotiated a part time job consulting on the menu of a little French restaurant near Edina. I was slumming, but I just couldn't bear tackling another large operation just yet.
It wasn't a good fit. I ended up turning what was supposed to be a part time gig into a full time one (per usual). More pointedly, the owner was a bumbling idiot who would do things like "remodel" the bar by ripping boards out of the ceiling drunk on tequila, and hired one of my prized pupils as chef de cuisine, expecting him to do it in 20 hours a week. But, I got an unexpected bonus in that I learned how to make tres leches cake, so, there's that.
I'd never had tres-leches cake before, and, as the it was basically the house dessert, I was unimpressed by its ho-hum look and thought of removing it for a while in favor of something like Fernand Points masterpiece, the gateu marjolaine.
On the plus side, the ol' tres leches was simple enough so that you didn't need to speak English to make it with your eyes closed, and, there weren't any expensive ingredients. Dang if it wasn't good too.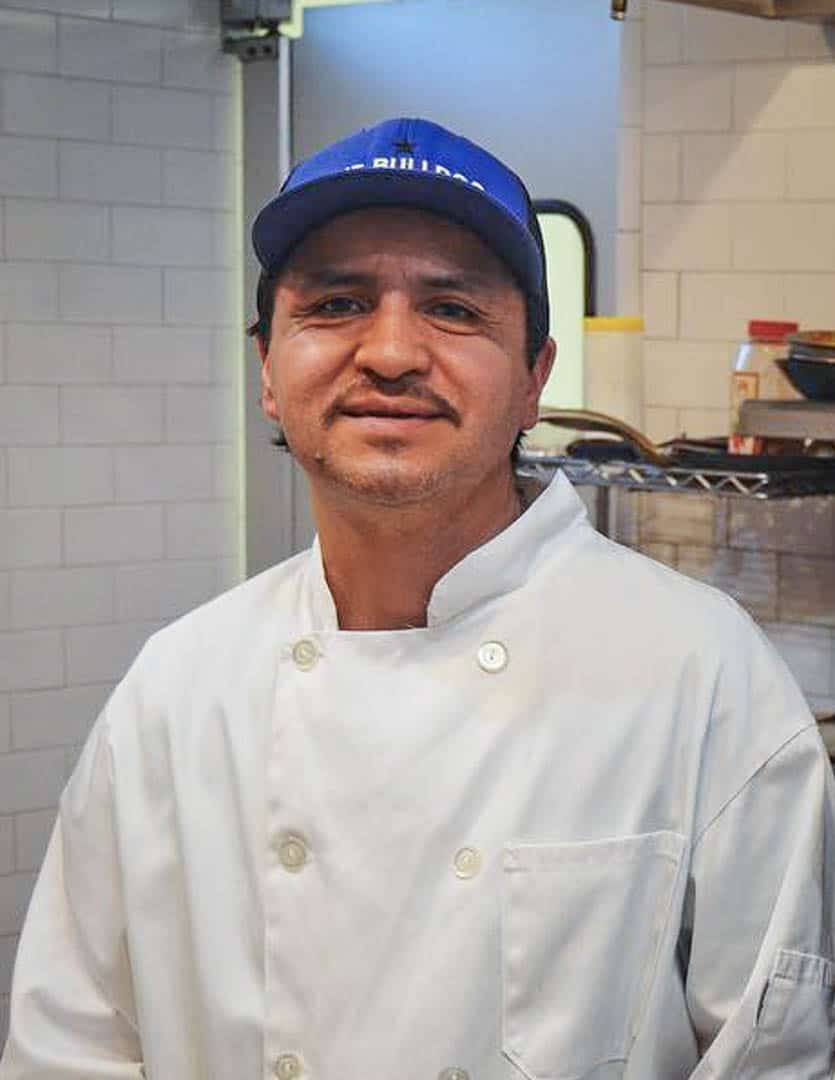 The final event I did at the little restaurant was to host a book launch dinner for my friend Michael Karns and his co-authors who wrote the book Untamed Mushrooms. The savory courses were easy, but I needed a dessert too, and it needed to have mushrooms. Enter the candy cap, lord of the mushroom dinner finale.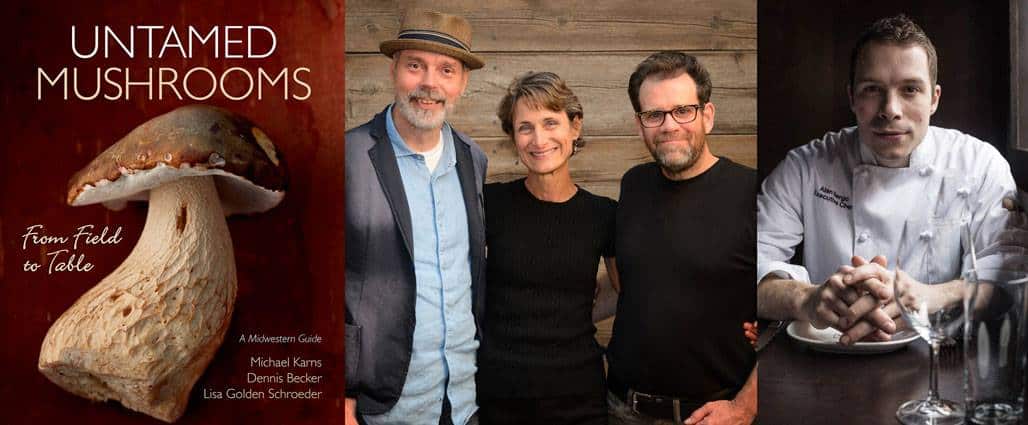 Menu from my notes
Shiitake Spring Rolls with Cabbage and Mushroom Ketchup
Warm Pickled Chanterelles with Brie, Bakersfield Sourdough, and Foraged Green-Wildflower Salad
Gnocchi with Lobster Mushroom Bolognese and Parmigiano Reggiano
Candy Cap Tres Leches with Amish Peaches
Candy caps love cream and dairy
I love candy caps for their sickly sweet flavor that tastes more like maple syrup than maple syrup. They're a dream to work with in the kitchen since their flavor is easily transferable to a multitude of cooking mediums (doughs, butter, sugar, syrups, etc). But cream and dairy probably make them slap the hardest, as the kids say.
It's a great variation on the classic, and as the milk absorbs the flavor so well, there's no need to try and incorporate the mushrooms into the batter. It's a piece of cake.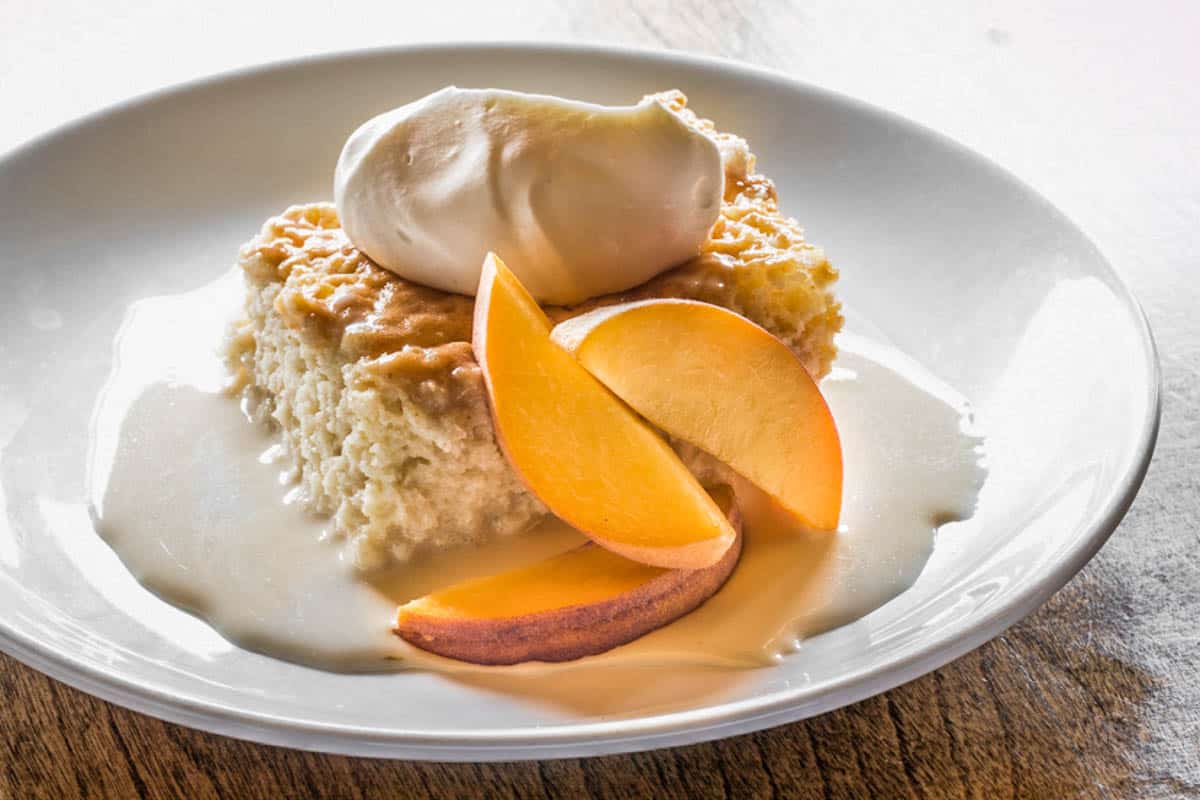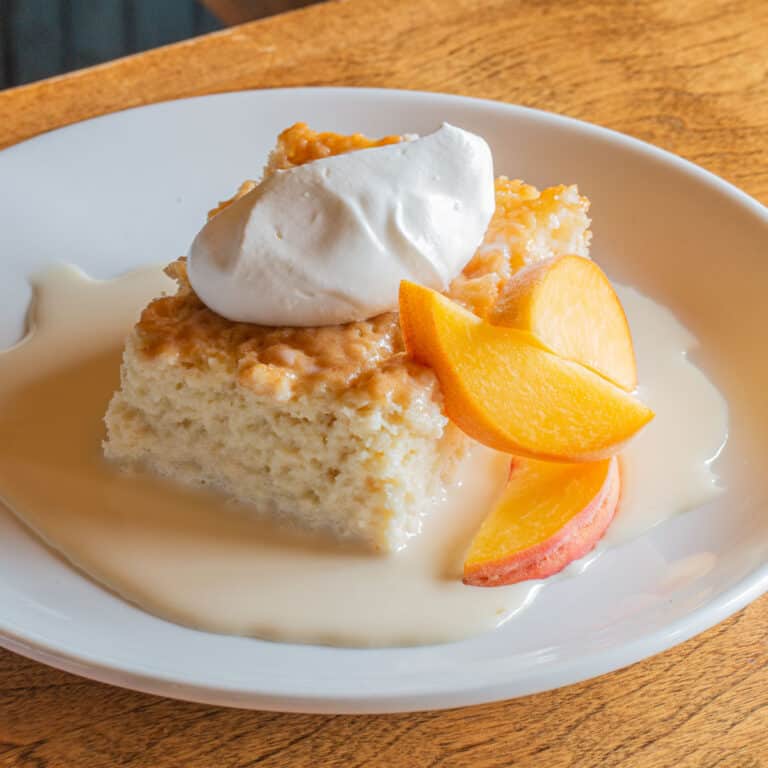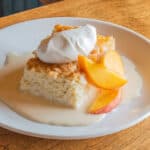 Print Recipe
Candy Cap Mushroom Tres Leches Cake
A simple cake soaked in candy cap mushroom milk. Olmedo, the chef from El Salvador who taught me this said the cake can also be cooled, cut in half and stuffed horizontally with fruit like peaches and raspberries. Yield: 1 9x13 pan
Equipment
9x13 inch cake pan

Stand mixer with whisk attachment
Ingredients
Cake
2

cups

flour

1

Cup

sugar

7

large eggs

1

heaping tablespoon baking powder

½

cup

half and half

2

teaspoons

good vanilla extract

10

cups

candy cap tres leches milk

recipe follows
Candy Cap Tres Leches Milk
3

cups

evaporated milk

3

cups

sweetened condensed milk

2

cups

cream

2

cups

half and half

1

cup

whole milk

10

grams

dried candy caps

roughly 2 tablespoons, or add them to taste
Instructions
Candy Cap Tres Leches Milk
Grind the candy caps in a spice grinder, then sift and grind again. Whisk together all the milks and the dried candy caps in a pot, warm it until steaming hot, then cool. The milk should taste strongly of candy caps. Refrigerate the milk overnight to infuse.

Strain the milk and discard the mushrooms, or just let them settle and only pour off the milk from the top. Since the milk will be used to saturate the cake, leaving the mushrooms in it will mean they could end up on top of the cake after it soaks, which is a little unsightly. Reserve 1.5 cups of the milk for garnishing finished slices of the cake.
Cake
Preheat the oven to 375. In a stand mixer, whip the eggs and sugar with the whisk attachment for 12 minutes on high until tripled in volume and fluffy. Set a timer, this part is important as it brings the eggs to room temperature and helps it rise properly.

Meanwhile, stir together the flour and baking powder.

Mix the half and half with the vanilla.

Put the half and half into the mixing bowl with the whipped eggs and mix for 1 minute more, then add the flour and mix with the whisk for another 2 minutes on medium speed until completely combined and uniform.

The final whisking is very important, if you don't mix it long enough, the gluten strands won't activate and the cake won't rise properly.

Spray a pan with non-stick spray, then pour in the mixture and put in the oven. Do not open the door while the cake is cooking.

Cook for 35 minutes or until just cooked throughout.
Soaking the cake
Remove from the oven and immediately begin pouring over the remaining 8 or so cups of tres leches milk mixture onto the cake, a few cups at a time, waiting for the cake to absorb the dairy before adding more. When all the dairy has been absorbed, cool, then wrap in plastic and reserve until needed.

Save the extra candy cap milk for garnishing finished plates. Allow the cake to saturate for at least an hour before serving. The cake will keep for 4 days in the fridge.*

Serve with whipped cream, fresh fruit like blueberries, raspberries or peaches, and extra spoonfuls of the reserved candy cap milk.
Notes
* Once you cut into the cake, you will "break the seal" so to speak, and the milk will begin migrating out of the cake. It's mostly cosmetic, and you can spoon the milk onto servings of the cake, but there may be crumbs and it isn't as clean looking as freshly cut. 
Nutrition
Serving:
5
oz
|
Calories:
600
kcal
|
Carbohydrates:
102
g
|
Protein:
23
g
|
Fat:
20
g
|
Saturated Fat:
15
g
|
Polyunsaturated Fat:
2
g
|
Monounsaturated Fat:
12
g
|
Trans Fat:
0.01
g
|
Cholesterol:
246
mg
|
Sodium:
301
mg
|
Potassium:
805
mg
|
Fiber:
1
g
|
Sugar:
30
g
|
Vitamin A:
1548
IU
|
Vitamin C:
5
mg
|
Calcium:
609
mg
|
Iron:
2
mg