My Grandpa loves Grandma's pheasant breasts cooked in a can of Campbells golden mushroom soup. Braised pheasant legs with morel sauce is my version of that family classic.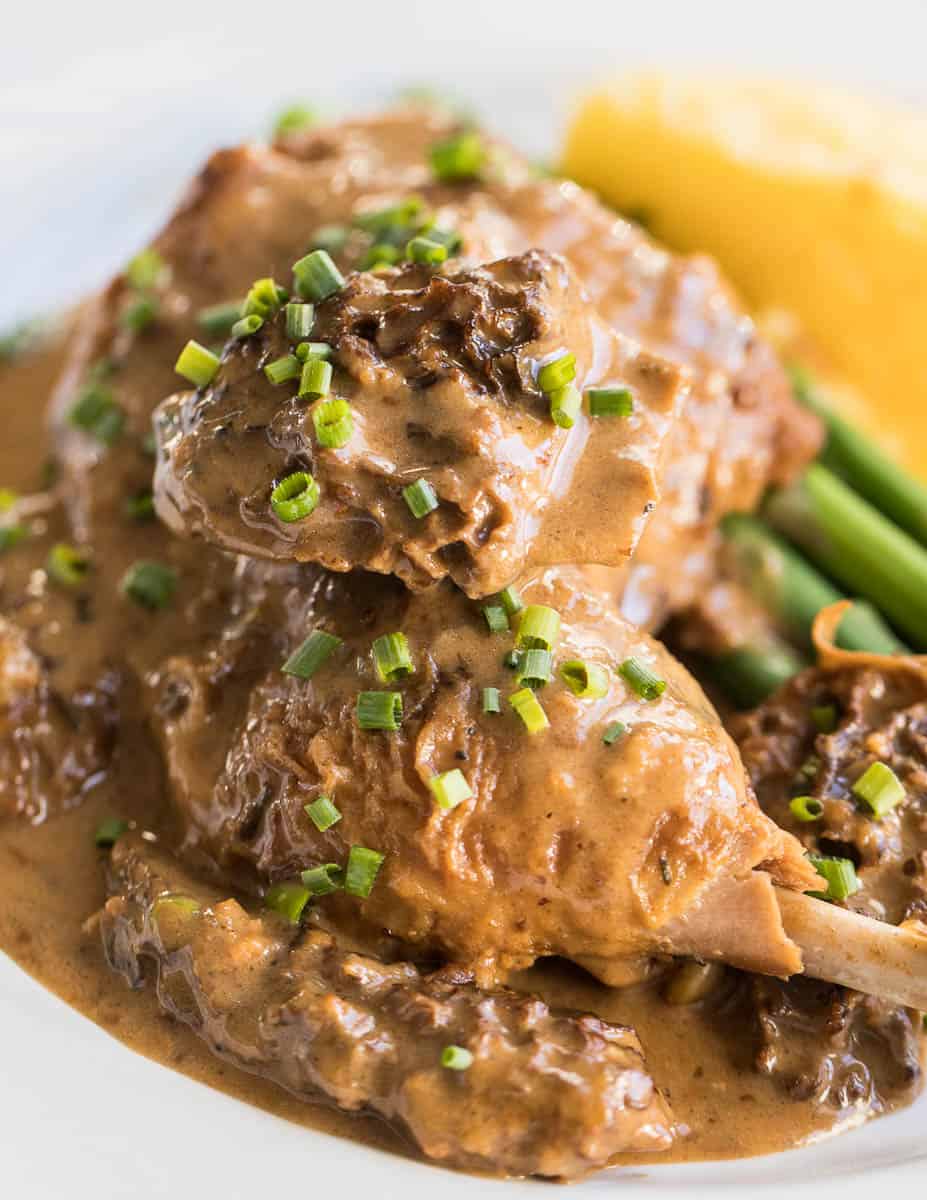 I originally made this as a dinner for them on one of my nights off from the restaurant, and it was right at the beginning of spring: when the asparagus has just started to show up at the Farmers Market, with the morels sure to come any moment.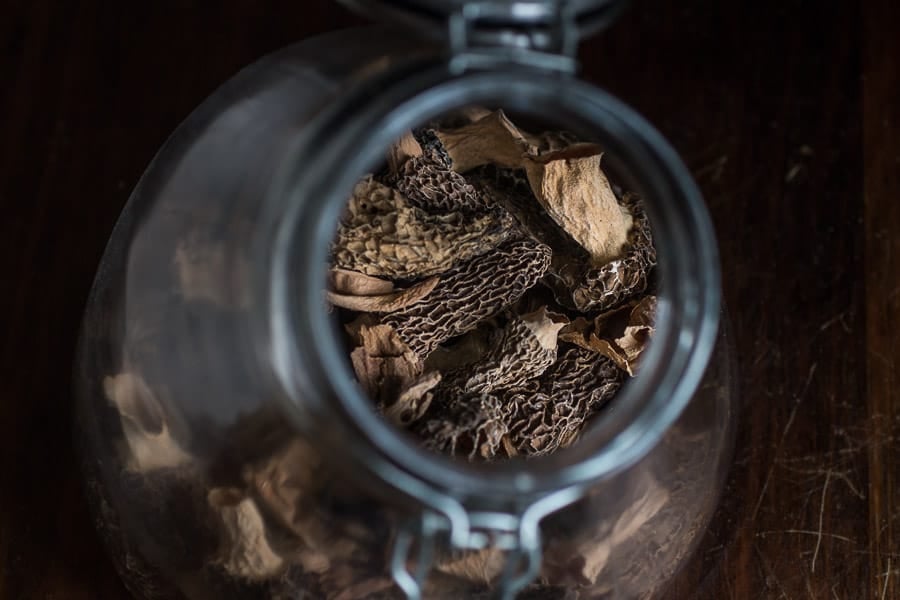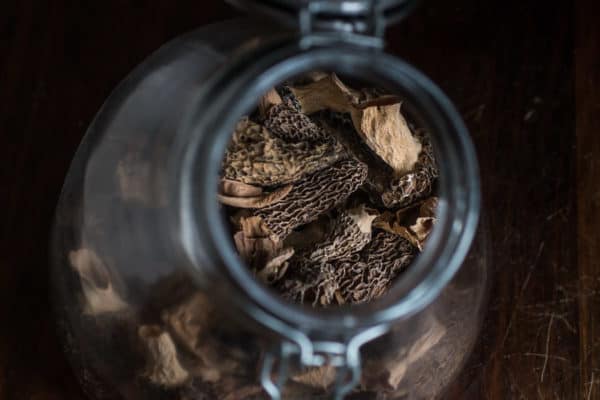 There's lots of different ways you could serve this, but having some soft polenta to soak up the rich sauce is always a crowd pleaser, and morels love asparagus. During the winter I'd make it with some wilted leafy greens, like kale.
Pheasant legs are delicious
How to properly cook and serve pheasant legs (without the small leg/pin bones) is a technique hidden in this recipe (I'm always shocked when hunters tell me they throw out pheasant legs—the heresy!). It's easy: just season the legs, dust them with flour, brown, simmer in the oven until you can just move the bones, then cool, remove the pin bones carefully to keep the legs intact, and you're ready to go.
Since you're going to be cooking the legs in a wet environment, it's also the perfect excuse to use up some dried or fresh morel mushrooms--this sort of dish is begging, pleading with you to craft a rich sauce from the braising liquid the pheasant legs will make. It's rich stuff: I add a splash of cream at the end, but you wouldn't have to.
I can guarantee you, if you haven't tried pheasant legs braised and de-boned before, you're going to be a convert!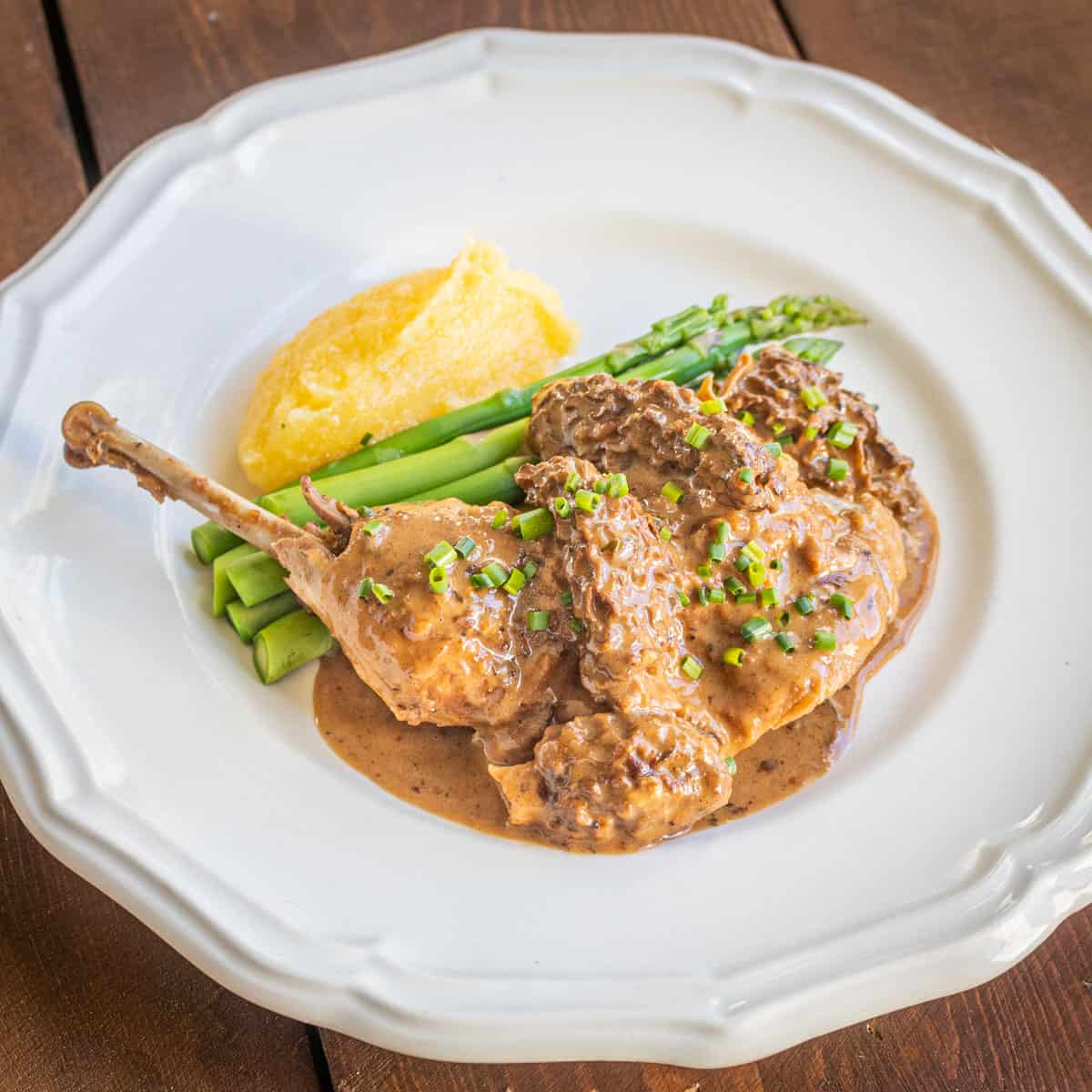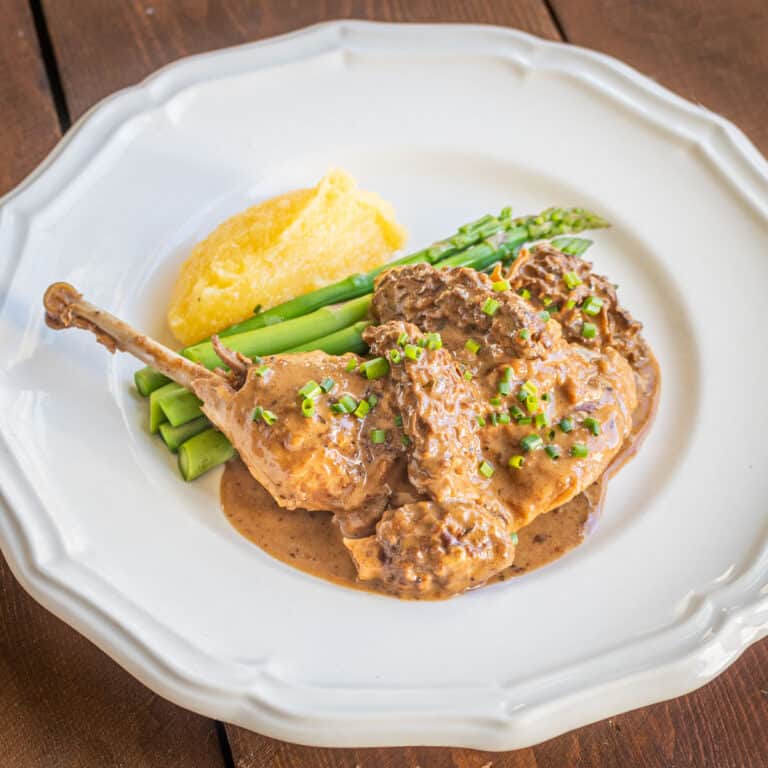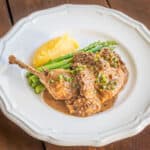 Print Recipe
Braised Pheasant Legs in Morel Sauce
Tender braised pheasant legs with a rich morel mushroom sauce is a perfect way to use up parts of the bird many people throw out. Serves 4-8. 1 leg on larger birds can work for lighter eaters, assume 2 legs per person for larger appetites.
Ingredients
Pheasant legs and morel sauce
1.5

oz

dried morel mushrooms*

or whatever you can manage. Assume at least 2-4 mushrooms per person.

Kosher salt and fresh ground black pepper

Flavorless cooking oil

as needed for browning

All purpose flour

as needed for dredging

½

cup

dry white wine or brandy

brandy will give a richer sauce but both options are fine

6

cups

chicken pheasant or chicken stock preferably homemade and unseasoned

otherwise use water since reducing commercial chicken stock can get salty.

½

cup

shallots, small dice or finely chopped

susbtitute 2 oz finely chopped onion or skip if you want

2

teaspoons

chopped fresh thyme

Omit if you can't get fresh. Don't substitute dried thyme here as it's too strong.

2

tablespoons

unsalted butter for finishing

Splash of heavy cream

optional

Fresh cut chives to garnish

optional
Accompaniment suggestions
Soft polenta 1 cup of cornmeal cooked with 4 cups of water

seasoned with salt and butter will be enough to accompany the proportions here.

Blanched asparagus

Wilted greens are a good substitute especially nettles.
Instructions
Brown the pheasant legs
In a large braising pan such as a cast iron skillet, heat a few tablespoons of oil until hot. Meanwhile, season the pheasant legs with salt and pepper, then dredge in the flour, tapping off the excess.

Preheat the oven to 325F.

Brown the pheasant legs on medium-high heat until deeply browned all over, then add the shallots and thyme to the pan and cook for a minute more.
Bake the pheasant legs
Add the wine or brandy to the pan and cook for seconds, then add the stock and dried morel mushrooms, cover the pan, and bake for 1.5 hours, or until the meat just barely moves from the bones. Cool the pheasant legs in their liquid until you can handle them.
Remove the pin bones
Remove the pheasant legs to a cutting board and remove the pin bones from the lower portion of each leg. Most of the bones will pull out, but there will be one stubborn, large bone, which you can break off with a pliers or just leave for guests to remove.
Cut and trim the morels (optional)
If your morels are very large, consider cutting them into pieces and putting them back into the braising liquid.
Finishing and serving
Heat up the braising liquid and morels. Double check the seasoning (it shouldn't need any salt, but check just in case) add the splash of cream if using, along with the butter, then bring the mixture to a simmer, stirring until the butter melts. Add the pheasant legs back to the pan to heat through.

If the pan threatens to get dry, add a splash of water here and there to adjust the consistency until it looks like the delicious morel sauce it should be, and tastes good to you.

To serve, put a dollop of soft polenta on each preheated dinner plate, along with a few spears of asparagus. Plate the pheasant leg(s) on the opposite side* of the plate, spooning the sauce and morels over each serving. Sprinkle with chives and serve.
Notes
*Note. It's important to use clean morels here since I try to keep it simple by just tossing them in with the pheasant legs. If for any reason you suspect your morels have grit, hydrate them in the water or stock before you add it to the pheasant legs, then remove the mushrooms, strain the liquid, leaving the last few tablespoons in the bottom to discard, along with the grit, which should be visible, then add the morels and stock to the pan and proceed as directed.
*Note. Resist the urge to put the pheasant legs on top of polenta, as it makes for a cleaner presentation.
More
Morel Mushrooms: Hunting, Identification, Cooking and Recipes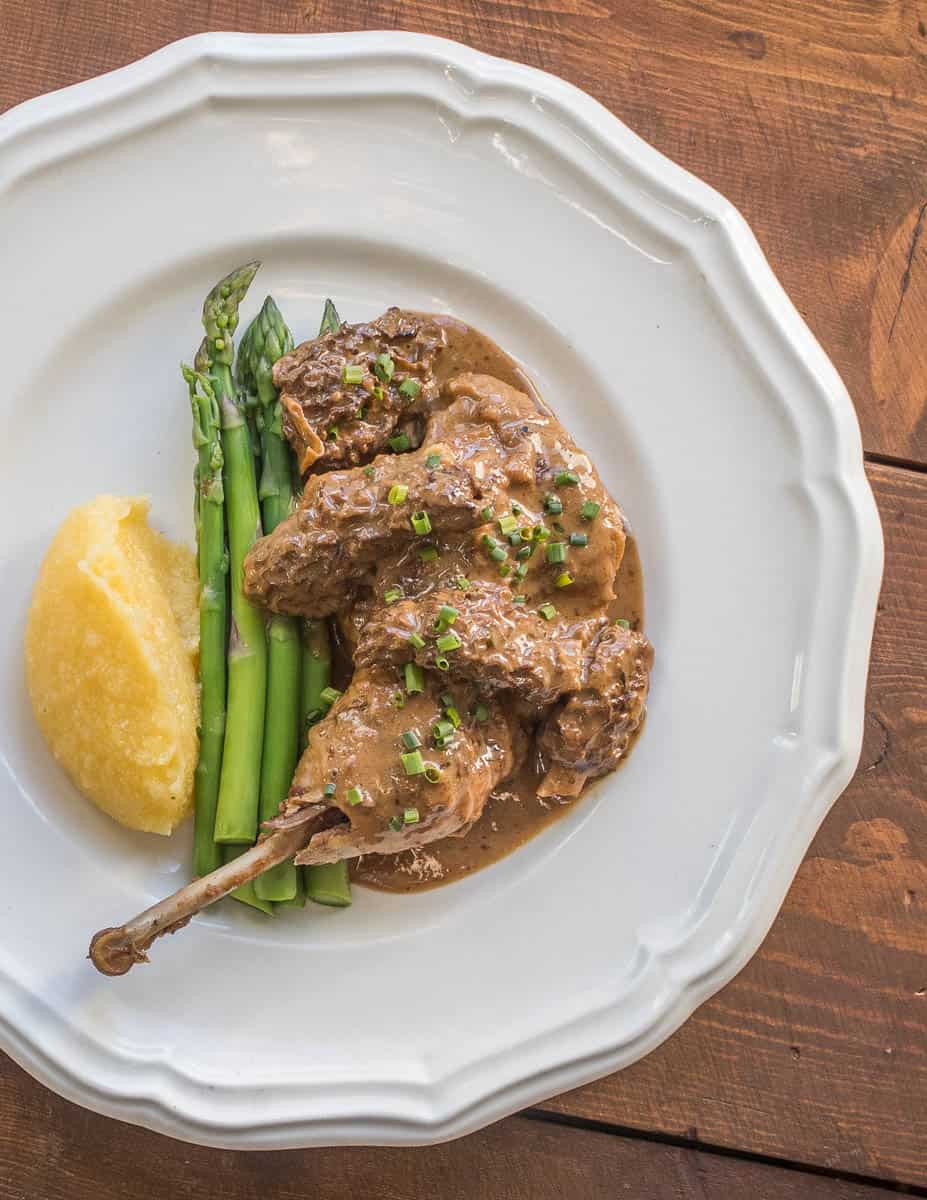 More