One of the all-time best aronia recipes is this vinaigrette you can use for salads and serving with pork or chicken. It was on the menu regularly at my restaurants.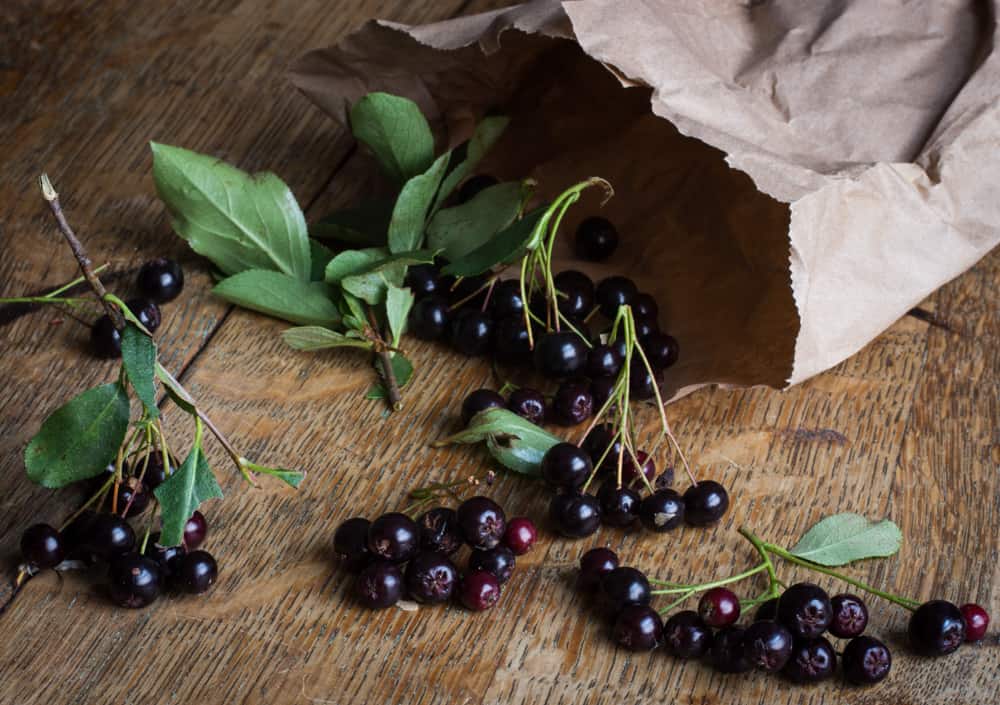 I'll be honest and tell you I've never picked Aronia berries (a.k.a chokeberries or Aronia melanocarpa) in the woods after a long hunt, or after walking around the edge of a clearing during berry season. They're just not that common where I've hunted. But they're often in urban areas, and I have no problem picking them if it isn't on a busy street or next to a freeway.
Picking things in public takes a type of meditative state though, at least for me. I remember one of my first times picking these behind a goodwill after a hunt for cheap plating spoons.
I walked out of the store with my plastic bag of bric-a-brac (half of which I knew I'd resent the moment I got back to my apartment but whatever, I love thrift stores) and I saw a couple bushes ripe with berries. The parking lot  was a little exposed while picking and it was in broad daylight, but if I could score some spoons *and* a gallon of chokeberries, I'd hit the jackpot.
I picked as quickly as I could and no one said anything, but you can feel people's eyes, and, it's awkward.
My chokeberries this year came from the same place, but now I go to the store because I know there's chokeberries, hunting for spoons is just cover. I washed them, threw them in the freezer and forgot about them for a while until I was thinking of a salad for one of my 4 weekly changing menus at Lucia's.
I do a lot of typing menus on the fly now, more cooking off the cuff than I'm used to with so many menus changing in quick succession. I knew I could make some sort of vinaigrette out of the berries in my freezer though, so I typed up the menu and just planned on making myself and not delegating it out to my prep cooks-a strategy I have to use with any ingredient I can't afford to spend teaching the preparation of twice.
It only took all damn week, but I'm finally happy with it.
One reason I like Chokeberries is because they don't have a stone to remove, just a few small seeds, which are actually smaller than raspberry seeds so you can just buzz them up in the blender and they're good to go. The other reason is their color. It's the richest red-purple, makes a wicked cool vinaigrette, and would also be a great addition to your finger-paint collection (wear gloves when you toss the salad unless you want to look like Grimace from the old McDonald's adds).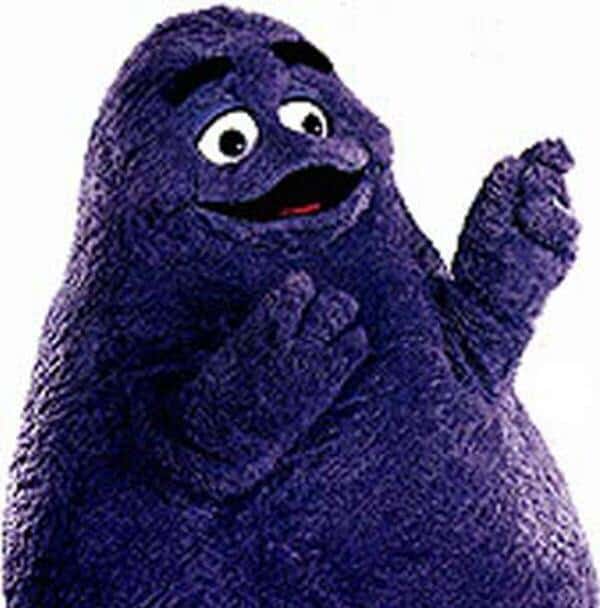 The vinaigrette has been the highlight of my week mixed with lettuces and few different dance partners. I've put them with an evolving mix of honeycrisp apples, black radishes, fresh dill, black walnuts, and soft chevre. Everytime I plate one of the salads I can't help but feel just a little silly, like a kid playing with finger-paint.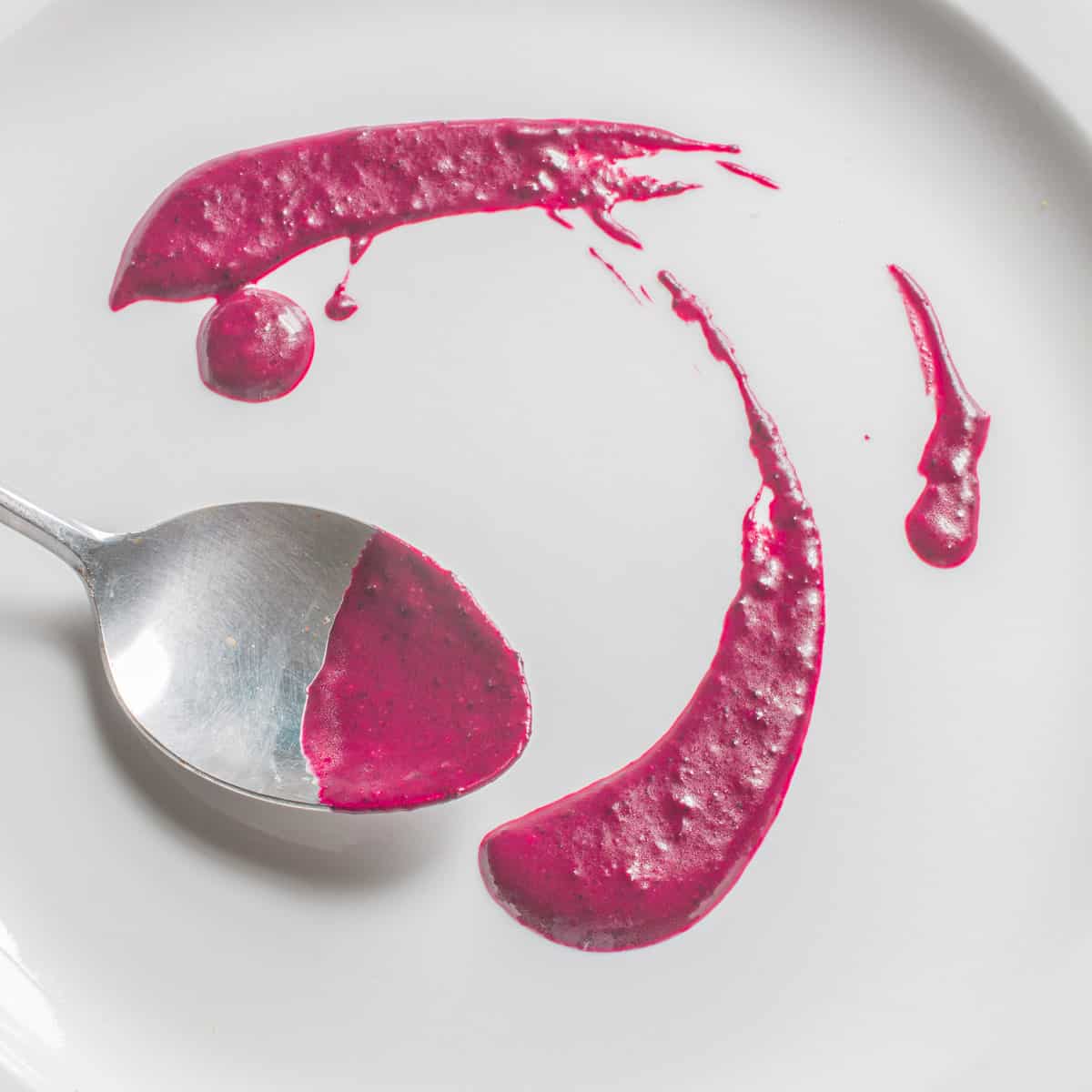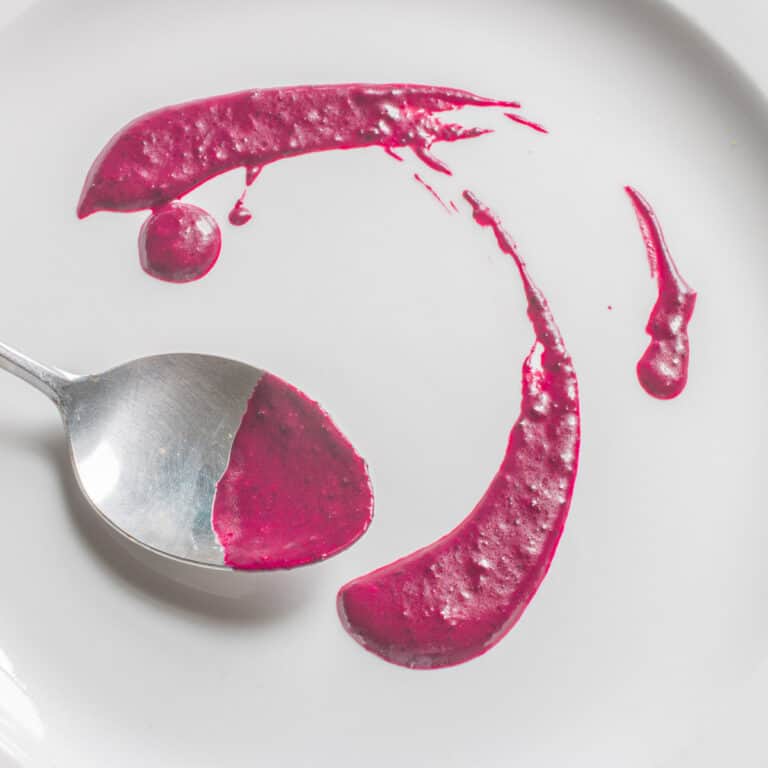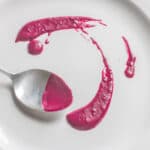 Print Recipe
Aronia Berry or Chokeberry Vinaigrette
A simple aronia or chokeberry vinaigrette. Yield: 4 cups
Ingredients
1

cup

chokeberries

½

cup

honey

1.5

Tablespoons

dijon mustard

¼

cup

shallot

diced ¼ inch

½

teaspoon

kosher salt

¼

teaspoon

fresh ground black pepper

1

cup

virgin sunflower or extra virgin olive oil

1

cup

flavorless salad oil

like grapeseed, safflower or canola

¼

cup

water

½

cup

high quality red wine vinegar
Instructions
Heat the berries, honey, and water until hot throughout and syrupy, then reserve and cool. Combine the berries and their syrup, and all ingredients but the oils in the bowl of a blender.

Process the mixture, slowly adding the oils to form an emulsion. When the oil have been added and the

has thickened, transfer to a labeled, dated container and refrigerate until needed.
Notes
This is great with some fresh greens and little goat cheese, but would be equally good alongside some poultry or game. 
Nutrition
Serving:
2
Tablespoons
|
Calories:
327
kcal
|
Carbohydrates:
31
g
|
Protein:
1
g
|
Fat:
22
g
|
Saturated Fat:
3
g
|
Polyunsaturated Fat:
2
g
|
Monounsaturated Fat:
16
g
|
Sodium:
144
mg
|
Potassium:
37
mg
|
Fiber:
2
g
|
Sugar:
21
g
|
Vitamin A:
2
IU
|
Vitamin C:
4
mg
|
Calcium:
6
mg
|
Iron:
1
mg