Here's a recipe I created to use dried Lactarius salmoneus, donated to the Cascade Mycological Society for their cookbook.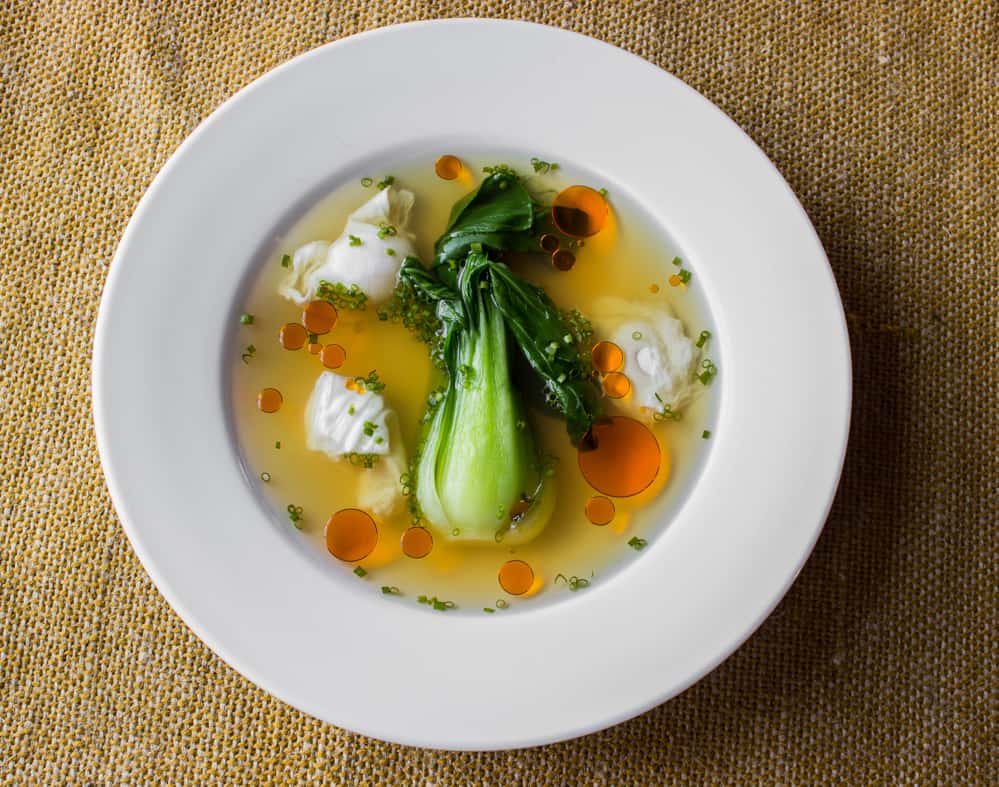 When powdered and made into a broth, you'd be hard pressed to say it isn't chicken stock. From my experience, different dried Lactarius resembling deliciosus, rubrilactus, and sanguifluus will give similar results.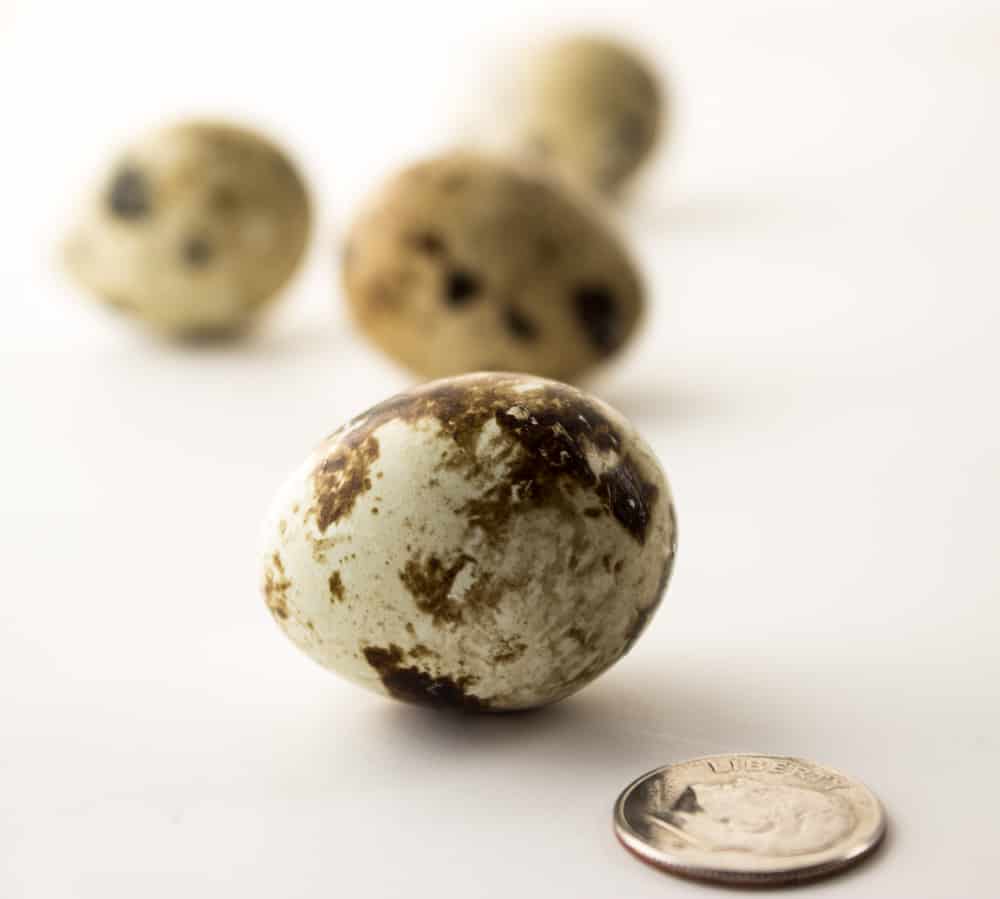 The recipe is designed to be a first course of a larger tasting menu at a restaurant, but you could add rice to the broth to make it more substantial. With the baby bok choy and broth, you will need a knife, fork, and spoon to eat this dish. I garnish this with a tomato flavored oil, which is fun to float on clear soups like this, but optional.
Tip on poaching quail eggs
When preparing them for service, I always pre-crack my quail eggs using a paring knife to remove the top of the shell, the layer of tissue underneath the shell is thicker on quail eggs than on other poultry, and can be make just cracking them a pain.
After the top of the shell has been removed, I put the eggs into individual ramekins, cover with plastic wrap and refrigerate until an order comes in, then all I have to do is dump them into the poaching water.
The broth
The broth here is what's really special. Dried saffron milk caps (known as rovellones or niscalos in Spain) make a delicious broth that tastes a bit like mushroom-chicken stock. It's a great recipe for dried saffron milk caps or other dried lactarius if you have some-whether you want to add some bok choi and quail eggs or not.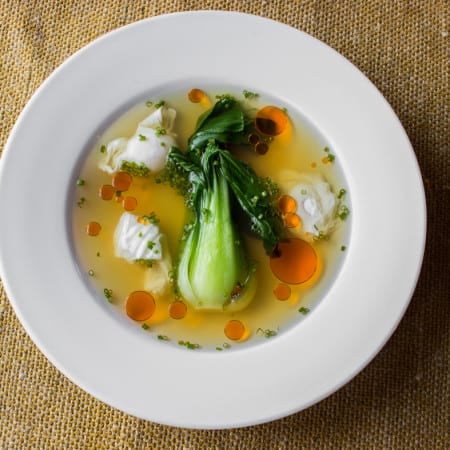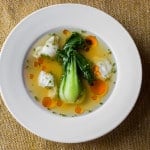 Print Recipe
Baby Bok Choy In Lactarius Broth With Quail Eggs
Serves 4 as a first course Ingredients
Ingredients
For the Lactarius broth
½

cup

dried

powdered lactarius mushrooms

1

medium carrot

chopped

1

rib of celery

chopped

1

yellow sweet onion

chopped

1 to

mato

halved

5

small sprigs of fresh thyme

1

fresh or dried bay leaf

1

clove

garlic

whacked with the back of a knife

6

cups

water
For plating the dish
Fresh snipped chives

to garnish

Kosher salt to taste

4

small baby bok choy

12

quail eggs

4 chicken eggs can be substituted
Tomato flavored oil
⅛

cup

extra virgin olive oil

⅛

cup

canola oil

¼

cup

tomato paste

1

clove

of garlic

A few sprigs of fresh thyme
Instructions
For the lactarius broth, bring the ingredients for the broth to a simmer in a small saucepan, then reduce the heat and allow to simmer for an hour. Cool the stock then strain through cheesecloth. Season the broth lightly with salt to taste and reserve.

For the tomato flavored oil, combine the tomato paste, garlic, thyme, olive and canola oil in a pan and cook on low heat for 15 minutes, whisking occasionally. Allow the oil to cool overnight. The next day, pour off the oil or strain it to remove the settled solids. Reserve the oil until needed.

Plating the Dish

Reheat the lactarius broth in a small saucepot. Bring another pot of lightly salted water to a boil. Cook the bok choy for 1 minute in the water or until just tender, then remove and add to the pot with the lactarius broth to keep warm. In the same pot of water as you cooked the bok choy, poach the quail eggs for 2 minutes, then remove. The eggs should not be cooked through and hard.

Plate the dish by arranging a bok choy in the middle of each of 4 preheated bowls. Ladle a cup of lactarius broth over each bok choy, then add 3 quail eggs to each bowl. Garnish each bowl with a tablespoon of the tomato flavored oil and some chives and serve immediately.
Notes
Lactarius are often a little too buggy to be used fresh when you find them, but drying and powdering them takes care of any aestetic issues.
More