Corning can be a good way to treat deer hearts, and it makes a great venison hash. Read on and I'll explain the details.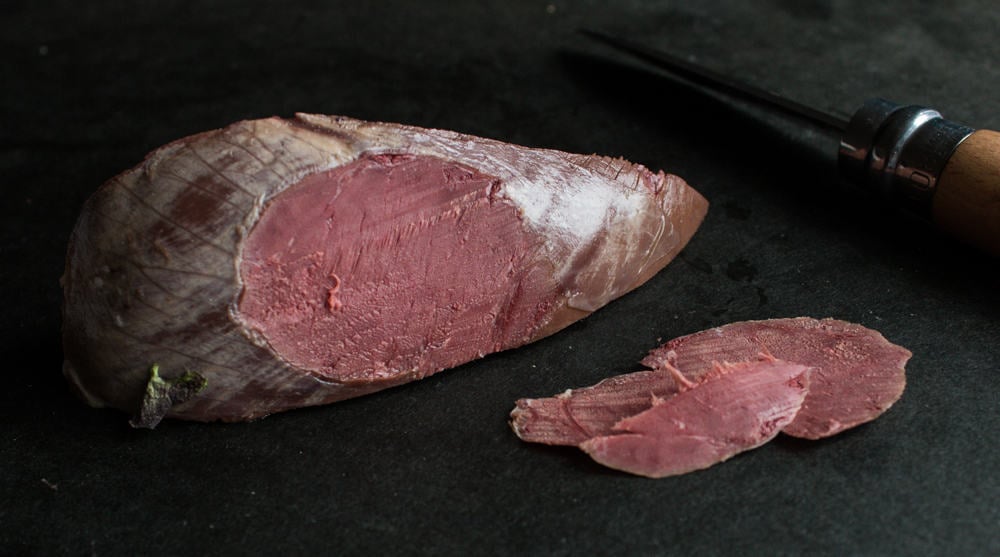 At Thanksgiving this year, I was wandering around my girlfriend's family farm in Wisconsin. I went outside to check on someone when I spotted something sitting on the grill outside (it's cold enough at thanksgiving to refrigerate things outdoors, as most people who've brined a turkey in the Midwest know).
Sitting on the grill was large, fresh heart. Thanksgiving coincides with deer season and I knew exactly what I was looking at. My mouth started to water thinking about corned heart, one of my favorite ways to cook that special part of a big animal.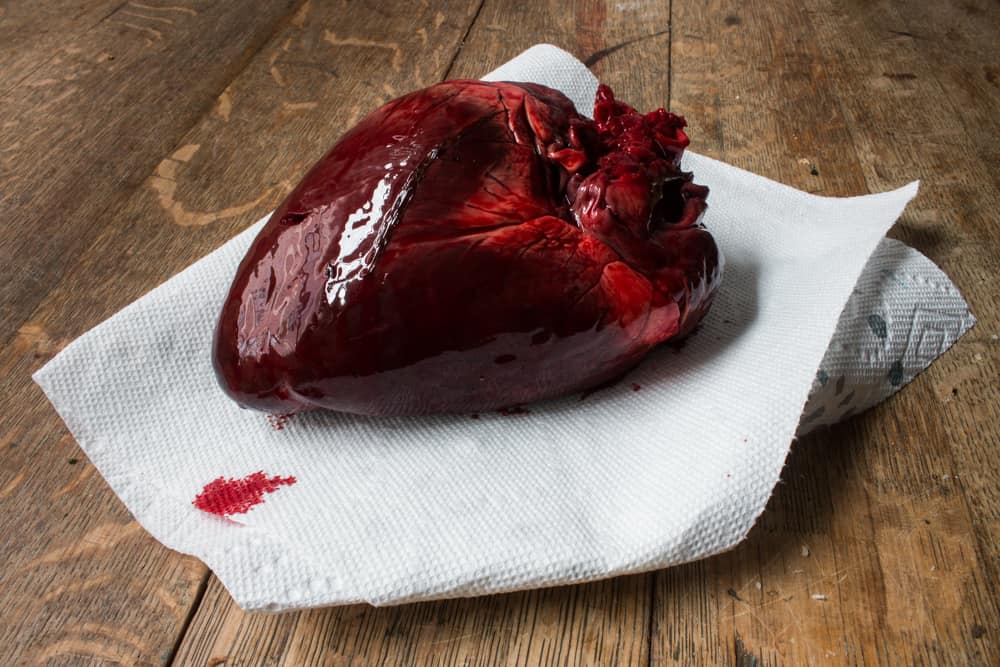 I asked around and found that someone had put the heart on the grill and forgotten about it outside, so I asked politely if I could bring it home to cook, which I was happy to do in exchange for some turkey carving.
You can corn any heart, not just deer
Corned heart and I started a number of years ago when the butcher at the restaurant I worked at that specialized in whole animals spoke with our meat purveyor and got a deal on beef hearts (not a hard thing to do).
I walked in one day to 60 lbs of beef heart in the fridge and started to frantically think of how we could ever use so much before it turned, and without re-freezing it raw. I don't think the butcher knew what he was ordering at all, he was a weird guy all around, I mean even for a 300 seat restaurant we were, that's a lot of heart.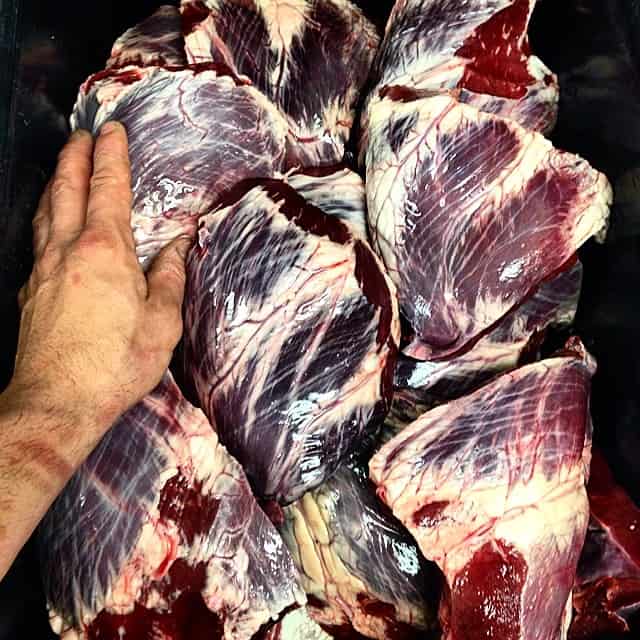 Out of the "bounty" of that delivery I decided try corning them, I thought I was pretty smart, but smart hunters and inventive butchers have been doing it for a long time. The beauty of corning is that the meat needs to sit and cure in a brine, which also prevents it from spoiling. The high amount of salt in the brine preserves the meat and puts it in a sort of stasis, while transforming the texture and flavor.
After the meat is "cooked" by the brine, you simmer it slowly until tender. What you're left with is a meat that's been heavily cured and can even withstand a lengthy stay in the freezer just like ham.
In the case of heart and other organs you might corn (tongue, testicles) brining does the double duty of purging a bit of the gamey flavor people associate with organs and smoothing out flavors a bit, just like you might soak livers, sweetbreads, kidneys or brains in milk or salt water before cooking.
How to Enjoy
What you end up with is a great substitute for corned beef, I've made all sorts of stuff with it: shaved thin it makes mind altering rueben and of course a wicked corned heart hash.
It's also great just shaved thin and eaten with cheese, crackers and butter, but if you're in a restaurant, I recommend the meat be shaved daily on a rotary slicer and kept wrapped tightly in plastic between sheets of parchment because the high amount of iron and lack of fat means the meat will quickly dry and oxidize while it's waiting to go on a charcuterie board or wherever it's home will be.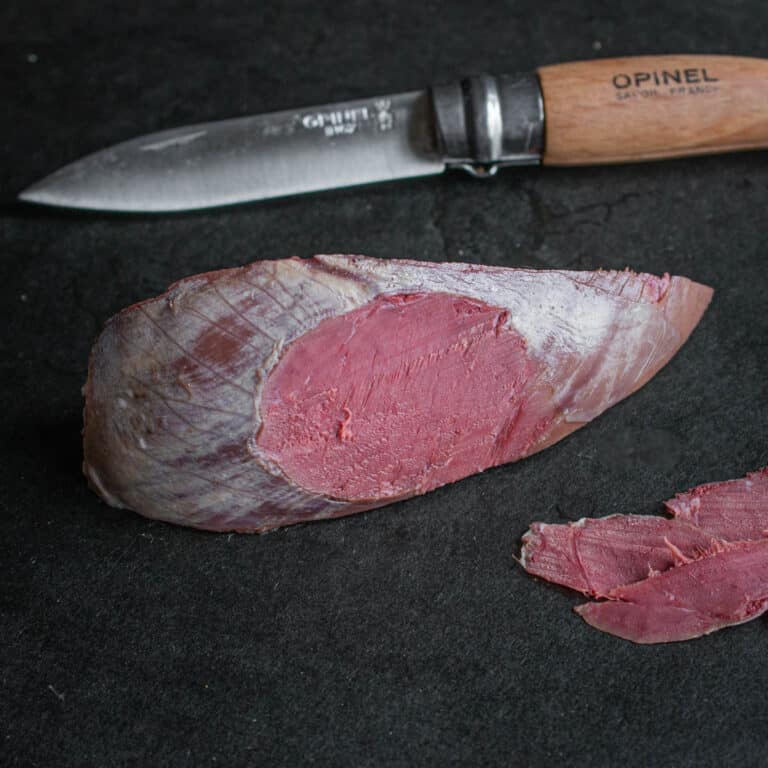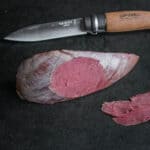 Print Recipe
Corned Venison Heart
Yield ½ gallon of brine, enough for 2-3 hearts. Put it in hash. Put in in a reuben. Slice it thin and warm it up with stock and butter, then put it on whatever you want. 
Ingredients
Brine ingredients

½

gal

(roughly 1900 g) water

½

cup +2 Tablespoons

(170g) kosher salt

¼

cup

(57 g) sugar

½

ounce

(14 g) or roughly 2.5 teaspoons pink curing salt

sodium nitrite

4

Tablespoons

pickling spice

3-4

fresh or frozen venison hearts

For the final cooking

1

each

roughly chopped: medium sized carrot, 2 celery stalks, one small yellow onion

2

tablespoons

chopped fresh garlic

2

tablespoons

chopped fresh ginger
Instructions
Toast the spices over low-medium heat until aromatic then wrap in cheesecloth for easy removal (optional). Bring the spice bouquet and the brine ingredients to a simmer, then chill until cooled completely to room temperature.

Add the halved venison heart(s) to the brine and store in a container so that the heart is completely submerged, using weights like plates to hold it underneath the brine if needed to ensure proper infusion. Refrigerate the hearts in brine. Allow the heart to cure in the brine for at least 5 days, making sure to turn the pieces of heart around here and ther to promote penetration.

To cook, remove the hearts from the brine, discard the brine. Combine the carrot, onion, celery, garlic and ginger and the heart and cover with water.

Bring the mixture to a simmer, then turn the heat down low and cook gently for 1.5 hours, or until the heart is tender.

Afterwords, cool the heart in it's cooking liquid, then transfer to a labeled, dated container and reserve until needed. If you don't want or have space to store the heart in it's liquid, wrap it tightly in plastic wrap, then place in a larger, seal-able bag or vacuum pack. I like to use within a week, but it also freezes really well due to the curing process, just like conventional ham.
Notes
You can scale this for cooking larger or smaller amounts of hearts, and you can also throw the venison tongues in with them too, they're also great like this.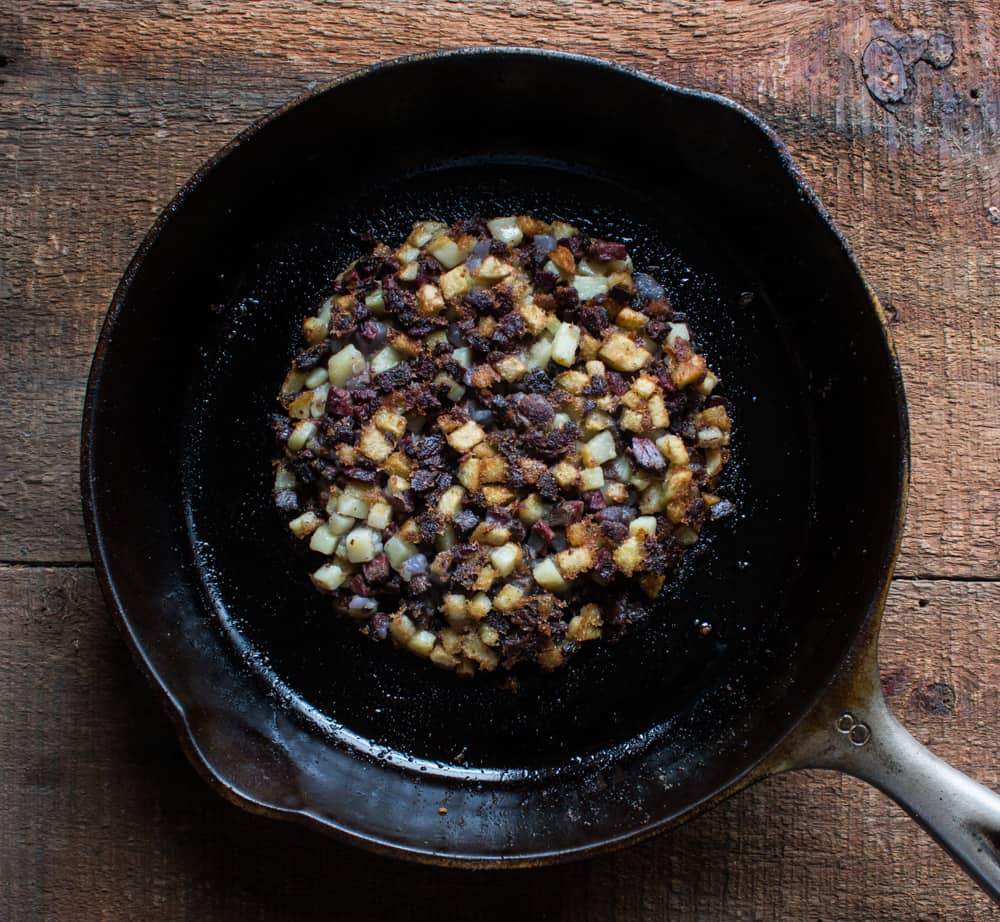 Corned Venison Heart-Heirloom Potato Hash

A simple hash made from corned venison heart and potatoes. Serves 2 as a side dish, double the portions for a breakfast entree.

Ingredients

1

lb

mixed heirloom potatoes

1

cup

corned venison heart

diced ¼ inch

3

tablespoons

oil or lard

Kosher salt and fresh ground black pepper

to taste

Instructions

Preheat an oven to 350, then roast the potatoes until just tender. Cool the potatoes, then peel and dice ¼ inch, you should end up with about 2 cups.

In a bowl, toss the potatoes with the diced venison heart thoroughly, you don't want to make mashed potatoes, but don't be afraid to smush it a bit to cover everything with a decent layer of starch, which helps make the crusty part everyone loves about hash.

Heat the oil or lard in a cast iron skillet or other non-stick pan until lightly smoking. Add the potato-heart mixture, season lightly with salt and pepper, then press the mixture down and cook on medium-low heat until a golden brown crust forms on the bottom and the mixture moves as one, about 5 minutes.

Carefully flip the mixture if you're adept at flipping things in pans, or alternately use the safe and less exciting way of inverting the hash onto a plate, then sliding back into the pan to cook the other side and form a crust. When a nice crust has formed on the other side, the hash is ready, carefully transfer to a plate(s) and serve immediately.