Michael The Archangel. Masterwort. The Holy Ghost. Angelica. It has a number of names, is usually about 8 ft tall, purple, looks like it came out of a Doctor Suess book. It took me the better part of six years to find this plant. In this post I'll share what I've learned about it, and how you can cook with angelica yourself.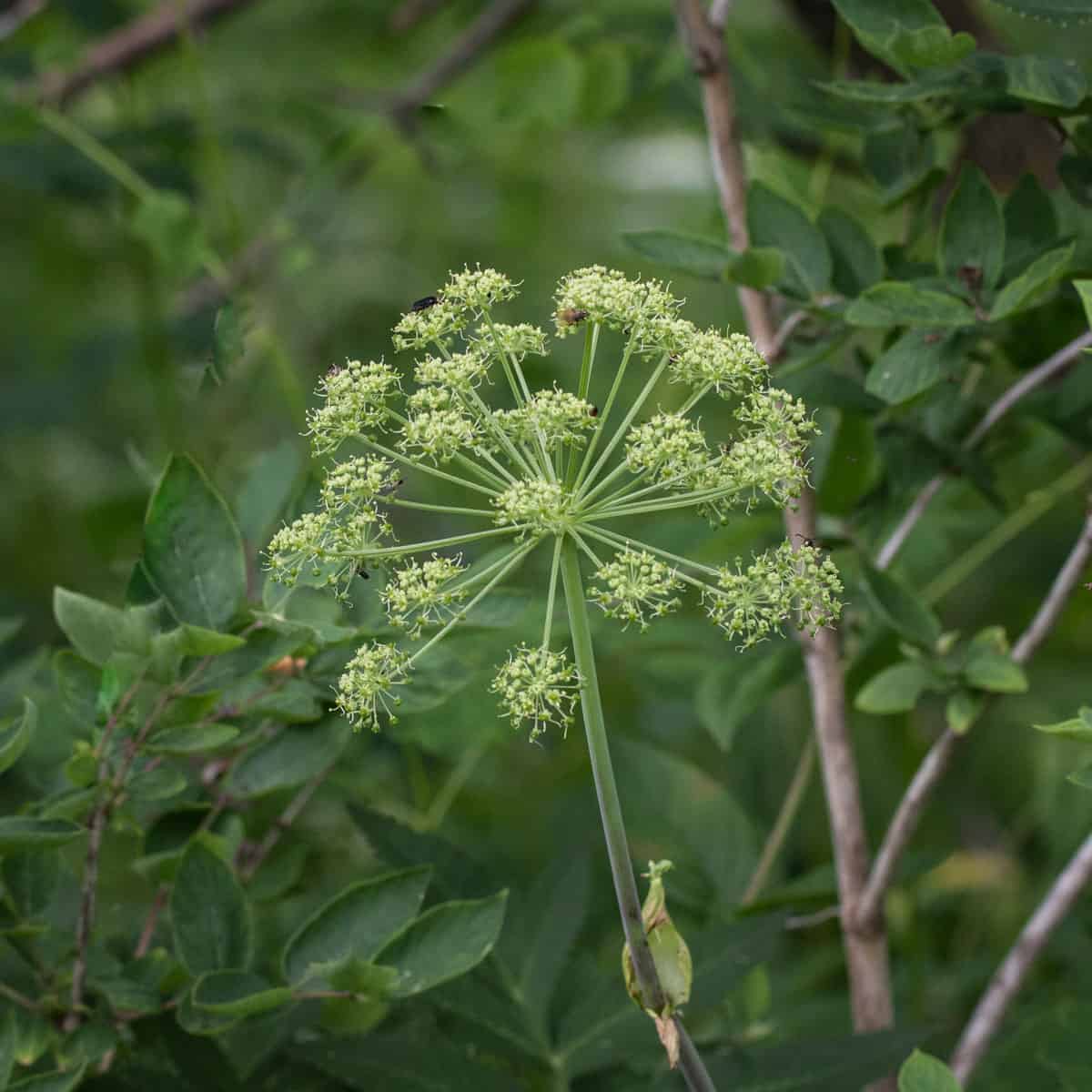 There's lots of different plants in the family of angelica (over 60), but for my purposes here, I'm speaking about common wild angelica, which in Wisconsin and Minnesota where I hunt should be Angelica atropurpurea.
When I finally realized that I 'd found it along an old road in rural Wisconsin, I got so excited. I cut off one of the branches with a pocket knife and put it up to my nose. I will never forget the floral smell, like a sickeningly sweet Victorian perfume, with a heart note of, carrot? It's one of the most unique herbs I've ever experienced.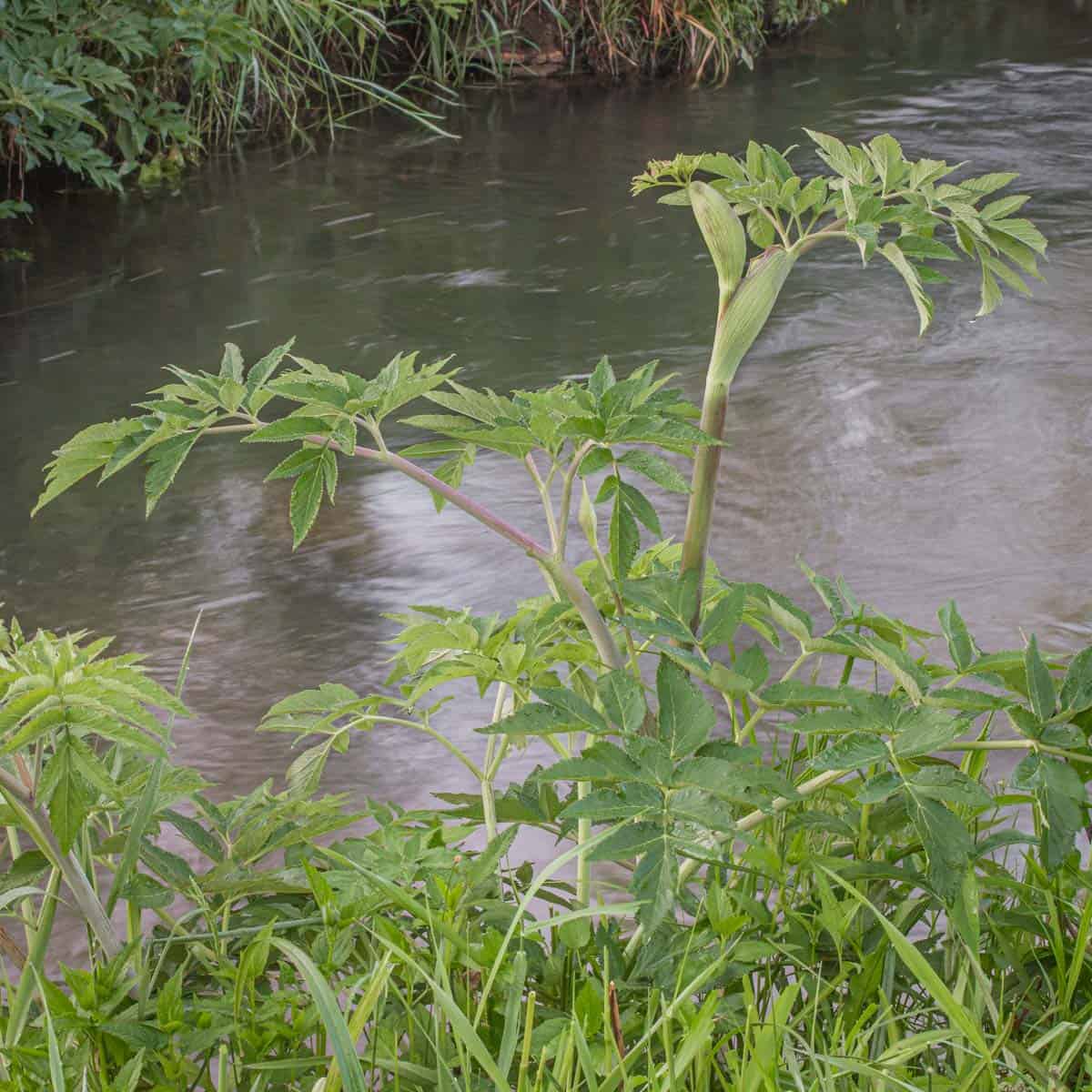 In literature, it's described as an herb, but it's really more. Angelica has both a part that could be considered a vegetable (the large stem), and parts that resemble and can be used herbs (root, seeds, leaves).
I read about it first in old European dessert recipes where the stem is used as a garnish for cakes and sweets. Eventually I noticed people talking about it in wild food guides, although it's mentioned sparsely.
There aren't many sellers of candied Angelica stem, and it's expensive (about 24-30$/lb). I had just about given up finding it until this year, and I doubt if large concentrations of it exist in Southern Minnesota (I have heard reports of it from friends of mine up north on the Iron Range though).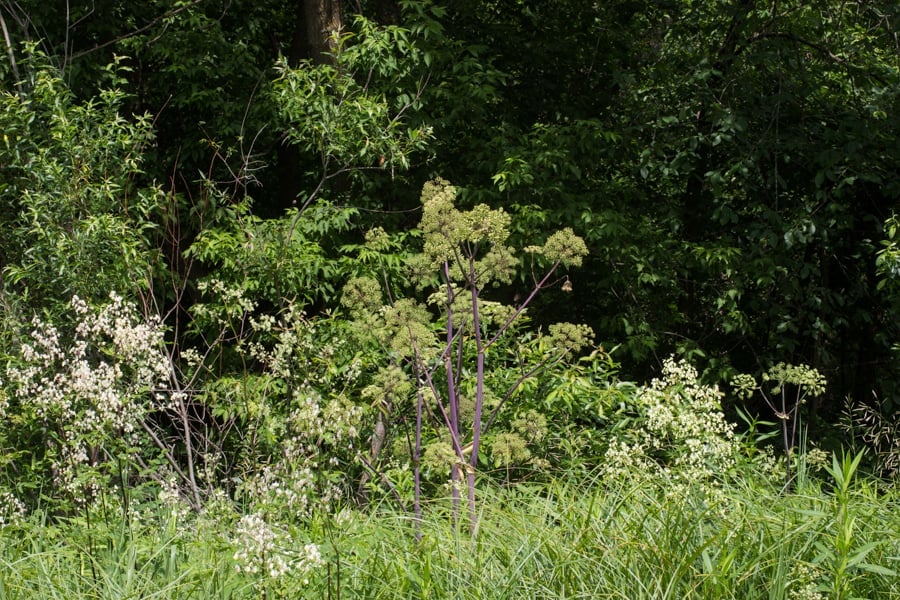 In an effort to keep a bunch of info succinct, here's what I've learned divided into some useful categories.
Does Angelica Look Like Hemlock?
Only in passing. The leaves are larger and sweet smelling. What it does resemble closely in size and shape is cow parsnip, but the scent is much different. Angelica can also give you a phototoxin rash from handling it if the sap gets on your skin.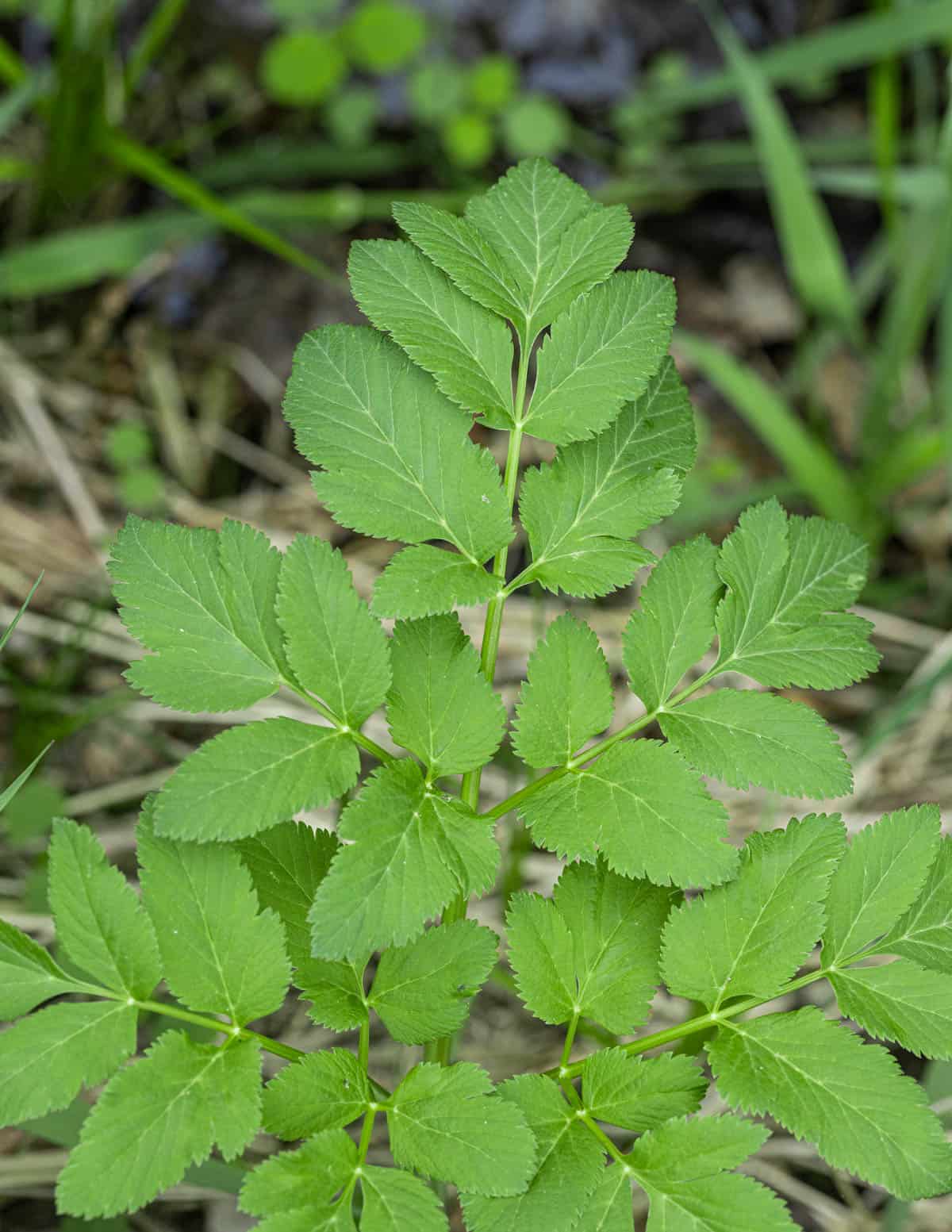 When to Harvest
Angelica is not exactly a perennial, and not exactly a biennial-It's special. It grows very slowly, and probably won't go to seed until it's 3rd year of growth. The stalks can be harvested for maximum yield during their 2nd year, but can also be picked early during the 3rd year of growth before the plant goes to seed.
After it goes to seed, the stem is too tough to be cooked, but could be used to make a syrup by cooking it in 50-50 sugar and water. April/May through June is a good window to pick it in the Midwest for it's delicious stem.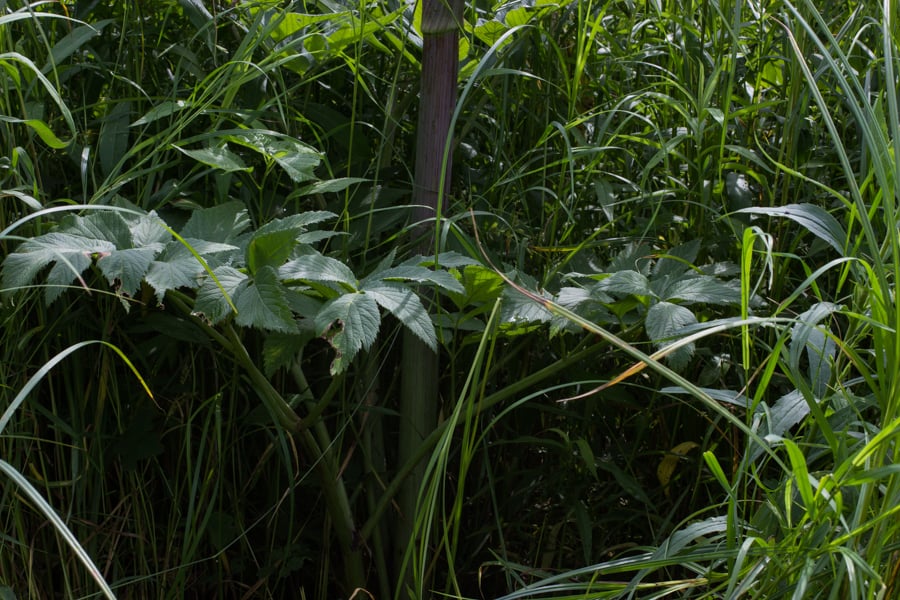 You'll want to find damp areas around lakes, swamps, and ponds for this. An easy way to look for it is to look for them on the side of the road in the ditch, which can point you in the direction of larger colonies nearby.
Usable Parts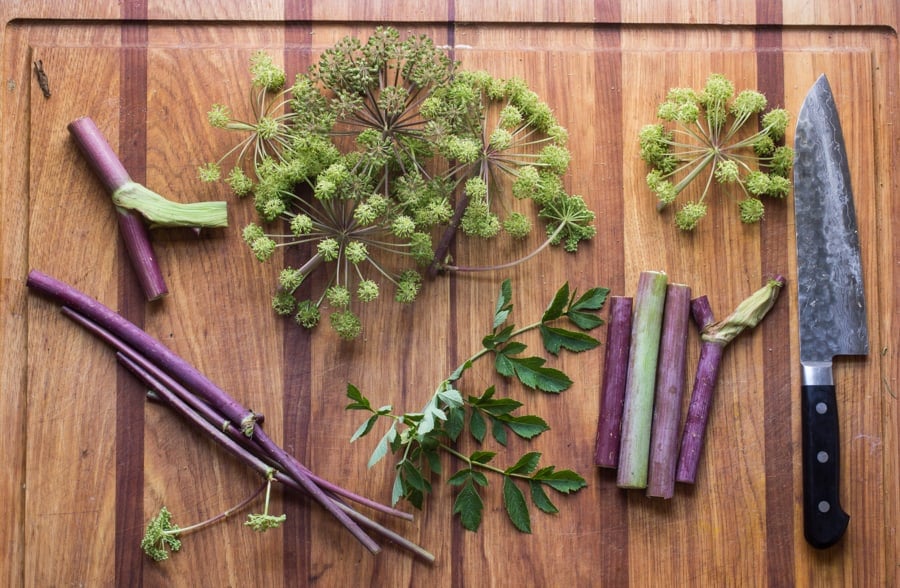 Stem
The strongest flavored part of the plant. Only tender stems should be used. They can be boiled in water with a pinch of baking soda to make it tender, then peeled of their outer skins, cut into pieces and candied and used in cookies and cakes, or for decorating, or used with savory dishes, especially poultry and fowl.
The stem can also be cooked in liquid and used as an aromatic vegetable. It's especially good with meat where sweet things and sauces are welcome, so pork, lamb, and especially wild fowl will love it.
Blossoms
Besides the stem, angelica blossoms are the best part of the plant to eat. They can be eaten as a vegetable, or a dessert. They're traditionally harvested in the Salentine peninsula of Italy.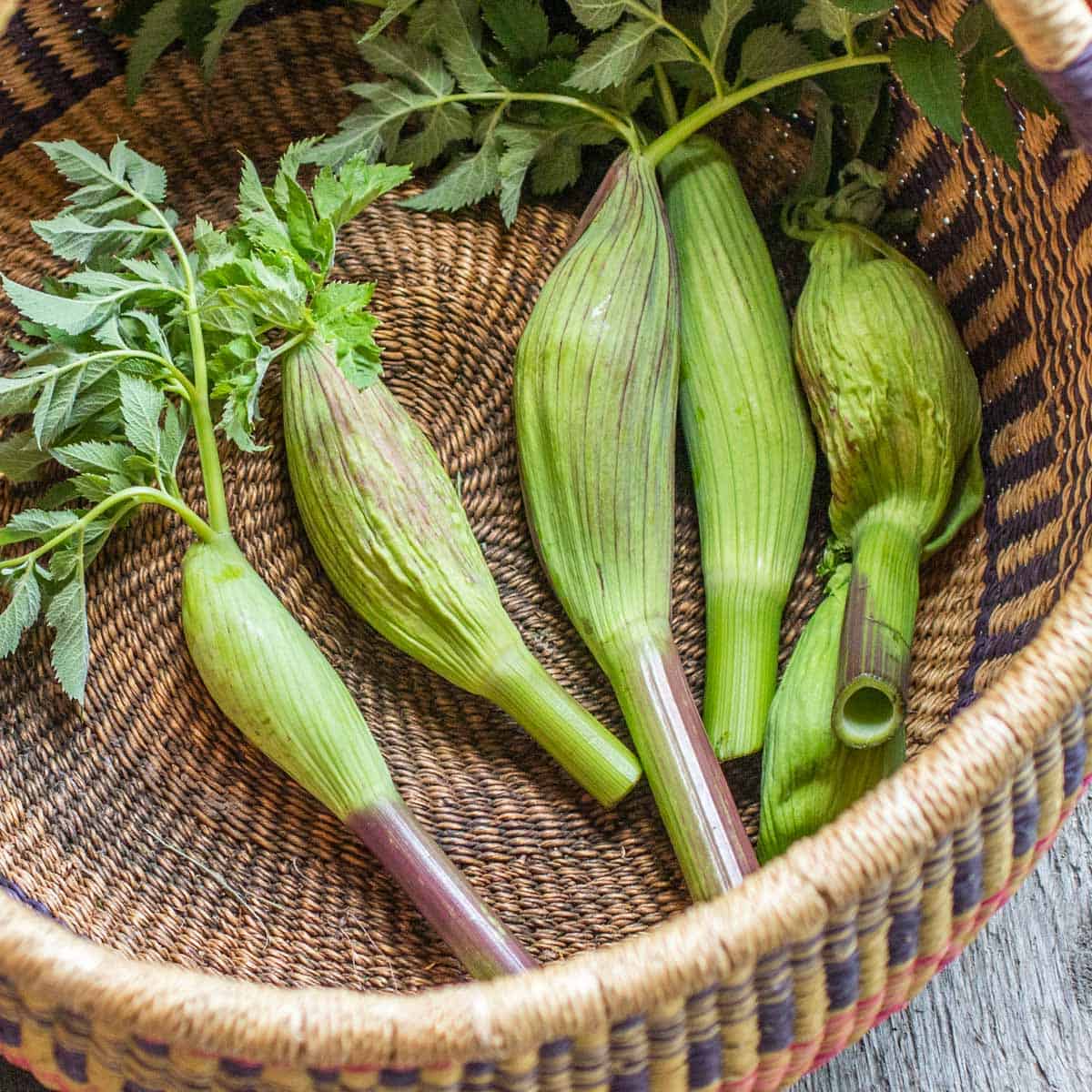 Seeds
The last gift angelica will give you. Pick the seeds from the flower heads, remove any small pieces of stem, then dry in a dehydrator and store in an air-tight container. After drying they will keep for years. Use like fennel or anise seed.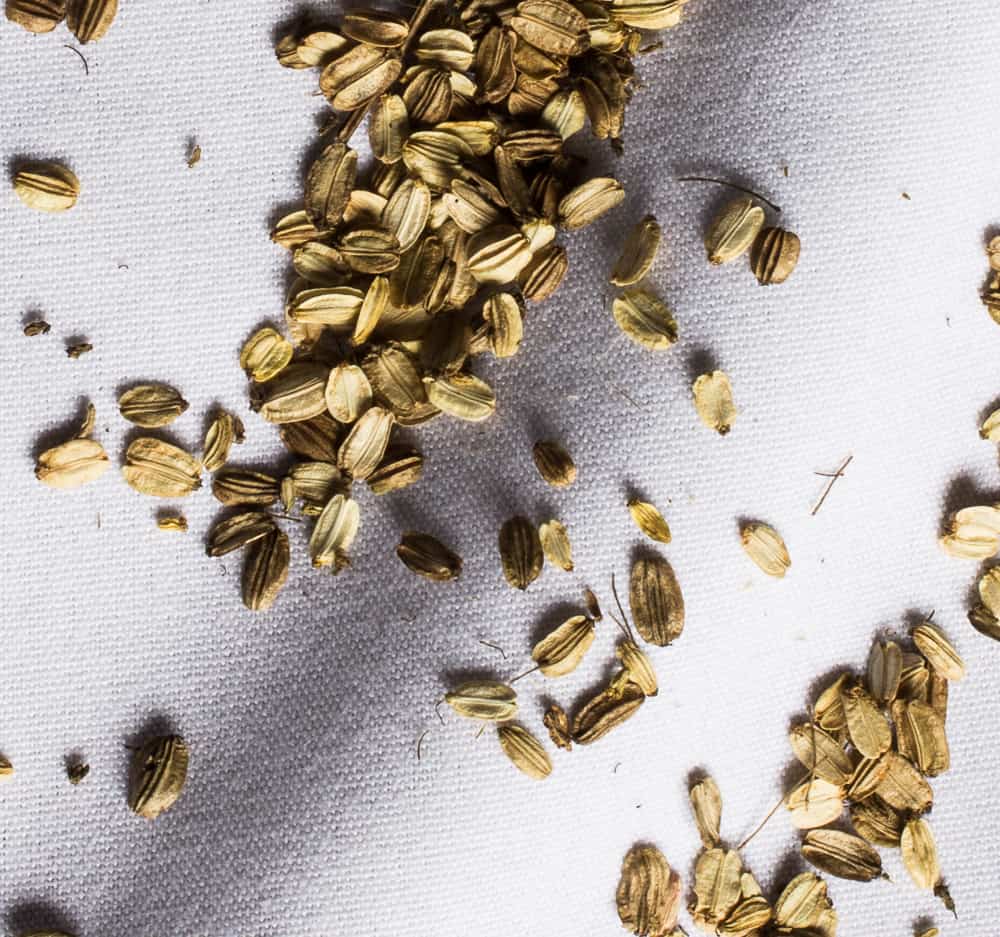 One of my favorite uses so far has been dusting fish with ground angelica seed and then sauteing. I've also cured fish with a mix of the seed ground in sugar and salt per gravlax, then crusted it with ground toasted seeds afterwords, wrapped tightly with plastic to make the crust adhere.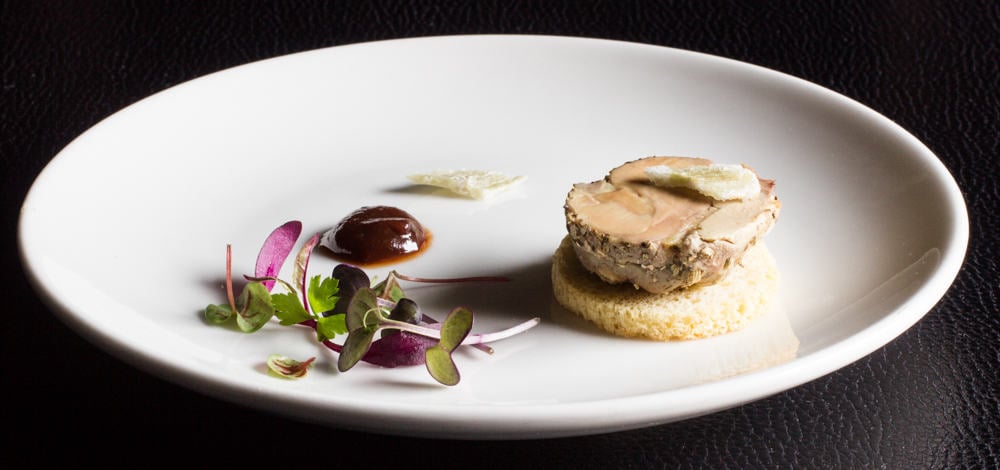 Leaves
These can be picked whenever y0u see them, but smaller, more tender leaves are better for eating. They're slightly bitter, but still retain the floral-carrot-y flavor of angelica, so they are great chopped up in salads, used as an herb for cooking fish, or blanched in water with a pinch of baking soda, shocked in ice water, then dipped in sugar syrup, and rolled in sugar and dried to use as a pretty and aromatic garnish to desserts or drinks.
Root
The root is used to infuse many different herbal liquors that are popular in Europe, herbsaint, nocino, gin, absinthe, etc. Remember if you dig up the root, the plant will not grow back. The root is hard and dense like a rock, but can be grated with a box grater, then used to infuse alcohol, or made into syrup. Working with the stem is a lot of work, I had a hard time using a hatchet to break it up.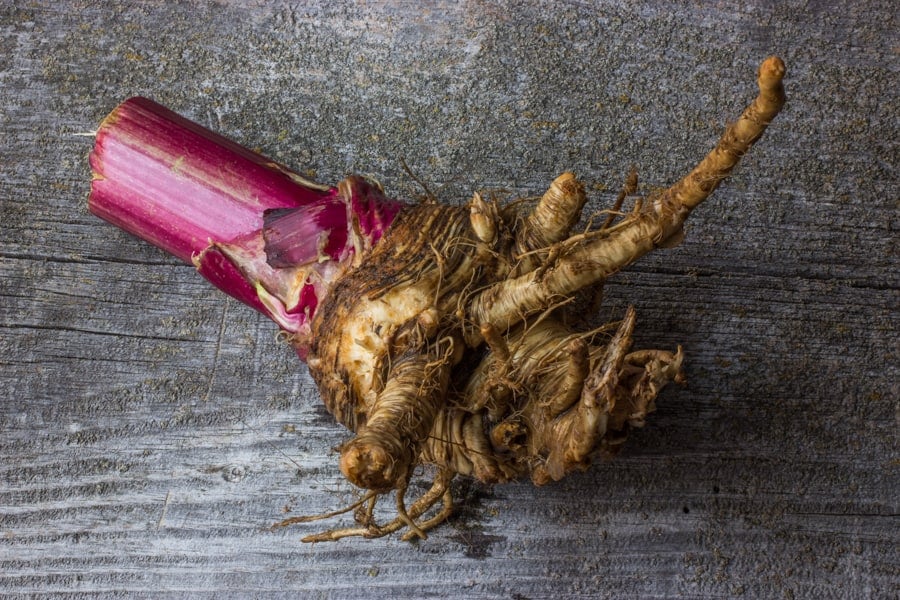 Notes on Cooking
Angelica is a strong, but delicate flavor. The more things you combine it with, the less you'll taste it.
For culinary purposes, angelica stem (which has the strongest flavor) is not dairy soluble, but it is alcohol and water soluble. This means if you want to flavor cream based sauces or flavorings with it, (which tastes ok) you will have to make a sugar syrup with it first, then add cream. If you cook angelica stem in dairy alone, you will not be able to taste it at all.
When trying to think of how to pair the flavor of angelica with things, imagine how a carrot tastes, since they're in the same family. Things like orange, ginger, and soft herbs like tarragon, chervil, mint, and dill are good flavors to pair with it.
For desserts, angelica would love to be alongside ripe berries and fruit.
It would not like to be with dark or milk chocolate.
If you like to infuse your own liquors, you'll want to try throwing some chopped angelica stems, seeds, or grated root into an infusion-it's fantastic.