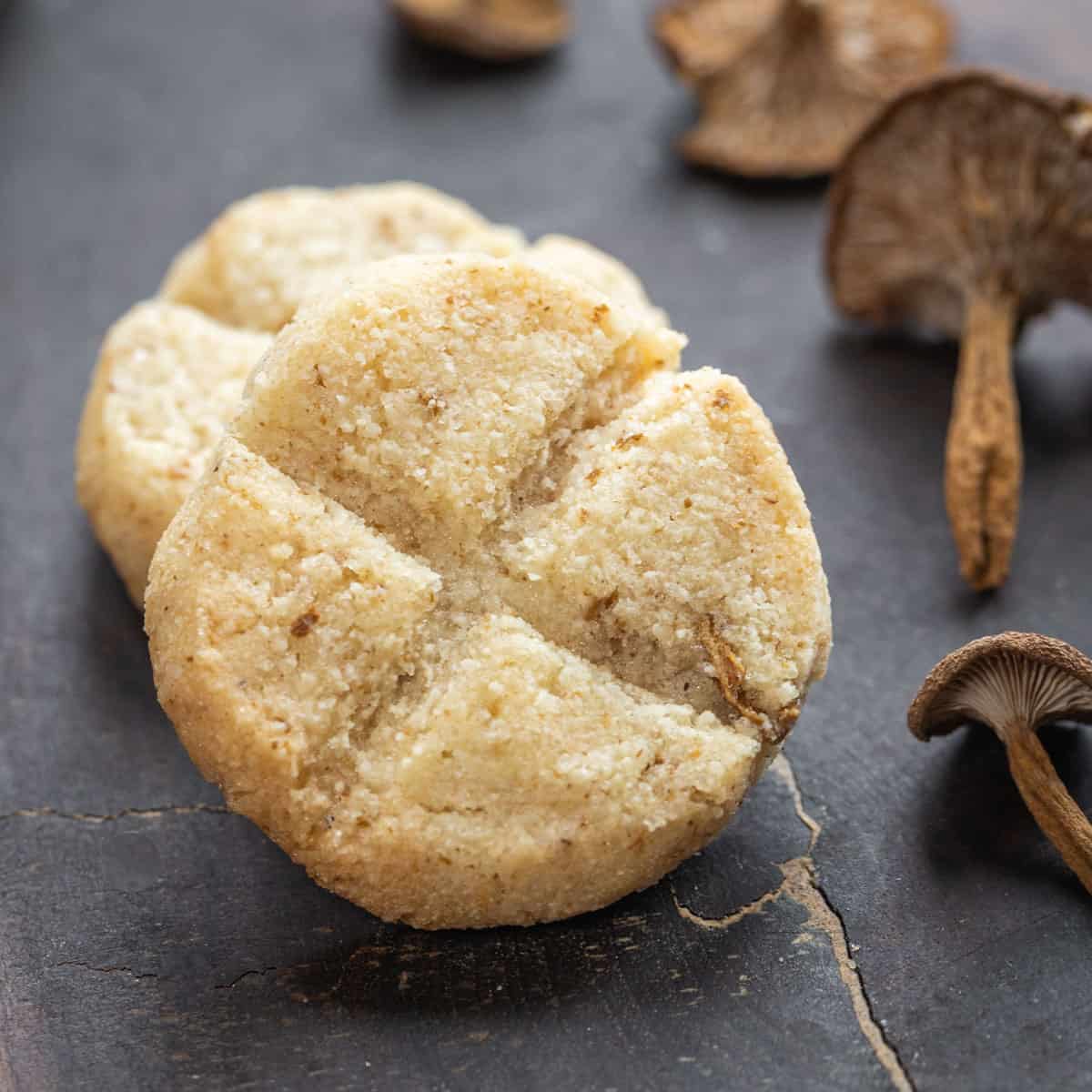 Simple butter cookies are a tried and true candy cap recipe, and David Arora even shares a recipe for them in his excellent book All That the Rain Promises and More (get yourself a copy if you don't have one, it's a good, portable reference for when you can't bring the larger book along).
These are not the candy cap butter cookies most people will make though.
These are a hybrid of mine that are more along the lines of small tea cookies or amaretti. Don't be fooled though: they're just as addictive. Unlike regular butter cookies though, they contain no flour, no leaveners (except a small amount of egg) require no stand mixer, and come together in just a few minutes.
They won't be giant, fluffy cookies like most people are used to, but the bonus is that cutting out some of the other ingredients means that they also have a superior shelf life, and will keep for weeks, although they never last that long when I make them. They're very durable.
Adapting the basic recipe
Switch up the nut flour
This is probably the easiest candy cap cookie recipe out there, and you can vary it all kinds of different ways. The basic recipe uses blanched almond flour to keep them white and resemble the classic sugar cookie most candy cap afficionados will be familiar with, but you can use any nut or seed meal here, or another alternative flour along the same lines, such as coconut. Another one of my other favorites to use for this is hazelnut meal. The finer the nut flour, the more the cookies seem to puff from the egg. Nut meals that include pieces of the brown covering on the nut seem to puff a bit less, for what it's worth.
Get creative with shapes
You're making teaspoon-sized cookies here, so it's easy to switch up the shape for different results. One of my favorite variations is to make them into small squares, pressing with my thumbs and middle fingers on the sides. The squares are nice since they should keep more of a chewy center. You can also make simple round cookies by rolling generous teaspoons into balls. The choice is yours.
Allowing the dough to hydrate and rest
A pastry chef's secret. I'll admit that it doesn't make as much of a difference as typical flour-based cookies, but it does help. With candy caps, a little extra resting time will help the dough be more manageable and less sticky, and also gives the candy caps a headstart to let their aroma permeate the dough, giving you the most maple-y of maple tasting cookies.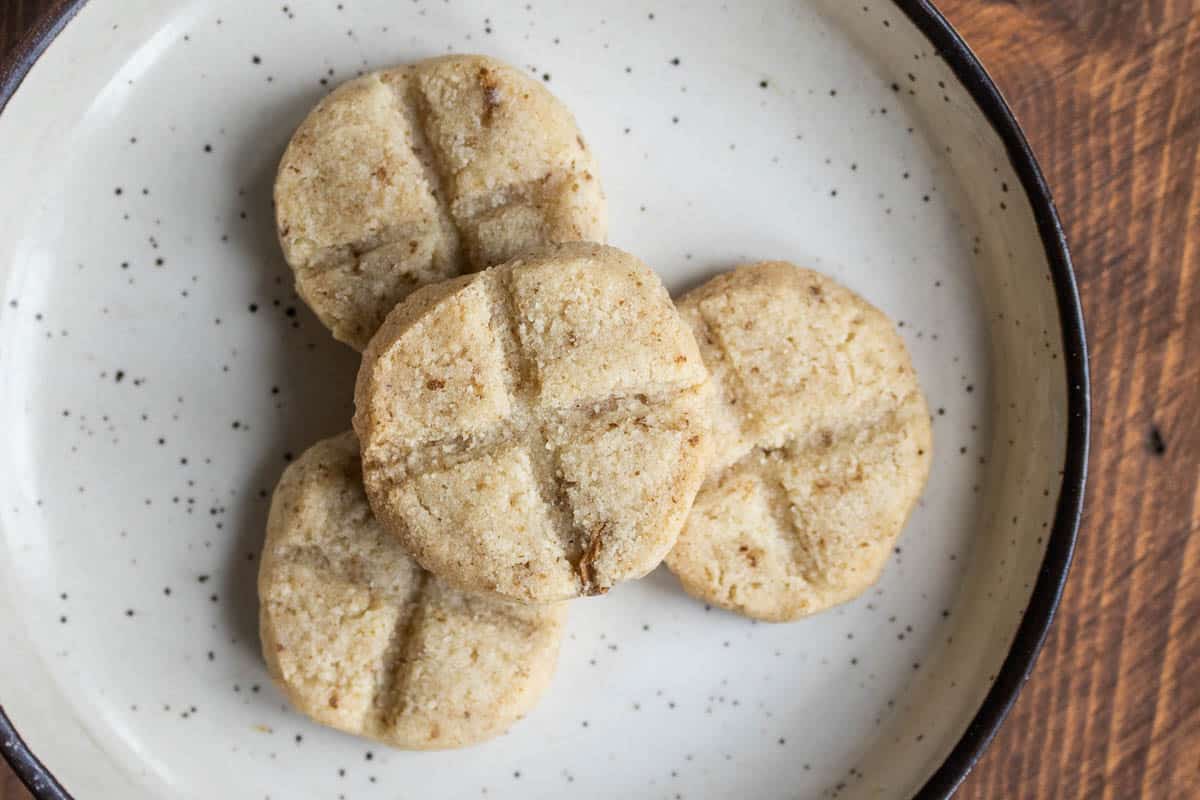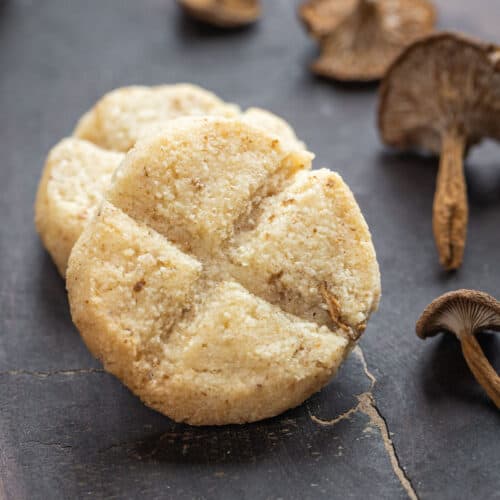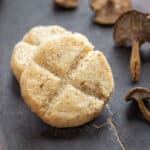 Print Recipe
Almond Candy Cap Mushroom Cookies (Amaretti)
Addictive, chewy candy cap cookies made with almond flour or another nut flour of your choice. Yield: ~ 25 cookies with generous teaspoons
Ingredients
1

large egg whites

½

cup

organic sugar

80g

1

cup

blanched almond meal

100g

Pinch

of finely ground salt

4

teaspoons

ground candy cap mushrooms
Instructions
If possible, grind up the sugar in a highspeed blender or spice grinder if using a type that comes in larger flakes/chunks, like most organic kinds do.

Mix sugar with the salt and candy caps, then add the almond meal and egg, then stir for a minute or two until a soft dough forms.

Roll the dough into 1 inch log and chill overnight, or for at least 30 minutes.

To bake the cookies, preheat the oven to 325. Slice the cookies into roughly ¼ inch rounds, lay onto a baking sheet lined with a silicone mat or other non-stick surface, like cast iron.

Press each cookie with the back of a butter knife or off-set spatula to form a cross, then bake for 20 minutes, or until just lightly browned *.

Remove the cookies from the oven to cool. You want the cookies to be slightly underdone and chewy. Finished cookies will keep for a week, and can be stored in the fridge or at room temperature. They're very durable.
Notes
*When in doubt, remove the cookies a bit early, or leave them in the oven with the door cracked open—for eating as-is, they're good if they're a bit underdone and soft on the inside.
If you want to bake with the cookies as an ingredient as is done in Italy, cook them until cracker dry (25-30 minutes) for grating over squash ravioli, adding to custards before baking, or another purpose.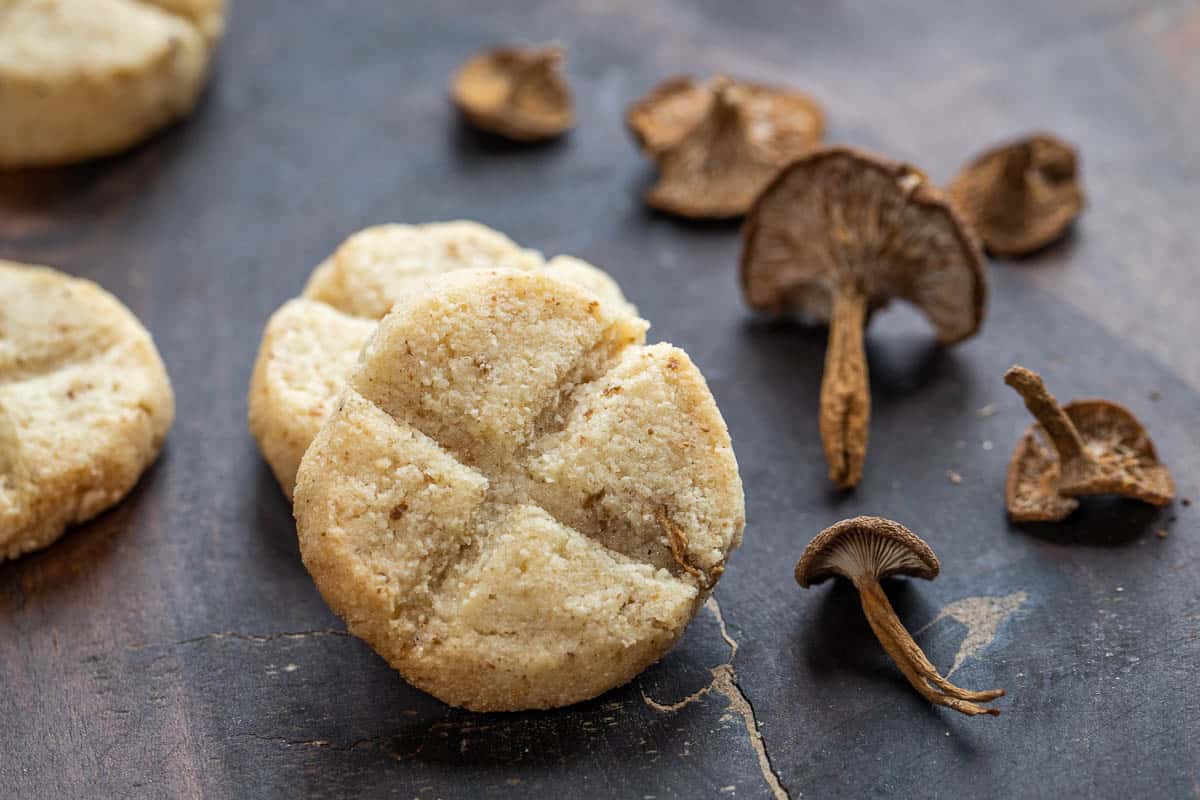 More