Flan infused with candy cap mushrooms has been on my list to make for years now. I finally got to it, and, yes, it's a great candy cap recipe.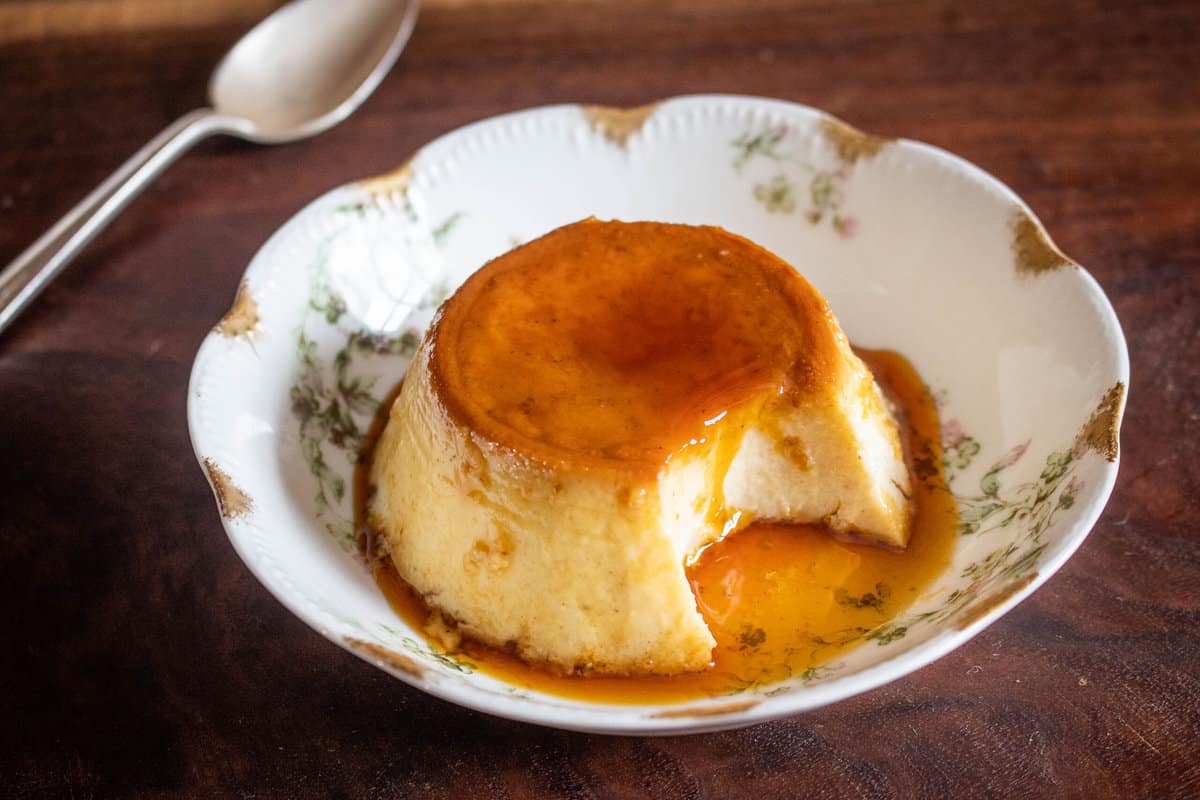 Flan vs Creme Caramel
Real quick, for culinary nerds, flan and creme caramel are essentially the same thing (it was originally French) but the French wouldn't use sweetened condensed milk (widely used for many things, including milk jam/dulce de leche in South America) and they use less eggs for a softer set.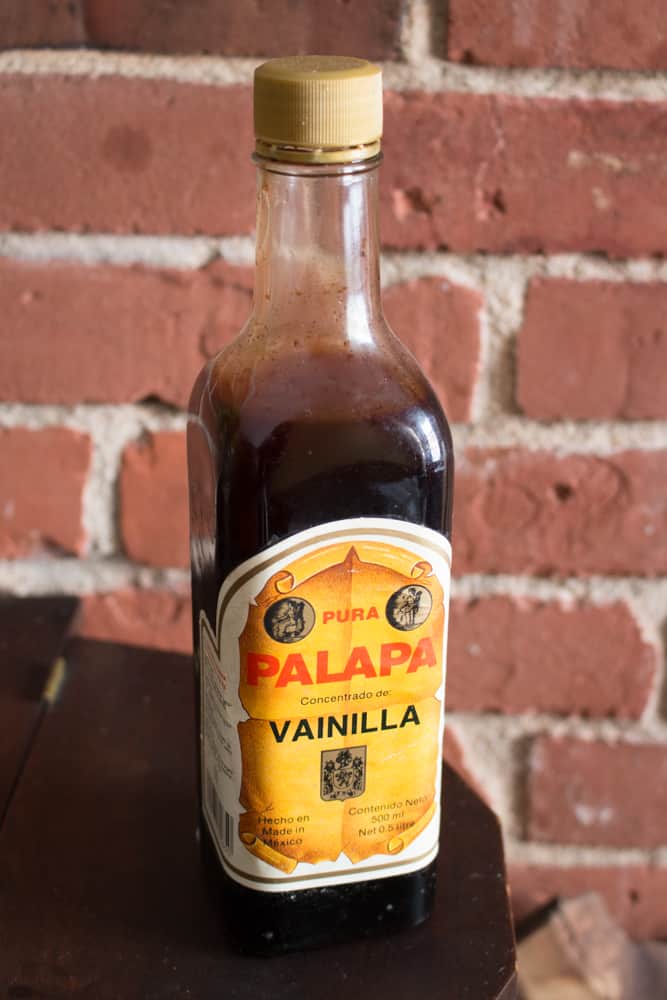 Sweetened condensed milk, and Mexican vanilla
Growing up with a mother who was a fluent Spanish teacher means that South American desserts like this (and sopapillas) are close to my heart, so, instead of totally re-working the classic dish, I just took a little liberty with my favorite recipe from Chef Rick Bayless's classic book on Mexican Cooking.
In a nutshell, that means I make sure to use sweetened condensed milk, and I don't hold back on the eggs and yolks. I also add a tiny pinch of Mexican cinnamon, and I use Mexican vanilla extract (it tastes more of sweet woodruff that true vanilla, and that's ok here). Other than that, it's straight up flan.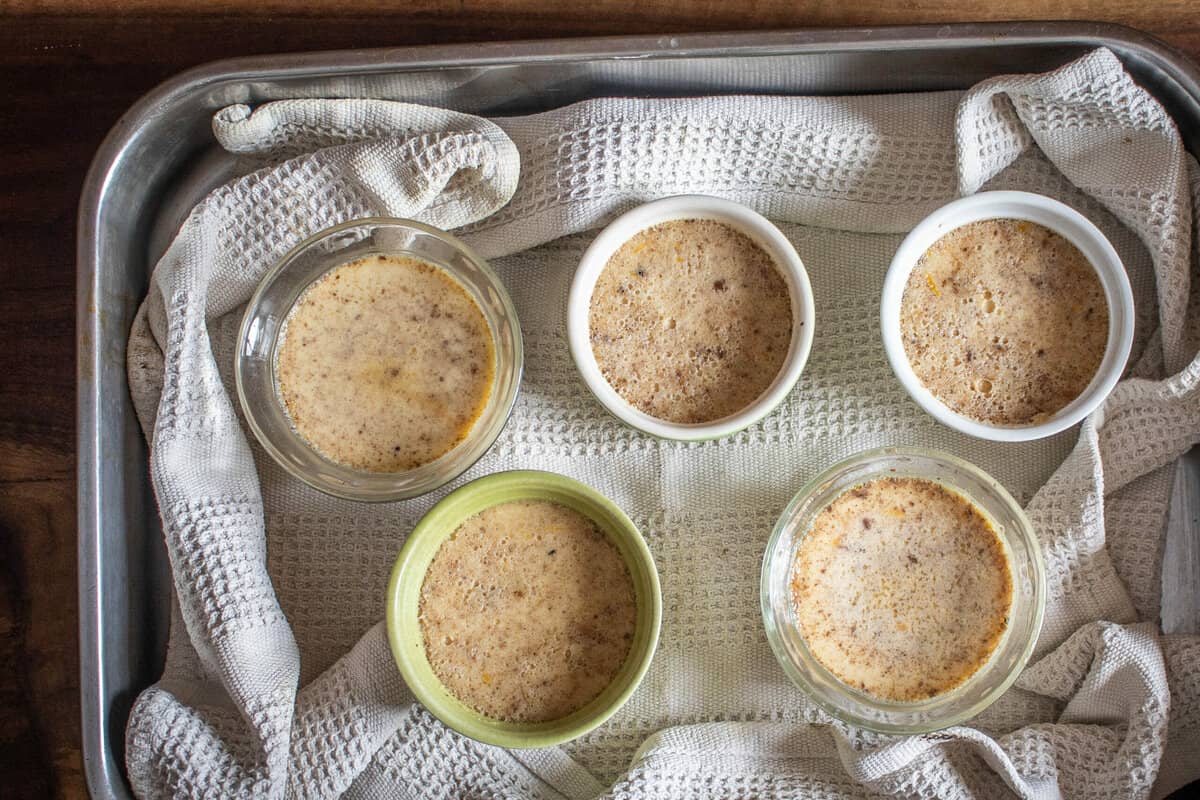 Baking flan in a cake pan
Variations abound, but to me, flan is different from other custards like panna cotta (technically egg-free) or pot du creme in a couple ways. First, flan is traditionally more dense, containing a lot more egg protein than pot du creme, which is light and smooth.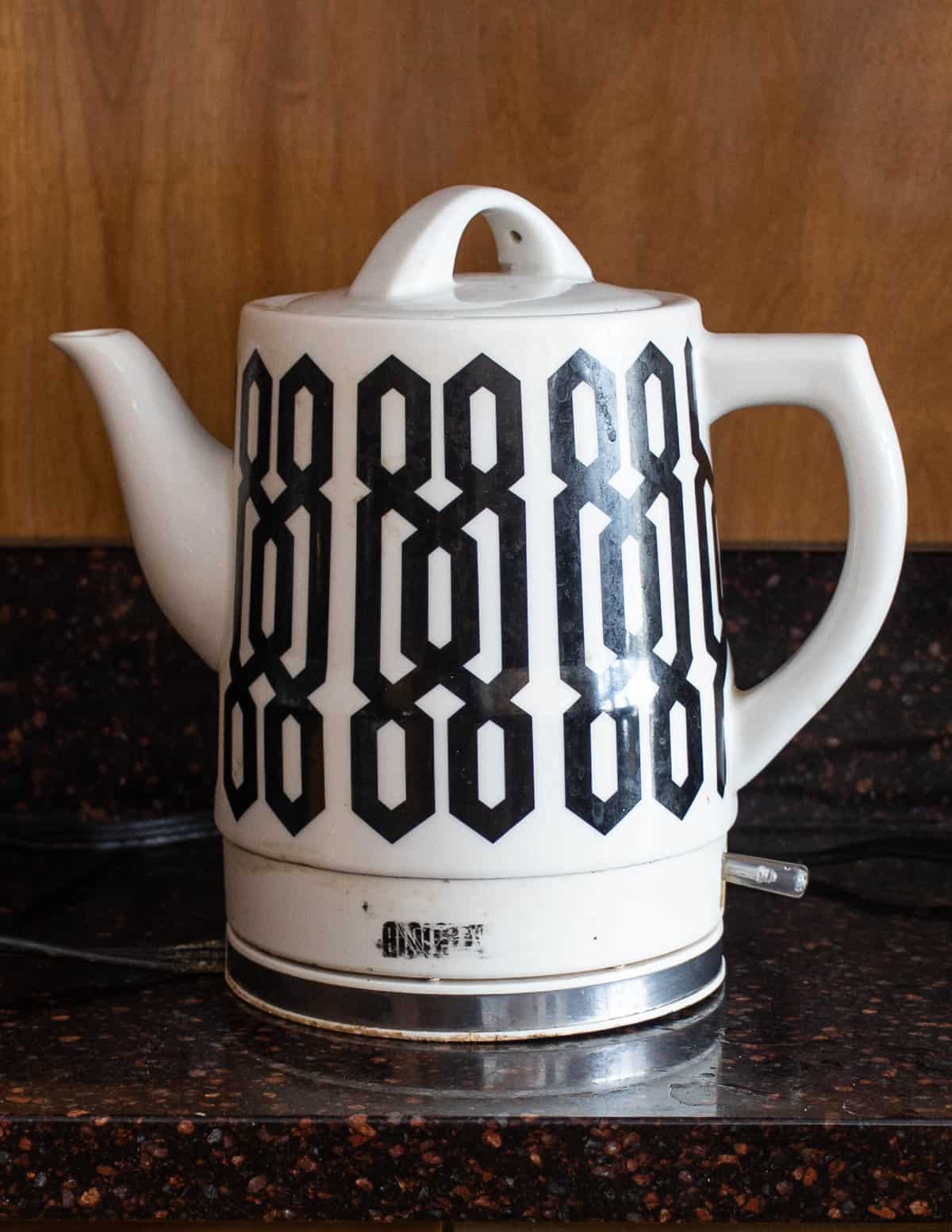 The dense texture translates to a very firm set, and that leads us to one of the fun variations you can do with this that you absolutely cannot do with panna cotta or pot du creme: baking it in a cake pan and turning it out to be cut in slices--a nice break if you don't have ramekins or if you want to present a large dessert on a platter, which can be fun.
Flan baked in it's entirety is also more easy to portion to serve a larger amount of people if you want to stretch things, or if you have a large menu queued up.
Aside from that, this is just straight-up candy cap mushroom deliciousness, and it's a great one to try if you have some around. If you don't pick your own candy caps (I don't as I live in the Midwest) these will work just fine.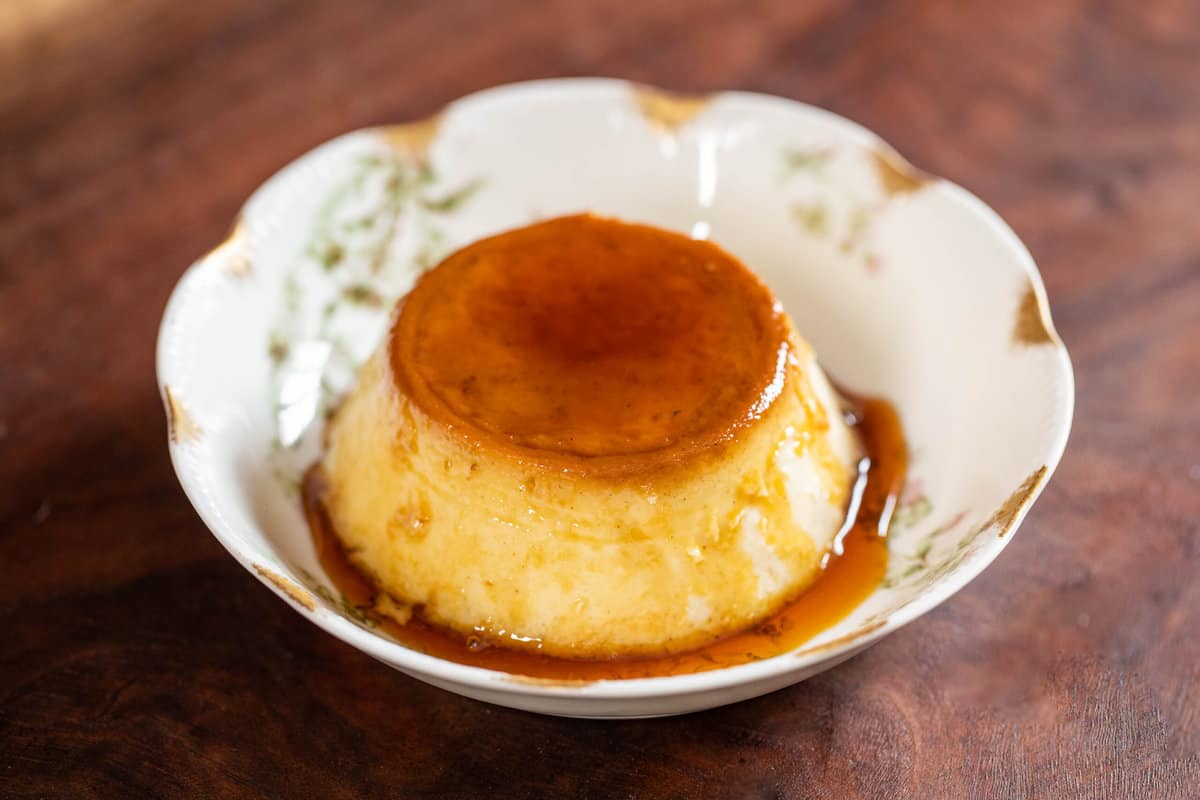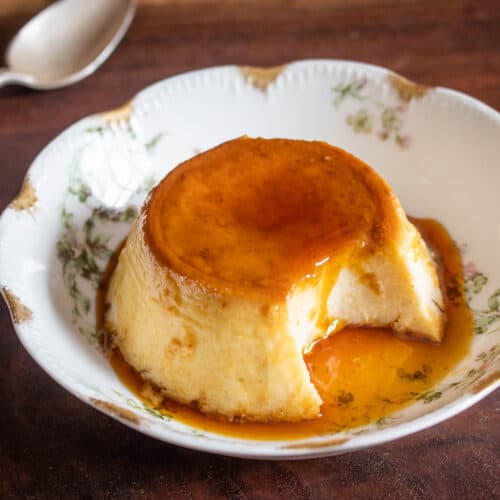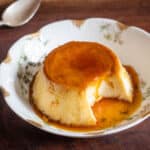 Print Recipe
Candy Cap Flan / Creme Caramel
Traditional flan or creme caramel infused with dried candy cap mushrooms is a great take on the classic. Makes 7 ramekins
Equipment
7 Custard dishes

1 8 inch saute pan

for the caramel
Ingredients
Custard
1.5

cups

half and half

1 14

oz

can sweetened condensed milk

3

large eggs plus 4 yolks at room temperature

2

tablespoons

granulated sugar

1

tablespoon

ground candy cap mushrooms

⅛

teaspoon

ground cinnamon

¼

teaspoon

salt

1.5

teaspoons

Mexican vanilla
Caramel
½

cup

sugar

½

tablespoon

water
Instructions
Infusing the custard base
In a small sauce pan, mix the sweetened condensed milk with the half and half or milk, ground candy caps, salt, sugar, vanilla, and cinnamon, heat until hot, but not boiling, whisking to disperse the ingredients. Remove the pan from the heat and allow to cool and infuse (ideally you'll let it infuse overnight, but you don't have to--30 minutes to an hour of infusing is ok in a pinch).

The next day heat the custard mixture back up gently (use a microwave, pan, or whatever) until warm, but not hot enough to cook the eggs, then puree in a blender with the eggs and yolks.
Coat the molds with caramel
Preheat the oven to 325. Lay out your ramekins or molds you'll bake the flans in. In a small sauce pan preferably stainless steel, heat the sugar and water on high, cooking until it melts and is a dark amber. I like to take my caramel pretty far, you may like it more blonde—your choice. There will be some smoke, which is normal, so turn on a fan or hood vent before you begin.

Carefully spoon or pour the molten hot caramel into the molds about 1 tablespoon each, swirling the mold to help the sugar syrup coat the bottom of the molds. Next, pour the flan mixture evenly into the molds. Line a deep baking dish with a towel, then put the flans on the towel in the dish, which will stop them from sliding around and spilling.
Baking in the water bath
Meanwhile, heat a couple quarts of water in a steam kettle or a pot, then transfer the very hot water to a pitcher or similar container for easy pouring.

Put the baking dish with the candy cap flans into the preheated oven, then pour in the hot water until it comes half-way up the sides. Bake for 45 minutes or until just barely set. The flans should jiggle like jello when the egg is set, and should not puff at all.
Cooling and serving
When the flans are set, carefully remove the baking pan from the oven and allow to cool. Remove the flans and wrap individually in cling film and refrigerate, or serve at room temperature. The flans will keep refrigerated for 4 days.

To serve the flans, run a butter knife or small off-set spatula around the edge of each flan, and invert onto a dessert plate, drizzling the excess caramel over the top.
Notes
You can use different milks here and it can be really good. Goat milk is great, but other's like almond and coconut milk are fun too. 
Nutrition
Serving:
1
custard
|
Calories:
358
kcal
|
Carbohydrates:
53
g
|
Protein:
9
g
|
Fat:
13
g
|
Saturated Fat:
8
g
|
Polyunsaturated Fat:
1
g
|
Monounsaturated Fat:
4
g
|
Trans Fat:
0.01
g
|
Cholesterol:
109
mg
|
Sodium:
219
mg
|
Potassium:
320
mg
|
Fiber:
0.02
g
|
Sugar:
53
g
|
Vitamin A:
448
IU
|
Vitamin C:
2
mg
|
Calcium:
239
mg
|
Iron:
0.5
mg