I'm a charcuterie freak: if it's cured, salted, smoked, aged, potentially strange and delicious, I'm on board. Nduja, a little known spreadable salami from Calabria that's been a chef secret for years now checks a lot of those boxes. Today, I'll run you through the process I used to make a venison nduja recipe.
I had my first taste of nduja at a dinner by Chef Wyatt Evans at his now closed restaurant Heirloom in St. Paul and it was love at first bite.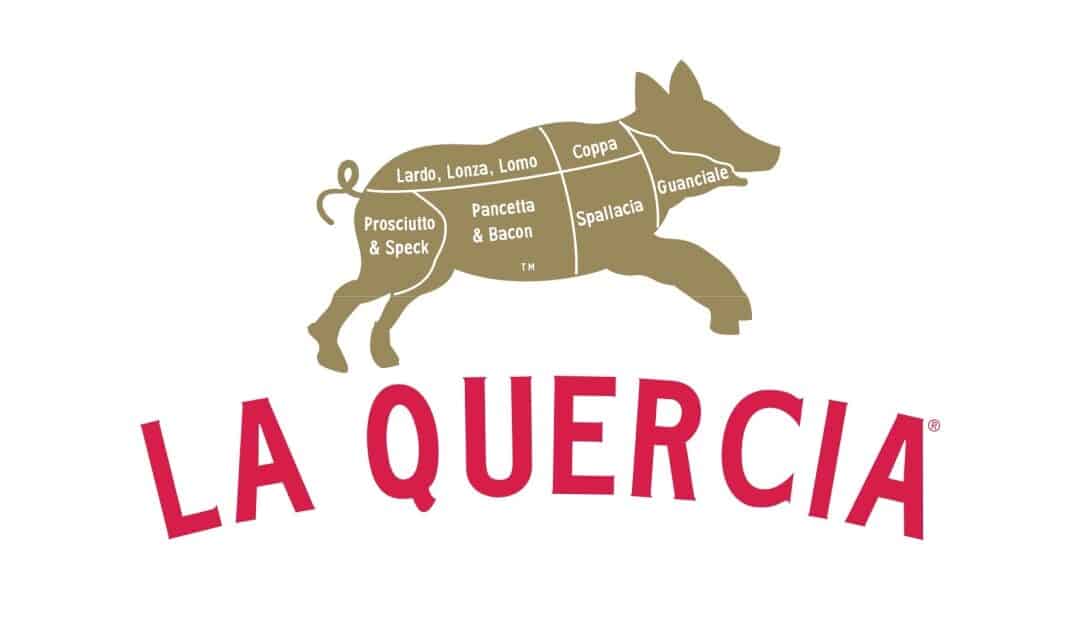 If you haven't had it, nduja is a sort of cross between potted meat (spreads, rillettes, et al) and spicy salami, and it's good on all kinds of things. I'd forgotten about the spreadable, spicy, porky deliciousness until I saw a little tube of prosciutto nduja from La Quercia, the leading producer of real-deal prosciutto in North Americ.
I brought one of the little meat tubes home and finished it off in a sitting or two. As I ate my way through 4oz of the stuff, I couldn't help but speculate how it was made, and why. I also thought to myself as I often do: "yeah, I can make that".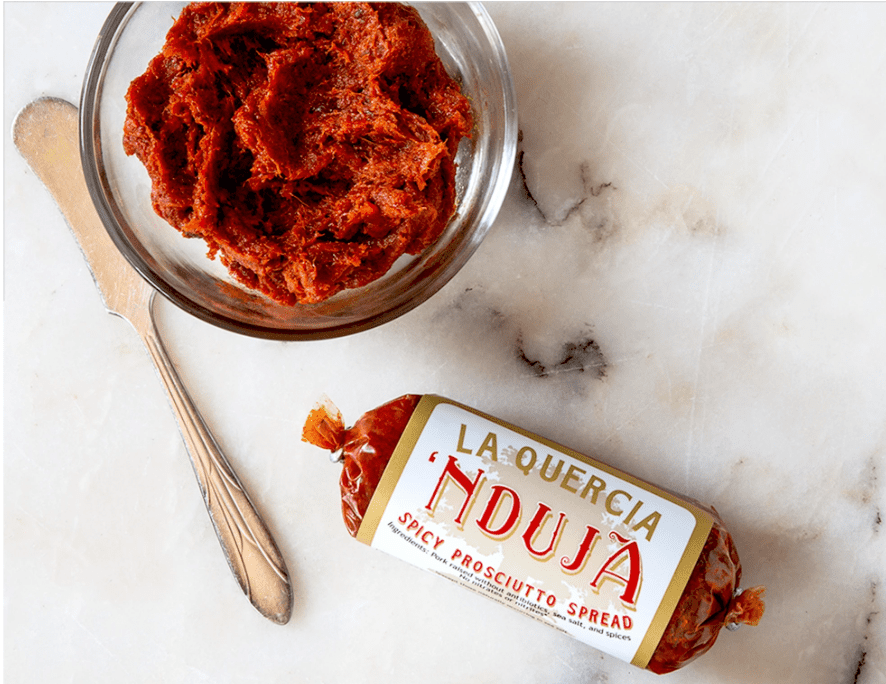 A company that produces prosciutto in quantities like La Quercia obviously has trim and odd bits galore, so, I figured it would make perfect sense for them to buzz up some trim with chilies and fat and make it a value added product.
I couldn't help but think that I could make something similar out of game meat, and I had an event coming up with Sam Thayer where I planned on serving small, intense tastes to the guests where it would fit right in.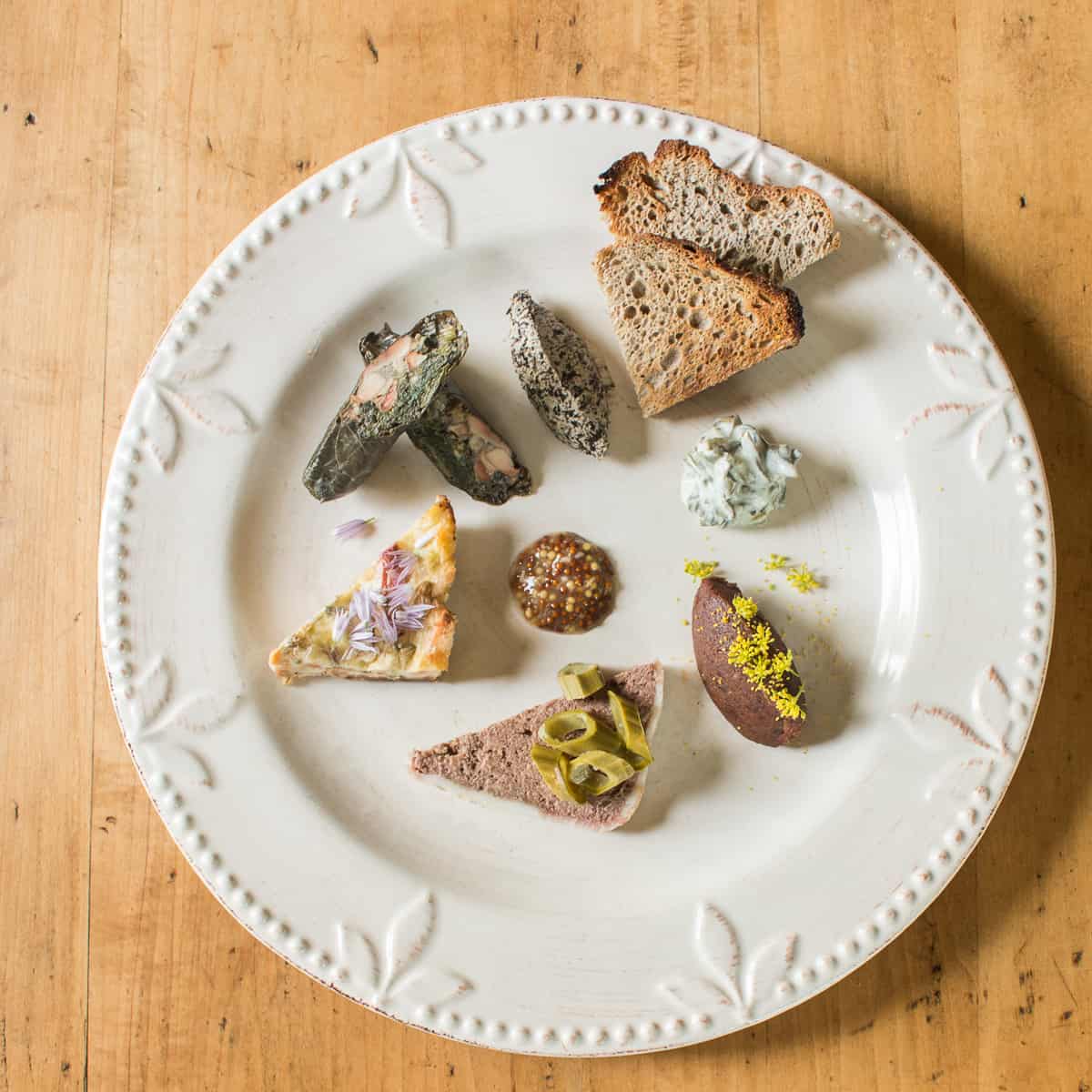 There's a hurdle to jump using game here though. Nduja is spreadable due to the fact that it's made from pork, as pork fat, at room temperature, is soft and supple. Venison and similar ruminant fat is the opposite: it stays firm nearly no matter what temperature it's at, for all intents and purposes.
Rendered bear fat is a perfect analogy for pork fat though (as well as being the pre-European contact fat par excellence) and I had a jar that my friend Daniel Vitalis had given me, so I dedicated it to the worthy purposes of making some spreadable venison charcuterie.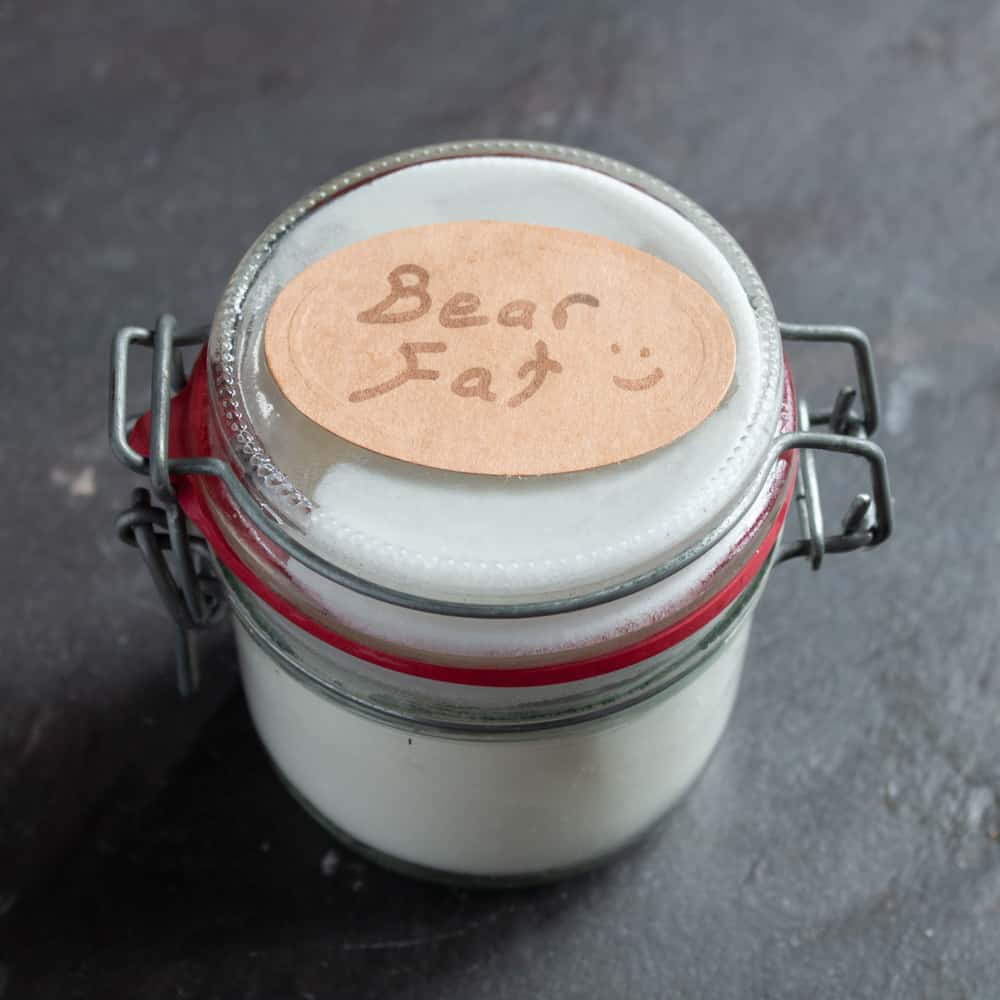 The finished product is great: spreadable, spicy, rich and meaty. The only things to know really are that it won't have the same shelf life as salami (neither does regular nduja) and, if you're using wild venison, you'll want to freeze it for at least a couple days before curing as a precaution, as the meat is semi (mostly) raw.
Method
The process I came up with is pretty straightforward, but does require a couple steps. First, the meat is sliced and seasoned with salt and a tiny bit of curing salt, then vacuum sealed to ensure penetration of the cure and allowed to rest for a few days.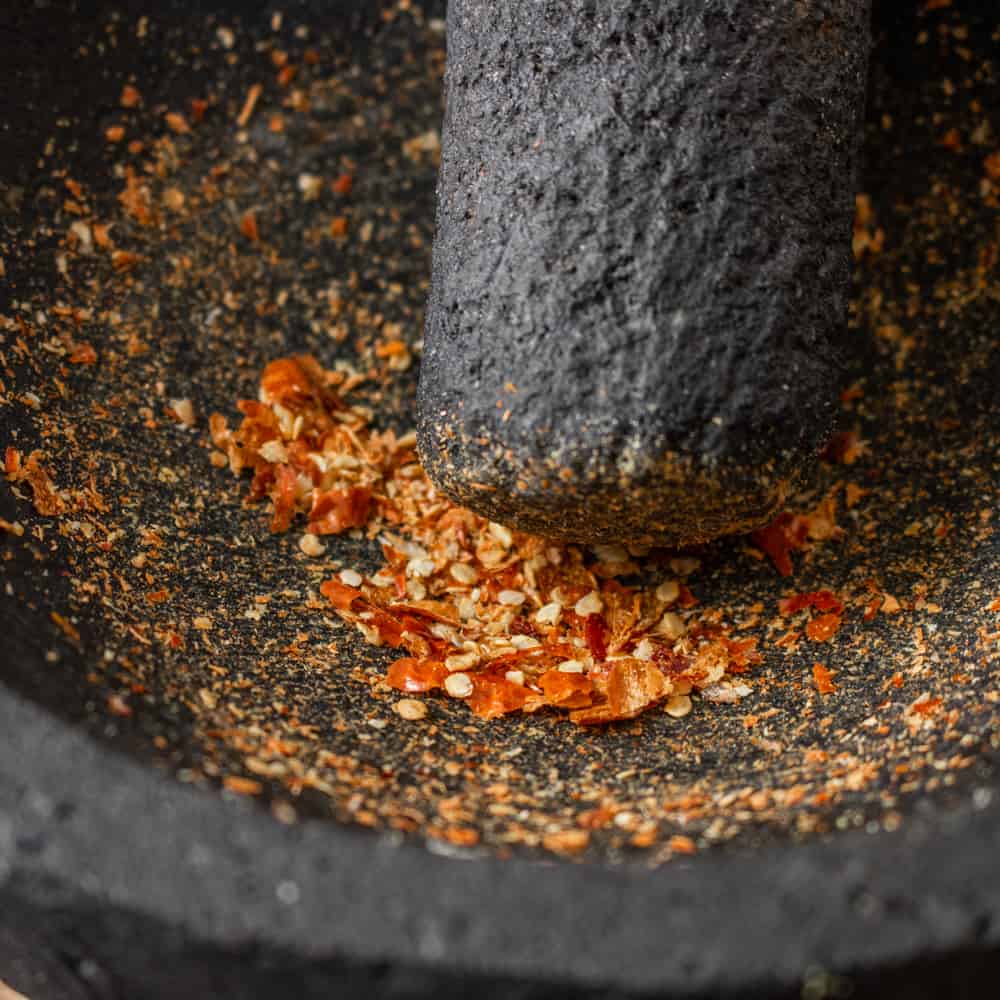 After that, you take the sliced meat and dehydrate it about half-way to jerky. I know "half-way" to jerky sounds arbitrary, but it's important, since if the meat is too dry, it will be difficult to blend to a spreadable consistency.
After drying, the meat is vacuum sealed again (you can wipe out the bag and use it again) to refresh the texture. After that, you cut it into pieces and buzz it up in a food processor with chilies and fat until you can spread it-that's it. It has a shelf life of about a week (potentially longer if it's vacuum sealed) or, it can be frozen.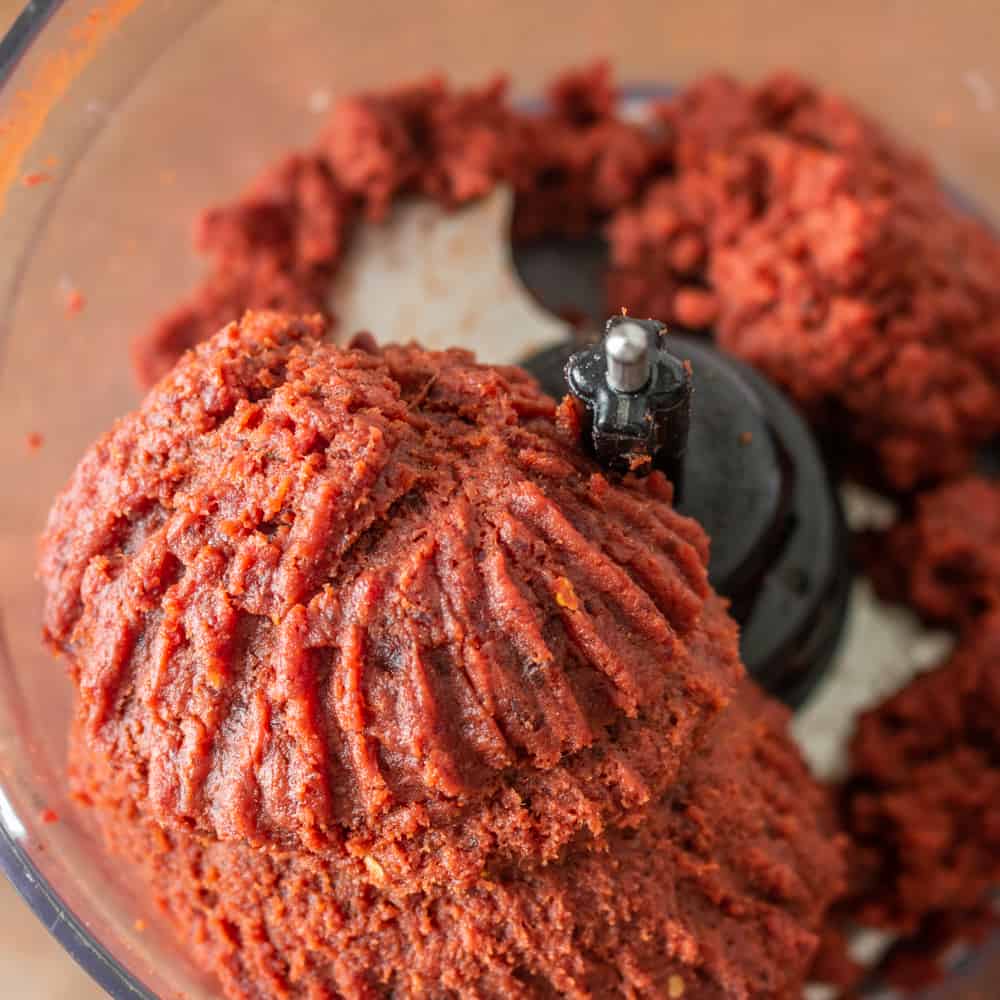 Variation
This is a kind of quick-cure hack that I came up with, but it's not the only way you could make something like this. Curing a whole muscle as for bresaola, then trimming off the bark, cutting the softer center into pieces and proceeding as directed after the meat has been cured here will probably have a longer shelf life as the meat has been allowed to sit and cure longer.
Another variation could be smoking. Instead of putting the meat in the dehydrator, you could also play around with smoking it at a similar temperature I recommend below.
No Bear Fat? No Problem
Bear fat is not easy to come by unless you or your friends harvest and render the fat, but it's easy to work around.
All you really need here is a fat that will be soft at room temperature. Chicken, duck, and goose fat will all work too, but, as a last resort you can use cooking oil, such as grapeseed or blended olive oil, although the flavor won't be nearly as deep and meaty.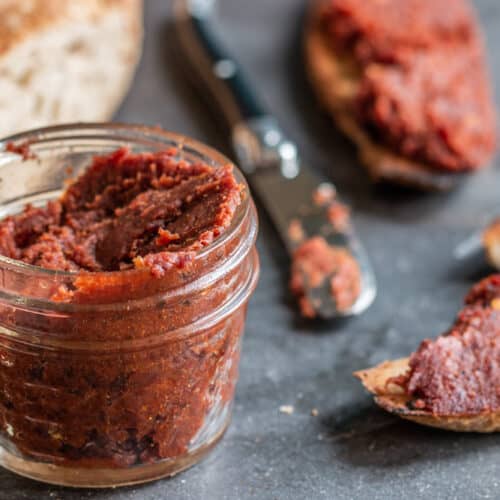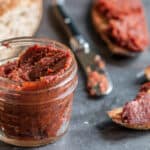 Print Recipe
Venison and Bear Fat N'duja
A smooth, spreadable salami-type charcuterie made with cured venison, salt, hot chilies and bear fat inspired by traditional Calabrian Nduja. Makes about 3 cups
Ingredients
2

lbs

lean venison

preferably a leg roast such as bottom or top round, trimmed of all silverskin (the meat should be frozen for at least 2 days, also refer to my safety note below). Do not use sirloin tip / football roast.

½

teaspoon

pink salt

sodium nitrite

18

grams

kosher salt

2% by weight

3

tablespoons

smoked paprika

2

teaspoons

cayenne

or another hot pepper you like, such as Calabrian chilis, to taste

¾

cup-1 cup bear lard

pork lard, or a neutral oil that will be liquid at room temperature, such as sunflower, hickory nut, light olive oil, vegetable if you must, etc
Instructions
Slice the meat into ½ inch thick pieces, then mix with the salts, vacuum seal in a generously sized bag (leave extra room as you will re-use it) on the moist setting (or wrap tightly in a bag or other container without air) then allow to cure for at least 3 days, although it's fine if it sits for a few days longer, especially if it's vacuum sealed.

After the meat's had time to cure, remove it from the bag, trimming only enough of the plastic off as necessary, and rinsing and wiping the bag so it can be re-used.

Pat the meat dry, then dehydrate on the meat setting (145F) for 2 hours, rotating the trays at least once to ensure even drying, then turn the heat to low and dry for another 1-2 hours, or until the surface of the meat is dried, and the slices bend, but are still pliable. Think of it like "half jerky". If some of the pieces are slightly more dried, it's fine—a little variation won't hurt. You could also smoke the meat at a similar temperature as for jerky. Remove the meat from the dehydrator, reseal in the bag to refresh their texture and allow to rest overnight.

The next day, remove the meat from the bag, it should feel refreshed and bouncy—not dry. Cut the meat into small cubes. Meanwhile, melt the lard, paprika and chili together. Don't boil or simmer it, just melt it to infuse the flavors a bit, you just need it to be liquid (a quick microwave would be fine).

Working in batches if necessary (I did it in 2 batches) pulse the meat to break it up, then drizzle in the warm fat until you get a smooth-ish paste. To check the spreadability, smear some on a spoon and stuff it in your greedy face to check the seasoning. When the bear fat or oil has been added, adjust the seasoning to your tastes for salt, and heat, then vacuum seal and freeze, or refrigerate for up to a week.
Notes
Safety note re: raw wild venison
Farmed venison and other meats are perfectly fine to use here, but with truly wild venison you'll want to take some precautions. 
Do not use meat from an animal that was gut shot. 
Do not use meat from an animal where you punctured the gut bag. 
Freeze the meat for a few days. 
Make sure the meat was processed in a clean environment where you were conscious of cross-contamination possibilities.