The Vastedda is a Sicilian spleen sandwich. Yep, sandwiches made from beef spleen, along with a good swipe of sheep's milk cheese and shaved lemon, some versions include trachea and lungs, and probably other parts of the pluck. It's an offal delight. In this post I use venison hearts.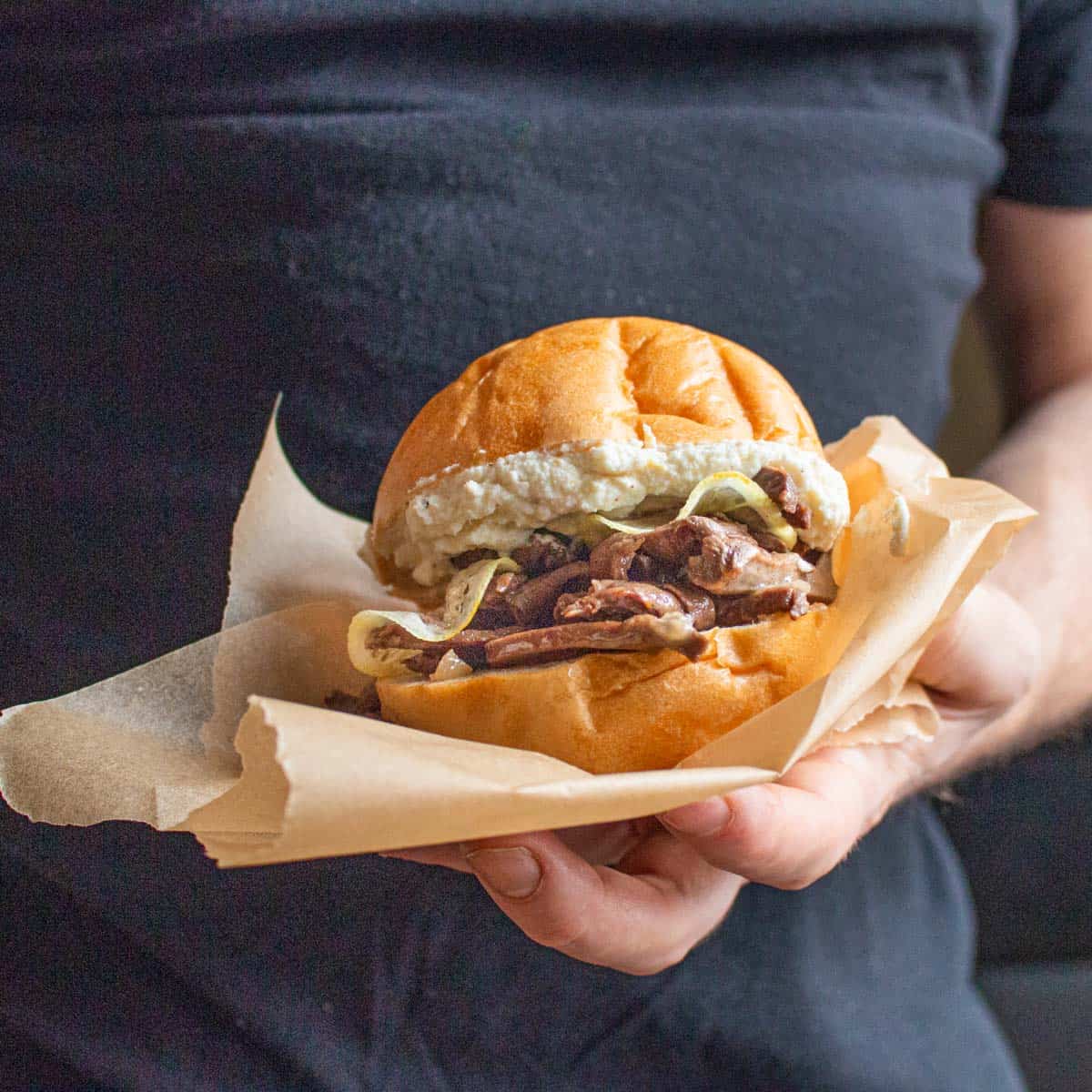 Italian street food is truly some of the coolest out there, case in point: la Vastedda Palermitana. Also known as pani ca muesa or pane con la milza, this sandwich has a few names, all of which are probably more attractive than a descriptive English one.
Spleen street food
Apparently the sandwich has roots in the Jewish population of Sicily. As I understand it, Jewish butchers would bring home beef offal after work, and it would be boiled and fried. When the Spanish forced the Jews to leave during the inquisition, the offal dish stayed behind and melded with an Arabic sandwich made with sheep's cheese, and a classic was born.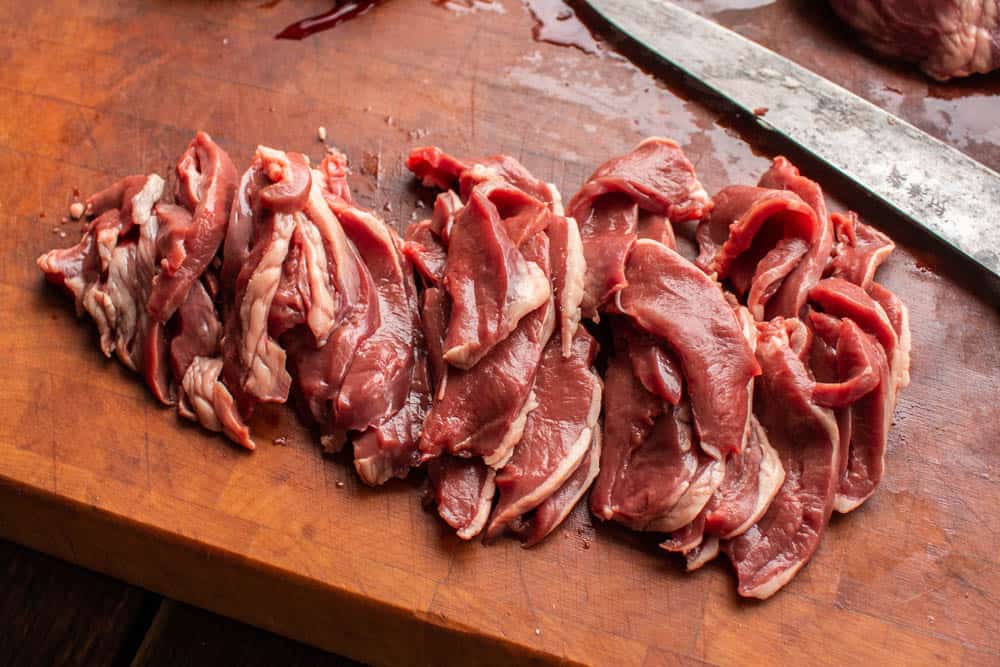 The process for making the sandwiches is pretty simple, the spleen is sliced thin, then either boiled and fried, or simmered in oil (like a shallow confit) then put on a Sicilian bun, or multiple sandwiches are cut from a soft loaf resembling French bread. Before it's served, it gets cheese, preferably caciocavallo, or a mix of cacio and ricotta.
After I first read about the vastedda, I had to try some for myself. Unfortunately, the animals I butcher myself (venison and sheep) have spleens that are small and impossible to remove the membrane from, which is very tough even cooked for hours (good dog treat though). I thought deer hearts would be a decent substitute in the recipe, cooked slow like confit. They were great.
I slice the venison hearts thin, marinate them with garlic, hot chili and herbs, then poach the sliced hearts in lard until tender and spoon them into a warm bun slathered with ricotta mixed with grated pecorino, and paper thin shaved lemon—a traditional garnish in some places, and the perfect thing to finish off such a rich sandwich made with offal.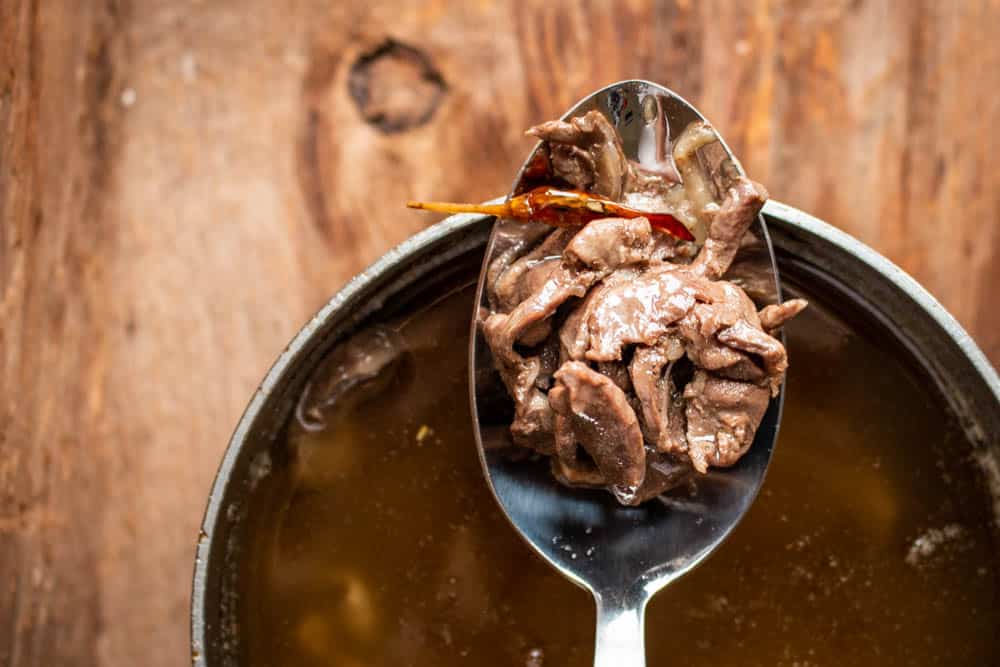 Traditions + variations
Version "Maritata"
The maritata version includes boiled and fried spleen, lungs, and trachea. I'm down with lungs and spleen, but I have yet to eat trachea that I liked. It is crunchy, and typically I feed them to the dog. Maybe I'll have to try it sliced really thin sometime.
Buns
The buns and specific bread are probably a point of contention with vastedda officionados, but one thing that seems pretty clear is that buns with or without sesame seeds seem to be both be an option. Also, toasted, griddled or untoasted buns seems to vary from place to place, and vendor to vendor too. Since it's a rich sandwich of meat simmered in fat and spread with cheese, I think lightly toasted or warmed, to mimic a fresh, soft freshly baked bun is the way to go.
The cheese
Caciocavallo is hard to find unless you have a direct connection to a restaurant distributor, or a solid Italian market. Instead of grated caciocavallo, you can use high quality ricotta mixed with salty pecorino like I did here, or substitute aged grated provalone. The accounts and images I've studied vary a bit, with some sandwiches having only grated cheese, and some having only ricotta, and some with a mix of both. I love cheese, especially Italian cheese, so I use both.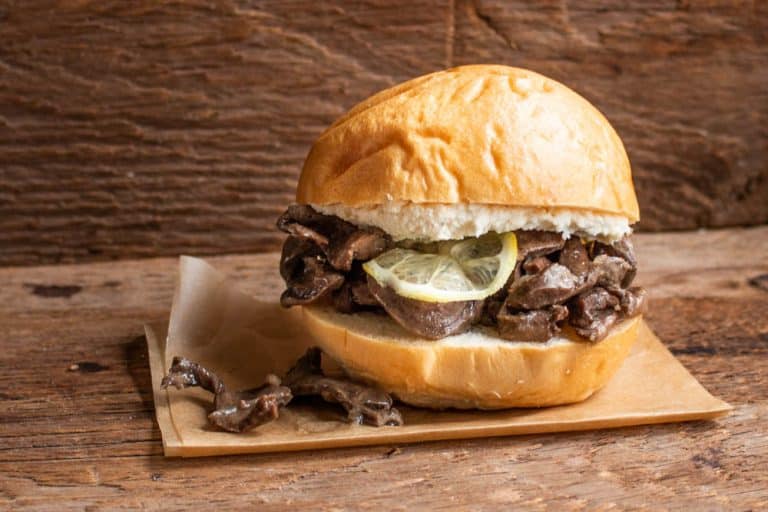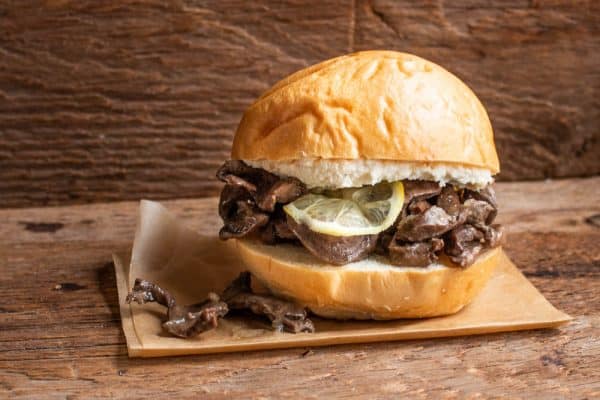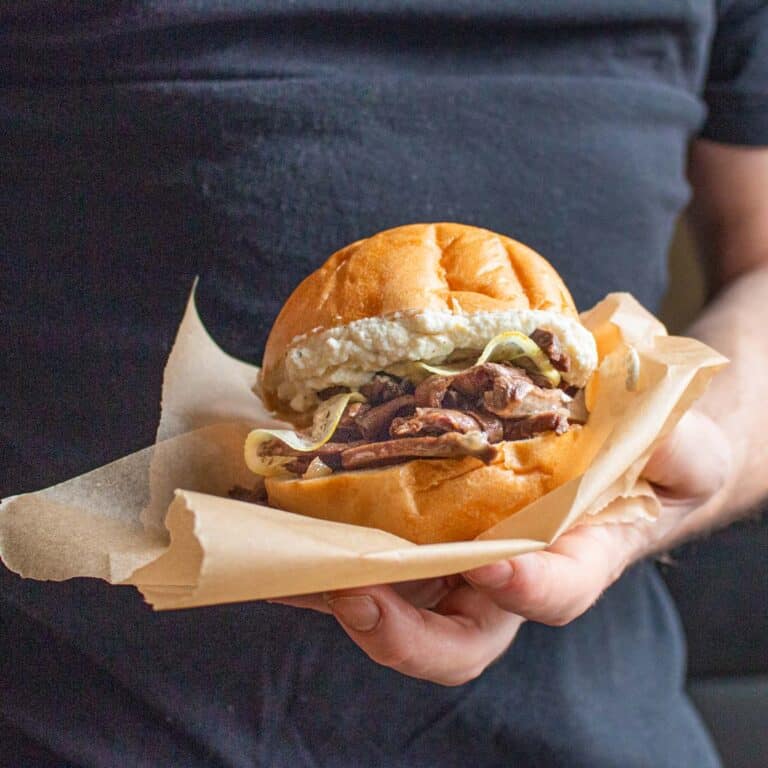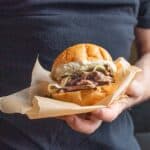 Print Recipe
Sicilian Style Venison Heart Sandwiches a la Vastedda Palermitana
Sandwiches made from marinated venison heart confit. Makes enough for 6 generous sandwiches.
Equipment
1 deep baking dish

1 mixing bowl
Ingredients
Hearts
2.25

lbs

venison, lamb or goat hearts

trimmed of fat and any aorta fragments to yield 2 lbs

2

dried bay leaves

9

grams

2 scant teaspoons kosher salt

½

teaspoon

cracked black pepper

or to taste

1

large clove of garlic

2

teaspoons

finely chopped rosemary

¼

teaspoon

crushed red pepper flakes

½

cup

dry white wine

2

cups

lamb fat

cooking oil can be used but is a poor substitute
For serving
Small to medium-sized soft buns or Kaiser rolls

1

cup

ricotta cheese

4

oz

fresh chevre

Generous fresh cracked black pepper

to taste (about ½ teaspoon)

Zest of a small lemon

grated (optional)

12

shaved lemon slices

picked over for seeds
Instructions
Trim the hearts
If you're handy with a knife, trim the thin outer layer of fat and tissue from the hearts, otherwise just remove some of the extra fat from the top, along with the large central vein.
Marinating and cooking
Slice the venison hearts as thin as possible. Grate the garlic or mash to a paste, then toss with the venison hearts, along with the salt, chili, bay and rosemary, then marinate overnight. The next day, preheat the oven to 250.

Cover the venison hearts with the fat to cover, add the wine, then bake, covered, for 2 hours, then cool. From here, the cooked heart can be refrigerated for a month or more, as long as the fat completely covers the heart, and the seal of fat remains unbroken and air-tight.
Storing
When you take the container out to remove heart to cook, you'll need to re-melt all the fat and pour it back over the heart you don't use to replace the air-tight seal. That being said, the heart tastes so good it's unlikely it will last longer than a few days.
Assembly and Serving
Mix the cheeses and season to taste lightly with salt and pepper. Cut ¼ inch off of one slice of the lemon, then shave it thin using a mandoline, or a very sharp knife. Remove any pieces of seed from the lemon.

To assemble the sandwiches, heat the hearts up in their fat. Meanwhile, lightly toast the buns to ensure they taste fresh. You can also butter and griddle them if you prefer griddled buns, which I often do.

Cut each bun in half, fill with a generous amount of the heart confit, letting some of the fat and juices seep into the buns.

Spread the top of the bun with a tablespoon or two of the ricotta mixture, top with 2 lemon slices each, depending on size, and serve, with a napkin.
Notes
To be traditional, you can use a mix of offal like kidneys and heart here. Testicles or Rocky Mountain oysters would also be a good addition. 
Nutrition
Serving:
1
Sandwich
|
Calories:
501
kcal
|
Carbohydrates:
32
g
|
Protein:
45
g
|
Fat:
18
g
|
Saturated Fat:
9
g
|
Polyunsaturated Fat:
2
g
|
Monounsaturated Fat:
5
g
|
Trans Fat:
0.3
g
|
Cholesterol:
241
mg
|
Sodium:
1310
mg
|
Potassium:
774
mg
|
Fiber:
1
g
|
Sugar:
1
g
|
Vitamin A:
380
IU
|
Vitamin C:
4
mg
|
Calcium:
181
mg
|
Iron:
10
mg