Here's a great alternative to the horrific Midwestern holiday salad of mayonnaise, cool whip, fruit jelly and stuff I think is called ambrosia. Mayonnaise, fruit jelly, and, nope, not for me-I've never liked the stuff.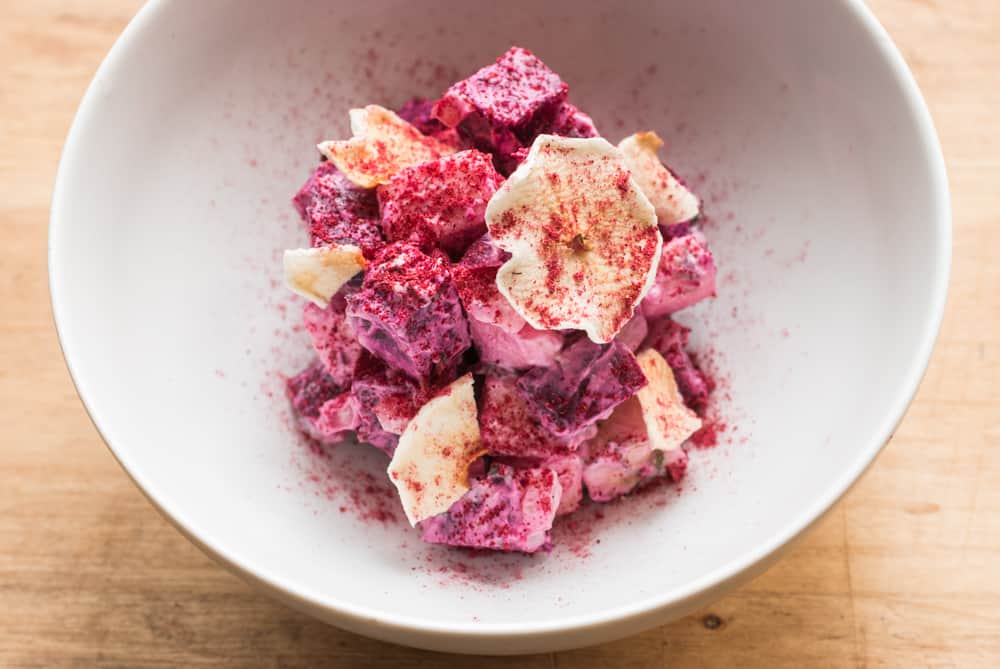 What I do like, is roasted beets, preferably dressed in a creamy something, along with crunchy apples and thick, tangy greek yogurt or sour cream. I'd made salads like it for years, but in 2018 I'd been trying to use the angelica leaves in my cooking in other ways than candying them, since it can be a pain.
I read somewhere about leaves of angelica being blanched before adding to salads, (I think it was Richard Olney) and thought that the blanched angelica leaves might be a compliment to the beets and apples.
It was fall, and the quick re-birth of fresh greens was just kicking in. Angelica in my area seems to give only leafy, thin shoots after the summer heat, and usually I pass them by as I prefer the central flower stalk, but not this time. Angelica leaves, blanched and shocked, were a great counterpoint to the earthy sweetness of the beets.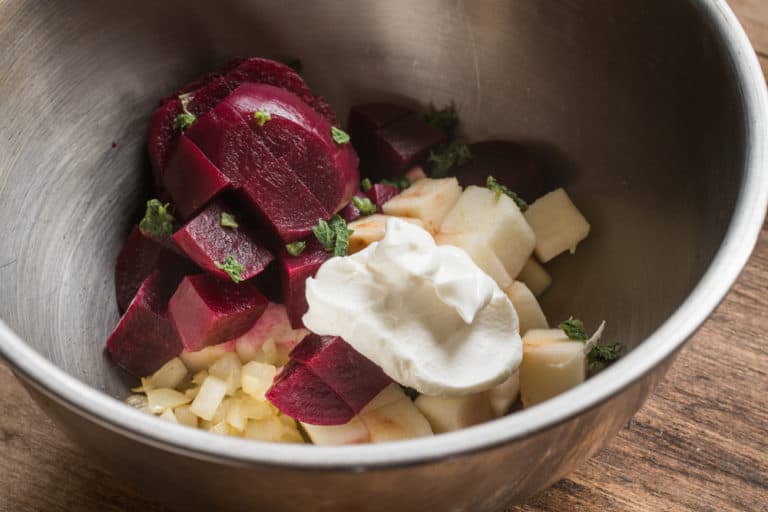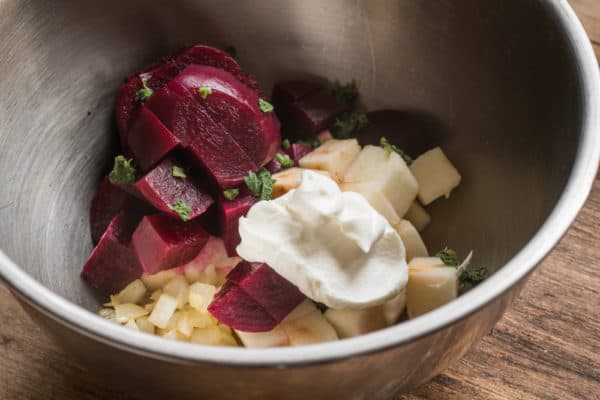 For the apple component, I dried some of the same apples for a crunchy garnish, and then hit it with a little pucker-power: powdered cranberries.
I started dehydrating cranberries since I like the flavor of sumac, but am a little too lazy currently to process my own, and the stuff you get in the store is often old. The cranberry powder packs a great punch though, and adds some color.
Snowsweet Apples = Wild Dung Apples
Funny store here. Sam T. brought me some apples from his orchard this year, and one of the favorites is the snowsweet, an ancestor of the honeycrisp.
Snowsweet is only one of the names for the apple though, as the U of M (speculating here a bit) controls the name, and you have to pay royalties to sell apples you would grow under the snowsweet name.
If you want to sell the apples royalty-free, the other common name for them is the wild dung apple. Ah, the politics of fruit trees.

More
The Forager's Guide to Wild Angelica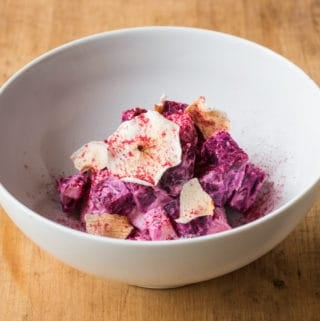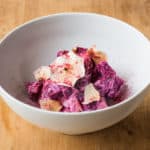 Print Recipe
Beets, Dried Apples and Angelica Leaves
A winter salad of beets, apples and angelica dusted with tart cranberry powder
Ingredients
1

cup

medium diced

roasted beets

½

cup

medium diced

peeled snowsweet or honeycrisp apples

1

teaspoon

blanched

shocked and chopped angelica leaves (2-3 small leaves)

Dried snowsweet apples

to garnish (optional)

¼

teaspoon

dried

powdered cranberries

Kosher salt

to taste

2

tablespoons

thick greek yogurt or sour cream

2

teaspoons

very finely diced shallots

you can mince them too, but do it at the last minute before cooking

2

teaspoons

grapeseed or another flavorless oil
Instructions
Sweat the shallot in a pan with the oil until translucent.

Remove the shallots to a small mixing bowl and toss with the apples, roasted beets, angelica leaves and yogurt.

Double check the seasoning for salt, adjust as needed, then divide the salad evenly between two bowls, crumble over a dried apple slice or two, sprinkle with the cranberry powder and serve.

The salad can also be served warm, and flavored with a dash of aquavit.