My original ramp leaf sriracha is one of the best recipes for ramp leaves I know. It makes a spicy, funky, addictive green sriracha sauce you can put on just about anything.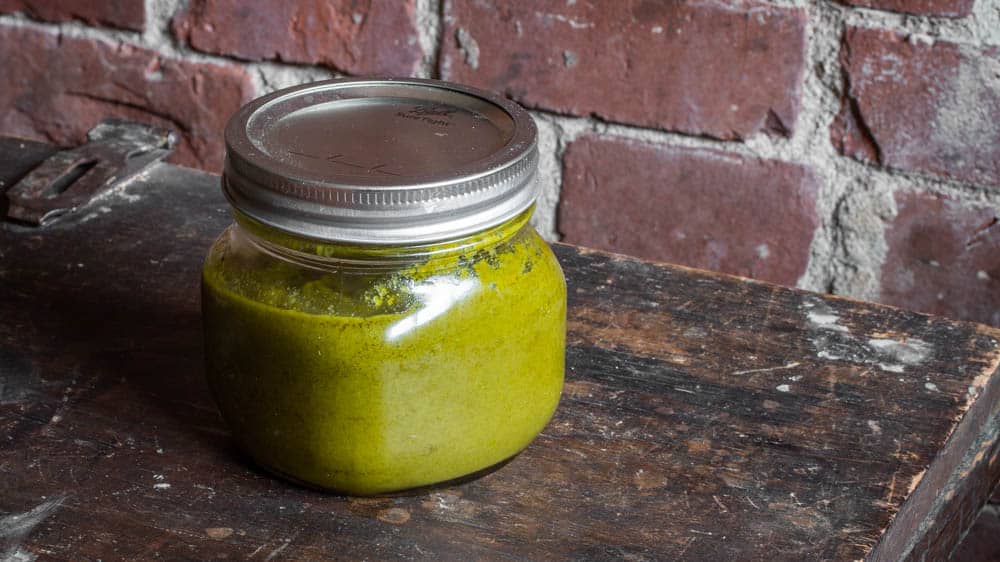 Here's what happens when the first ramps arrive: the leaves and bulbs get separated, but there's a much larger volume of leaves than bulbs when all the ramps are cleaned and processed.
Needless to say, when I cook with ramps at the restaurant I regularly see the bulbs used faster than the leaves, especially if there's an enthusiastic line cook or two working.
A couple years ago, staring at a couple deep hotel pans filled with leaves and no ramp bulbs left to add to the dishes, I did the most prudent thing I knew: I blanched the leaves en-masse and froze them.
After blanching and freezing, the leaves keep their green color when they get made into a puree, or whatever I'm feeling like making, it also helps to save space in the cooler. One of the things I ended up making with all the frozen leaves was hot sauce, delicious, fermented, green hot sauce.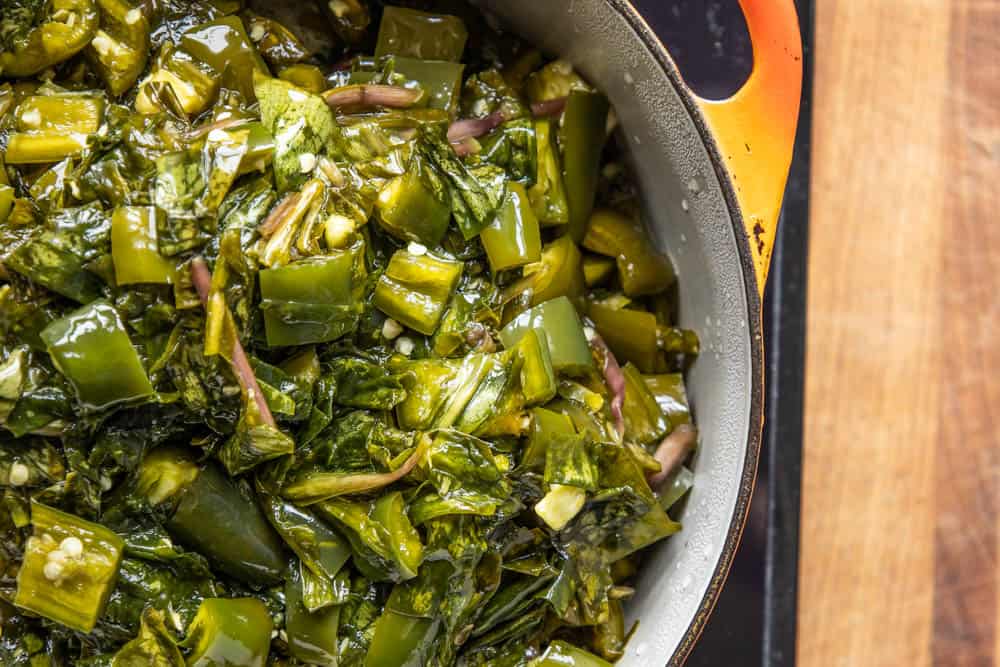 Last year I shared a recipe for a sriracha style hot sauce made with fresno chilis and ramp bulbs. This year, I thought I'd share it's hot cousin: a green sriracha-style sauce made with jalapenos and ramp leaves, minus the bulbs.
It took me couple tries to get the proportions right, but the final version here has a great amount of balance between heat/chili flavor and rampy-ness.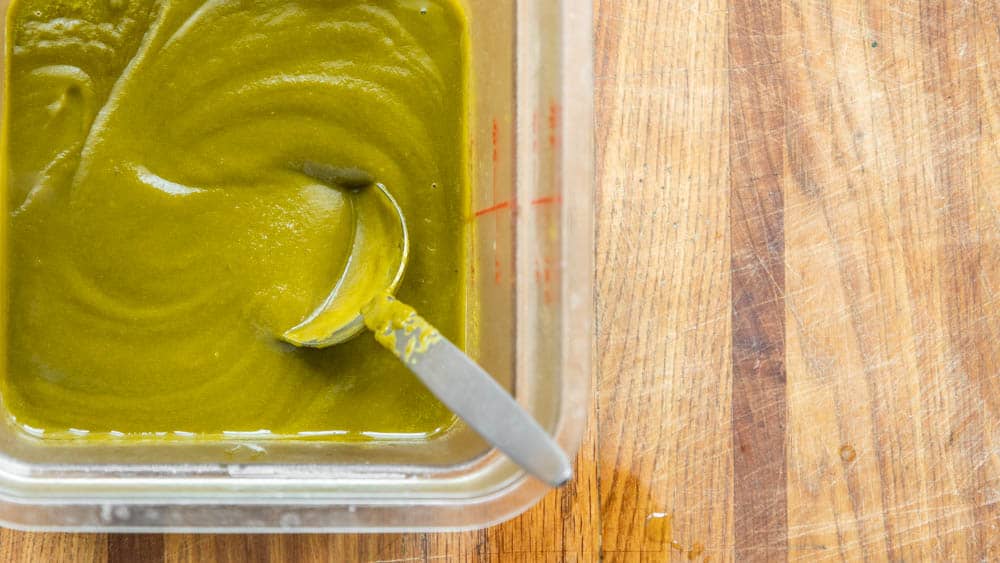 Notes and Variations
Why remove half the seeds?
You may read the recipe and wonder why I say to throw away half of the seeds of the jalapenos and keep the rest. I found that I got a decent amount of heat from only using half of the seeds from the particular jalapenos I was using, but if you like it really spicy, or if the peppers you're using are more mild, use more seeds or supplement with cayenne for a spicier hot sauce, by all means.
Adding ramp bulbs
If you have some ramp bulbs laying around too, they add great flavor to this, but I don't include them in the formal recipe since the point is to focus on the leaves. If you want to use whole ramps in this, add a few tablespoons of chopped bulbs to the jalapenos when you toss them with the salt and sugar before fermenting.
Feel free to experiment, is your sriracha too spicy for you? Add some more pureed ramp greens. Do you like it sweeter? Add some more sugar/sweetener. Want it even rampier? Again, add more pureed ramp greens, just remember to adjust the seasoning for salt and sugar at the end.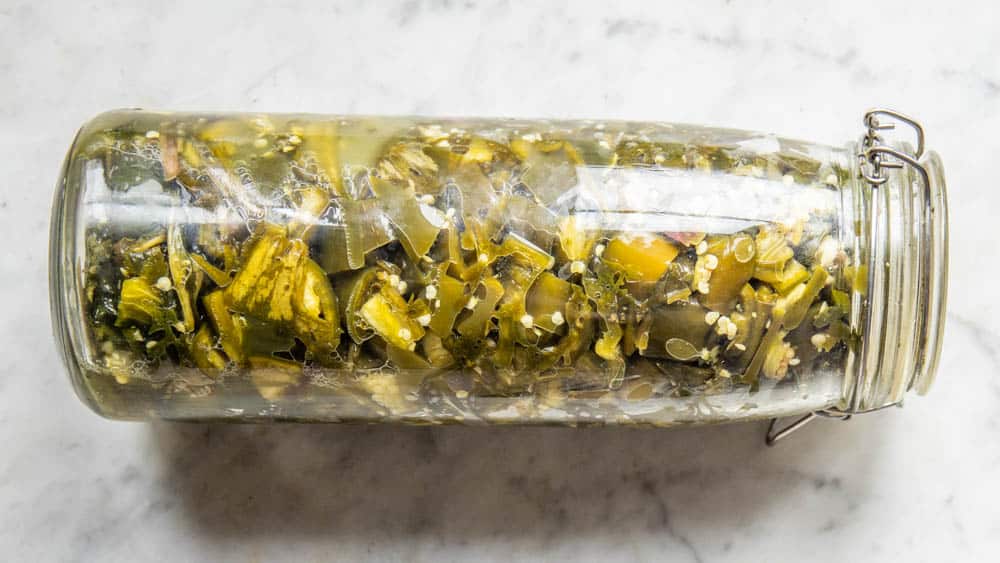 Fermenting in a vacuum sealed bag
While you can do this in a jar, I often use a vacuum bag, which is useful for a clean, scent-free ferment-good if you have a husband or wife who may not want to smell your projects in the kitchen. To do it, put the jalapeno mash in a vacuum bag, press out some air, and seal without using the suction.
Put the bag in a cupboard or counter and check on it, when it starts to inflate, you know it's fermenting, using this method you can also ferment the ramp sriracha for longer as there is no outside air, but you may have to cut off a corner of the bag and burp it to release carbon dioxide once or twice during the process.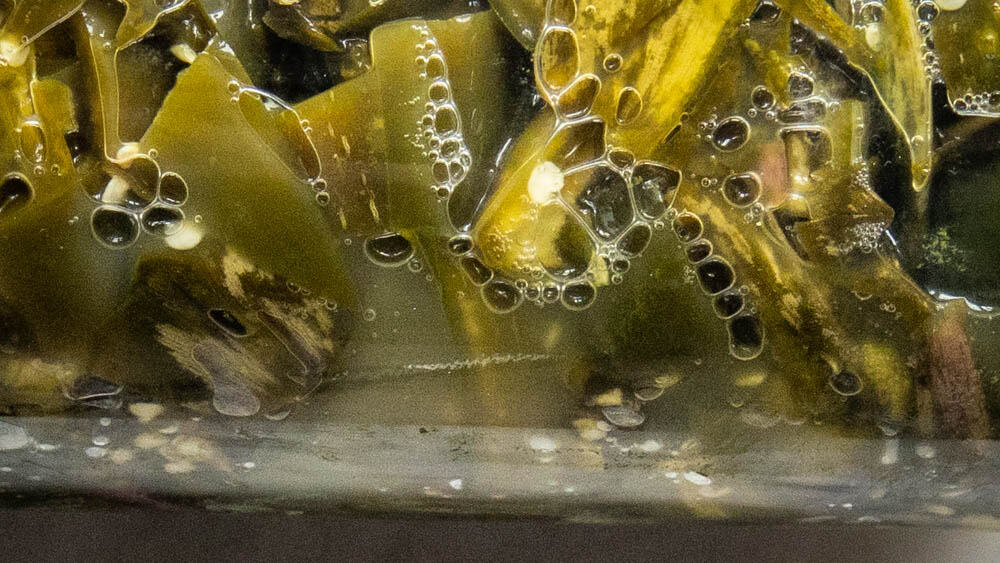 Straining the sriracha / yield
This is important! At the restaurant, I strained this to make a smooth sauce, which is the closest thing you're going to get to the hot sauce you know and love. If you do not have a fine strainer, this is going to make a lot of sauce, as in 6 cups, so consider cutting the recipe in half. Straining the sriracha takes some work, but it's worth it for the smooth texture.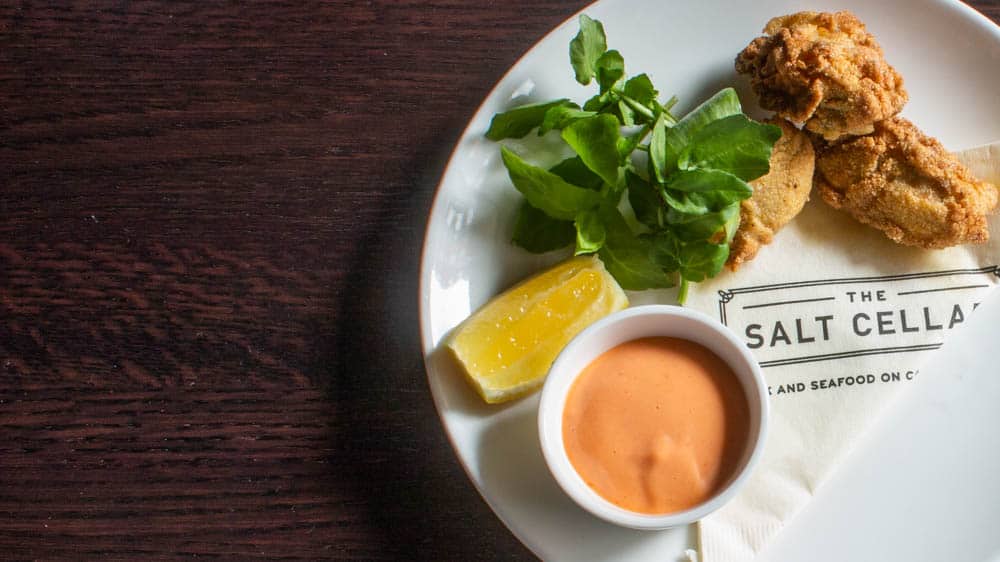 Use Ideas
The sky is the limit here, and most anyone familiar with Sriracha-style hot sauce will have their favorite uses, but here's some you may not have thought of.
Mix with honey to taste for a sweet-funky-spicy glaze
Mix to taste with mayonnaise for a creamy-hot condiment
Add to stir-fries and vegetable sautés
Serve swipes on a plate off-center with things like fried rice and mild dishes like fried potatoes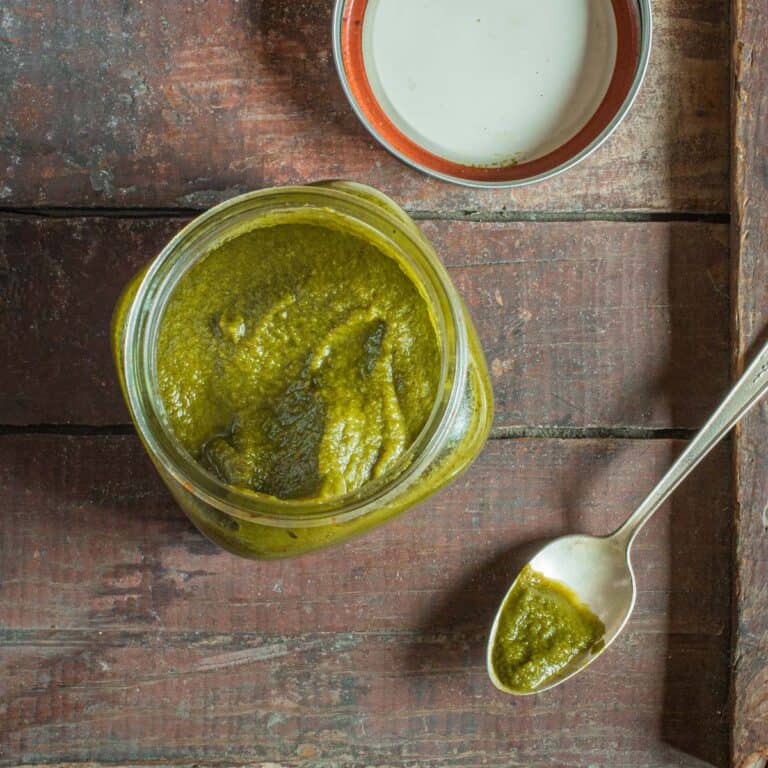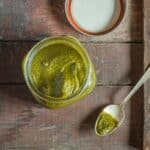 Print Recipe
Green Ramp Sriracha
Yield: roughly 3 cups if you strain it, or 6 cups unstrained.
Equipment
Highspeed blender

Vacuum sealer or fermenting vessel
Ingredients
3

lb

jalapenos

½

cup

ramp bulbs

chopped (optional)

50

grams

11 teaspoons kosher salt

¾

lb

ramp leaves

115

grams

(½ cup plus 1 tablespoon) maple sugar or turbinado or just white sugar

¼

cup

flavorless oil

for pureeing and finishing
Instructions
Wearing gloves, coarsely chop the jalapenos, then combine with the ramp leaves salt and sugar.

Place the ramp-jalapeno mixture in an air tight container, or a similar container covered tightly with plastic wrap, pressing it down onto the surface to remove excess air. Alternately vacuum sealed the mixture. Allow the mixture to ferment for at least five days and up to 14 in a cool, dry place away from light and heat.

After 5-14 days, Remove the jalapeno mixture and all the accumulated juices and cook on medium heat, covered, working in a well ventilated area or with as many windows open as possible (the fumes will be near weapons-grade) stirring occasionally until very soft and most of the juice has evaporated, about 30 minutes.

Puree the pepper mixture in a highspeed blender until very smooth, drizzling in the oil to reduce friction in the blender blades, then pass through a chinois strainer and chill (optional, see note).
Notes
Straining the hot sauce
This is so important I'm mentioning it twice. If you do not have a fine strainer, this is going to make a lot of sauce, as in 6 cups, so consider cutting the recipe in half. Straining the sriracha takes some work, but it's worth it for the smooth texture. 
Nutrition
Serving:
1
Tablespoon
|
Calories:
48
kcal
|
Carbohydrates:
8
g
|
Protein:
1
g
|
Fat:
2
g
|
Saturated Fat:
0.3
g
|
Polyunsaturated Fat:
1
g
|
Monounsaturated Fat:
0.4
g
|
Trans Fat:
0.01
g
|
Sodium:
649
mg
|
Potassium:
149
mg
|
Fiber:
2
g
|
Sugar:
6
g
|
Vitamin A:
619
IU
|
Vitamin C:
56
mg
|
Calcium:
15
mg
|
Iron:
0.3
mg