Pickled tongues might sound strange, but they're actually a traditional charcuterie. The finished product is similar to ham, and great on charcuterie plates or on a sandwich with mustard.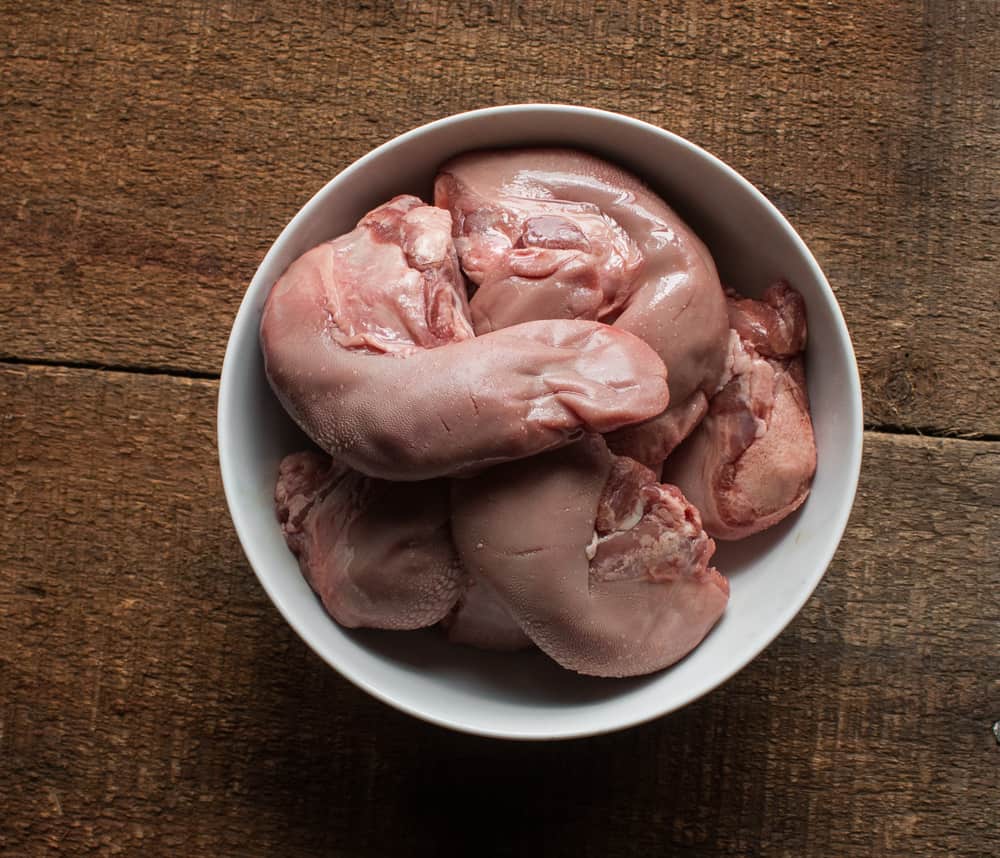 My first time cooking with tongue was at Heartland, along with most of the other organs I learned how to cook. Usually I remember us cooking them and serving them as a small plate, tossed in a salad, or maybe warm mixed with a little pasta.
I learned about pickled tongues when Lenny had us do some for a dinner senator Al Franken was going to be a part of, since he said the senator really liked them.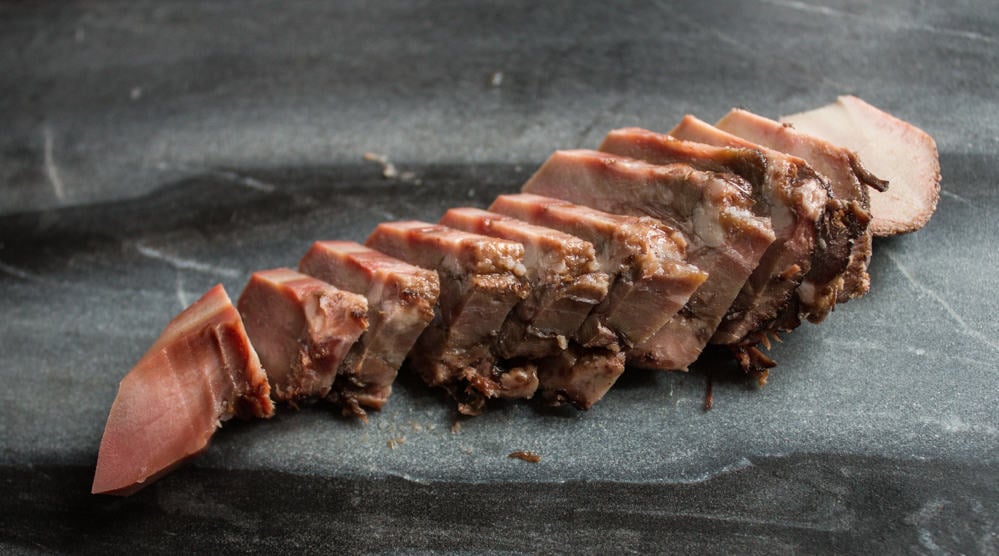 I can't remember, but I think he said he adapted the recipe from one charlie trotter had developed, in turn, I remember writing down some notes when we cooked the tongues, so that one day I could make my own rendition.
Depending on your age, pickled tongue might sound like some enlightened hipster food, or maybe just a weird organ dish old people eat, I tell you what though, it's both of these things and much more.
Calling meat pickled conjures up weird images of meat sitting in vinegar-y solutions like a science experiment. From a consumer's perspective, vegetables are ok to pickle, since they aren't made of muscle, but for some reason pickled meat (let alone a pickled tongue) seems to scare people, and I completely understand why-it's all about terminology.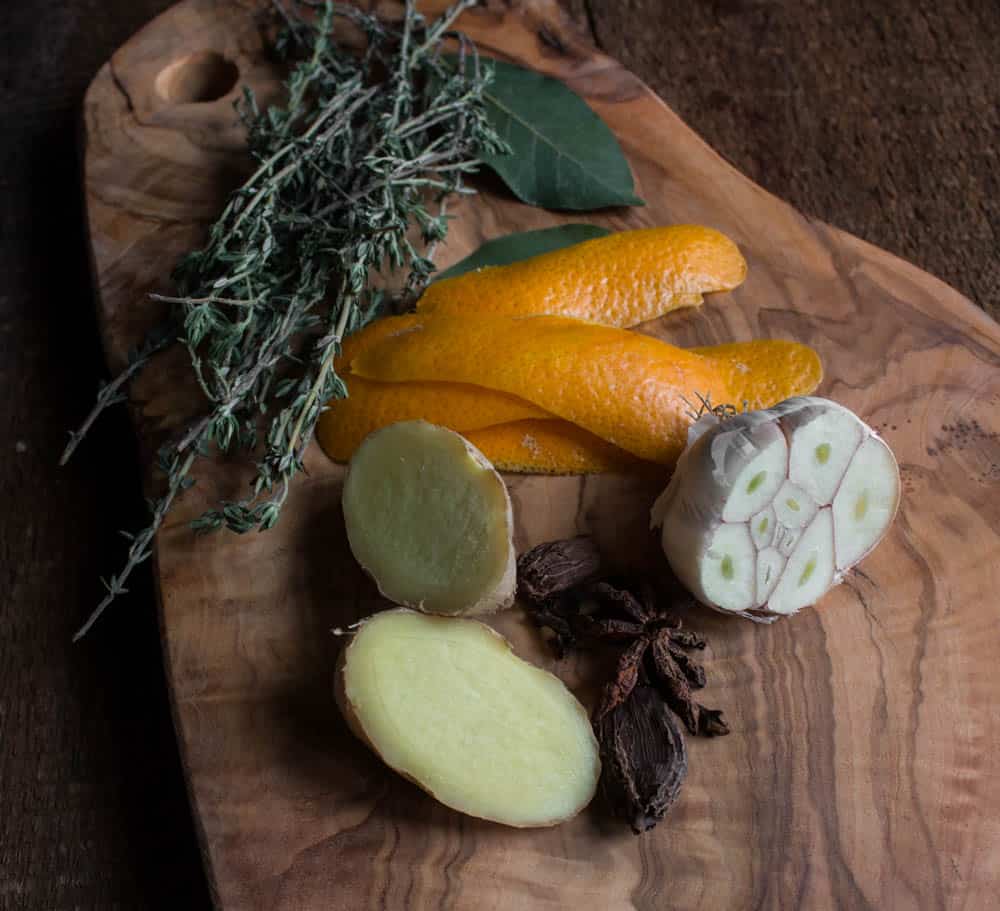 These little lamb tongues are pickled, but I find they sell a lot better when I just hide it on a charcuterie board. When customers love what they're eating and ask about it, I usually have servers describe it to them as sweet and sour pork, lamb, bison, etc, depending on what animal it came from.
If I have a minute to talk to the table and if I know them I'll tell them it's tongue, if I don't, I feel them out and decide if they're ready. Most of the time they aren't, so they can come back at a future date asking if the "sweet and sour lamb" is on the charcuterie plate, and I'm ok with that.
If customers are on the fence about eating tongue, I tell them:
"Tongue is like the softest, most luxurious ham you've ever had".
The flavors you can adjust and tweak to however you're feeling, warm spices work great, but I've definitely played around with lots of different variations. Know that whatever spices you put in the pickle will come through too, since the tongues will sit in the mixture for a number of days before they're fully cured and ready to eat.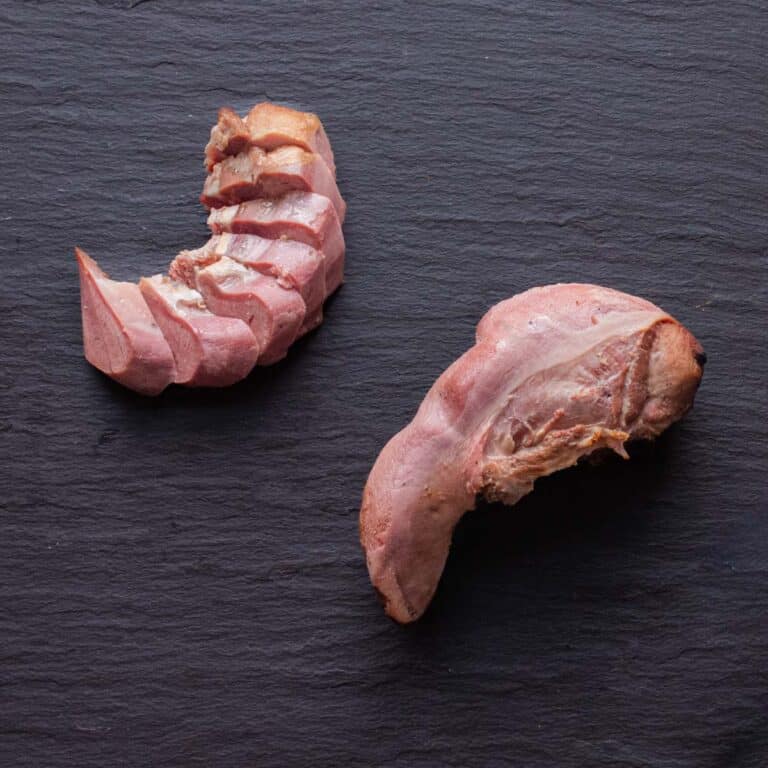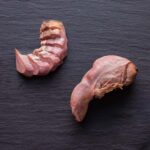 Print Recipe
Pickled Lamb Tongues (or any tongue)
A recipe for pickled lamb tongues perfect for charcuterie plates and sandwiches.
Equipment
1 large bowl or container with lid

for brining
Ingredients
For the tongues
8

lamb tongues

or 2 whole beef tongues

1

each

carrot, onion, and a rib of celery, cleaned and roughly chopped

1

Tablespoons

sea salt

2

cups

cider vinegar

4

cups

meat stock (or water in a pinch)

½

lb

brown sugar

1

teaspoons

pink salt

sodium nitrite, not Himalayan pink salt .
Aromatics (adjust to your preference--I rarely include the same things twice)
1

sprig of rosemary

5

sprigs of thyme

2

bay leaves

Zest of one orange

1

bulb garlic

halved

¼

cup

chopped fresh ginger

1

teaspoon

red pepper flakes
Dried Spices
½

inch

piece of cinnamon

2

whole star anise

5

allspice berries

1

tablespoon

mustard seed
Instructions
Toast the dried spices. Combine all the ingredients in a small pot that will fit the tongues snugly cover, and bring to a gentle simmer. Cook for 2 hours on the lowest heat possible, covered, until the lamb tongues are completely tender.

Remove the tongues to a cutting board with a slotted spoon and allow them to cool until you can handle them, then peel with your hands or a paring knife.

Transfer the lamb tongues and their liquid to a container, seal tightly, label and date, then allow the tongues to age for 5 days completely covered by the pickling liquid.

After five days, you can remove the lamb tongues, slice, and eat. Discard the liquid. If you are not going to eat the pickled tongues right away, make sure to leave them underneath the pickling liquid in an airtight jar in the fridge, or store them in a freezer, tightly wrapped in plastic, labeled and dated.

If you want to freeze the tongues for storage, you may want to leave the skin on to help resist freezer burn. Freezing is a really great option here, and was how I used to prep 20-30 lbs of tongues at a time for my house made charcuterie plate.
Notes
You can do this with any tongue, I've used pork, beef, bison, goat, boar, venison and lamb over the years. They're excellent gently warmed and made into a small plate, or just eaten with hot mustard, pickles, and other charcuterie.
The dried spices and aromatics are up to you. I rarely make it the same way twice as far as seasonings, but I always keep the same proportion of vinegar-stock-sweetener.
The pickled tongues can be frozen whole for storage, thawed, peeled and eaten without their texture suffering from freezing. If you pickle the tongues and keep the in the refrigerator, after the 5 day aging process eat the tongues within a week or two, and always make sure they're kept underneath the pickling liquid.
Nutrition
Serving:
2
oz
|
Calories:
150
kcal
|
Carbohydrates:
248
g
|
Protein:
7
g
|
Fat:
7
g
|
Saturated Fat:
1
g
|
Polyunsaturated Fat:
2
g
|
Monounsaturated Fat:
4
g
|
Cholesterol:
6
mg
|
Sodium:
200
mg
|
Potassium:
300
mg
|
Fiber:
5
g
|
Sugar:
10
g
|
Vitamin A:
250
IU
|
Vitamin C:
8
mg
|
Calcium:
288
mg
|
Iron:
6
mg