Panna cotta is another great way to enjoy that mysterious, indigenous American fruit no one but culinary nerds have heard of: the paw-paw a.k.a Kentucky Custard Apple.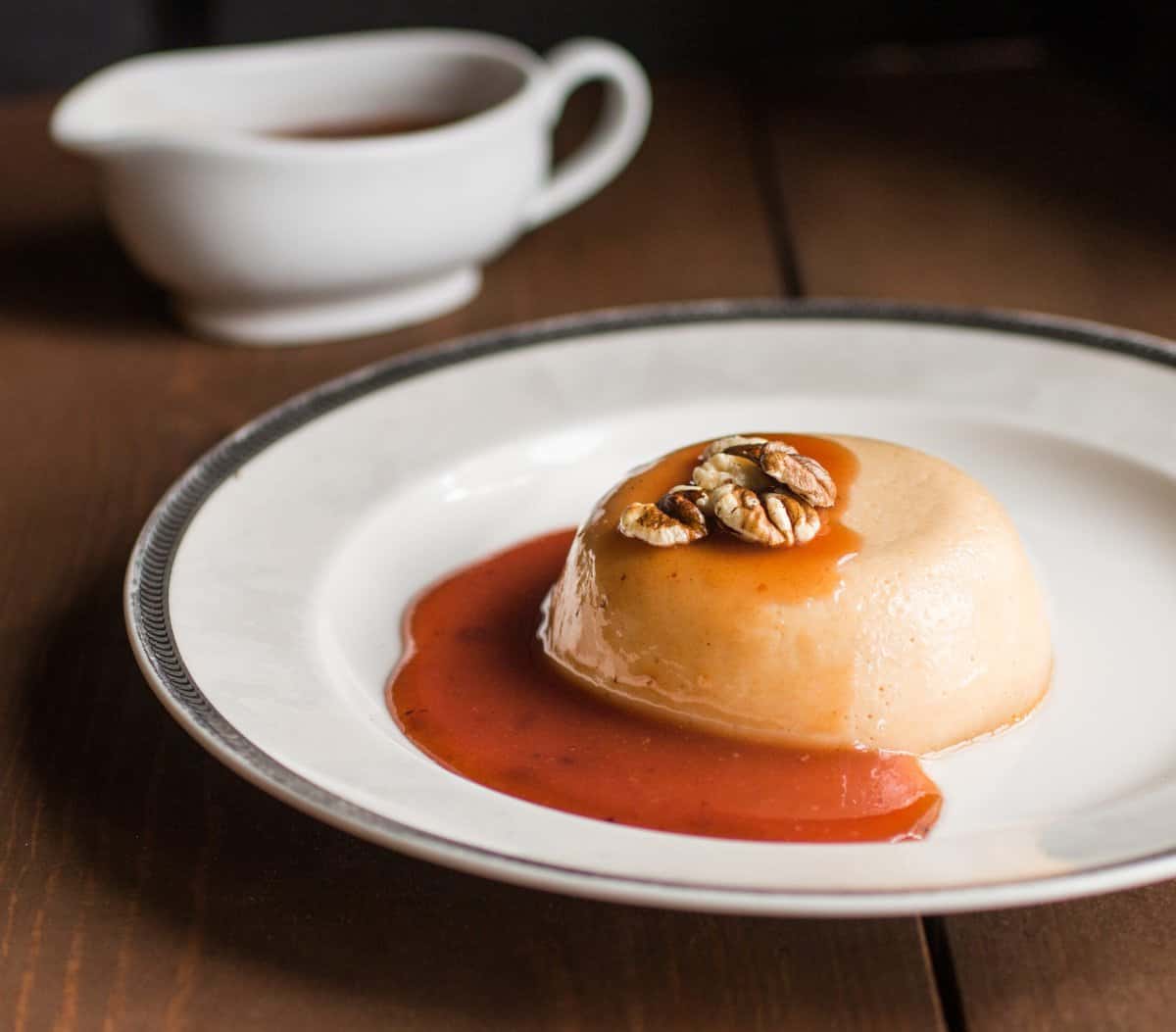 Depending on the species, the flesh could be yellow, orange, white, or a shade in between. Their flavor is variable too, but always evokes two things to me: bananas and mangoes. 
There's a special reason a panna cotta is a great thing to make. Since paw paw reacts negatively to heat, cooking it will change it's perfume and enhance bitterness. With a panna cotta, you can make the base, cool it to room temperature, and then puree in the paw-paw so it isn't exposed to heat. That being said, you can do the same with ice cream, or a chilled mousse too.
The Importance of gelatin
One of the most important parts of a panna cotta is the gelatin. I've used just about every type on the market for restaurant service, so I can tell you a thing or two about the different types, and why I use one specific type over all the others. Basically your choice comes down to two options: leaf gelatin, and powder.
Powdered gelatin is what you're going to find at most grocery stores. It's fine to use if you're trying to make simple Jello, but the set is often too firm for me, and can make things taste rubbery. With panna cotta, the perfect set that gives you a wiggly, tender dessert is the goal, and powdered gelatin, while it can work ok, isn't nearly as good as leaf gelatin.
Leaf gelatin can be tricky and confusing for home cooks who've never worked with it. There's different grades, prices, brands, and methods of using. Without going into too much detail, you should know I use silver leaf gelatin exclusively. I don't even worry about the other colors or grades.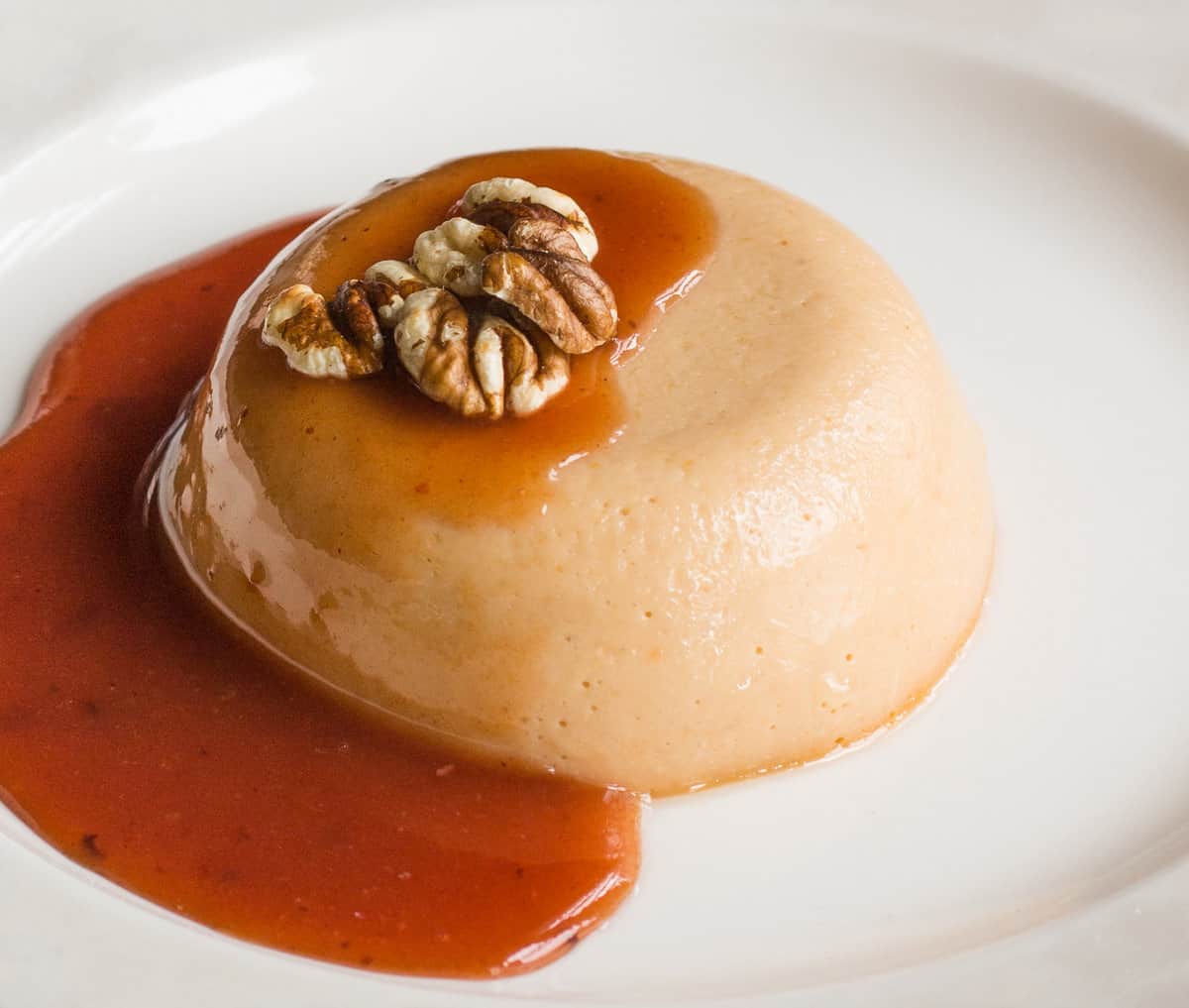 Serving
Paw paw panna cotta is good all by itself, but it needs some kind of garnish to really make a statement. Personally, I like a thin fruit sauce or coulis, but there's lots of things you could do. Here's a few notes:
The flavor is ok straight from the fridge, but will be better if you let it come to room temperature a bit before unmolding and serving, 10-15 minutes is fine. Berry sauces are great with paw paw. Blueberry, plum or raspberry as my last choice, are all good.
I like the panna cotta with a little bit of sharp berry sauce or citrus to wake it up a bit, just think of garnishes that would taste good with a banana. Pictured is wild plum jam thinned with a dash of orange and lemon juice to make a sauce, along with toasted hickory nuts to add crunch.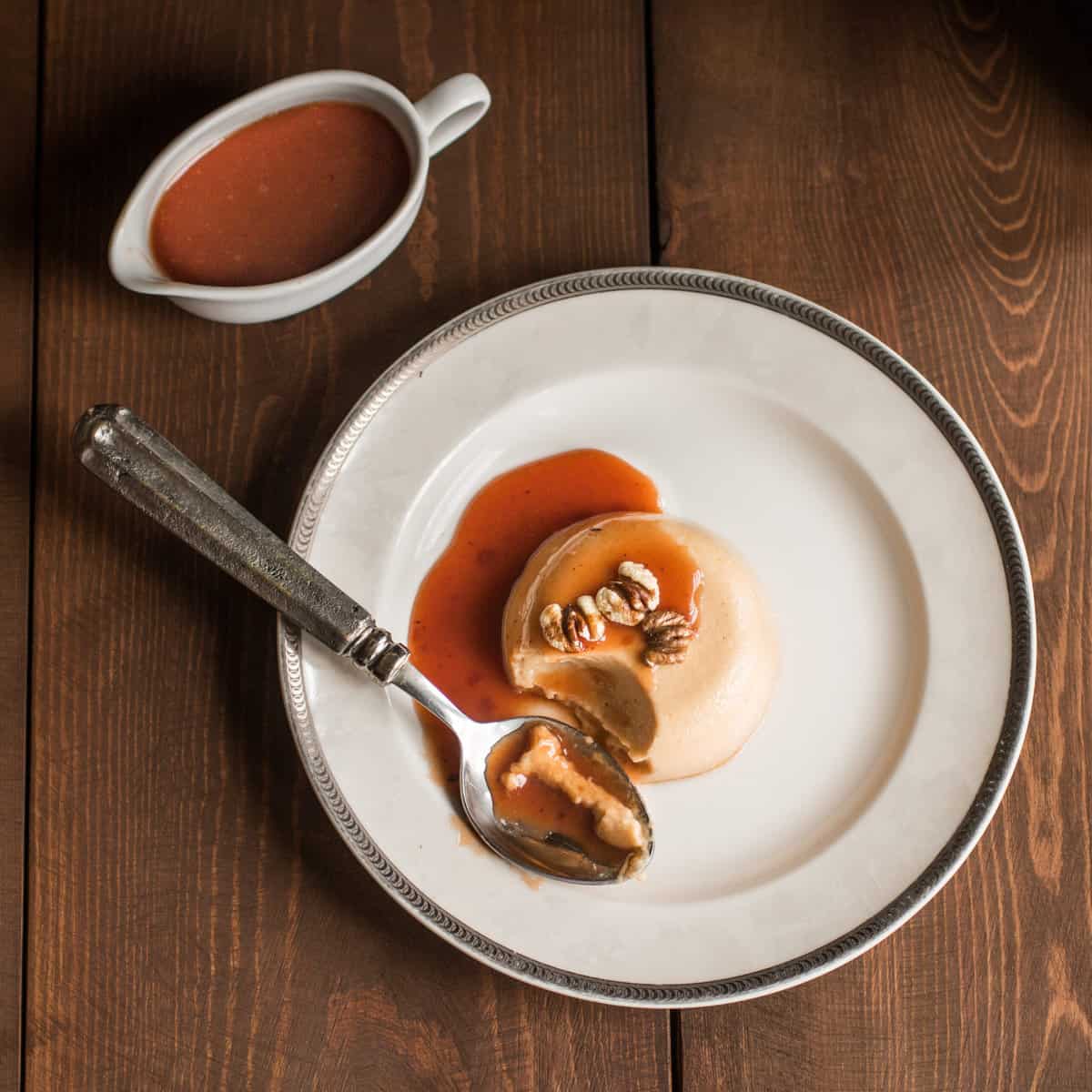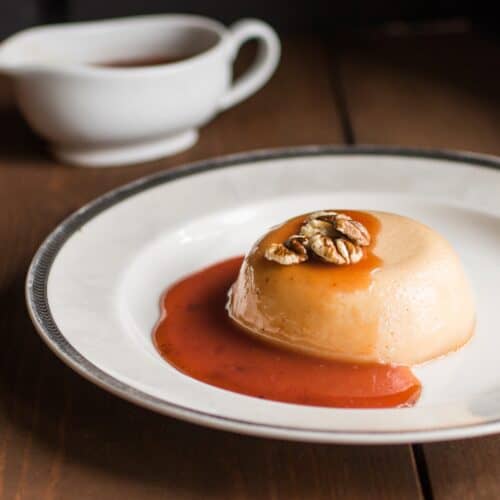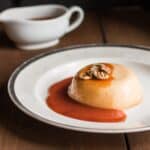 Print Recipe
Paw Paw Panna Cotta
Yield: nine four ounce ramekins
Equipment
A simple panna cotta made from paw paws. You can use frozen or fresh fruit.

6 four ounce ramekins
Ingredients
6

oz

⅔ cup frozen or fresh paw paw puree

½

cup

sugar

3

sheets leaf gelatin or 3.5 teaspoons powdered gelatin

2

cups

heavy cream

Dash of fresh meyer lemon

or lemon juice, to taste

A few scrapes of orange zest
Instructions
Gently warm the cream and sugar, whisking until the sugar is melted.

Meanwhile, bloom the gelatin until soft in ice water, then squeeze the water out. (If using powdered gelatin, add it directly to the warm cream and sugar then whisk).

Puree the warm cream with the paw paw flesh and the gelatin, then pass through a strainer (optional) and mix in the citrus juice and zest, then double check the seasoning and adjust as needed, you should taste a hint of citrus in the background.

Ladle the mixture into 4 ounce ramekins and refrigerate overnight until set.
Notes
This is good by itself, but even better with a little bit of sharp berry sauce or citrus to wake it up a bit. Candied lime zest would also be a great addition. Pictured is a little bit of strained blackcap raspberry jam thinned with a shot of lime and water to make a saucy coulis.
Frozen paw paw puree can be purchased through Earthy Delights.com
Nutrition
Serving:
1
g
|
Calories:
351
kcal
|
Carbohydrates:
23
g
|
Protein:
2
g
|
Fat:
29
g
|
Saturated Fat:
18
g
|
Polyunsaturated Fat:
1
g
|
Monounsaturated Fat:
7
g
|
Cholesterol:
90
mg
|
Sodium:
22
mg
|
Potassium:
123
mg
|
Fiber:
0.5
g
|
Sugar:
23
g
|
Vitamin A:
1473
IU
|
Vitamin C:
11
mg
|
Calcium:
56
mg
|
Iron:
0.1
mg