Lots of people know you can eat nasturtium flowers, but nasturtium capers, also called poor mans capers are my favorite part of the plant. I've fermented unopened flowers from a lot of plants, and these are the best substitute for capers I know of. I'll explain how to make them in the post, and what to do with them.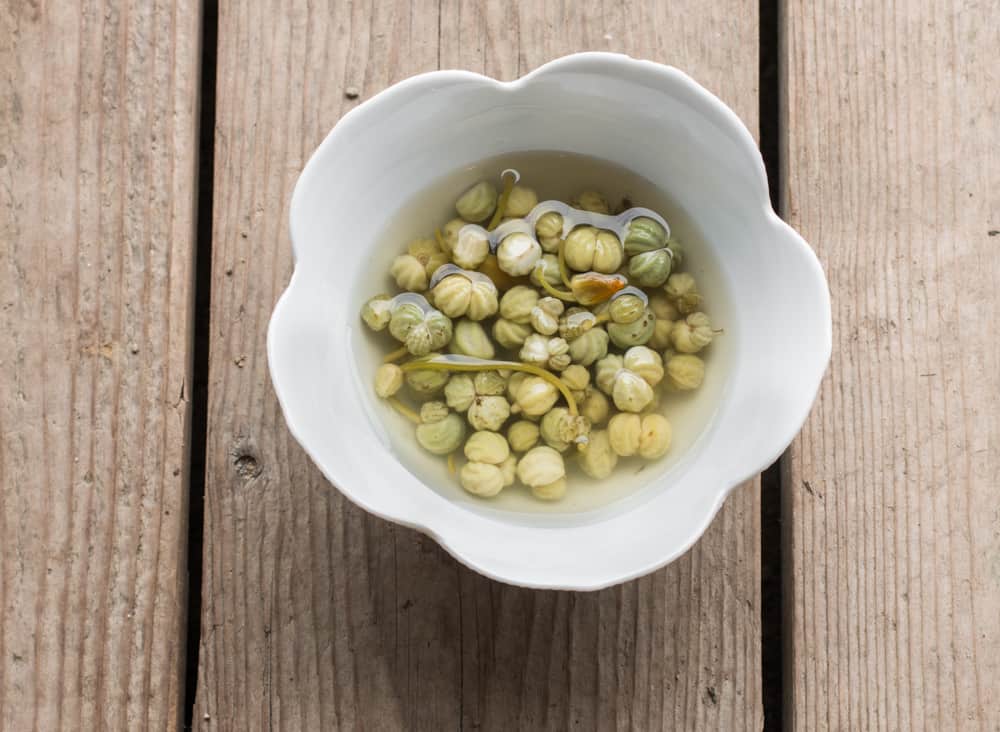 The only tricky thing in making these is that it's not easy to get a ton of them. Unless you know someone with a really large nasturtium patch, you're going to have to work for them. Making them is worth the effort though.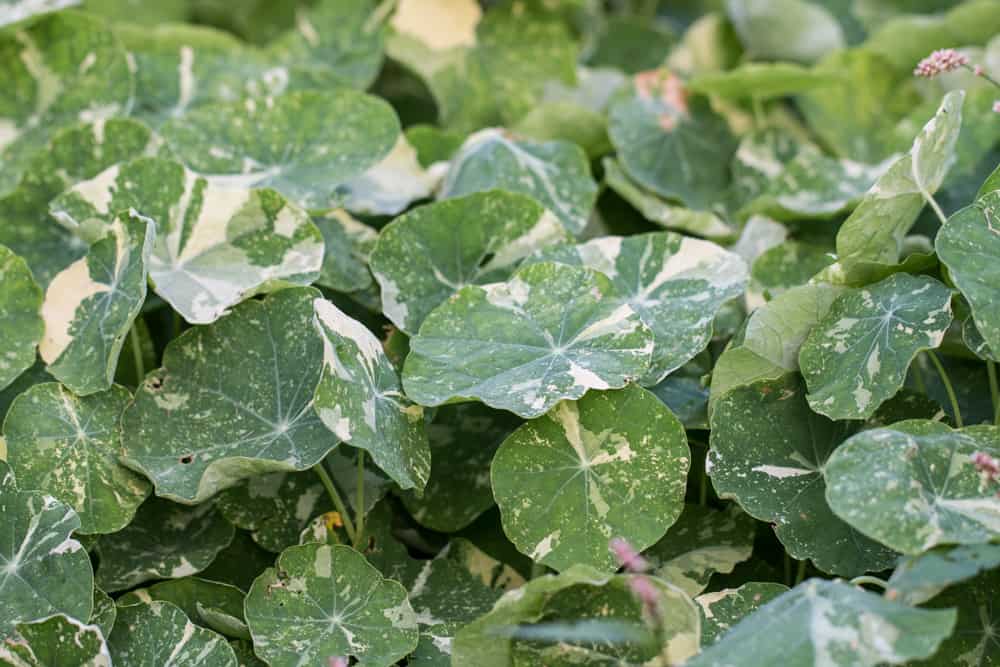 You don't need a bunch of fancy ingredients to make capers
Before you embark on a journey to stuff jars of capers full of herbs and seasonings for a fermented nasturtium capers recipe, think back to the first time you bought capers. Regular capers are just unopened flowers of a Mediterranean vine (Capparis spinosa).
There's nothing in most capers besides salt brine and the pickled nasturtium seeds. There's no rosemary, no peels of lemon rind, bay leaf, thyme, chilis, huge cloves of garlic, or peppercorns of any color.
I love seeing pictures of things in cute canning jars with ribbons on them, but you don't have to add all kinds of stuff to make great tasting capers. All you really need is a little time, salt, water, and nasturtium seed pods. Personally, I like clean tasting pickles more than ones that are muddy with too many flavors.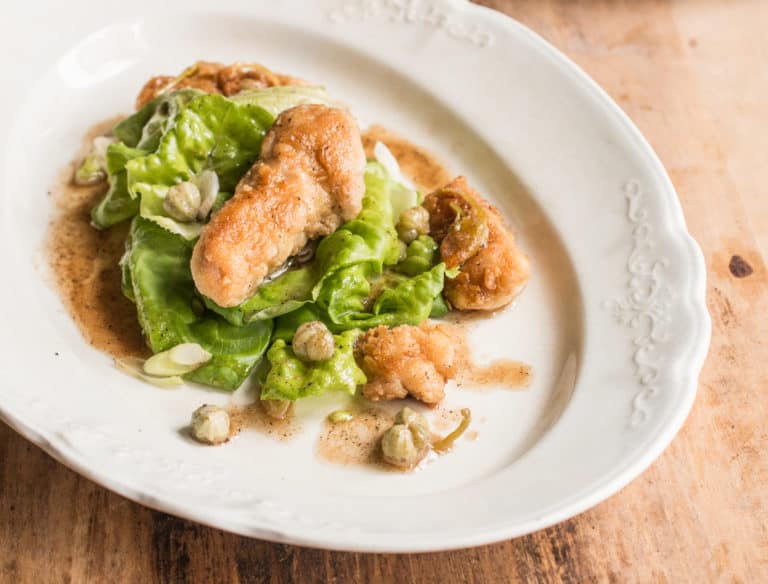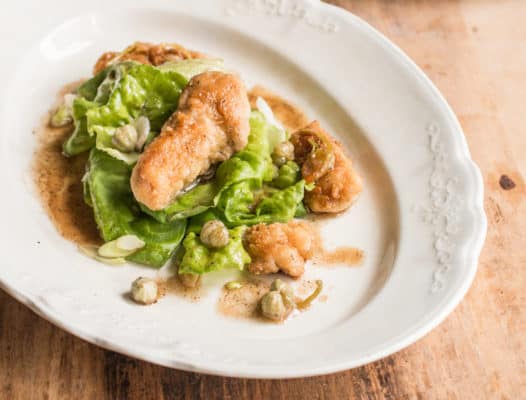 Fermenting the seed pods is the key to flavor
Most of the recipes out there have vinegar in them. If you look on the side of your jar of capers from the store you'll probably notice vinegar, but it's unnecessary, and vinegar also makes somethings too soft. Recipes that call for pouring boiling vinegar over capers and processing in a water bath will make unimpressive, soft capers.
Just a little salt and water in the right proportions, will easily ferment right on your counter top at room temperature. After a few days, and then some time in the fridge, the pH will low enough that it will be shelf stable without any vinegar at all.
I found I like keep them in the fridge, where they will last until the next ice age as long as they're kept underneath the brine. With enough patience, things kept in brine under refrigeration will ferment just like they would outside of the fridge, just at a slower pace.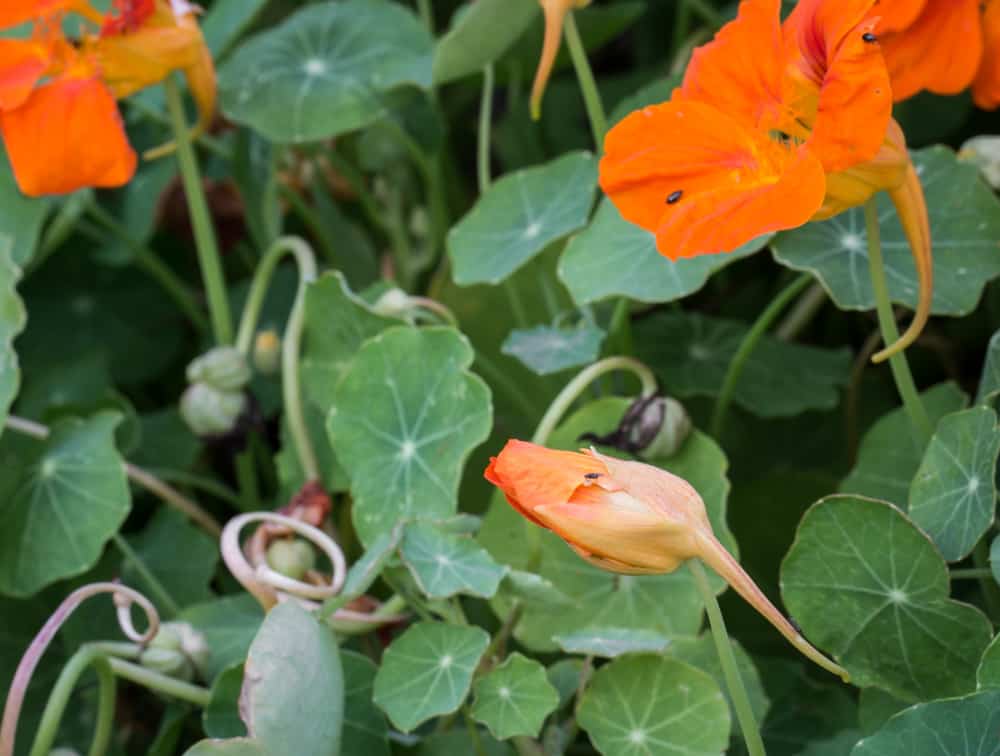 The only slightly tricky part with fermenting in brine (lacto-fermentation) is deciding how much salt to put in your brine. I like, and have had good success using 3-5% brine for my casual ferments at home.
If you don't know, using a scale to measure your salt for fermenting in brine is a great key for success. Scales are cheap now days, so if you don't have one, go order one, weighing ingredients for baking and fermenting will make you a better cook. Even so, I'm including both volume and weight measurements for simple, small batch brine fermented capers here.
Harvest nasturtium seed pods as you find them and add to the brine
At the end of the day what really matters is the flavor. Nasturtium capers taste the same as store bought capers after fermenting, but with a little more crunch. If you want softer capers, check out my post on milkweed capers. The only real difference you'll notice is that nasturtium capers have a strong aroma, but it doesn't affect the flavor.
The only tricky part is that it can be tricky to find lots of seed pods. The good part is you can pick them as they come, and drop them in brine with the rest of the buds as they ferment. Eventually flavors will align and they'll all taste the same.
Oh, you can use both unopened flower buds and green seed pods, but the seed pods are superior in flavor and texture by far. The flower bud you see below was just an accident.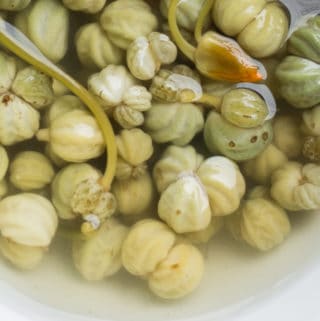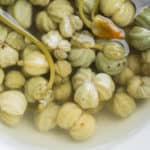 Print Recipe
Nasturtium Capers (Lacto-Fermented)
Naturally lacto-fermented nasturtium capers taste near identical to store bought, but have a better texture. I like to use the ratios below to fill a quart jar, but you can scale it up or down however you like.
Equipment
1 pint or quart mason jar
Ingredients
25

grams

kosher salt

1.5 tablespoon

500

grams

water

2 cups

100

grams

Nasturtium seed pods

or just as many as you have to put in the jar
Instructions
Combine the water and salt and whisk to dissolve. Pour the salt water in to a pint jar or other container and add the nasturtium seed pods, then screw on the lid.

Leave the jar on the counter for 3 days to start fermenting, or leave out a bit longer if you want them to sour more quickly, then transfer to the fridge.

Open the jar here and there to check on the capers and release carbon dioxide and to make sure water doesn't evacuate. I often put mason jars of ferments in another larger container to catch possible drips.

After about 2 weeks the capers should have a nice flavor, but if you leave them in the fridge longer they will continue to age and develop until the pH is as low as it can go. More or less, the longer they sit, the better they will get, and you can let your palette be your guide.
Notes
Salt Ratios 
The proportions listed will give you a 5% brine if you use a either a scale or volume measurements (cups, etc). From there, you just need enough of the brine to cover the amount of nasturtium pods you have.
It's a good idea to make sure the seed pods are covered with more brine than you think you'll need. 2 cups of water will cover 1 cup of nasturtium capers. Make sure not to pack the jars too full, since water can evacuate during the fermentation process. 
Alternate Method: Weighing everything and multiplying by .03 (%)
Another easy way to ferment the capers is to put your jar on a scale, tare it to zero in grams, add the capers and water to cover by a good inch or two, then multiply the total grams of the contents by .03. This will be a similar salt content to what I have listed above. Both ways work fine. 
Nutrition
Calories:
2
kcal
|
Carbohydrates:
1
g
|
Protein:
0.3
g
|
Fat:
0.1
g
|
Saturated Fat:
0.03
g
|
Polyunsaturated Fat:
0.03
g
|
Monounsaturated Fat:
0.01
g
|
Sodium:
1509
mg
|
Potassium:
5
mg
|
Fiber:
0.3
g
|
Sugar:
0.04
g
|
Vitamin A:
15
IU
|
Vitamin C:
0.5
mg
|
Calcium:
7
mg
|
Iron:
0.2
mg
References
Use in cooking