Chestnuts are a lot more than something to add to stuffing or roast an eat, they're special flavor, treated well can become a condiment all by themselves, particularly good with game and poultry. This sauce elevates them to a different level by incorporating a special ingredient: Chestnut blossom honey.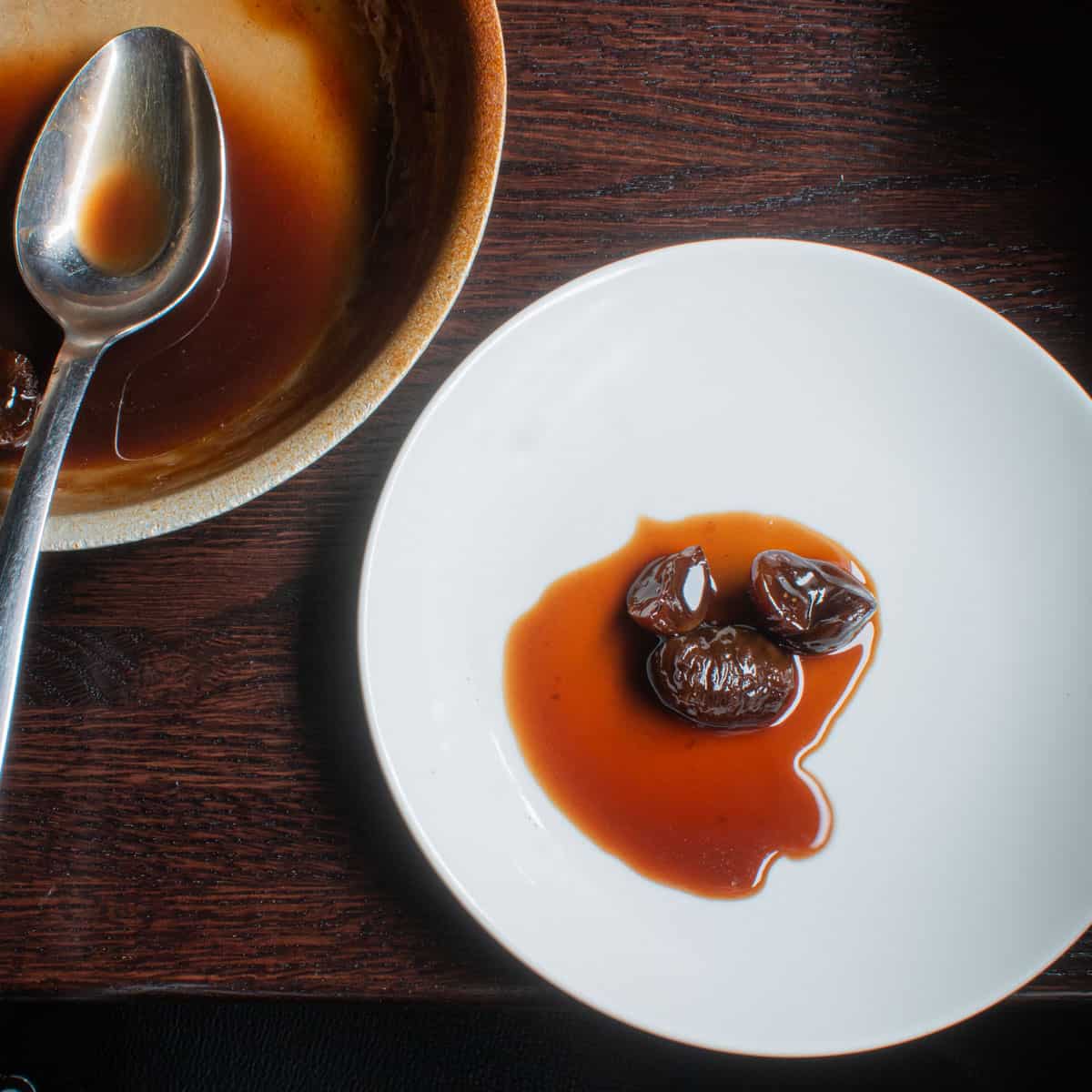 Chestnut honey, along with buckwheat honey is one of the strongest flavored honeys I know of. Just a tiny bit adds interest and character to a sauce, be careful not to add too much though since it's flavor can take over quickly. Pairing the chestnuts and their honey together is a natural combo, and one I love to use when It's chestnut season.
If you have some chestnuts and a little game in the freezer, like a pheasant, some quail, or even just a chicken from the store, I guarantee this will change your chestnut game.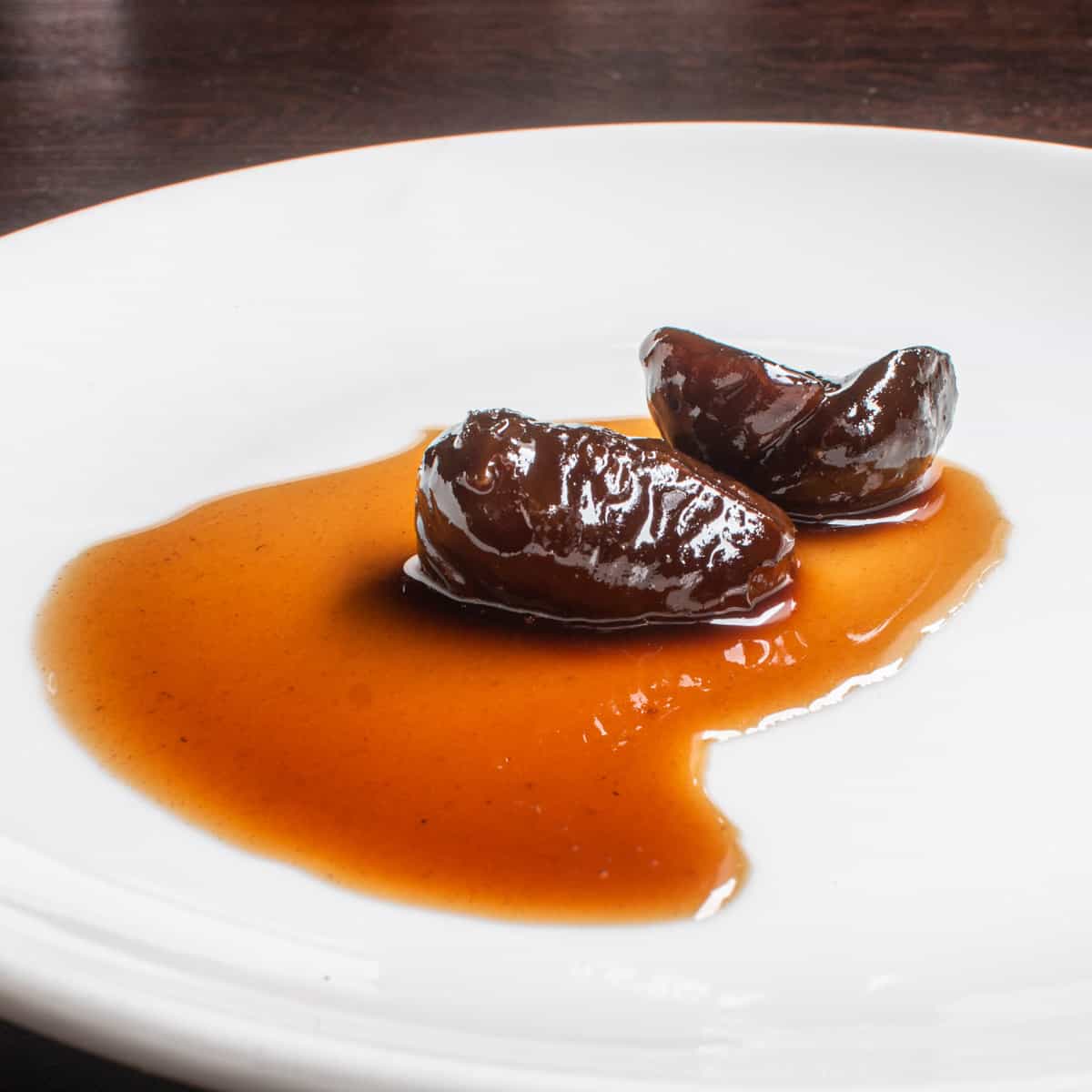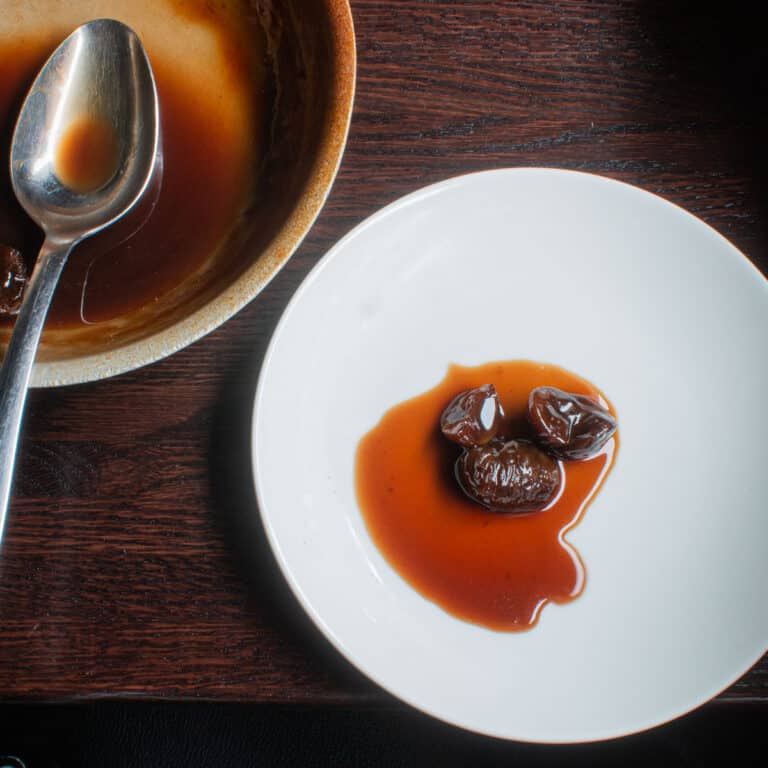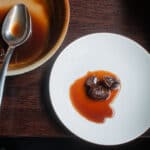 Print Recipe
Chestnut Honey Sauce
A rich sauce for game and poultry made with chestnut honey and roasted chestnuts
Ingredients
½

lb

whole chestnuts

2

tablespoons

chestnut honey

¼

cup

cider vinegar

4

cups

chicken stock

preferably homemade

¼

cup

brandy

2

cups

dry red wine
Instructions
Score the chestnuts with a paring knife to make an X on the pointed side of each nut. Roast the chestnuts in a cast iron skillet or baking sheet for 25-30 minutes at 350, shaking the pan every 5 minutes or so to ensure even browning.

After 25-30 minutes, most of the chestnuts should have opened. Remove the chestnuts from the oven and place in a dish cloth and wrap up to allow them to steam and loosen any clinging skin.

When the chestnuts are cool enough to handle, remove each one from the skin and reserve. If skin sticks to the meat of any chestnuts, you can steam them for a few minutes to help the skin remove.

To make the chestnut sauce, heat the brandy and ignite, then cook until the flames subside, add the wine and reduce by half. Add the honey, glace, vinegar and chestnuts and cook until the chestnuts are tender, about 10 minutes. Remove the chestnuts so they don't fall apart, then reduce the sauce until only 2 cups remain and add the chestnuts back to the sauce.

Transfer the sauce to a labeled, dated container and reserve until needed. To serve heat the sauce, reduce, and whisk in cold unsalted butter to thicken before serving.
Notes
If you can find blanched and peeled or IQF chestnuts, this will be much easier to make. Knowing how to roast and peel chestnuts is valuable though. The sauce can be easily frozen.
Nutrition
Serving:
1
oz
|
Calories:
367
kcal
|
Carbohydrates:
45
g
|
Protein:
7
g
|
Fat:
4
g
|
Saturated Fat:
1
g
|
Polyunsaturated Fat:
1
g
|
Monounsaturated Fat:
2
g
|
Cholesterol:
7
mg
|
Sodium:
346
mg
|
Potassium:
543
mg
|
Fiber:
0.02
g
|
Sugar:
12
g
|
Vitamin A:
22
IU
|
Vitamin C:
23
mg
|
Calcium:
20
mg
|
Iron:
1
mg