About 7 years ago while I was playing disc golf, I came across an elderly women digging up dandelions near the parking lot of the course. I've always been fascinated by traditional recipes and preparations, so, of course I had to walk up and ask what she was harvesting, and how she was going to prepare it.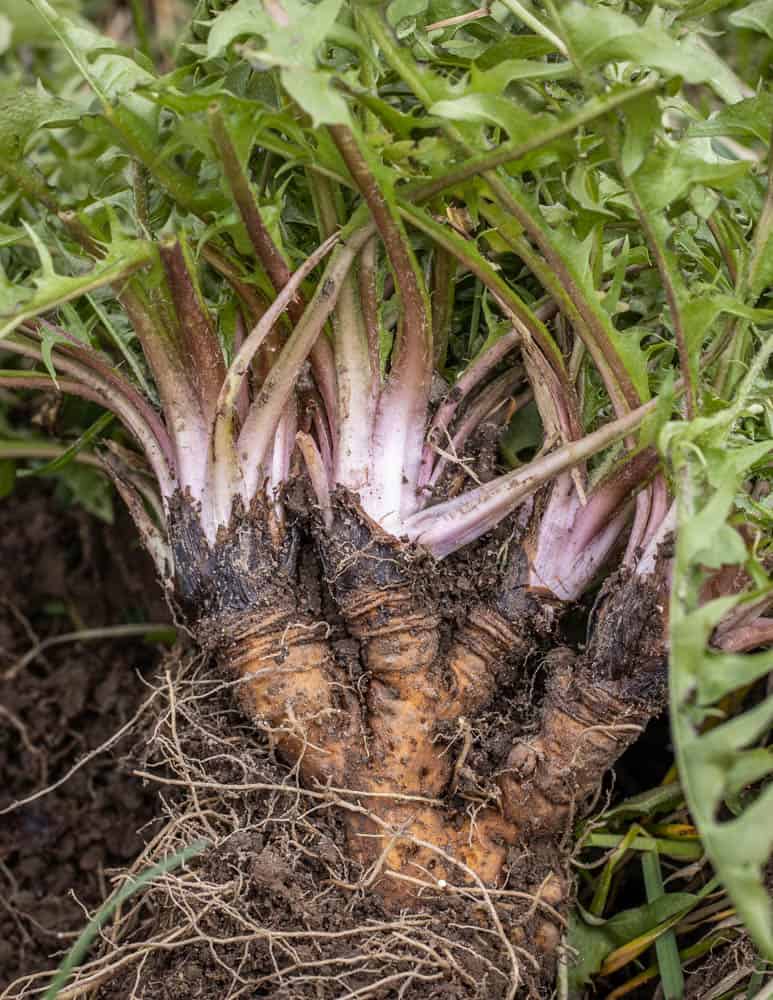 I'm pretty sure I spooked her a bit, and, there was a language barrier (she looked Hmong or Lao to me, but I can't be certain).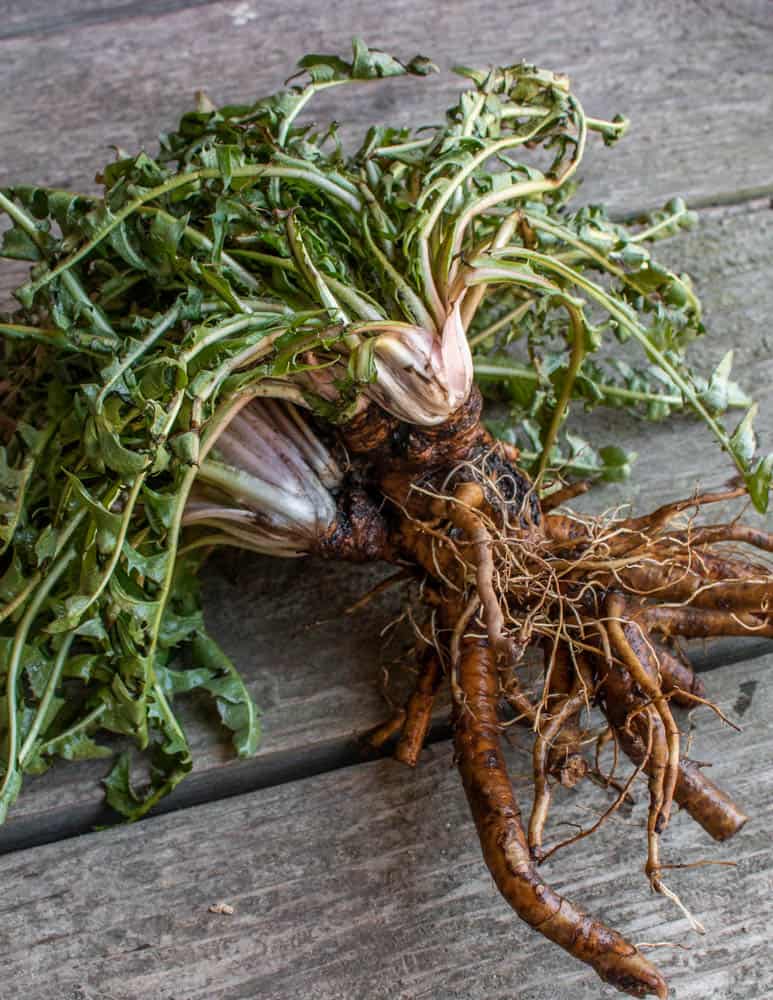 I did my best to gesticulate and inquire, but I remember her leaving pretty fast. In hindsight, if I was her, approached by some random white guy who, as far as I knew would probably poo-poo my digging up dandelions in a public park, I would have bolted too.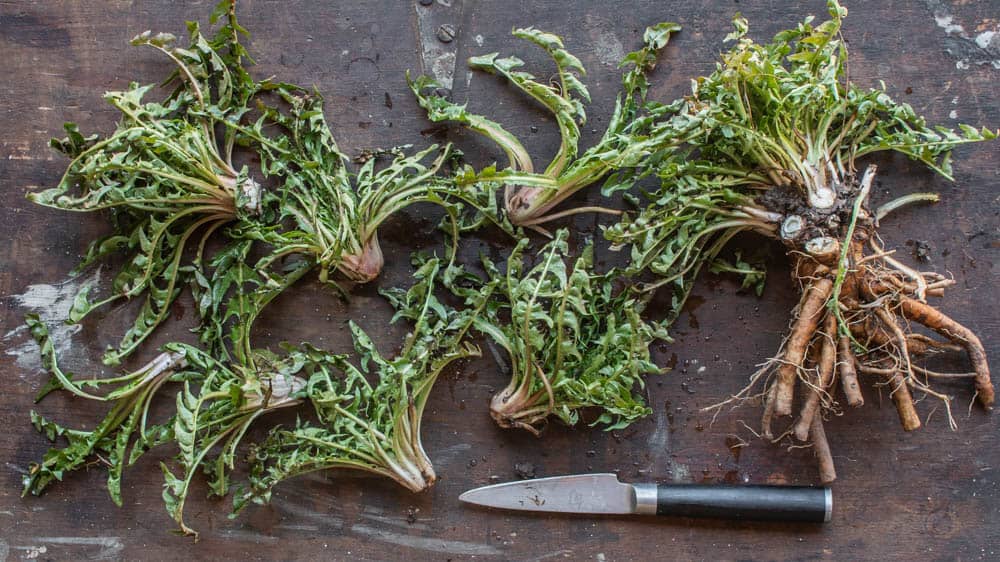 I didn't realize what she was actually harvesting until years later when I started cooking with whole young spinach attached to it's stem from my favorite farmer from Oregon, a great guy named George Weppler who used to supply Alice Waters in the early years of Chez Panisse.
The woman at the parking lot wasn't just foraging some dandelion greens, she was harvesting dandelion hearts (also known as crowns) and there's a big difference.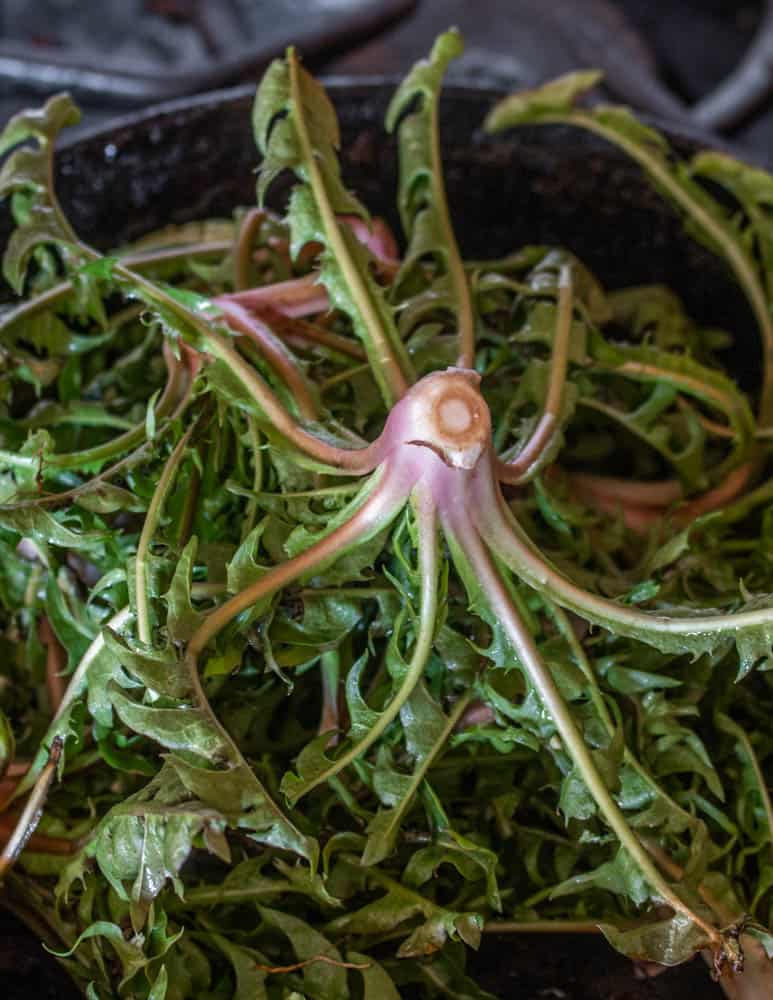 Harvest in the Spring
Dandelions are at their peak when they're young in the spring. The young rosettes are a far cry from the stronger flavor they'll develop during the growing season.
Dandelion hearts though, are the finest part I've eaten. Cooking the crowns takes a bit of work, but if you can clean a leek, potato, or carrot from a garden, you can enjoy a fantastic little vegetable any chef I know would kill to get their hands on.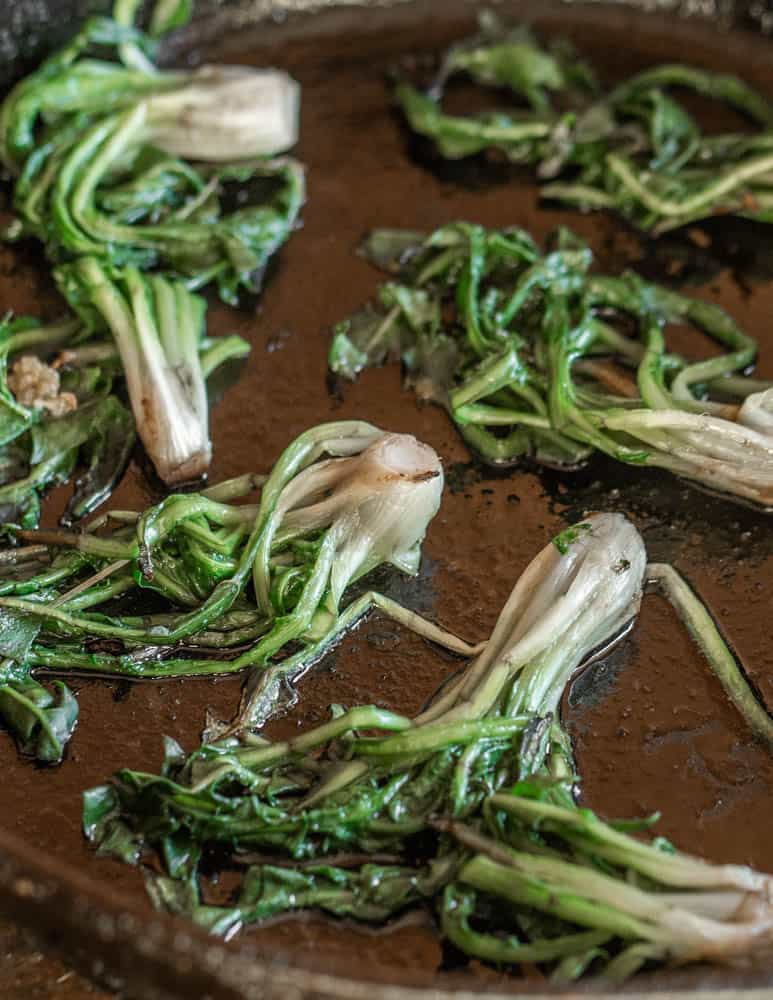 I'd forgotten about the hearts until last year when I dug up the roots to try making tinctures, and, when I levered the root from the ground with that satisfying snap only a big spade can give, staring me in the face, was a bunch of fat, juicy, dandy-crowns.
I forgot about the roots and cooked a few crowns up. They were great. The leaves on the top of the plant are just long enough to twirl with a fork, and the small, tender bottom portion with it's little bit of stem has a texture that's really good. The best comparison I can think of being tiny artichoke bottoms, with a stronger flavor.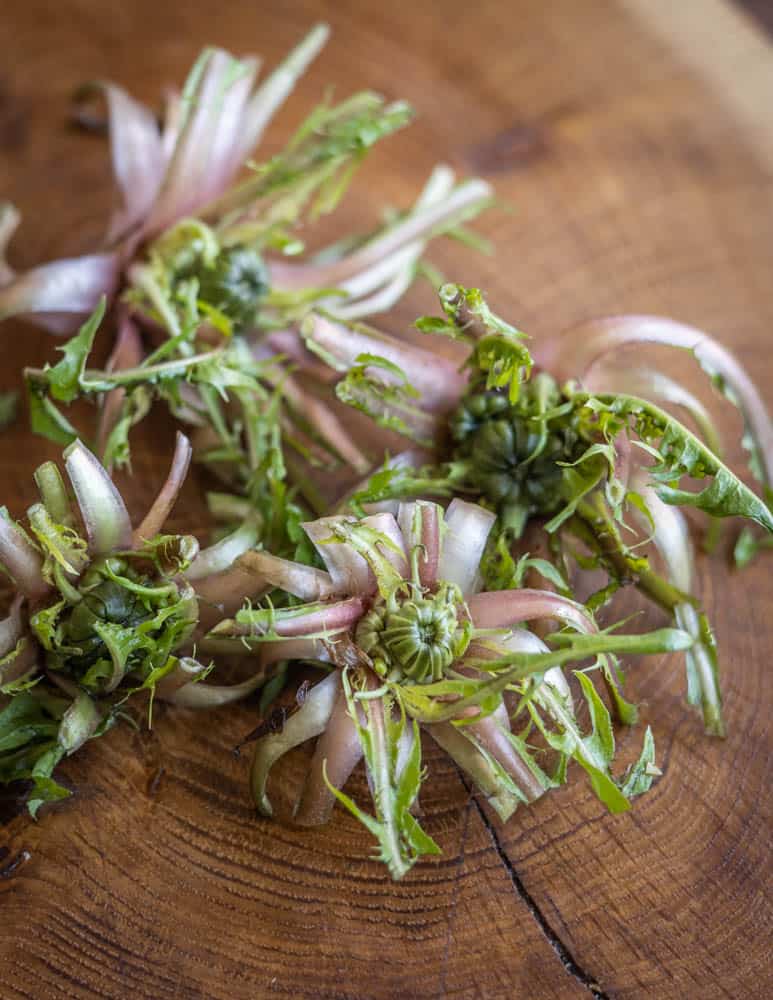 Over the course of the 2020 winter, I ran into a recipe, for dandelion crowns, in a Turkish book I've been cooking through. The recipe called for dandelions, but it instructed the cook to discard the top portion of the leaves and use the stem.
Cooked whole, with their leaves, dandelion hearts are still novel and fun, but, after a haircut (save the trimmed greens for making Lebanese Dandelions with Caramelized Onions (Hindbeh) they're transformed into a different culinary ingredient entirely that looks, at least to me, a bit like fairy fennel bulbs. Here's a few tips on harvesting and working with them
Chefs Tips
Know the terrain
The woman I met was digging around near parking lot with rocky soil-exactly the opposite of where you will find the champion dandelions you want, which will have the biggest hearts. You want rich, healthy soil that's soft and easy to dig in, if you dig after a rain they'll come up even easier.
Wild places, like open areas with sun on the edges of the woods will be good, and on the peripheries of farms that grow crops you'd like to eat. Choose the beefiest looking dandelion rosettes you can find, as those will have the biggest crowns with the largest proportion of that tender, delicious stem.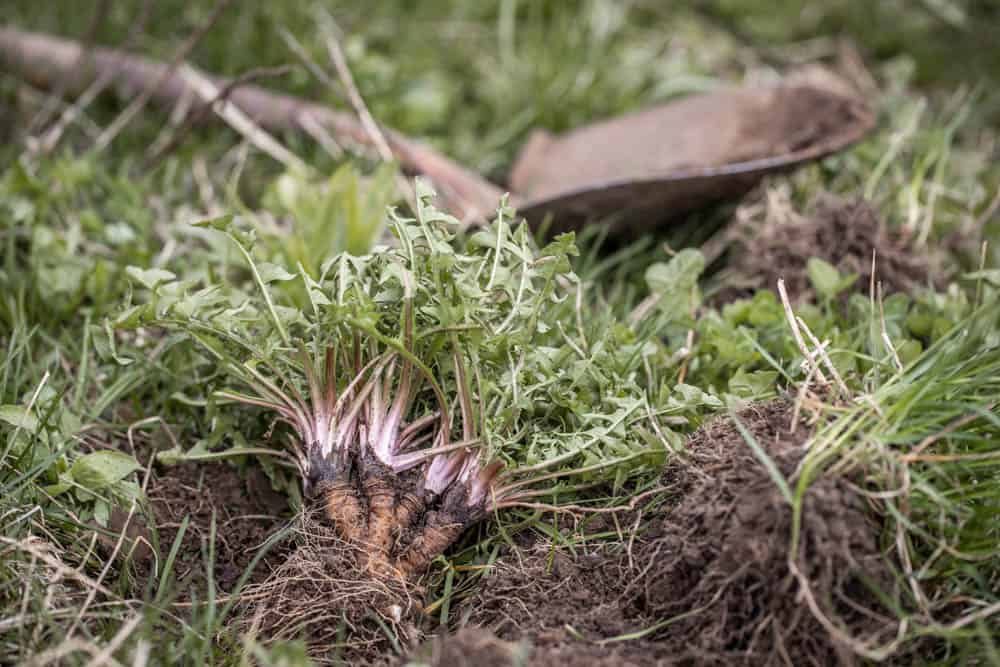 Cleaning
Dandelion crowns are dirty. My suggestion is to wash them, then wash them again, finally, to cook them, blanch them in salted water, then transfer to a bowl of warm water (cold temperatures are less conducive to loosening grit) swish them, and finally dry on towels before cooking, which is probably better described as reheating.
Only young plants will do
You must harvest the dandelion crowns when they're young, and that means when the leaves are about 6-7 inches long. Any older and the stems will be tough.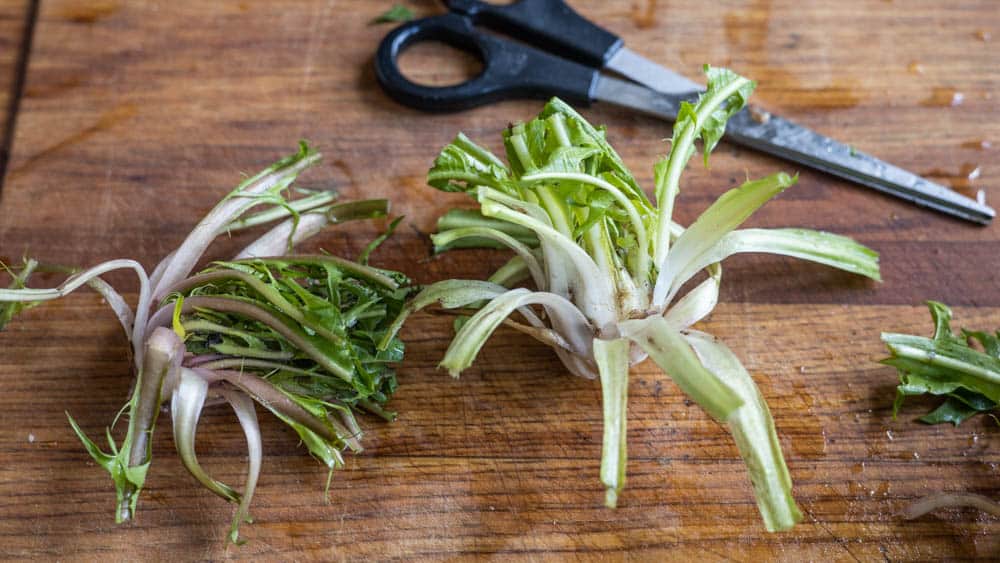 The dandelion recipe here is based around a traditional Apulian dish of wild chicory served with a puree of fava beans known in the region as Foje M'bische-a golden nugget I dug out of a book I've been translating not available in English.
In the recipe and video here, I serve it with a puree of chickpeas colored with Sam Thayer's water oak acorn oil. Traditionally the dish is made with dried fava beans.
If you can't find those (try an Asian market) mashed up chickpeas or white beans, or just some hummus will give you the idea. The combination of creamy and bitter/aster flavor is very nice. Some people add croutons fried in butter.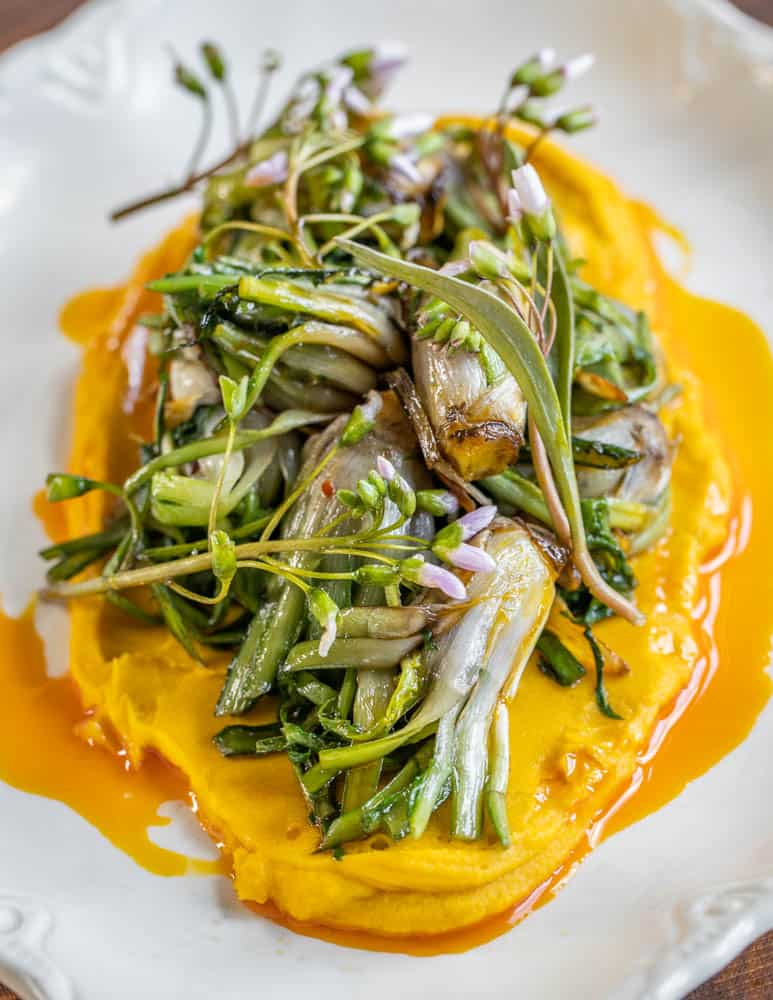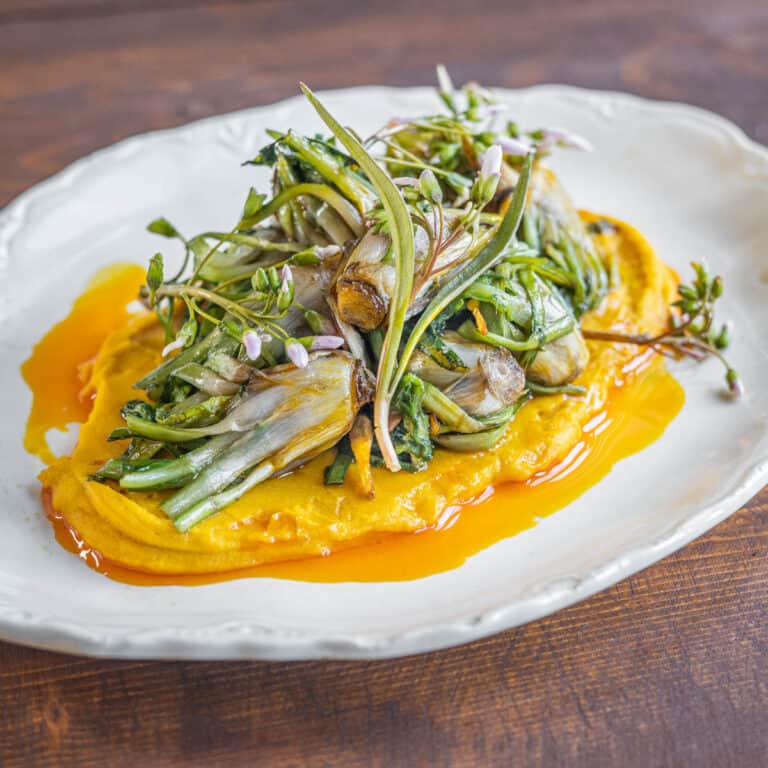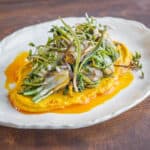 Print Recipe
Pugliese Inspired Dandelion Hearts
Dandelion hearts tossed with garlic, chili and anchovy, served on a bed of smooth chickpea puree inspired by the Foje M'bische / Fave e Cicoria of Apulia made with wild chicory. Serves 2-4 as an appetizer or side dish.
Equipment
1 4 quart pasta pot

for blanching

1 10 inch saute pan

for finishing the crowns
Ingredients
Dandelion Hearts
8

oz

trimmed and cleaned dandelion hearts / crowns

1.5

tablespoons

flavorless oil or a blend of EVOO and cooking oil

Good pinch of crushed red pepper flakes

to taste

½

teaspoon

anchovy paste

1

large clove garlic

⅓

cup

bean puree

traditionally more puree is served, but I opted for a cleaner presentation here

Kosher salt and fresh ground black pepper

to taste

Wild flowers

to garnish, optional I had a few sprigs of spring beauty
Bean Puree
1 15.5

oz

can of chickpeas

3

Tablespoons

acorn oil or EVOO

1

large clove garlic

crushed with the back of a knife

Juice of half a large lemon

roughly 2 tablespoons

Kosher salt

to taste
Instructions
Lazy bean puree
For the bean puree, pour the can of chickpeas with all their juice into a small pot and bring to a boil. Pour the hot beans and all of their juice into a highspeed blender like a vitamix or a food processor, along with the lemon juice, garlic and a pinch of salt.

If you are using a small capacity blender, make sure there's a vent as trapped steam from the hot beans could make the lid blow off of the machine, or let the beans cool a bit before blending.

Blend the mixture, drizzling in the oil to make a smooth puree. If you have a vitamix, use the accelerator tool to help here. If you use a food processor, it may be difficult to get the puree as smooth as I have pictured, but it will still taste good.
Dandelions
Wash the dandelion hearts and trim them, snipping off the top couple inches of leaves which you'll save for another purpose.

Bring a pot of water to a boil and season it with salt (roughly 1 tablespoon per quart). Blanch the dandelion hearts for a minute or two, then remove to a bowl of water (not ice water) and swish them around as a final defense against dirt. Remove the dandelion hearts to a towel to weep excess water.

Meanwhile, heat the garlic in the oil in a cold pan on medium heat, stirring occasionally until the garlic is nearly golden brown. Add the anchovy paste and stir, then add the chili flakes if using. Quickly add the dandelion crowns, stirring to halt the cooking of the garlic. Stir the crowns well to distribute the flavors.
Serving
When the crowns are heated through, check the seasoning by tasting one, adjust as needed for salt.

Spread ⅓ cup of the bean puree (or as much as you like) on a plate and spread it out with an off-set spatula. Arrange the dandelion hearts on the top, drizzle with a little oil to finish, garnish with the wildflowers, and serve. Some variations of the dish add croutons fried in oil for texture.
Notes
This is a great treatment for both dandelion crowns, and bitter leafy greens. To see the traditional version this recipe was derived from, refer to my Fave e Cicoria Recipe. 
Nutrition
Serving:
3
oz
|
Calories:
191
kcal
|
Carbohydrates:
9
g
|
Protein:
3
g
|
Fat:
17
g
|
Saturated Fat:
2
g
|
Polyunsaturated Fat:
2
g
|
Monounsaturated Fat:
12
g
|
Cholesterol:
1
mg
|
Sodium:
72
mg
|
Potassium:
275
mg
|
Fiber:
3
g
|
Sugar:
1
g
|
Vitamin A:
5765
IU
|
Vitamin C:
20
mg
|
Calcium:
117
mg
|
Iron:
2
mg