Here's a great way to use that bee balm salmoriglio sauce: as a summery garnish to a piece of fish.
Catfish is a great, often overlooked fish in restaurants, it's meaty, and juicy, not to mention cheap. Fried in a crispy dredge of some seasoned cornmeal, it's the beginning of a great meal.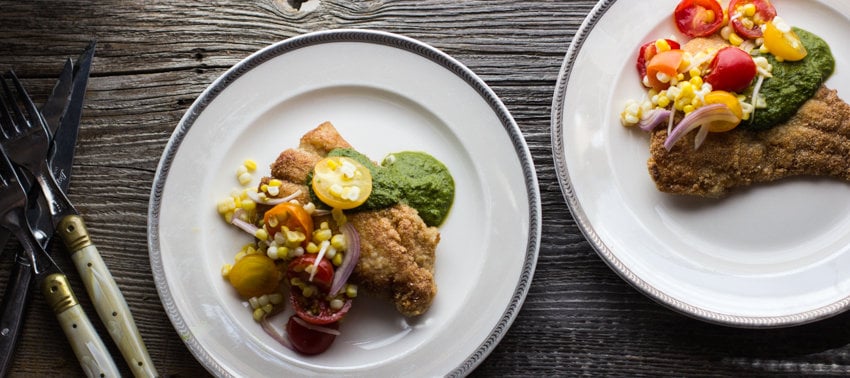 Summer time means that lots of nice vegetables are around here in Minnesota, and to me, nothing evokes thoughts of warm weather like corn and tomatoes.
Hands down, one of my favorite garnishes for fish is just a handful of sliced heirloom baby tomatoes, they are dressed up a bit here with the corn and macerated onions, but it would be just fine to season some sliced tomatoes with salt and pepper and toss them on something too. As well, since the bergamot blooms at the same time, they're a natural pairing together.
This is a really easy recipe, you make a little salad of corn, tomatoes, and macerated onion, then fry up some catfish, plop on a little tomato salad and bergamot sauce and you're ready to go. It's light and colorful-everything that summer should be.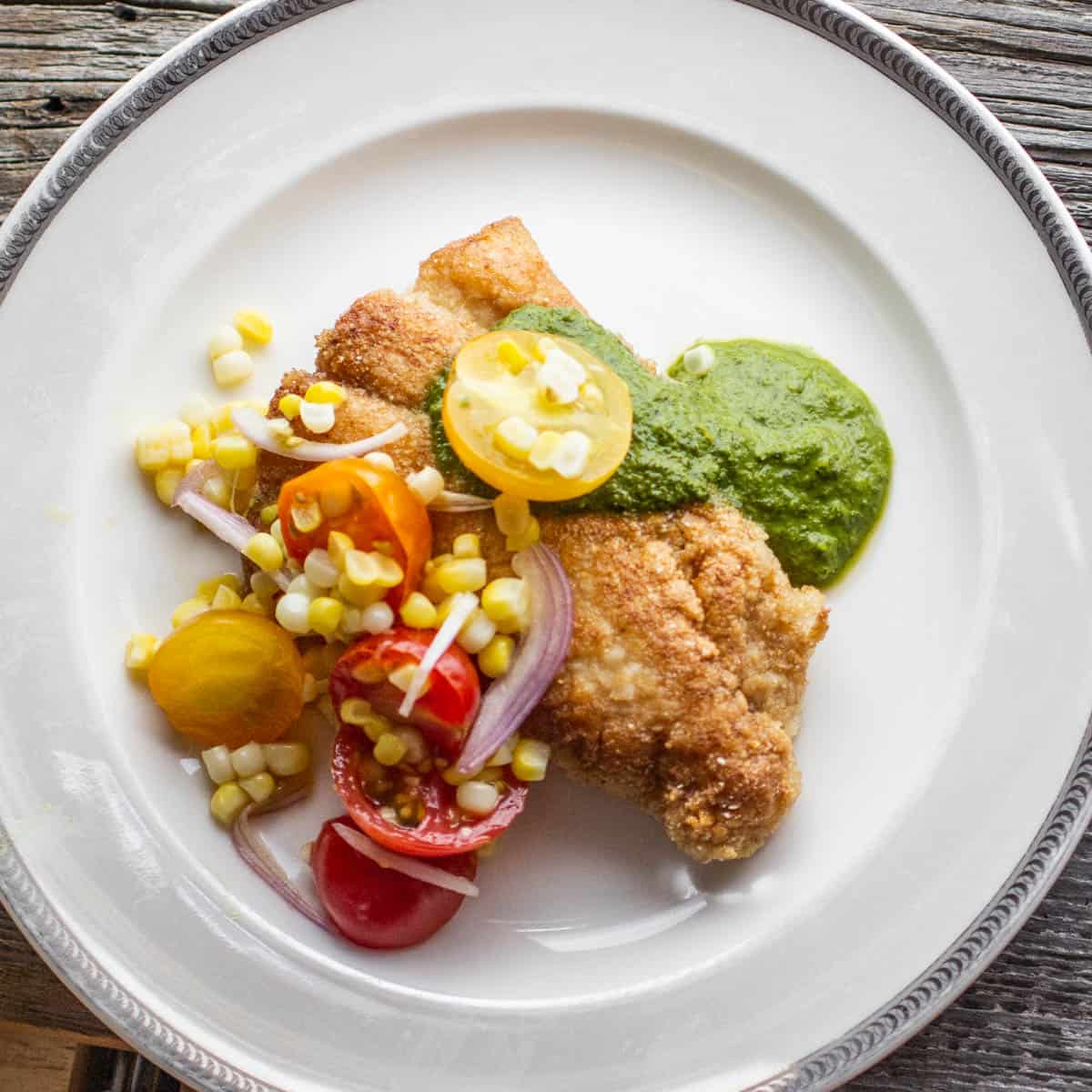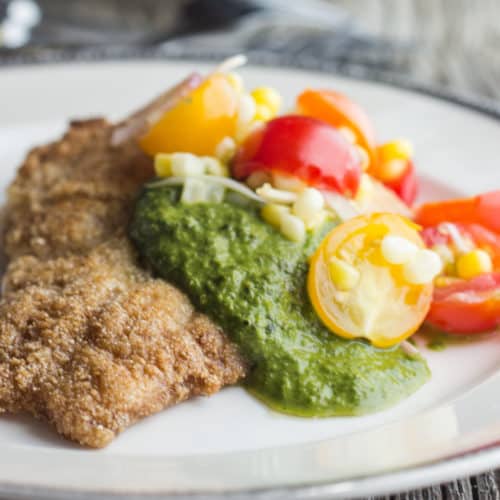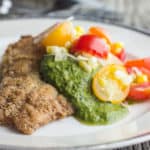 Print Recipe
Cornmeal Fried Catfish with Herb Sauce
Cornmeal crusted catfish with an optional tomato-corn salad and wild oregano sauce.
Ingredients
Catfish
Two 5 oz filets of catfish

1

cup

buttermilk

Kosher salt and pepper

¼

cup

peanut oil

for shallow frying, plus more as needed

2

tablespoon

Italian Salmoriglio sauce

1

recipe heirloom baby tomato-sweet corn salad

follows
Cornmeal Crust
2

cups

fine cornmeal

1

Tablespoon

sweet paprika

½

teaspoon

cayenne

1

teaspoon

kosher salt

1

teaspoon

fresh ground black pepper

1

teaspoon

garlic powder
Instructions
Cornmeal Crust
Combine all ingredients for the cornmeal crust and mix in a bowl big enough to fit a filet of catfish.

Cover the catfish in buttermilk and let it sit for 10 minutes before you cook it, it helps the cornmeal stick, and adds a nice zip. When it's time to eat, remove the catfish from the buttermilk, season lightly with salt and pepper, and then dredge it in the cornmeal mixture.

Heat a saute pan with the grapeseed or other oil, then place the cat fish in the pan, making sure that the "plating side" is face down. (This side will probably have a line running down it, from where the pin bones are removed, it's the superior side of the filet of every fish for searing, unless the fish has edible skin)

Cook the catfish for five minutes until golden brown, then flip the filets over to crust the other side, adding the butter to make sure that the pan doesn't get dry.

When the other side of the catfish is cooked through, remove the catfish to a platter with paper towels to drain off the excess fat for a moment, then put 1 filet on each of two pre-heated dinner plates, top each with a tablespoon of the bergamot salmoriglio sauce followed by a handful of the tomato salad, and serve immediately.
Notes
Other flaky white fish like walleye can work here too. 
Nutrition
Serving:
1
filet
|
Calories:
1075
kcal
|
Carbohydrates:
125
g
|
Protein:
44
g
|
Fat:
45
g
|
Saturated Fat:
10
g
|
Polyunsaturated Fat:
14
g
|
Monounsaturated Fat:
18
g
|
Cholesterol:
95
mg
|
Sodium:
1359
mg
|
Potassium:
1289
mg
|
Fiber:
16
g
|
Sugar:
9
g
|
Vitamin A:
2201
IU
|
Vitamin C:
1
mg
|
Calcium:
178
mg
|
Iron:
6
mg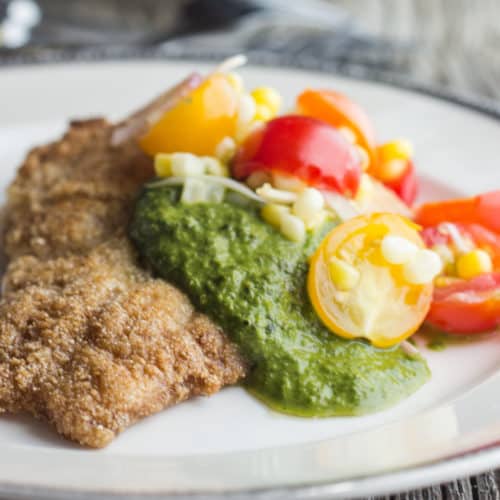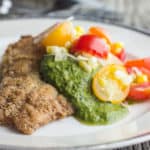 Print Recipe
Baby Heirloom Tomato-Sweet Corn Salad
Yield: 1.5 cups, enough to garnish two entrees with some leftovers that you should probably eat out of the bowl with a spoon.
Ingredients
1

ear of sweet corn

1

cup

heirloom baby tomatoes

halved with a sharp knife

¼

teaspoon

kosher salt

plus more to taste

1

teaspoon

sugar

honey or another sweetener of your choice

1

tablespoon

virgin sunflower oil or olive oil

¼

of a red onion

thinly sliced with the grain (I'll explain)

Splash of champagne vinegar
Instructions
Preheat the oven to 350.

Cut off the root and top of the onion, stand it up, then cut in half vertically. Place the onion cut side down on a cutting board and slice very thinly, perpendicular to the root and top cuts. Combine the sliced onion in a non reactive mixing bowl with the salt and sugar, and toss to combine. Allow the onion to macerate for 10 minutes or so.

Roast the corn in it's husk for 15 minutes or until just tender, depending on your oven. Remove the corn and cool in it's husk. Using a paring knife, (feel free to check out my method here) remove the corn from the cob. If needed, break the the corn into individual kernals.

Combine the sliced onion with the corn, tomatoes, and sunflower oil, vinegar, and toss to combine. Double check the seasoning for salt and pepper and reserve until needed, at room temperature.
Notes
This is a simple salad: baby tomatoes, roasted sweet corn, onion, and some flavorful oil. Make sure your tomatoes are of the highest quality, and have not seen a refrigerator (it makes them mealy). It's also very important to macerate the onion to tame it's flavor.
Make sure your knife is very sharp too, baby tomatoes get "shmushed" easily.