There's a bit of an intermission in our Midwest  season after the morels come up. From my experience, for a month or so, it's pretty doubtful you will see alot. With a little rain you could find an early chicken of the woods, or a puffball. Fairy ring mushrooms might also be up, as well as meadow mushrooms, but these like wide open areas, not woods, and are few and far between in most of the places I know.
However, there is one mushroom that comes up with abandon, and that's the crown coral or Clavicorona pyxidata, These are similar to other coral mushrooms, but are more flimsy, and don't grow directly from the ground, they only fruit from decaying wood, like a hericium. I have mixed feelings about crown corals, they're very pretty, and easily found, but they're lackluster in the flavor area, and can be a bit tricky to cook.
If crown coral mushrooms come into contact with hot oil, as you would saute a chanterelle or a bolete, they turn black. Basically you need a wet method of cooking for them to retain any of their white color. Cooking them in butter that hasn't browned will work to keep them from darkening, but their flavor will be obscured a bit by the butter. Even with a wet method though, the mushrooms will be very limp. Basically, these are a great candidate for soup, since floating them in a broth will show off their fun shape, and keep their color.
When I was planning a fun date menu the other day, there weren't a lot of mushrooms to be had, but I did find some nice clusters of corals, so I thought a little soup was in order. I wanted to show off the shape of the coral mushrooms, so I used a clear, homemade broth, and some fun garnishes being milkweed leaves, white lentils, and a little diced fennel.
The white lentils here are really fun, and are a relatively new ingredient to me. We sourced some for a couple recipes in the upcoming cookbook I've been tasked with styling, which should be released next spring. All they are is black lentils that have been peeled. They cook super fast, and have almost a rice like quality to them, they're great, and they won't turn your broth black.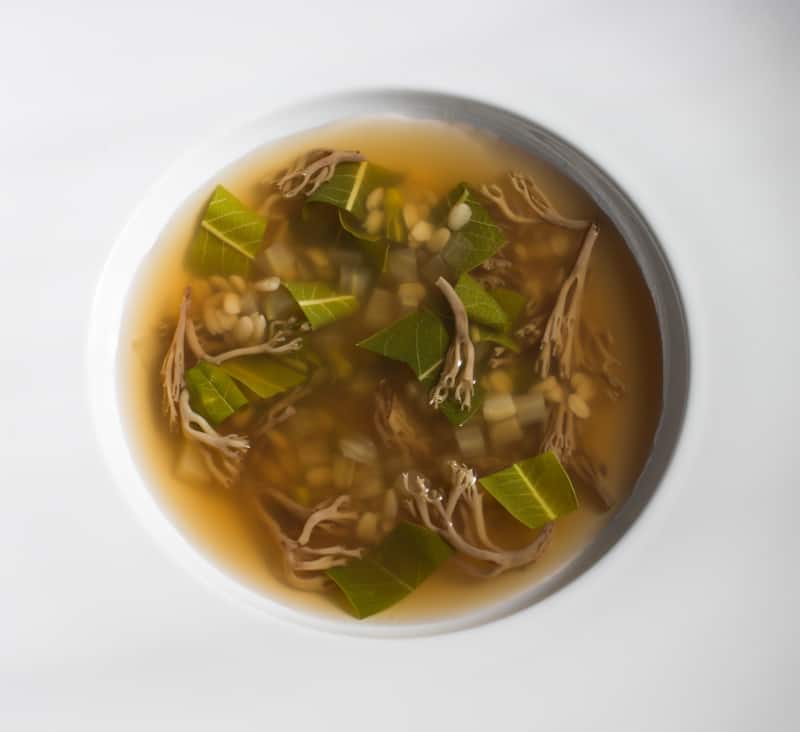 To make it more special, I topped it with a poached duck egg, and another very special ingredient: shaved, cured duck yolks that I had preserved in truffled salt.
At it's heart, this is just a fun example of how you might use crown corals in a soup or broth. If you find some, try them out, just remember they always grow directly from decaying wood, also don't pick any coral that has a gelatinous base, or smells like embalming fluid. There is also a dangerous red coral found in Japan my friend told me about, I have never seen it though.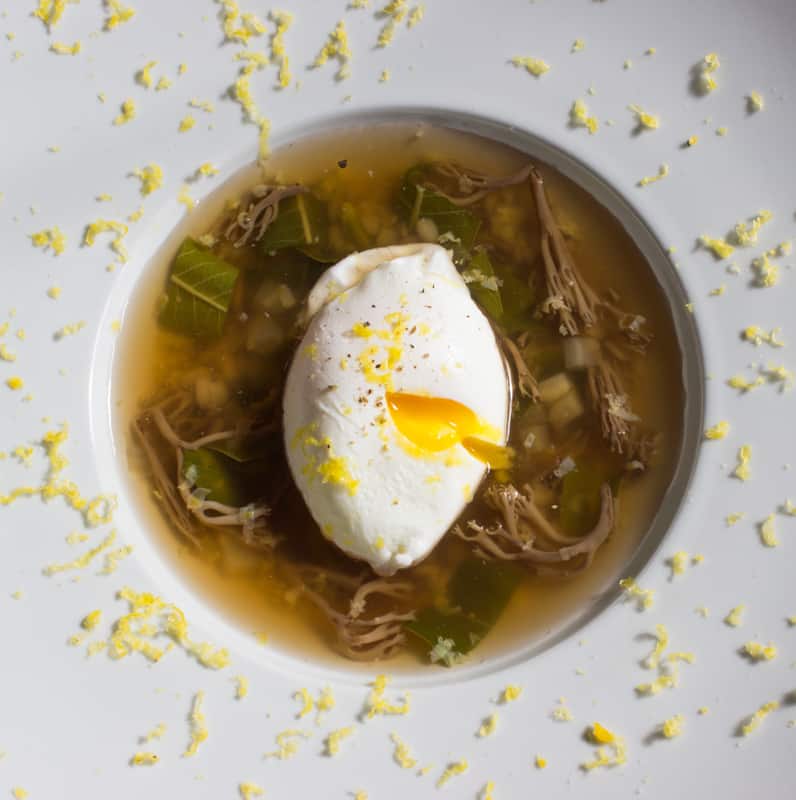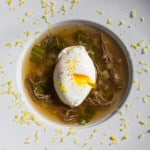 Print Recipe
Coral Mushroom Soup, Milkweed, White Lentils, Truffle-Cured Egg
Serves 4 as an appetizer/first course
Ingredients
1.5

qts

strong, homemade meat broth, like chicken

1

cup

fresh crown coral mushrooms

trimmed, washed and cleaned

½

cup

cooked white lentils

small white beans or rice can be  substituted

½

cup

fennel

diced ¼ in

4

duck eggs

chicken can be substituted

1

recipe truffle salt-cured duck egg yolks

recipe here

½

cup

milkweed leaves

sliced ½ inch

Kosher salt

to taste

A small sauce pot filled with about 3 qts of water

for poaching the eggs

White vinegar

to taste
Instructions
Bring the sauce pot filled with water to a simmer, season the water to taste with the vinegar and salt, you should be able to just taste the vinegar, to 3 qts, about ¼ cup of vinegar is plenty.

Bring the meat stock to a simmer, add the lentils, fennel, milkweed leaves, and coral mushrooms and cook for 15 minutes, until all the ingredients are soft, especially the diced fennel. Season the soup with salt to taste.

When the soup is done, keep it warm and then crack the eggs, one at a time into the poaching liquid, keeping it at a light simmer. Cook the eggs for 3 minutes, or until the white is just set. Remove the eggs and drain on a towel for a moment.

Divide the soup evenly between four preheated bowls, top each with a poached egg, garnish with shavings of the cured duck yolk, and serve immediately.
Notes
I cooked the white lentils separately for the picture to keep the broth clear. It's perfectly fine to just cook them in the broth with everything else though, so that's the recipe method I've included.