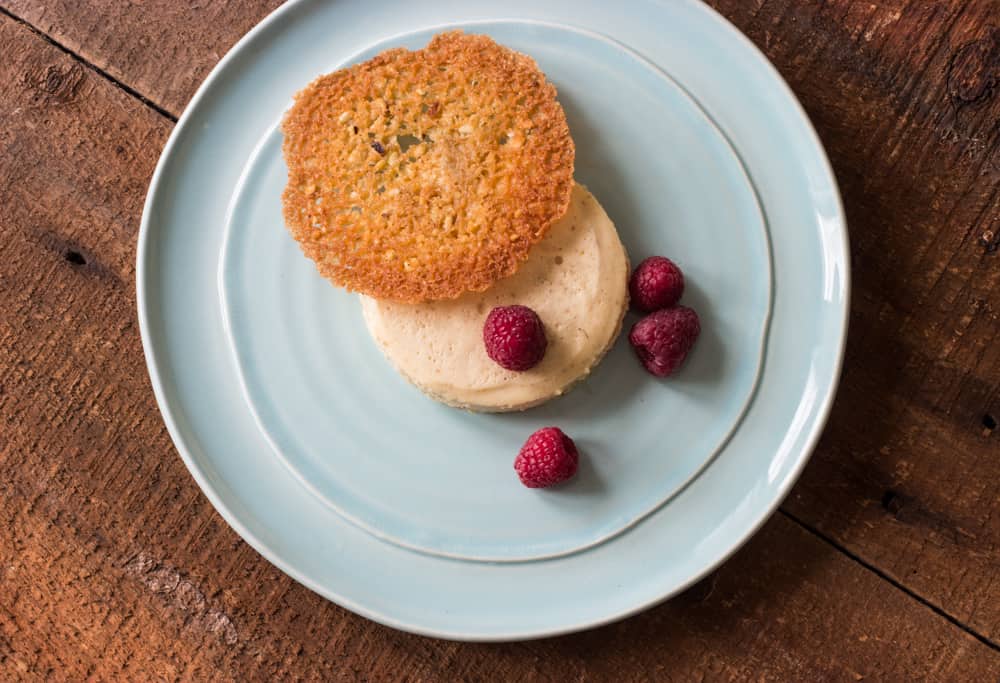 Candy cap bavarian cream was one that I enjoyed teaching my pastry chef to make recently.
I'm not a pastry chef, but I've been through enough rough spots (pastry chef giving notice and moving back to Naples Italy, pastry chef being neurotic and flaky, pastry chef being unskilled and needing guidance, did I say pastry chefs being neurotic and flaky?) that I can hold down the program if necessary until a restaurant finds another person to fill the position.
A great standby I rely on is basic custards made out of the classic pastry mother sauce creme anglaise. They're fairly straight forward once you've made the simple custard base, from there all you have to do is decide how it will be flavored. The Bavarian cream to me is kind of a forgotten pastry technique, I don't really see them on menus too often. It's a cousin of panna cotta, mousse, and creme brulee, just with a bit more whisking involved.
What you end up with is like a soft, gently set mousse that literally melts in your mouth, fluffy, airy, delicate and rich all at the same time. Citrus is a classic flavor of Bavarian creams, but I wanted to find another way to highlight candy caps, as well as cost out a recipe with them to see if I can afford to put them on the menu. (If you don't have candy caps, you can order small amounts here).
With the market price of candy caps at roughly 250$ wholesale, knowing how far the dried mushrooms can be stretched and how much the finished product can be sold for is the financial part of being a chef I am always trying to get better at, the better I am with numbers, the more I can justify having the interesting products I want on the menu. Thankfully high school math word problems prepared me for situations like this.
If candy caps cost 250$/lb and I can sell desserts for 7-10$/portion, how do I make it work shooting for an overall foodcost of 30% or lower on the dish?
Well, I know can buy packets of dried candy caps that are ½ ounce or 14 grams for 20$ +shipping. Looking at the cost of the mushrooms is initially scary from a food cost viewpoint, but candy caps are so powerful, you just need to know much it takes to flavor something, and not go overboard.
I've made this recipe a couple different times, and each time I ratchet down the amount of candy caps. I started with an ounce of them. At first the flavor was very strong and maple tasting, but the more candy caps are in something, the more bitter it can be, which is due to the amount of physical mushroom in finished product.
Just like a truffle, the key to using these intelligently is to use their scent to flavor things, not the physical pieces of mushroom. I found that a single gram or roughly 1.79$ of mushroom (including shipping costs) will flavor 8.5 orders, and you can probably make bigger batches with varying percentages to cut cost even further, since the scent of the candy caps is what flavors the dish.
A fun food cost equation with candy caps
8.5 orders X 7$ per order =59.5 net profit
Total cost of the dish is 1.79 (mushrooms) + 10.50 (est. labor+other ingredients)
12.29/59.5=.20655462 or roughly 21% overall food cost, which is under the 30% margin we're shooting for. Yay.
Wasn't that exciting?!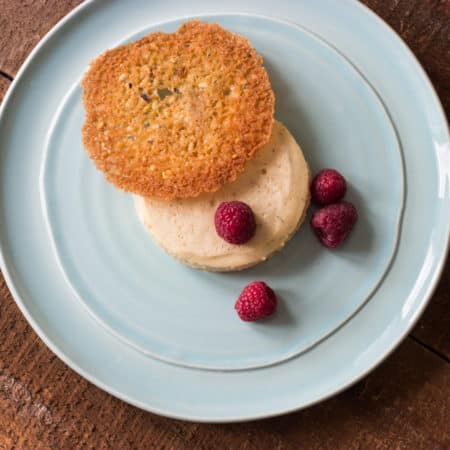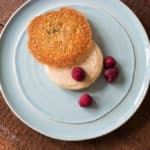 Print Recipe
Candy Cap Bavarian Cream
Yield: 4.5 cups of custard, roughly 8 ½ cup ramekins
Ingredients
½

cup

heavy cream + 1 cup

3

leaves

of gelatin or one packet of prepared gelatin

½

cup

of sugar

divided into two ¼ cups

5

egg yolks

3

egg whites

1

tablespoon

ground candy cap mushrooms
Instructions
Soak the leaf gelatin in ice water for 2 minutes or until just softened. Whisk the egg yolks with ¼ cup of the sugar, the ground candy caps, and reserve.

Heat the ½ cream with the gelatin until steaming, then whisk half into the egg yolks thoroughly, then add the other half.

Return the egg mixture to the pan, heat on low and whisk until the mixture thickens slightly and lightly coats the back of a spoon, do not over heat or the mixture will curdle.

Transfer the mixture to a bowl to cool, whisking occasionally to help chill it, then whisk the egg whites with the remaining ¼ cup sugar until stiff peaks form.

Meanwhile whisk the full cup of cream to stiff peaks. Fold the egg whites and cream into the yolk mixture, then spoon into ramekins, cover with plastic, and refrigerate overnight to set.
Notes
If you use prepared gelatin in a packet, add it to the warm cream directly from the packet, and whisk until combined, then proceed per usual.