Barbarea vulgaris also known as wintercress, bittercress and yellow rocket is one of the first plants to come up in the Spring where I live around Minnesota and Wisconsin, and it's an ok, widely available edible to know. Along with bergamot / Monarda fistulosa, it was also one of the first plants I ever knew, almost instinctively, that I could eat.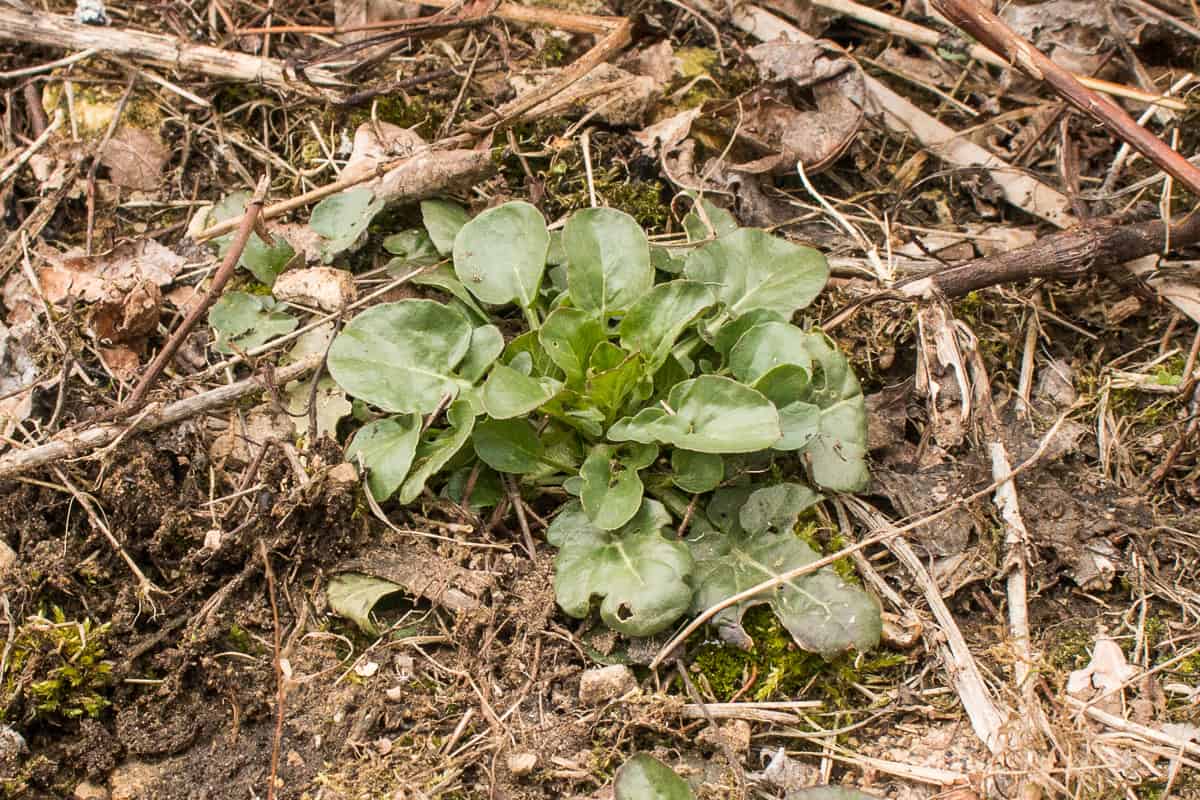 Don't let the name fool you though, although the leaves do resemble different species of cress, the flavor is quite different. I'm trying to be kind to the plant here, but everything I say should be prefaced by the fact that I don't eat tons of this plant, since there's a lot of greens I like more. Bittercress is ok as a cooking green in my opinion, and just ok.
Even before I had my first foraging guidebook, I understood a few things about plants. Although I didn't know a lot, I knew was that there were a lot of plants with leaves that looked like carrots I should avoid (still do) and many that looked like arugula or some kind of mustard, of which any and all would be edible, even if I couldn't pin them down to species (still true).
Barbarea vulgaris is in the Brassicaeae family, making it a cousin to mustard greens, broccoli, cauliflower and cabbage--you'll taste a bit of it's familial heritage when you nibble a leaf. Along with the brassicaceous flavor, you're also going to taste something else too: bitterness.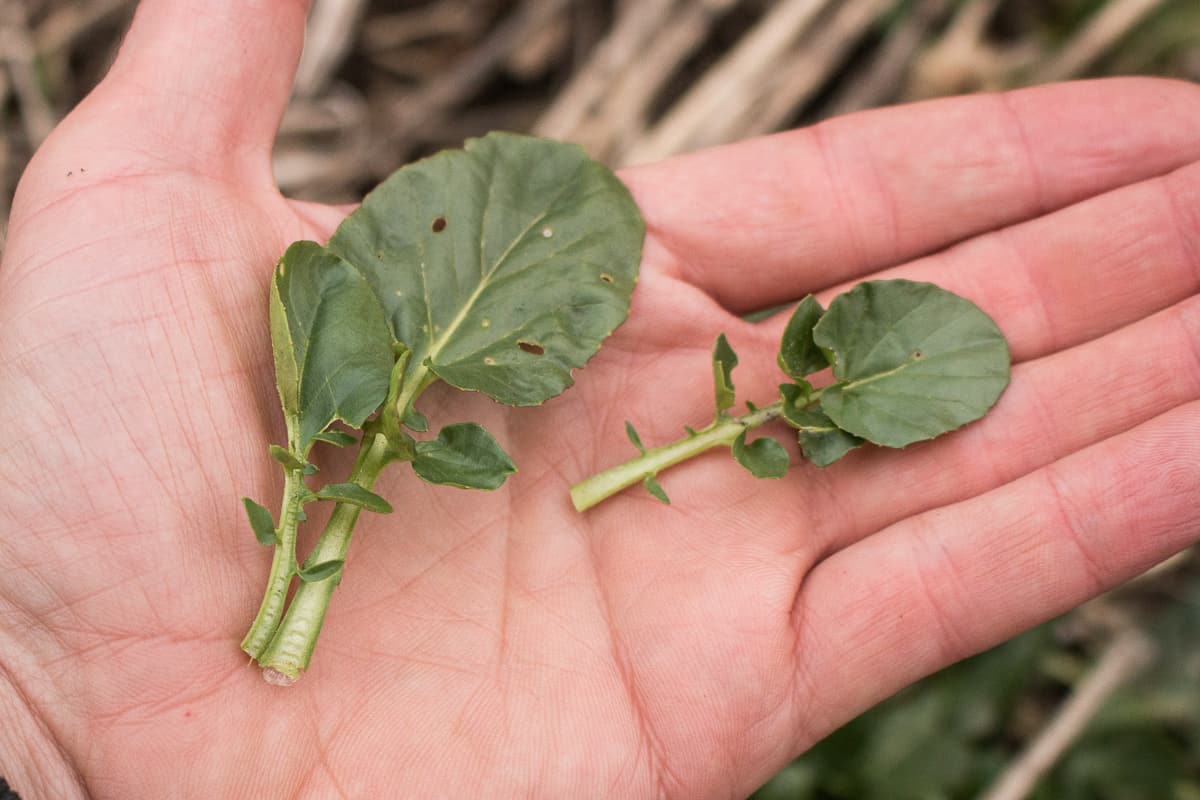 Surprise! Bittercress is Bitter
I remember telling people these were wild mustard greens, and while I was technically right, bittercress is very different from the mustard greens or watercress (a closer relative) that you might find at the store. The biggest thing here to know is that bittercress, taking after it's name, is bitter.
More bitter than a dandelion, more bitter than garlic mustard, it is 100% bitter, with a capitol B. There's no getting around it, and there's no culinary chef tricks to making that bitter disappear, not completely, anyway. It's so bitter in fact, that it's liable to offend most civilians and newcomers (at least in America) that you give a leaf to try.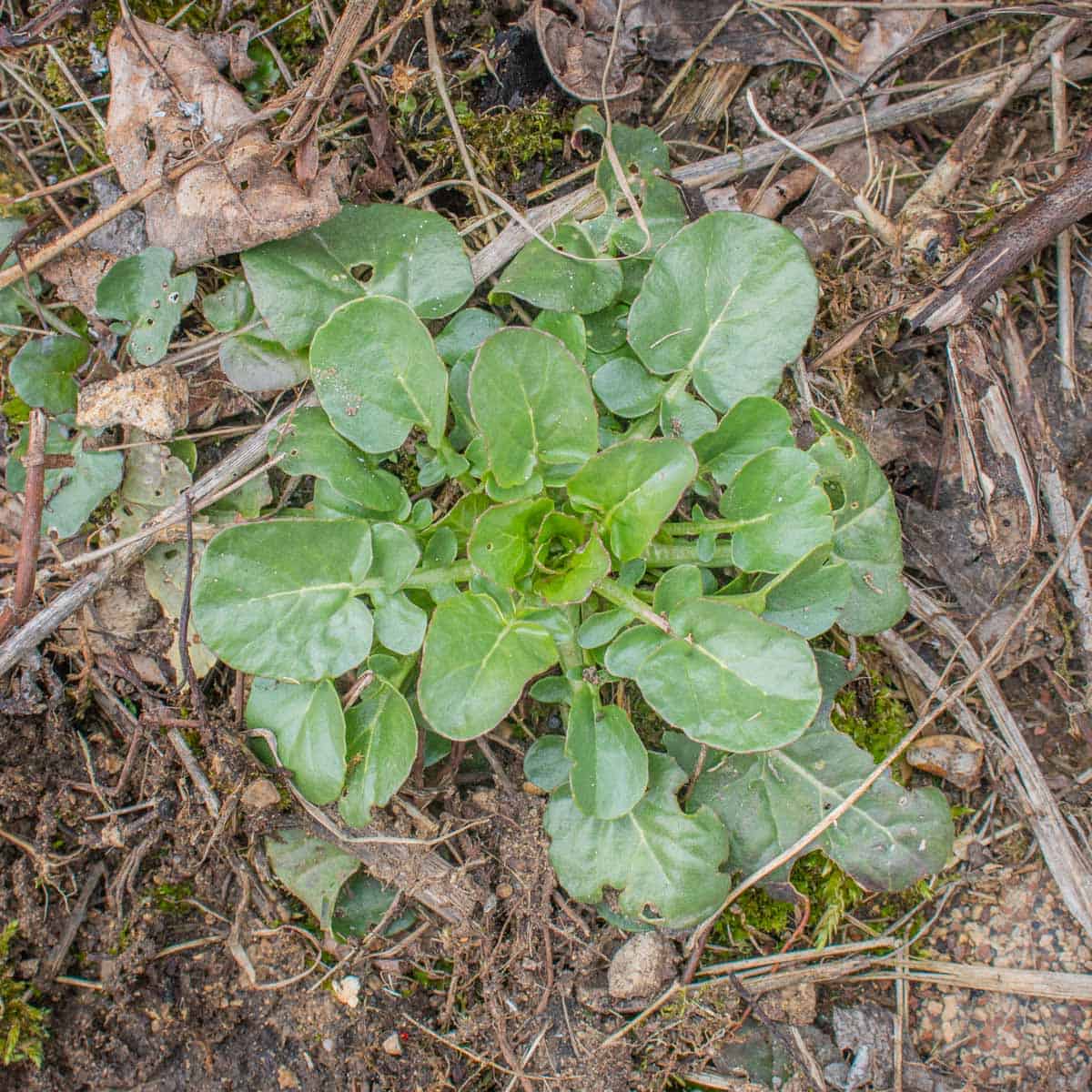 The Value of Bitter Greens
But, don't disregard the plant just because it has a strong flavor. Cultures around the world highly value bitter greens, especially in Asia, and in the Twin Cities where I harvest things occasionally, or play disc golf, I regularly see Hmong Immigrants harvesting this plant, along with dandelions from parks and other places, to bring home for the table.
Just because a green tastes very bitter raw doesn't mean that it isn't worth eating, it just might take some creativity in the kitchen to find a way that you enjoy it, and some repetition to get used to it.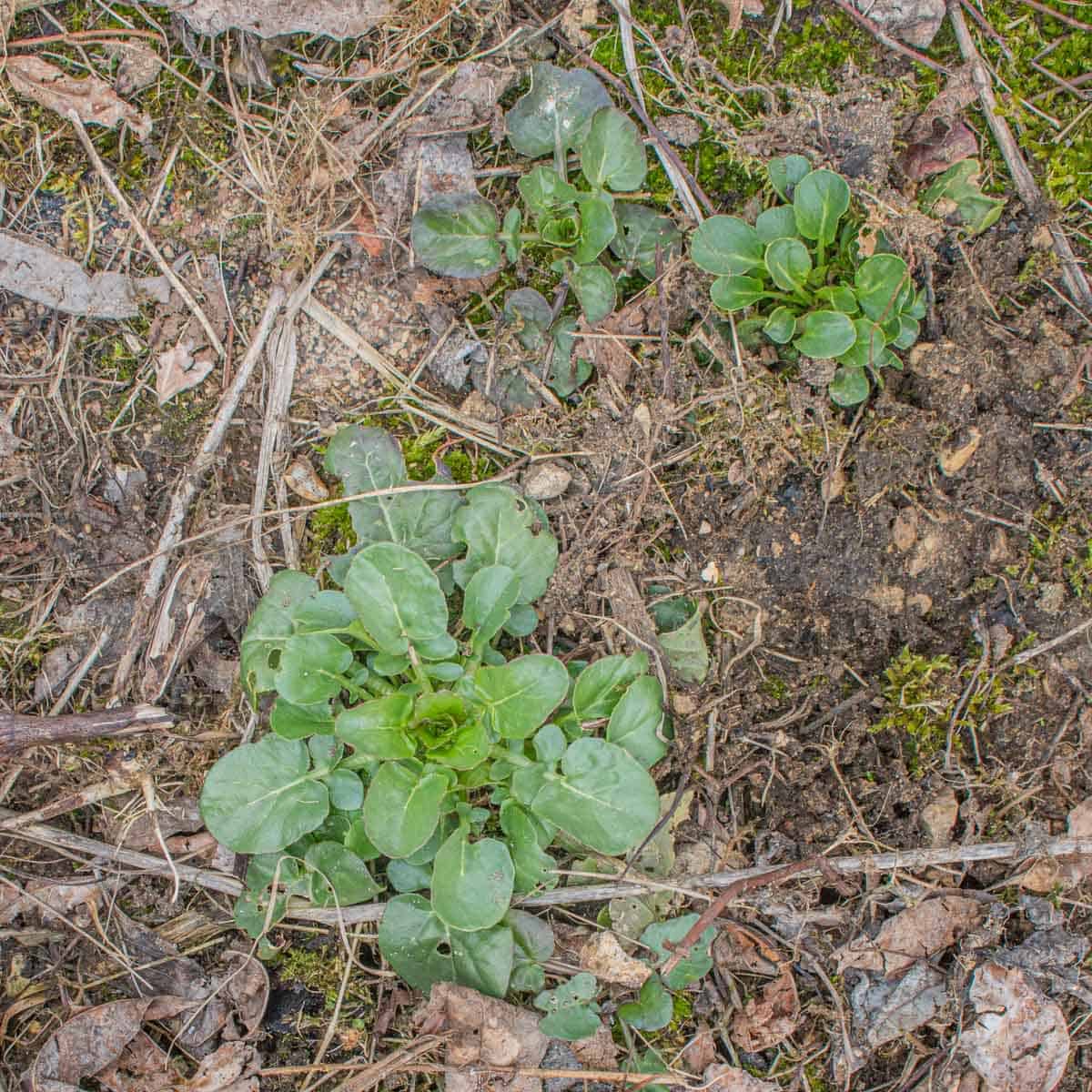 Harvesting and Cooking
Harvesting is easy, just clip the leaves with a scissors and put them in a bag--do be on the lookout for beetles and bug damaged leaves though, since bugs love the bittercress in some areas.
The best time to harvest is going to be when the basal (early round formation of leaves) are growing--I like them about 4 inches long. The more mature they get, the more likely they are to have been snacked on by other things, but even then, you'll probably never notice cooked down in a meal.
Humans have eaten much worse things than a few pre-nibbled greens foraged greens in our collective culinary history.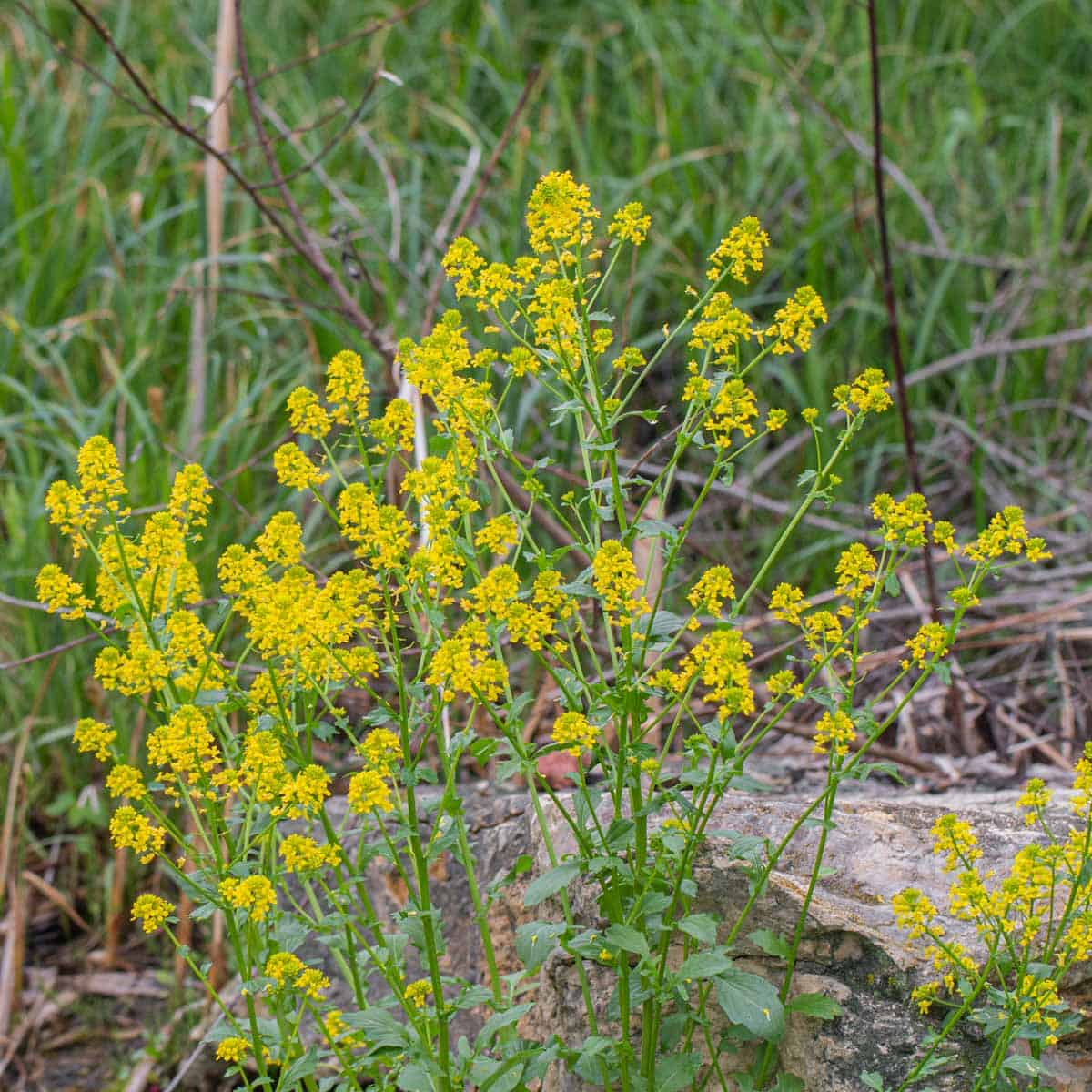 Curbing the bitter edge
As far as cooking, this is where you can work to curtail the bitterness if it doesn't appeal to you. Here's my advice on doing that.
Cook them
Greens always taste stronger raw, and, while it won't remove the bitter, it will be less offensive than, say, eating a salad full of bittercress leaves, which even I'm not going to do.
Blanch the greens, then soak
Tannins and flavors in greens are going to be very water soluble, and people have been boiling greens to tame their flavor for a very long time. I don't recommend cooking any plant in multiple changes of water though, since they typically just over cook and turn to mush.
What you can do, is let the greens soak in some cold water for an extended period of time after you blanch them in the cooking water, which won't cook them, but can still help draw out some bitter flavors. You can try this method before you cook them with some of the aggressive flavors I list below.
Blending with other greens
Probably the best for people just starting out with this plant. If you cut bittercress with "sweet" greens, like spinach, or wild greens like Virginia waterleaf, watercress or nettles, it will cut down on the bitter flavor. Use is in combination with the blanch and soak method above to make it do double duty.
Cook with aggressive flavors
This is my personal favorite, and one of the secrets you'll find in Asian and Italian food--both places where bitter greens and edible weeds aren't only tolerated, but are loved, and readily harvested in the Spring and throughout the growing season. Examples of aggressive flavors are generally spicy, salty, or otherwise rich-tasting things, including, but not limited to the following:
Fish sauce
Soy sauce
Colatura (Italian fish sauce)
Szechuan peppercorns
Fresh hot chilis
Flavored oils like toasted sesame or walnut
Anchovies
Garlic, garlic, garlic
Ginger
Other flavor partners
Fermentation (as in classic Chinese fermented mustard greens)
Rich, fatty meats, especially spicy sausage
Umami-rich foods like mushrooms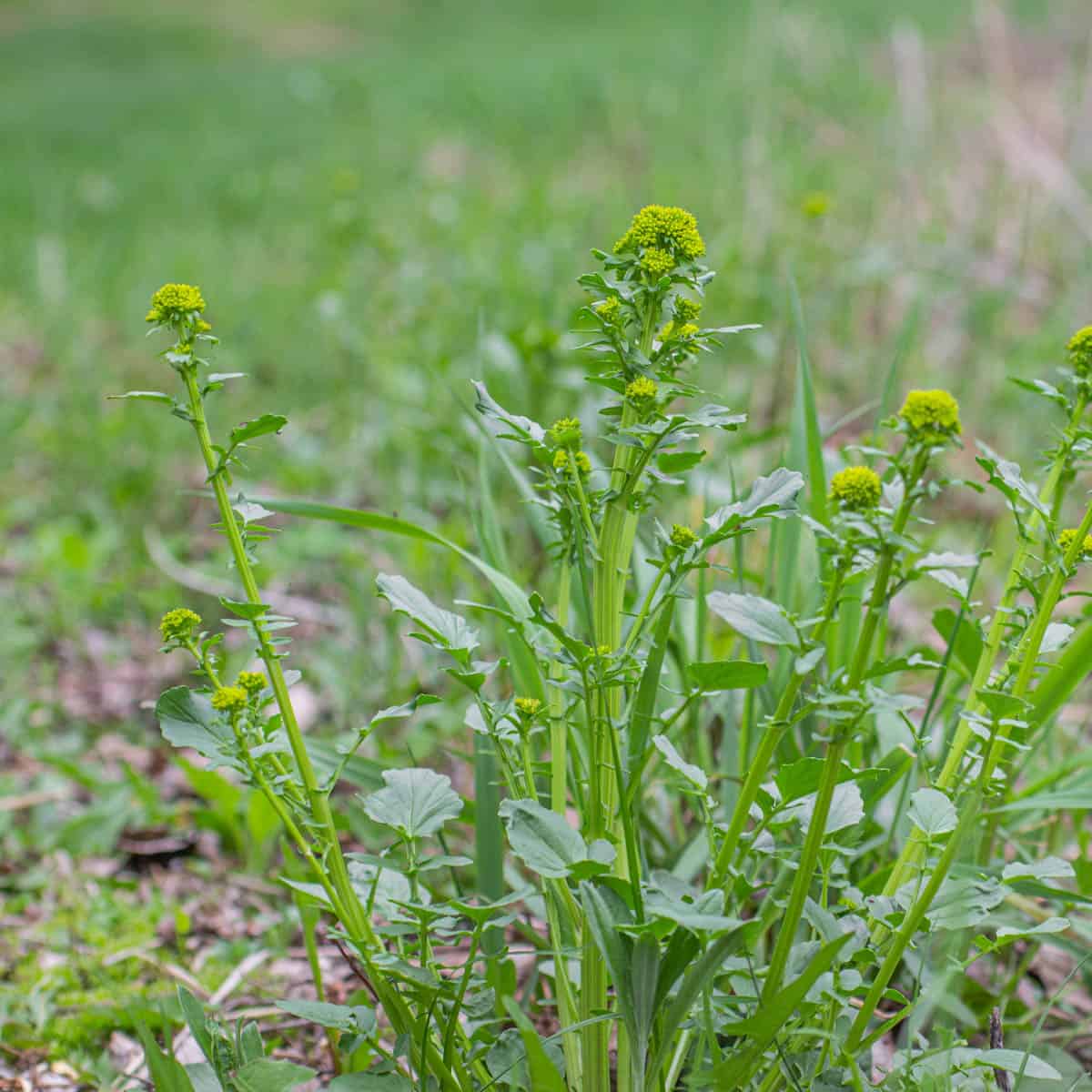 Bittercress "Raabs" or Flower Buds
I've saved the best for last. Sure, I think bittercress leaves are fine cooked in a blend with other greens, but the real reason you want to know this plant is for it's young, unopened flower buds, which, if you're ever cooked with gai lan or rapini, will look familiar to you, as they instantly did to me years ago.
The unopened flower buds, while still bitter, are the perfect partner for a few of my favorite recipes using bitter greens, especially the classic Italian orrechiette barese, also known as orrechiette with broccoli raab or rapini.