As I've worked with the lamb and goat farm for the past few years, I've loved researching every and all traditional recipes using lamb and goat around the world. Qawarma, or small pieces of lamb cooked in it's own fat, is one of the most interesting I've found. Think of it like French confit's Arabic cousin.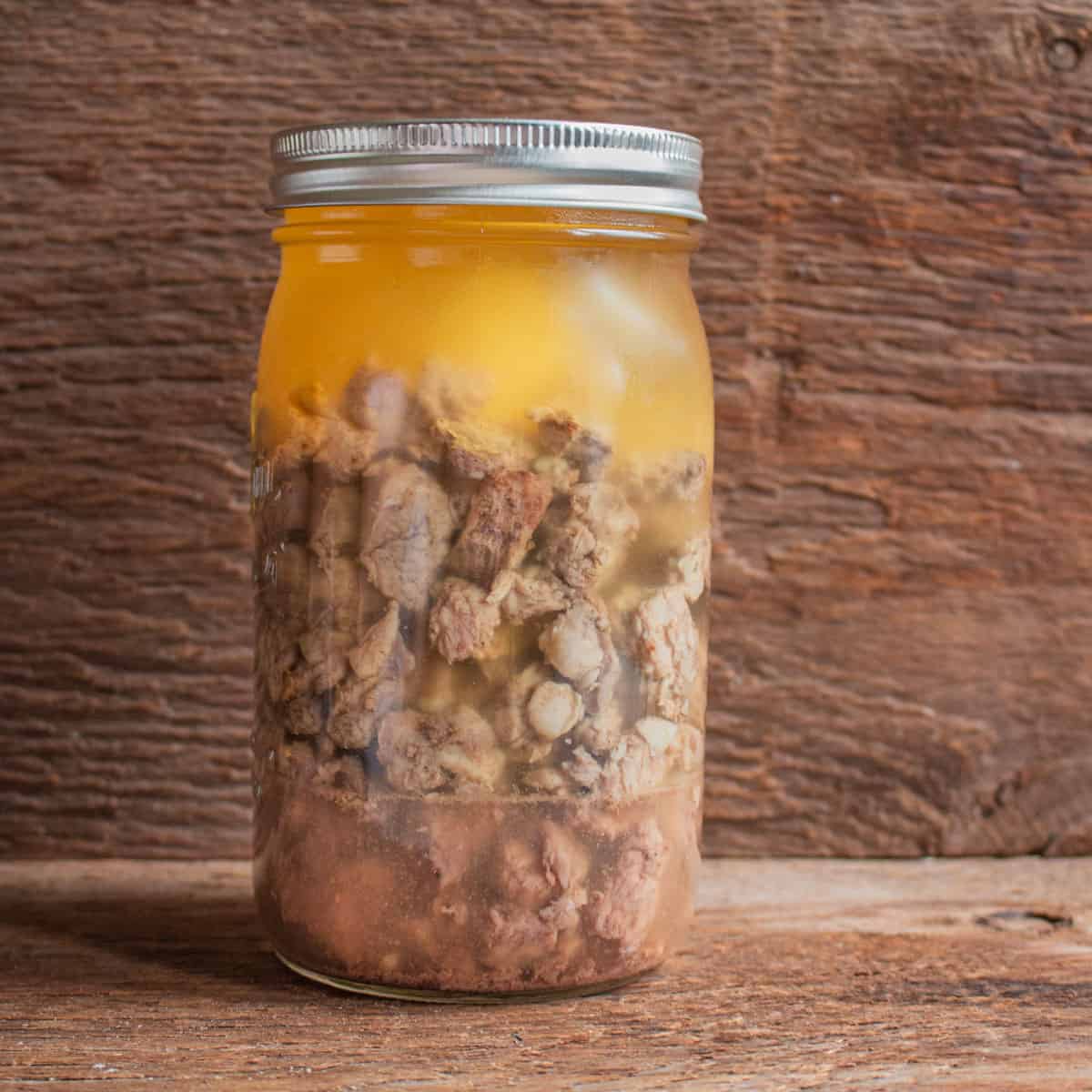 It all starts with animal lard, or, more specifically, lard animals. Typically, as far as animal lard, (besides the fact that the words lard and tallow are foul language in our diet-stupified world) you probably think of pork, maybe beef if you like french fries, possibly, chicken (shmaltz) too if you have some Jewish heritage. Lamb fat though, people don't think of, but the animals have it in spades, and it's good.
The Wonder of Fat-Tailed Sheep
The pig is probably the greatest lard animal in the world, for the quality, texture, low melting point, and sheer amount some breeds can produce (i.e. mangalitsa) but in areas that eschewed pork like the Middle East, sheep were the lard animal par excellence.
Get the bouncy orb of wool out of your mind though, these were fat-tailed sheep. Fat tailed sheep are exactly what they sound like--sheep with fat tails. Enormously. Fat. Tails. Just look at em!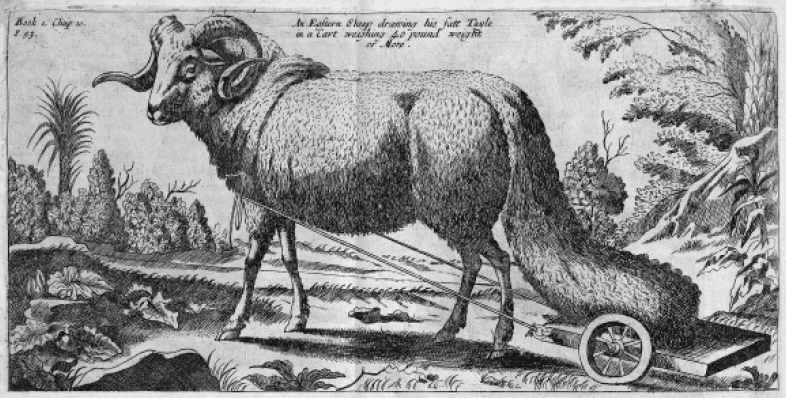 The tails were carefully selected over and over to the point where the animals own appendage naturally grew so large that wee carts were made to carry their obese tails around. It's a wonder of selective breeding, and fascinating historical food nugget, even more interesting when you consider that it likely pre-dates confit as every chef knows it by many years.
How many I don't know, but for reference, Herodotus wrote about the tails sometime around ol' 425 B.C. and I'd assume references to French confit would start around after La Varenne started codifying things in his book in the mid 1600's. There's also the whole Dark Ages to consider, where the Arabic arts flourished while Europe, along with it's arts and culture, wasted away for a couple hundred years.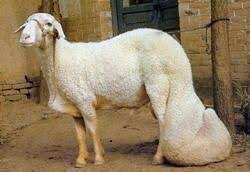 Back to the fat-tailed sheep, eventually, the animals were harvested, and the fatty tails rendered down to harvest the cooking tallow. One of the things that might have been made with that tail is qawarma, also spelled kawarma. The meat and fat were chopped into small pieces, seasoned with salt, then rendered down. The resulting fat would eventually completely cover the meat as it rendered.
Once all the fat was rendered, there would still be some chunks of fatty tail left at the bottom, a bit like fatty lamb tail chiccharones, or gribenes, and the whole mixture, crispy bits and all, was put into jars and covered for storage. The large amount of fat, as it settled after cooking pushed air out, and liquid down, and with the removal of air, comes the removal of bacteria--a sort of air-exclusion preservation method along the lines of canning without the hermetic, heat-induced seal.
From there, the meat would be shelf stable, even in warm environments, as long as the meat wasn't exposed to air, and it's exactly the same thing that happens with the more famous confit, which is just French salted goose and poultry parts, again, cooked in their own lard until it covers them.
When the cook wanted to use the qawarma, they could scoop down into the jar, clay pot, etc, and remove some of the salted cracklings to cook with, along with some of the same fat that undoubtedly still clung to the salted bits that, just like confit, would age and develop a special flavor in time.
Qawarma and kawarma, just like confit, are both still made to this day, but, just like how antique recipes in Italy that using feral sea beet greens (Beta vulgaris) now call for chard or spinach, things have evolved a bit over the years. Now the qwarama is typically just meat, not fatty sheep tails, but it's still good.
A quick google will show you lots of recipes for serving it warm over hummus, and it's excellent like that, but using the qawarma spelling taps into a different sect of recipes for simple meals that typically include eggs, specifically Bayad ma'a Qawarma (qawarma with eggs). Shakshuka and related, spicy tomato and chili based dishes with eggs are also common--I've outlined a recipe for a simple one below.
Now, just try not to tell someone about fat-tailed sheep next time the subject of lamb comes up!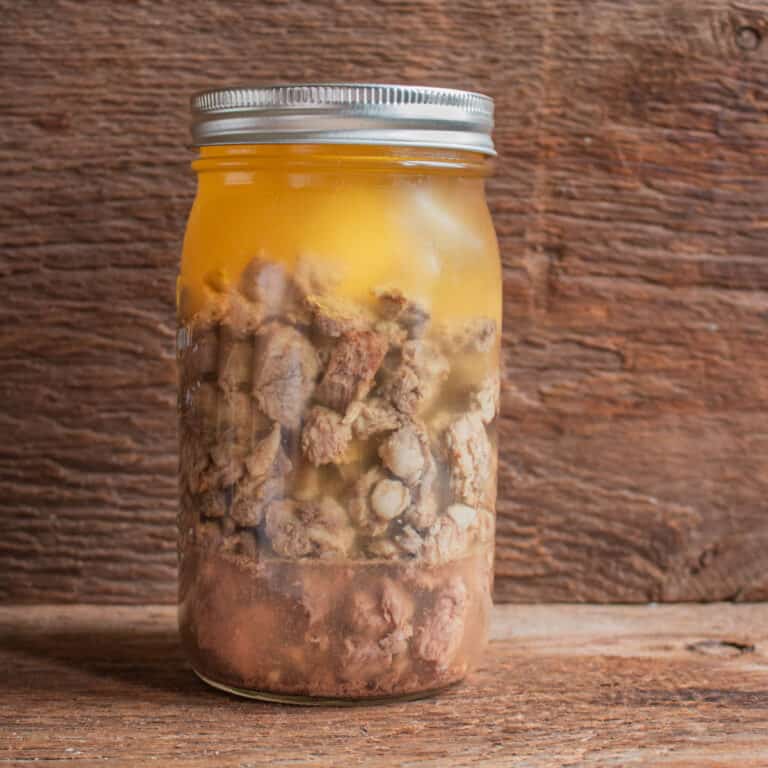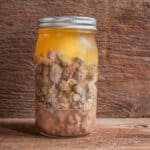 Print Recipe
Qawarma or Arabic Confit
Qawarma is a traditional method of preserving pieces of heavily seasoned meat in the animals own fat.
Ingredients
1

lb

fatty stew meat, preferably from a shoulder cut into ½ inch pieces

Venison, lamb, and goat will be the best here

1

teaspoon

9 grams kosher salt

1 ¾

cups

rendered tallow (preferably from the same animal)

cooking oil can be used but is a poor substitute

¼

teaspoon

Baharat seasoning

optional (you can substitute a pinch of pumpkin pie spice)
Instructions
Combine the diced lamb or goat meat with the salt and Baharat if using and allow to marinate overnight.

The next day, sweat the meat in the pan you'll put in the oven, such as a 2-3 quart sauce pan, but do not brown it, just cook it gently, stirring here and there, which prevents the meat from sticking together after it's cooked.

Add the fat to the pan, and bake for 2 hours at 250F, then cool and store in a container like a mason jar.

For the best flavor, let the qawarma age in the refrigerator for at least a week before using. To use it, warm it or microwave in quick bursts (without the metal lid) then ladle out meat and some of the fat for cooking as needed.
Notes
Variation: Ground Meat 
I've found references to this being made with ground meat too, so know that you could also substitute that here, which would make portioning out meat and fat a bit easier.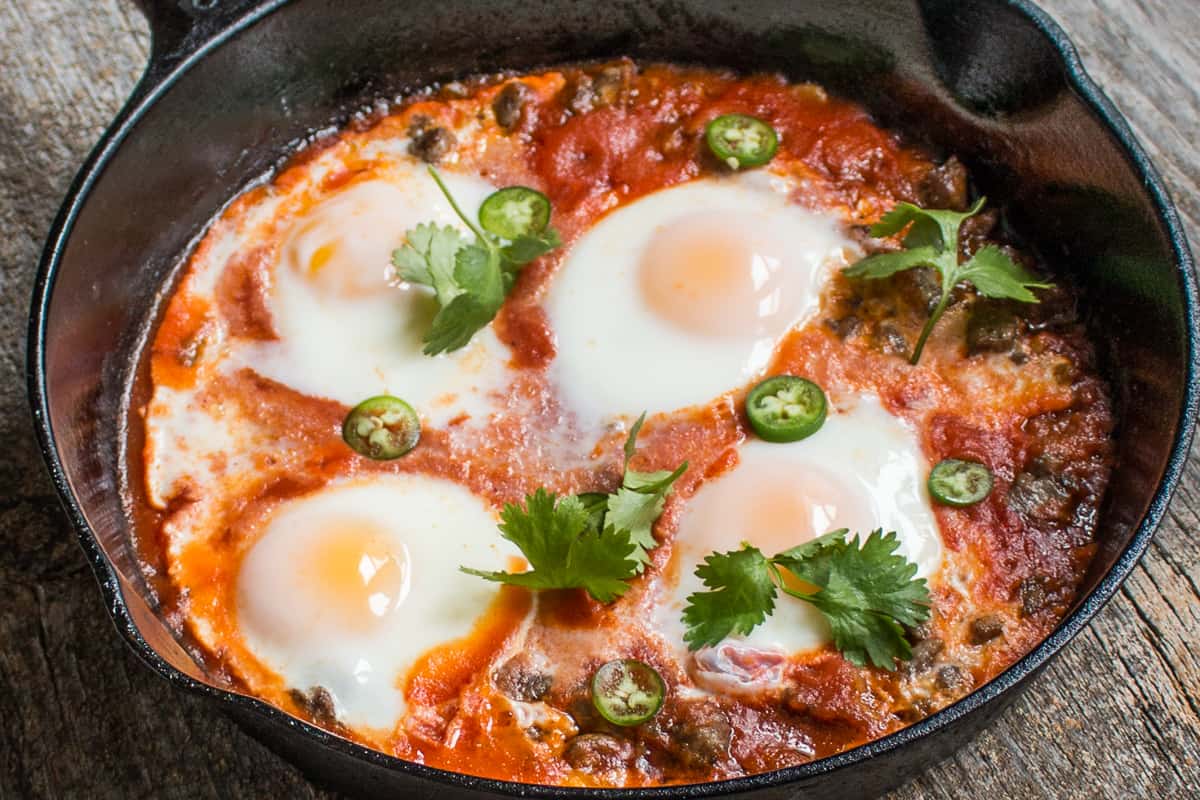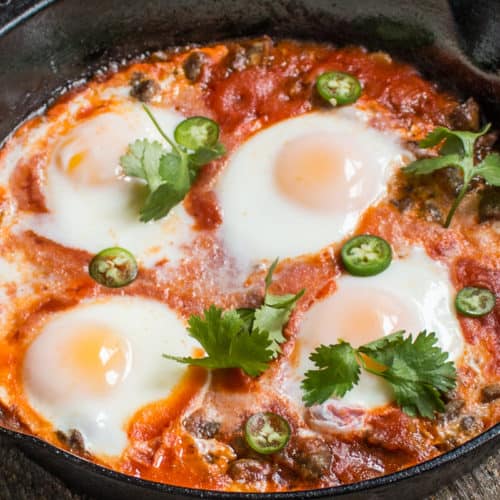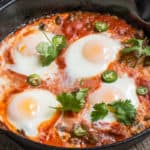 Print Recipe
Shakshuka, with qawarma
A dish of quickly baked eggs in spicy tomato sauce with lamb confit. The sauce makes a little more than you'll need—good for an extra breakfast. It tastes much better as it sits, too.
Ingredients
½

cup

venison, lamb, or goat qawarma

see recipe above

1 28

oz

can whole peeled tomatoes

¼

cup

sliced yellow onion

3

large cloves

10 grams garlic, sliced thin

¼

cup

lard from qwarama or cooking oil

1

serrano chili, thinly sliced

reserve a few slices for garnishing

Fresh cilantro

for finishing

1

small red bell pepper

seeded and diced ½ inch

Kosher salt

to taste
Instructions
Remove three tomatoes from the can, squeeze their juice and seeds out into a bowl, then coarsely chop and reserve. Puree the rest of the tomatoes and their juice in a blender or with a stick blender, then strain to remove the seeds (optional). In a 3 qt saucepot, sweat the garlic and lard or oil until the garlic is golden brown and aromatic. Do not allow the garlic to burn.

Add onion and cook for a few minutes, then add the bell pepper, half of the sliced chili and cook for a few minutes more. Add the chopped tomatoes and the tomato puree, season with a good pinch of salt, bring to a simmer and cook for 10 minutes.

From here the tomato sauce can be made ahead of time, and will taste better for it.

To serve, preheat an oven to 350. In a 10 inch pan, heat the qawarma in it's fat and brown lightly, then add 1.5 cups of the shakshuka sauce, bring to a simmer, and add 4-6 eggs, nestling them in the sauce so they stay separate. Lay a few slices of serrano on top as a garnish, then bake for 10 minutes or until the eggs begin to set, remove the pan, cool for a minute or two and serve, preferably with crusty bread or toast to mop up any excess sauce.
References
Food and Agriculture of the UN: Fat Tailed Sheep