Ajiaco, a stew of multiple types of potatoes, chicken and corn is a famous Latin American dish probably best known around the world as being Colombian. There's different versions enjoyed in different places like Peru and Cuba to name a few.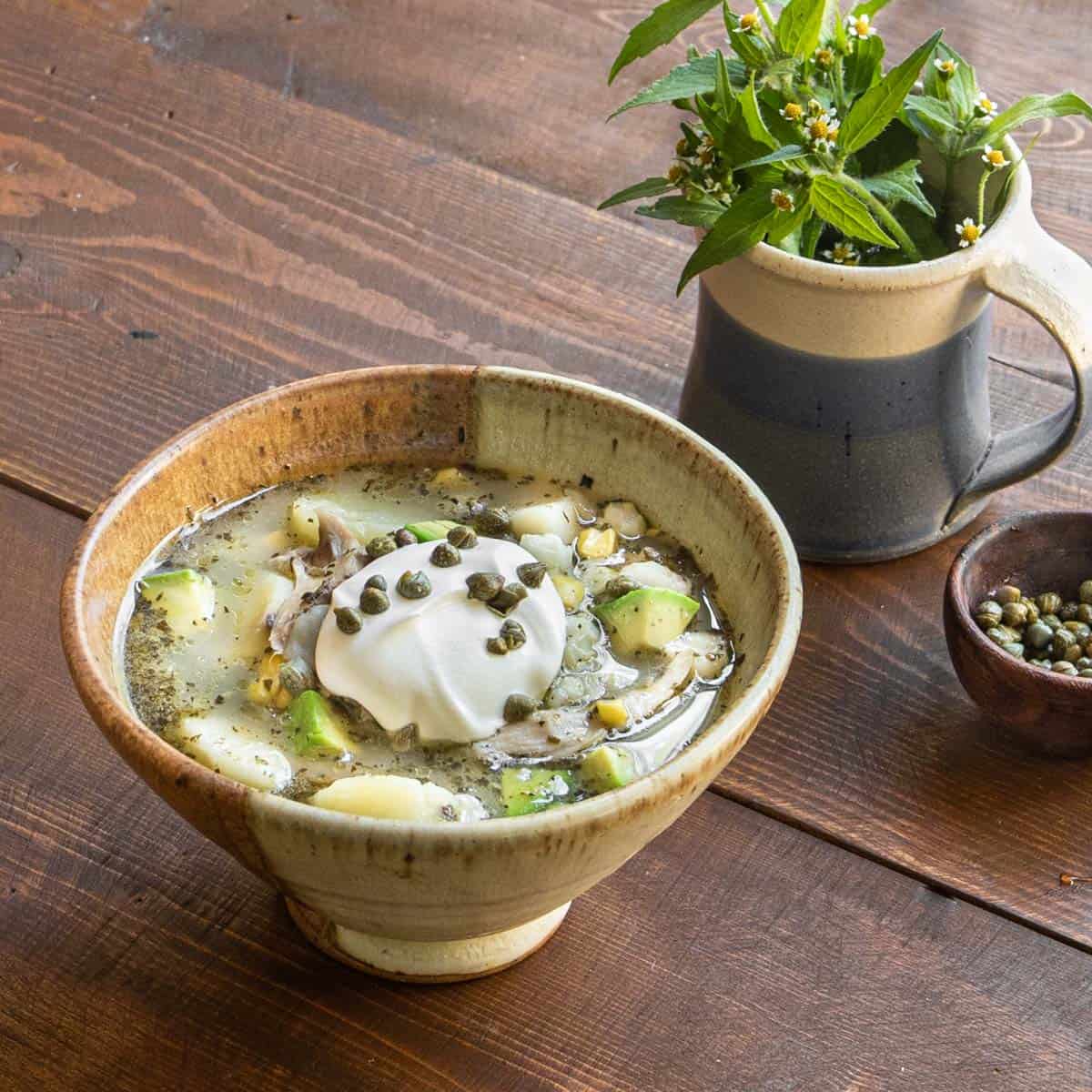 A riff on the Colombian version is what I've been working on lately, and, I liked it so much I scaled it by 25 to serve at the Wild Harvest Festival next week, so, if you'll be there (sorry for my friends in other countries) you'll get to try it yourself.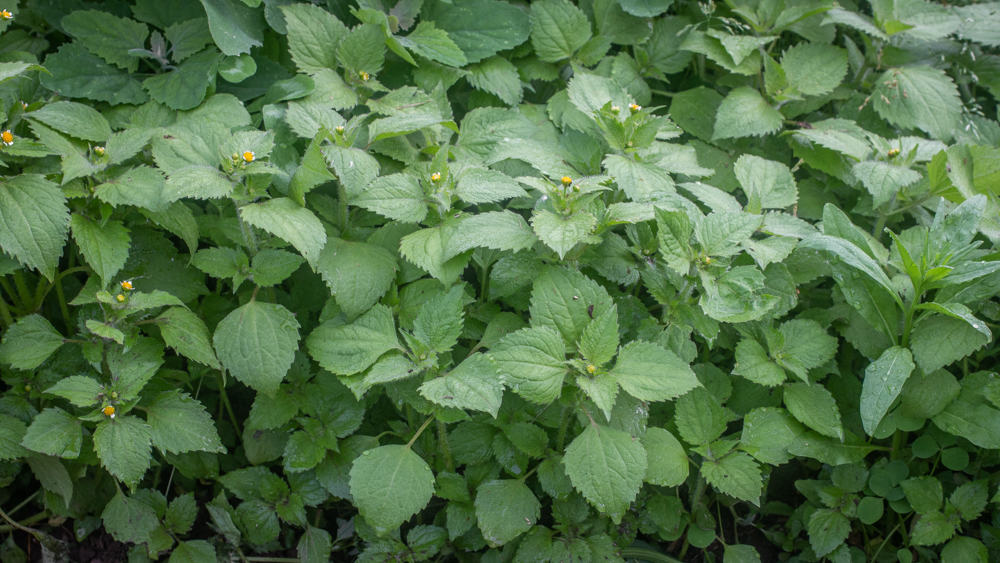 Chicken soup with corn and potatoes might seem a little off-brand for a website that focuses on wild food, but, there's a (not so secret) ingredient some of you will recognize.
Dried guascas, quickweed, or Galinsoga parviflora (or other very closely related galinsoga, although parviflora is the most commonly mentioned that I see). If you look online, you'll see a host of variations for ajiaco, but, many of them are just a stew of corn and potatoes.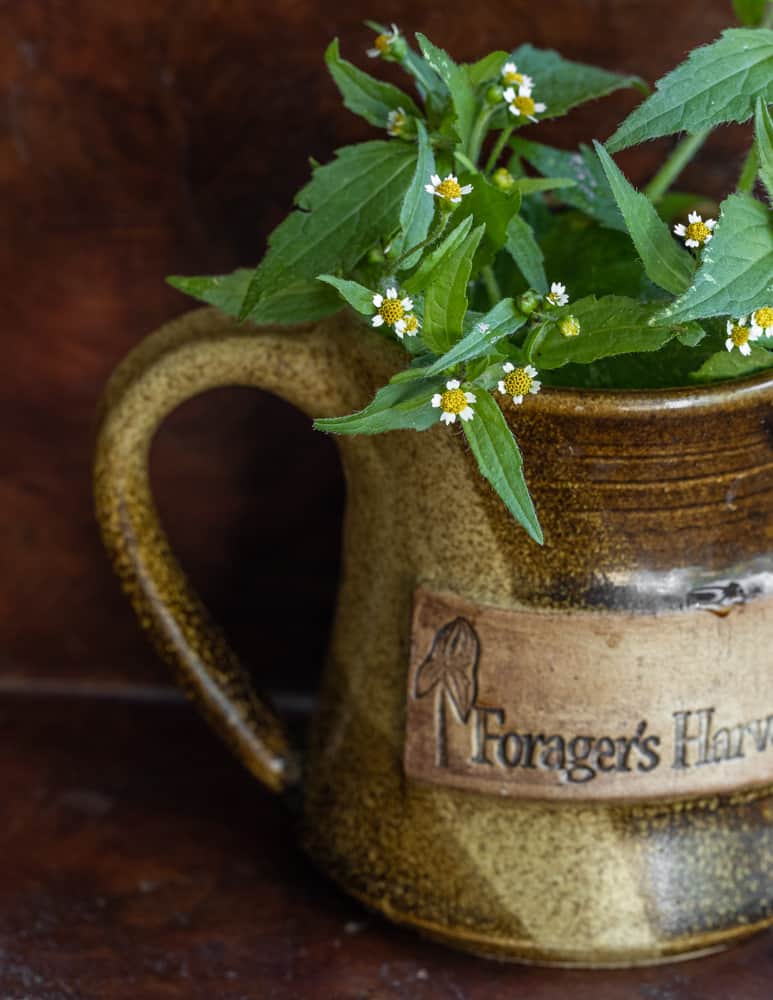 Many online versions mention that the soup should contain dried guascas, but few, if any actually use them, a shame since the herb is widely available online.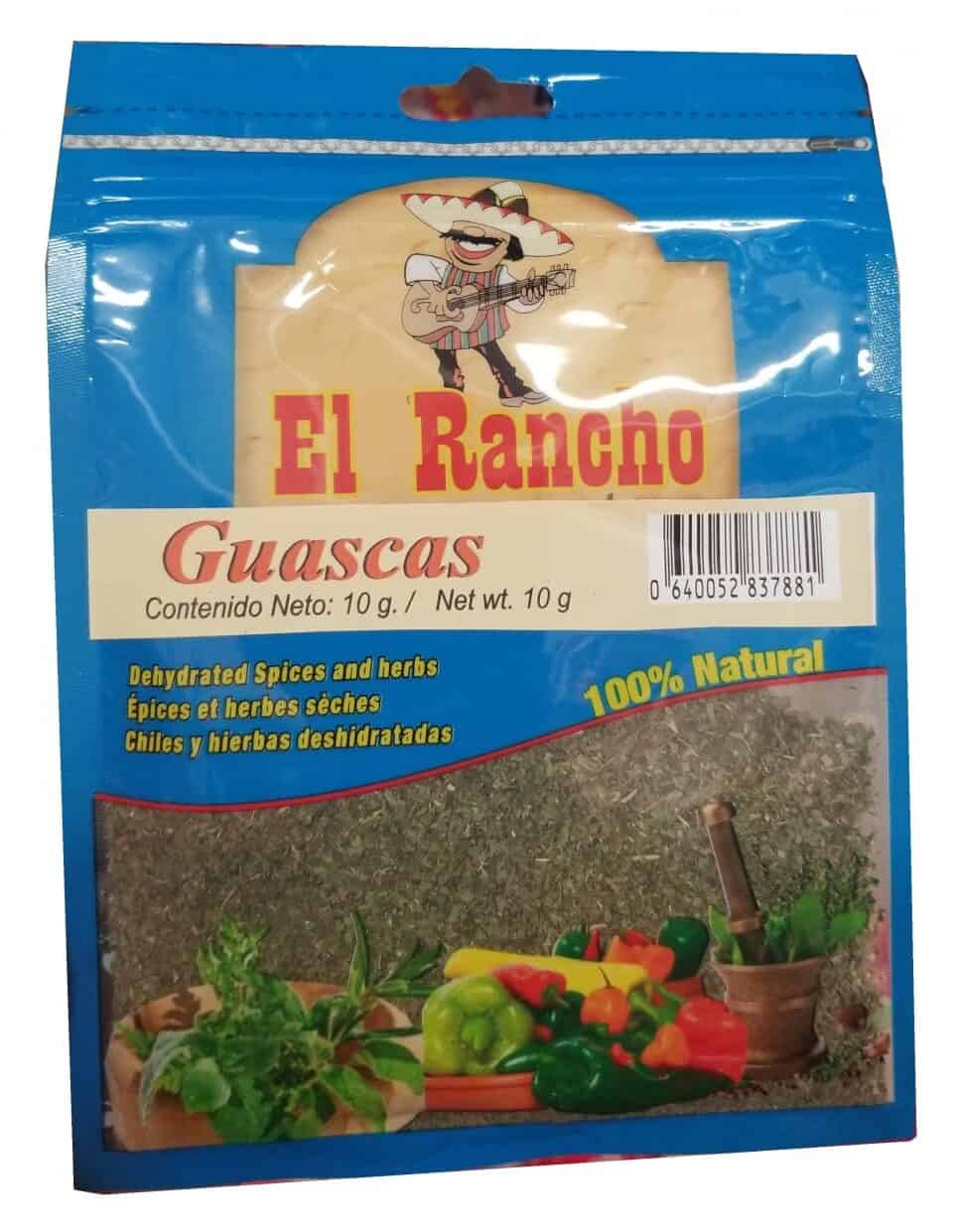 After eating through a few different versions, I 'm of the opinion that making Colombian ajiaco without dried galinsoga is probably heretical, and tantamount to making coffee cake without cinnamon, or ranch dressing without dried onions.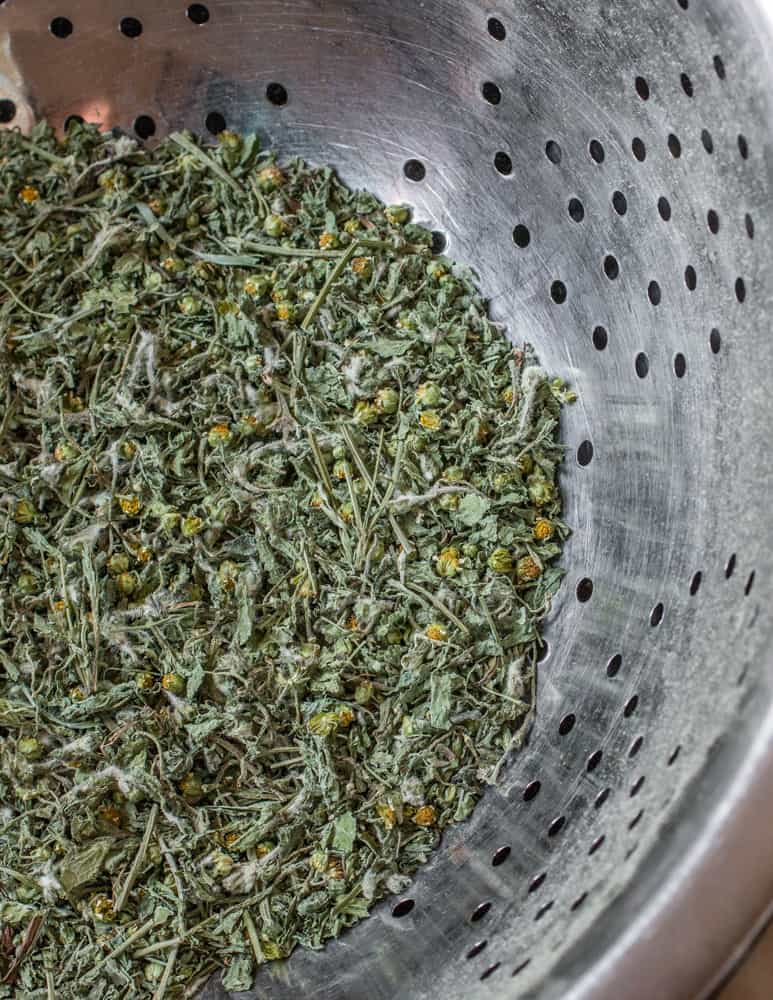 For years I've known of the soup, but disregarded it as a novelty. What could a couple handfuls of dehydrated galinsoga possibly add to a dish?
It seemed like adding dried crumbles of spinach to something, which seemed pointless, especially with how the plant grows where I live: a legion of smothering plants destined to chokehold and stymie the squash and corn. How wrong I was.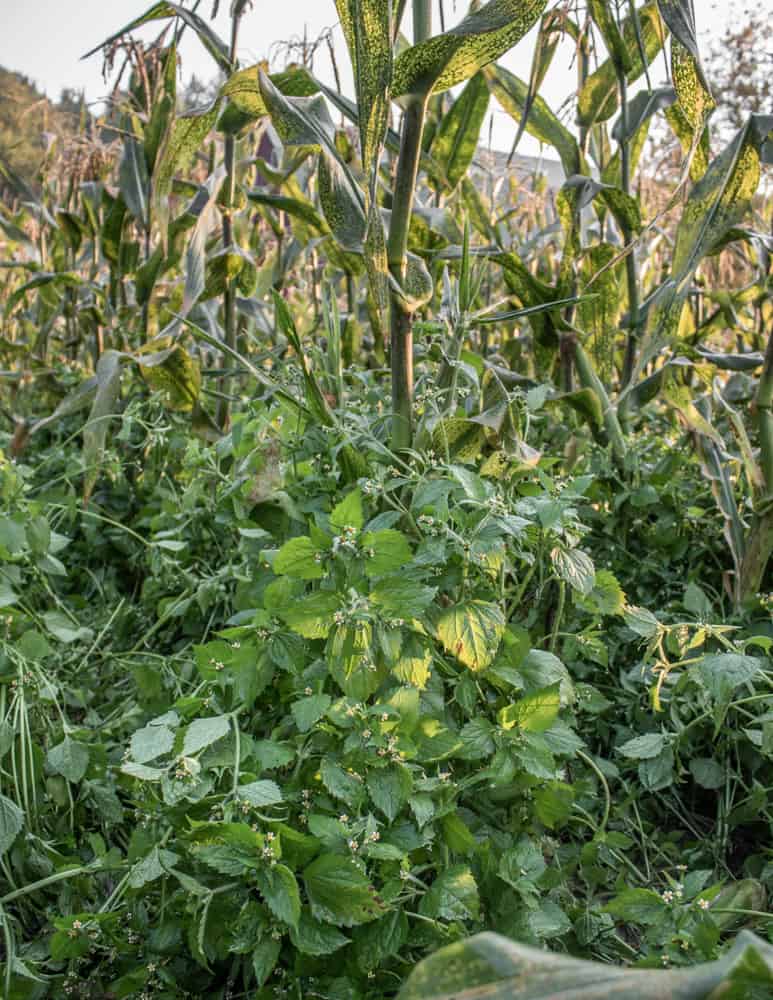 Galinsoga was the plant that helped me write the essay "Acquired Taste: Plant Families and The Flavors They Share" in my book, since, after eating a few cakes of them, guests at a dinner asked me if there were artichokes in the cakes.
That got me thinking about flavors in the aster family, and if the taste of an artichoke is specific to one plant, or could be found in many (for the record, the taste is present in many plants, including cardoons and sunflowers-see below).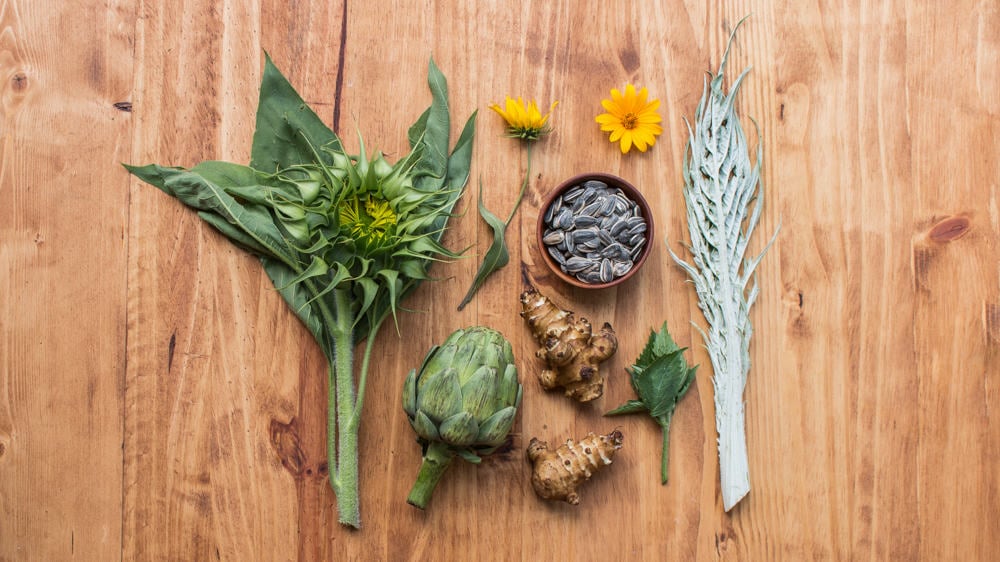 Processing the guascas
So, I dehydrated some galinsoga to make my own guascas. Almost immediately after turning on the dehydrator, I could smell the aroma-a sort of celery-like smell I associate with aster plants.
After the plants were dried, I crumbled them and sifted the mixture through a colander, discarding the stems and flowers left in the colander, using only the leaves that passed through the holes, and added a generous amount to a batch of ajiaco made with turkey, hominy, and the requisite 3 different types of potatoes.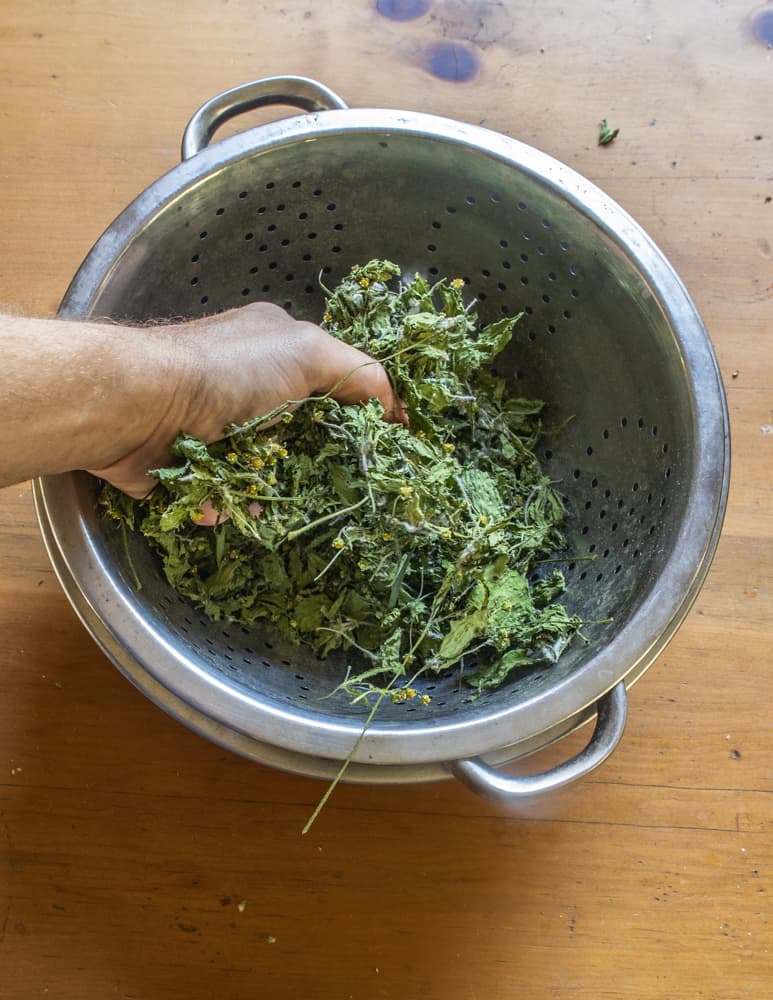 I could immediately taste the herb in the soup. It's mild, and you'll be adding more of it to a soup than something more powerful like basil or thyme, but it's there, and, it's good.
For the right flavor, it must be dried, not fresh, which will not have the same character. Dehydrating concentrates flavors, and this dish is a great example of that you can expand upon, whether you have access to fresh galinsoga or not.
Other plants I would dry as an herb
As an aside, if you don't have access to galinsoga, one of the takeaways here, is that you can dry plants and use them as an herb. Here's a few I would try:
Nettles, especially Canadian nettles (Laportea canadensis)
Dock and Rumex species you enjoy (traditional in Armenian cuisine)
Cryptotaenia canadensis / Mitsuba
Wild or garden carrot leaves
Parsnip leaves
Italian parsley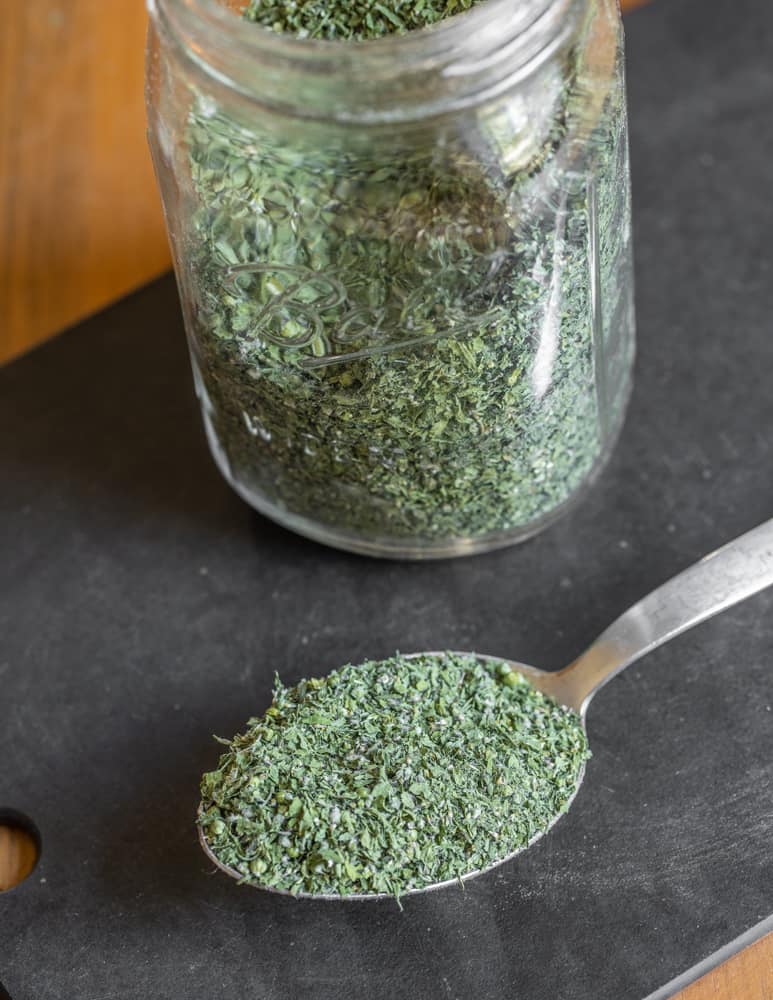 Other ingredients
Potatoes
As this is a soup well known to the Andes, most recommend multiple types of potato, and, for the truest form, they should include papa criollo, a sort of small golden potato indigenous to the region.
I called local Latin markets (sometimes the potatoes are sold in jars) without any luck, so I just tried to use as many types of potatoes as I could manage. Don't get creative and add blue or purple potatoes, unless you like muppet food.
Poultry
Poultry, probably cut into pieces with a machete, bones and all (still common around the world) was likely how the soup was first made. I used turkey, some other variations from Cuba or Peru might use rabbit.
Field corn/dent corn
Traditionally the soup should include corn, on the cob, not sweet corn. I know a couple travel bloggers (all Caucasian) who've eaten the dish, and both went out of their way to tell me how much they disliked the soup, saying things like "the soup was crap" "garbage" or just not worth eating.
They were expecting sweet corn, when the traditional corn is field corn. I used a mix of hominy and sweet corn here, and it is wonderful, but to be clear, neither are traditional.
Avocado
Avocado is often served as a garnish, and, from my understanding, could/should be one of the larger avocados. These generally contain more water than the typical Hass variety. I think either are fine. Look for large avocados in your Latin or Asian grocer. Hall avocados are typically sold at my local market I go to, but, personally I prefer the flavor of the Hass.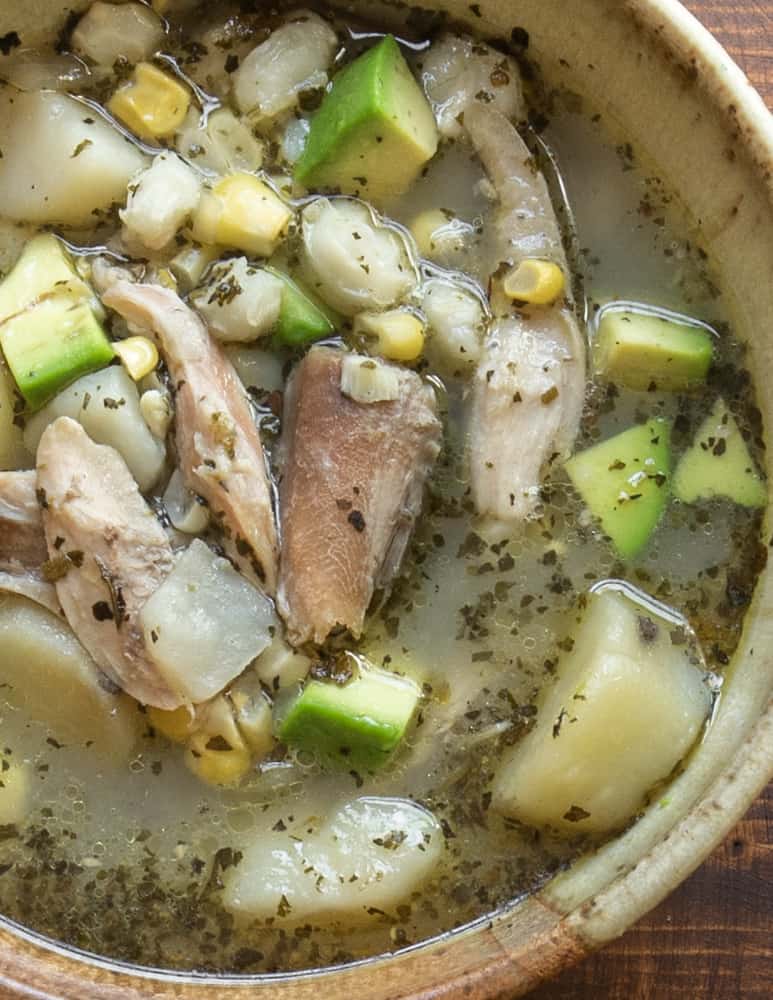 Garnishes
Sour cream or Mexican crema, along with capers are the two most common traditional garnishes I see, and the capers especially being a brilliant foil for the mild potatoes and rich broth. Some versions also serve it with a mix of chopped herbs and onions and or chili peppers alongside.
If you have some galinsoga near you, this is a great one to try. If you don't, it would be worth trying a version with another dried herb, but I wouldn't call it ajiaco.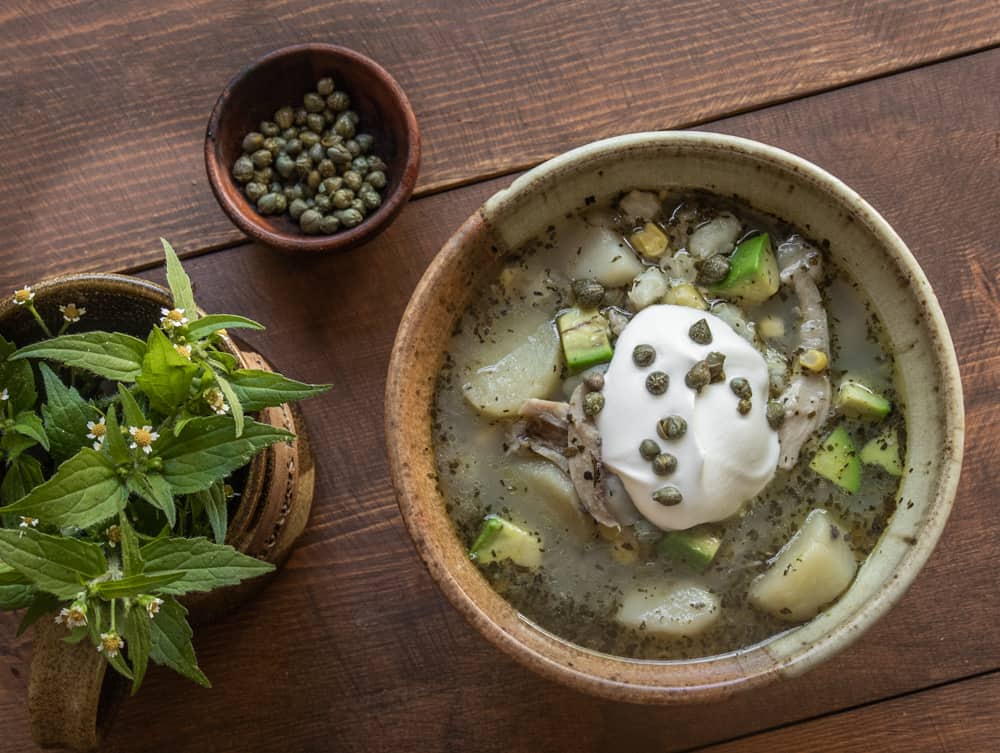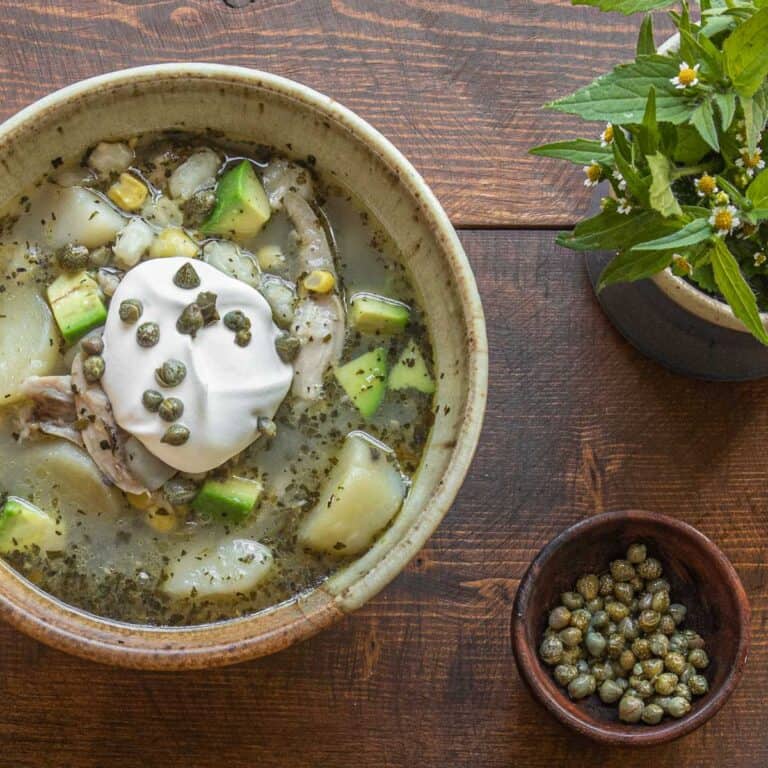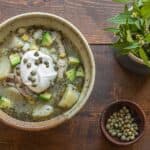 Print Recipe
Chicken Soup with Galinsoga (Ajiaco con Guascas)
A turkey and potato soup Inspired by the traditional Colombian soup with poultry, corn, potatoes, and dried galinsoga. Serves 8
Ingredients
Soup
2.5

lbs

turkey or other poultry, on the bone

you could use cut up pieces, thighs, wings, etc

2

large white onions, roughly 1 lb

¼

cup

dried guascas

2

lbs

potato

large of a variety as possible, peeled and cut into soup pieces. I used russets, red potatoes, and fingerlings.

2

cups

hominy

most of a 20 oz can

5

minced gloves garlic

Water

to cover, 11-12 cups

2

ears of sweet corn

or roughly 1 cup of kernels
Bouquet (optional)
1

small handful each: cilantro, scallions, culantro, and a couple dried bay leaves
Garnishes
Capers

1 T per person to garnish

Sour cream

1 T per person to garnish

Chopped cilantro
Instructions
Season the turkey with salt and allow to rest overnight (optional).

Shuck the corn, slice the kernels from the ears and reserve. Discard half of the cobs of corn. Cut the remaining cobs into thick slices and reserve for the stock.

Roast the pieces of turkey at 375 F until lightly browned, about 30 minutes. Put the turkey pieces into a pot with the corn cobs, guascas, onion and garlic, cover the mixture with the water about 1 inch, bring to a simmer, turn the heat to low and cook, covered, for 1.5 hours, or until the meat moves from the bone.

Remove the turkey pieces, cool until you can handle them, then pick the meat and reserve. Discard the bones.

Meanwhile, add the potatoes, hominy, and sweet corn, along with the bouquet if using to the pot of stock, bring the mixture to a simmer and cook until the potatoes are tender. It's fine if the potatoes break down a bit.

Return the turkey to the pot, season to taste with salt, stir, taste, and season again if it needs it. Potato soup needs some help.

Serve with chopped cilantro, plenty of sour cream, and capers on the side. It will taste better the next day, and even better the day after that.
Notes
Capers and Guascas. 
These ingredients are both very important in order to get the right flavor, don't skip them. 
Nutrition
Serving:
12
oz
|
Calories:
1404
kcal
|
Carbohydrates:
28
g
|
Protein:
3
g
|
Fat:
142
g
|
Saturated Fat:
42
g
|
Polyunsaturated Fat:
30
g
|
Monounsaturated Fat:
63
g
|
Cholesterol:
120
mg
|
Sodium:
150
mg
|
Potassium:
521
mg
|
Fiber:
4
g
|
Sugar:
3
g
|
Vitamin A:
3
IU
|
Vitamin C:
24
mg
|
Calcium:
24
mg
|
Iron:
1
mg