Tender squirrel with a crispy crust of acorn flour is a tribute to tree ninjas and my love for small game cooking. It's one of my all-time favorite squirrel recipes.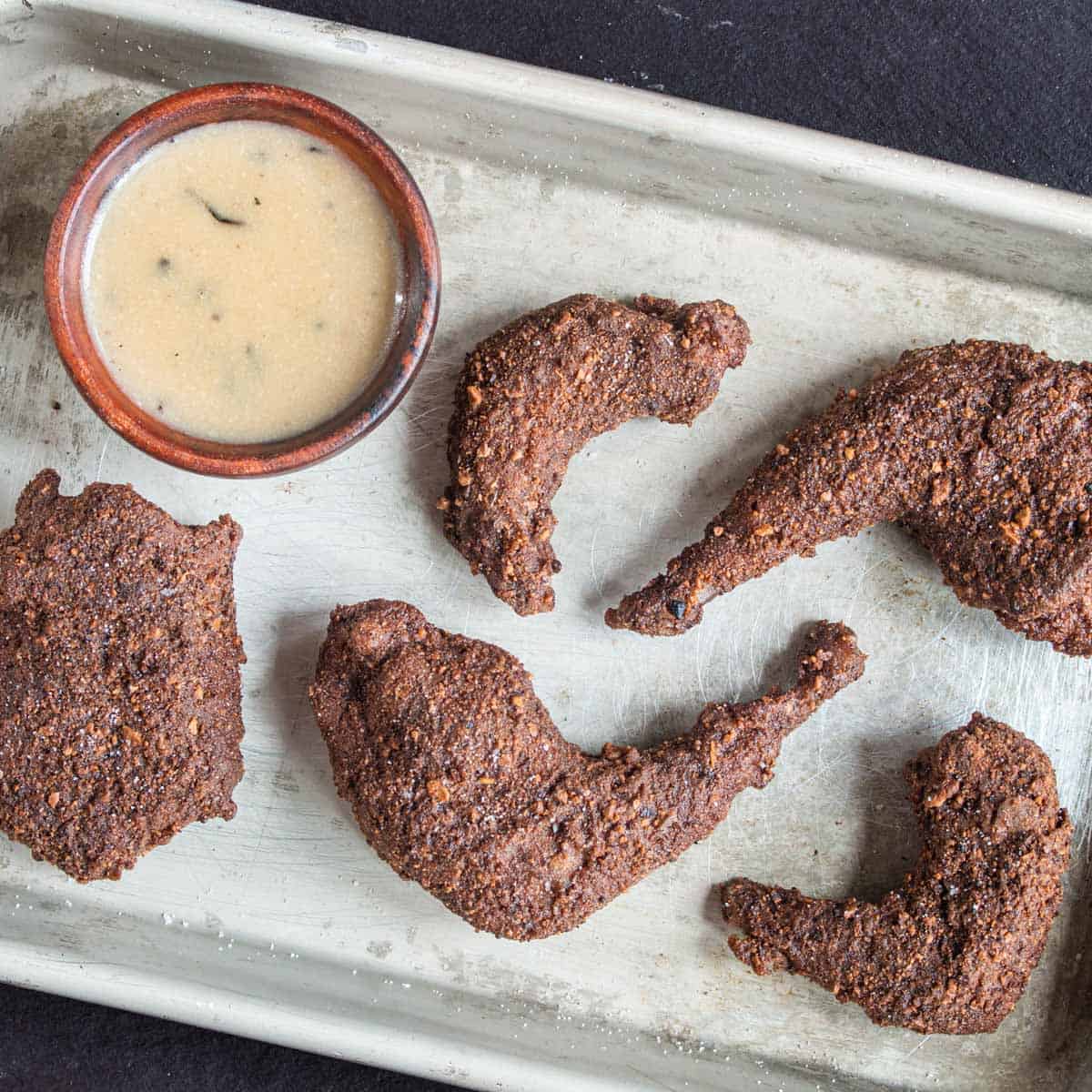 Acorn crusted squirrel is one of the best things I've made with tree ninjas. Period. A few years ago, I had Daniel Vitalis of Wild Fed and his entourage out to film an episode for his show. We took a week to hunt things around Minnesota and Wisconsin, and put everything together for a nice farm dinner focused around pigeon and wild mushrooms.
One night while we were standing around the kitchen shooting the breeze and cleaning the giant haul of mushrooms we picked, the topic of acorns came up. I love making acorn flour, it's a nutrient-dense product that you can't get your hands on unless you make it yourself.
Hard to get craft ingredients being catnip for any chef. Daniel harvests and processes his own acorn flour too, so we had to compare culinary notes, and what we like to do with the finished product.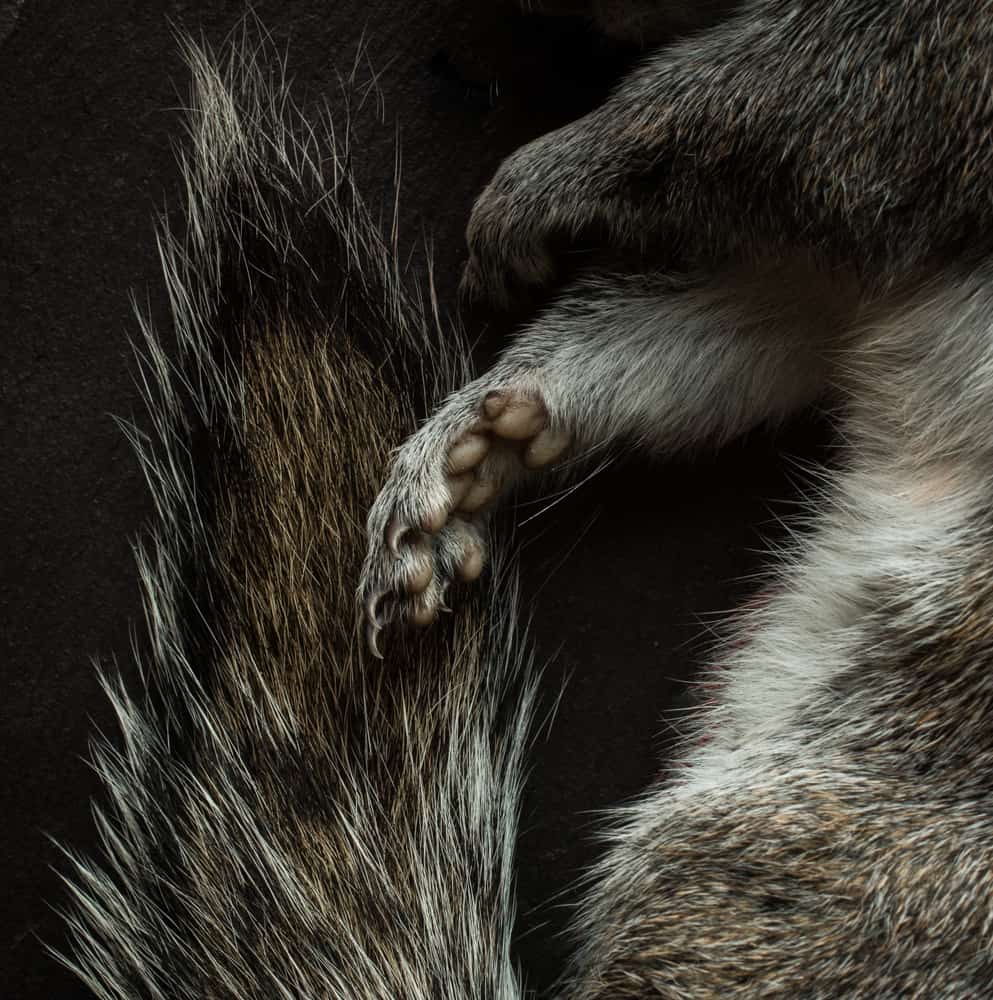 Daniel told me one of his favorite things to make with squirrel was cooking them until tender, dredging in acorn flour, and browning them up, which sounded delicious enough for me to make a note to try it myself the next season. It's a great way to use acorn flour, and a really fun way to eat squirrel--a bit like tiny fried chicken.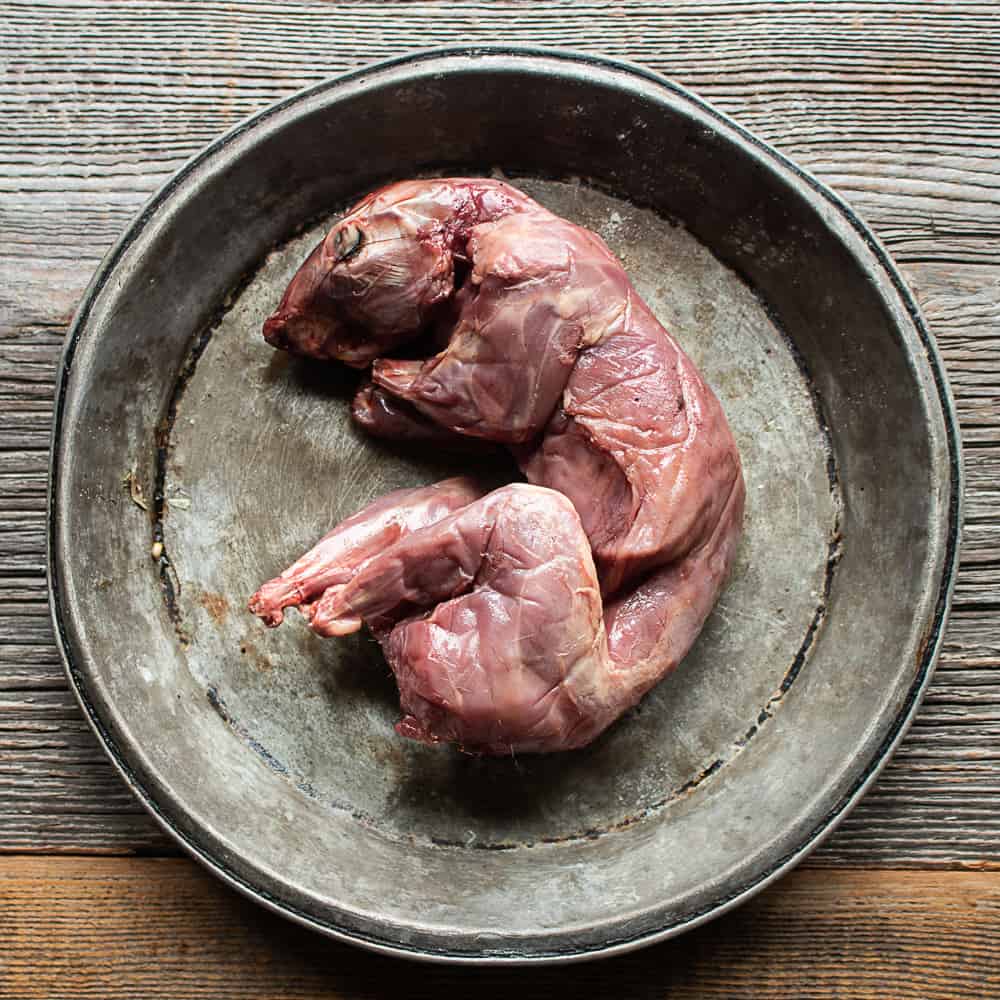 Here's jist: take your squirrel, cut them into pieces, then simmer with aromatics as if you were going to make soup. When the squirrel is tender, you remove the squirrel parts, strain the leftover stock (it's delicious) and fashion into a gravy.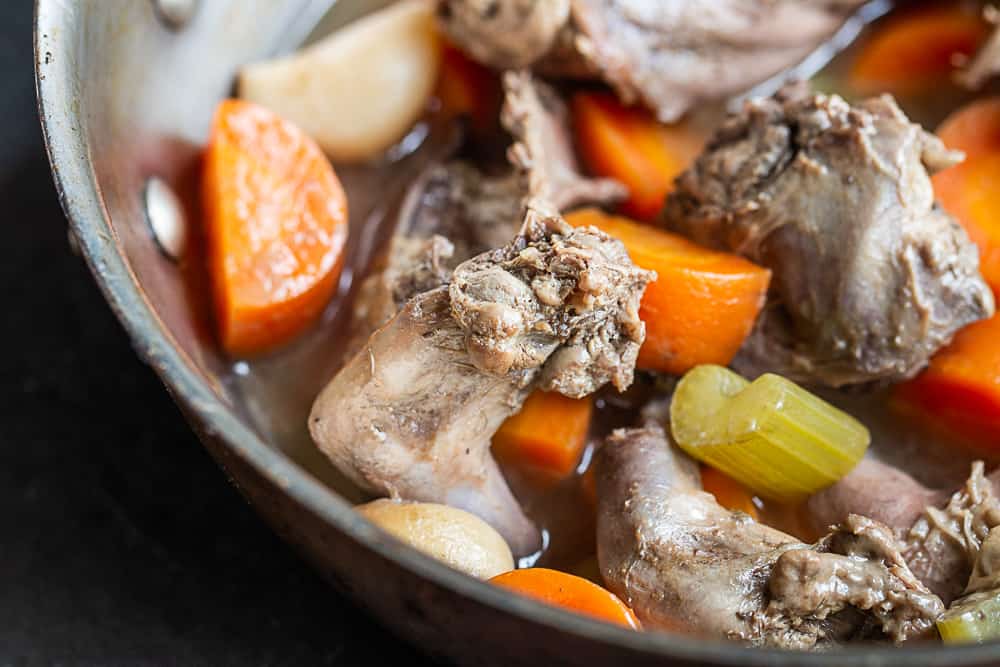 The squirrel pieces get dredged in flour-egg-acorn flour, since it's hard to make the acorn flour stick all by itself. Even with the tried and true flour-egg-flour technique, you'll still lose a tiny bit that comes off while cooking, but it's a negligible amount.
The stock thats leftover makes a gravy that's a nectar of the gods. Finely chopping the giblets and sweating with shallots and mushrooms gilds the lily, and I could've drank the stuff out of a mug.
Do you have to use squirrel?
Nope. There's lots of different game and non-game meats you could do the same treatment with here. Pheasant legs, braised and pine bones removed would be a good option, as would any meat cooked confit style, like chicken thighs and legs, or even fish.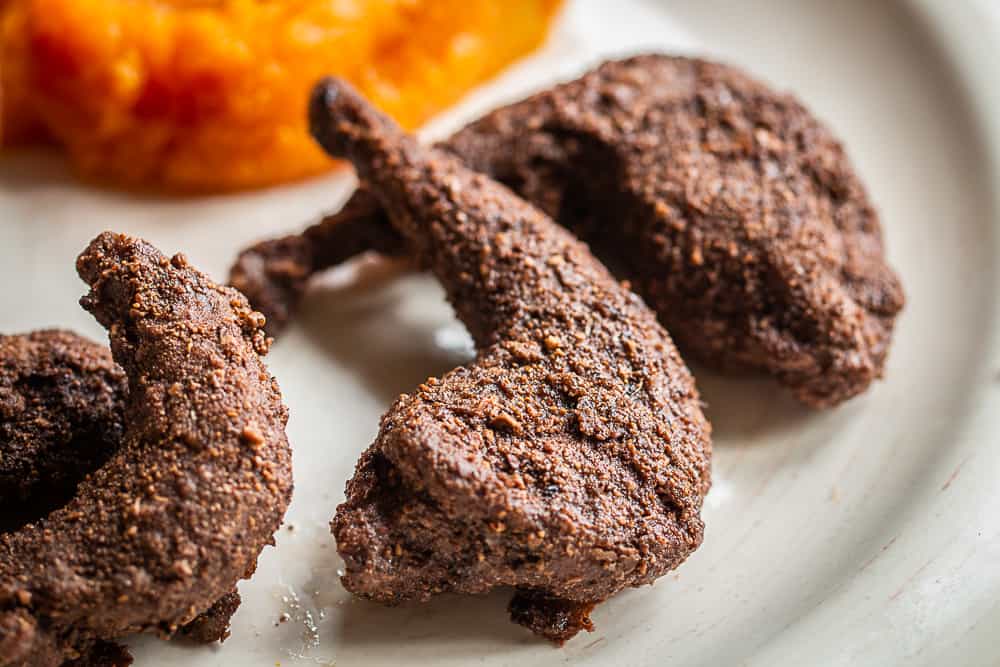 Back when I was running the menu at Heartland restaurant in St. Paul, whitefish crusted with hazelnut meal was always a gauranteed sell, so, know that if you don't have squirrel, but you have acorn flour, you can still make something delicious happen.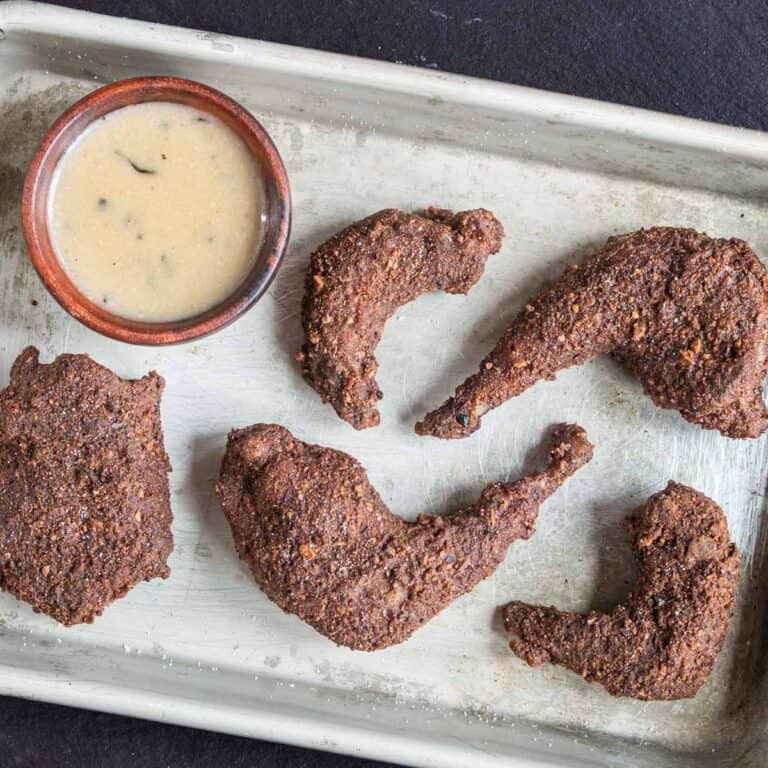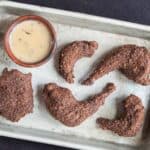 Print Recipe
Acorn Fried Squirrel with Giblet-Mushroom Gravy
Tender pieces of squirrel fried with an acorn crust and served with giblet-wild mushroom gravy.
Equipment
1 Medium mixing bowl

1 10 inch skillet
Ingredients
Braising the squirrels
2

large grey squirrels

skinned and cleaned, offal reserved for the gravy, cut into 6-7 pieces

1

carrot

1

rib celery

1

small onion

2

cloves

garlic

whole

Small sprig of thyme

optional

1

dried bay leaf

¼

cup

dry white wine

3

cups

chicken stock or water
Acorn Crust (this is a skimpy amount of breading since acorn flour is so precious, adjust to your needs)
½

cup

acorn flour

Generous pinch dried ramp leaves or a pinch of onion powder

Kosher salt and fresh ground black pepper

Cooking fat

such as lard, for frying

All purpose flour or equivalent

Beaten egg
Giblet Gravy (optional)
1

small shallot

2

tablespoons

bacon grease or unsalted butter

1

tablespoon

all purpose flour

Reserved squirrel giblets

finely chopped

1

tablespoon

crumbled dried mushrooms

¼

cup

cream
Instructions
Braise the squirrel
Season the squirrel pieces liberally with salt and allow to rest overnight in the fridge, alternately, brine the squirrel in water seasoned with 2 tablespoons of salt dissolved in it per quart (this step is optional, but recommended).

The next day, put the squirrel, herbs and vegetables in a small pot with high sides, a 2-3 quart capacity is good. Add the wine and water to cover, then bring to a boil, turn the heat down and simmer on low, covered, for 1.5 hours or until the meat barely moves from the bone. Cool the squirrel in the liquid, then remove.
Breading and Cooking
To finish the squirrel, mix the acorn flour with a healthy pinch of salt and pepper, along with the ramp leaves. If you have a spice grinder, grind the mix together to break up the salt.

Dip pieces of squirrel into flour, then egg, then finally the acorn crust. Fry on medium-high heat until golden in a thin layer of oil, turning occasionally, and eat hot with the gravy on the side.
Optional Giblet Gravy
For the optional gravy, sweat the shallot in the grease then add the giblets and cook for a minute more until their water is cooked off.

Add the flour and stir to combine. Add the mushrooms and reserved squirrel stock and bring to a simmer, then reduce a bit until thickened.

Stir in the cream and cook a few minutes more. Double check the seasoning for salt and pepper and adjust as needed, then serve.
Nutrition
Serving:
1
squirrel
|
Calories:
700
kcal
|
Carbohydrates:
28
g
|
Protein:
230
g
|
Fat:
38
g
|
Saturated Fat:
15
g
|
Polyunsaturated Fat:
6
g
|
Monounsaturated Fat:
11
g
|
Cholesterol:
600
mg
|
Sodium:
500
mg
|
Potassium:
4449
mg
|
Fiber:
2
g
|
Sugar:
12
g
|
Vitamin A:
5557
IU
|
Vitamin C:
9
mg
|
Calcium:
188
mg
|
Iron:
33
mg