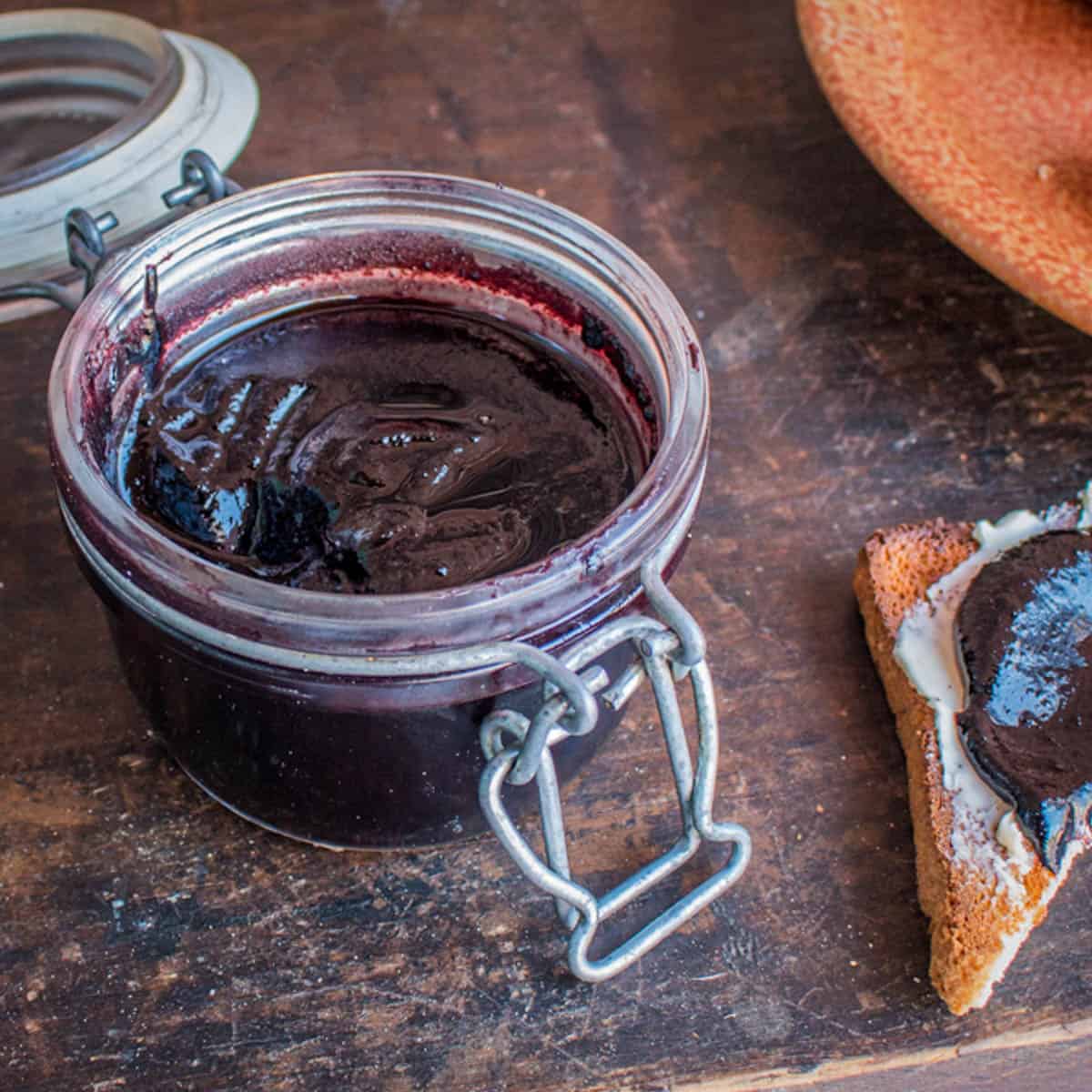 Since the skin and flesh of chokeberries / Aronia melanocarpa are more tannic than other berries, they're usually just processed into juice or jelly, and most of the time that's how you'll see them sold commercially, or online.
If you haven't ever looked, go look at some products, especially the price tag (30$/12oz of juice!) then come back here, maybe after checking around for a local nursery that can supply you saplings to plant in your yard and avoid being robbed at gunpoint for what amounts to fruit juice. Anyway you cut it, anything made from aronia juice is expensive. I prefer to forage mine for free, instead of paying 30$ for under 2 cups of juice.
Onto the preserves. Since part of what makes chokeberries special is that they don't have stones to remove, I wanted to develop some simple preserves that used the whole berry--no juicing, no straining (although straining is more refined, and would be my choice for professional settings and using it in sauces, glazes, etc).
These are rustic, home-style preserves, more like something you'd see a hundred years ago compared to the ultra-processed, standardized versions on the shelf today. What's a rustic preserve you ask? To me, that can mean a couple things, depending on someone's interpretation of "rustic", but, typically it will be either preserves cooked with a horrific amount of sugar to encourage a set, or looser preserves, simply stewed with sugar. I prefer the latter.
Just know these aronia preserves aren't supposed to be completely set--they'll quiver a bit, and should gently slide around the jar when you tilt them, but the pureeing in the blender uses their skins to help thicken the preserves naturally-but more along the lines of thick, pulpy grape jam or coulis than the firm set of jello.
That being said, if you want it thicker, just cook it to a slightly higher temp. What a commercial processor might see as set failure, in this case, to me, means they're more versatile, and great used in desserts. For example, to make a mousse with jelly or heavily set jam, you'll probably need to heat them, dilute, beat, or a combination to ensure you don't have lumps, but not with these.
One of my favorites you could try is something like an aronia fool or mousse, which you could make by whisking the preserves into warm cream with some breadcrumbs or sponge cake, mashing it up and passing through a strainer to catch the skins, then whipping, and chilling--It's a bit like a chilled fruity mousse. When I get some time, I'll put that recipe up, too.
I've put some spices in these (ginger, orange or lemon) as the flavor of aronia is less assertive than something like raspberry, and I think I it benefits from some background flavors. But, if blank slate is the way you roll, it's fine with just vinegar, sugar, berries, pectin and water. Heck, you can even leave out the pectin if you want to be really oldschool.
Of course, they're also just fine on toast with butter, but often I cook with preserves like this, especially if there's game in the freezer that might benefit from a glaze, mixing the preserves with warm stock, butter, a splash of red wine vinegar, and a good pinch of cayenne. Duck, goose, and grouse are the best partners by far.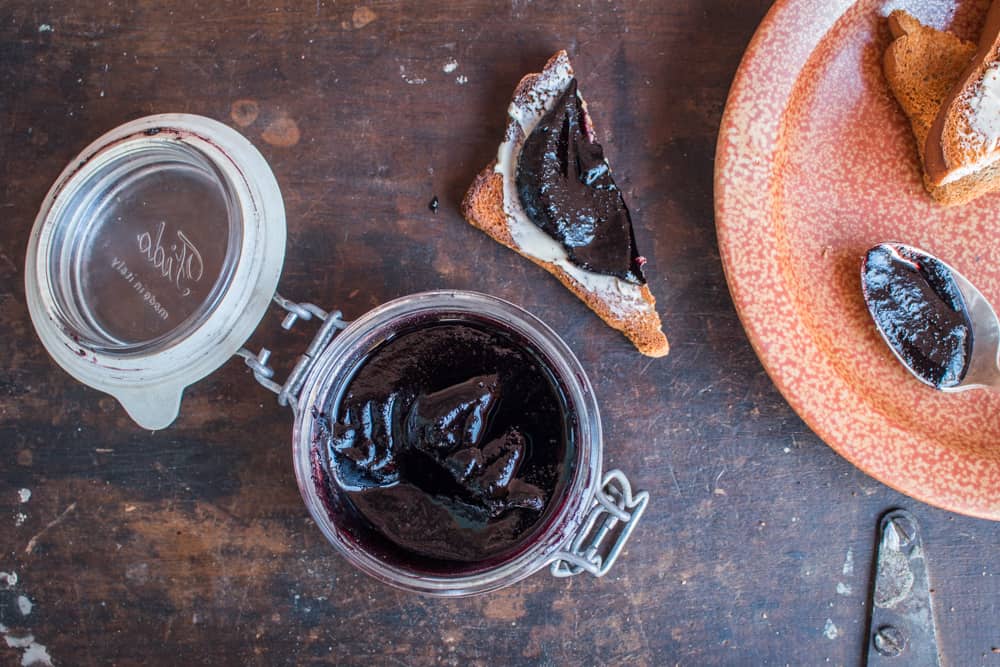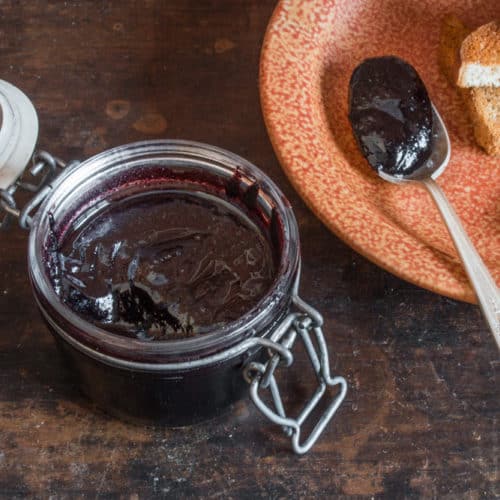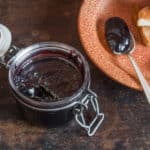 Print Recipe
Simple Chokeberry or Aronia Berry Preserves
A semi-loose, rustic fruit preserve you can cook with, or just enjoy on toast with jam. In a restaurant, I would pass through a chinois while hot, at home, I can deal with a little texture. Makes roughly 3 cups rustic preserves, or 2.5 cups passed through a strainer.
Equipment
chinois or other strainer (optional), canning jars, large stock pot

8 inch 2 quart sauce pot or similar
Ingredients
16

oz

chokeberries, or roughly 3-4 cups

washed and cleaned if needed

Water, as needed

just enough to nearly cover the berries

12

oz

sugar

1

Tablespoon

powdered pectin, unsweetened

optional--see notes

1

Pinch

kosher salt

1.5

Tablespoons

red wine vinegar

1

teaspoon

(10 grams) grated ginger, and it's juice

(optional)

finely grated zest of half an orange or lemon (microplaned)

optional
Instructions
Look over the chokeberries and remove any stems

Mix the pinch of salt, sugar and pectin. Put the chokeberries and grated ginger in a tall saucepot (you don't want this splattering around so use a deep, tall saucepot) and add water just so the berries are almost covered.

Bring the mixture to a simmer, then transfer to a blender and process until as smooth as possible. If I want a refined puree, I'll pass it through a chinois strainer to catch the small pieces of skin that may still be in the chokeberry coulis, but at home, I may leave them in for a more rustic look and texture (some people may not care for the texture, so straining is my first choice) If you don't strain the mixture, you should have about 32 oz (4 cups) of coulis/puree or a little less.

Pour the mixture back into the pot, add the pectin-sugar mixture, and bring the mixture to a rolling boil. Continue cooking on high heat until the mixture reaches 225 F on a candy thermometer, or just boil for a couple minutes if you don't have a thermometer--this is a rustic recipe.

Turn the heat off and stir in the vinegar or lemon juice, along with the zest, then pack into half pint or pint jars and process in a water bath (10-15 minutes according to your altitude) for storage in a pantry.

After the jars of chokeberry preserves cool, inspect for any that haven't formed a seal and refrigerate or freeze. You can also store the chokeberry preserves in the fridge or freezer without processing in a water bath.
Notes
The temperature (and looser than average set it makes) ensures the chokeberry preserves are a little rustic, and retain the ripe berry flavor that can get tainted from caramelization that comes from cooking to higher temps to get a firm, superball-set that can plague small batch jams.
As far as pectin, I use only Cuisine-Tech brand. You can order it online, or substitute another powdered pectin, just make sure it's unsweetened.